March, 30, 2015
Mar 30
6:05
AM PT
When ESPN Insider spent last week debating whether Stephen Curry or Russell Westbrook was the better player/point guard, an important guest wasn't invited to the party: Chris Paul of the Los Angeles Clippers, who still belongs in the debate of the NBA's best PG.
By taking on an enormous offensive load after Kevin Durant's injury, Westbrook has been better than Paul this season by most measures. However, when we change the criteria to most valuable, Paul deserves to come out ahead. His durability gives him an important edge over Westbrook in the MVP race.
Here's an in-depth comparison of the star point guards, followed by a case that Paul belongs on the MVP ballot.
What's replacement level got to do with it?
March, 29, 2015
Mar 29
8:11
PM PT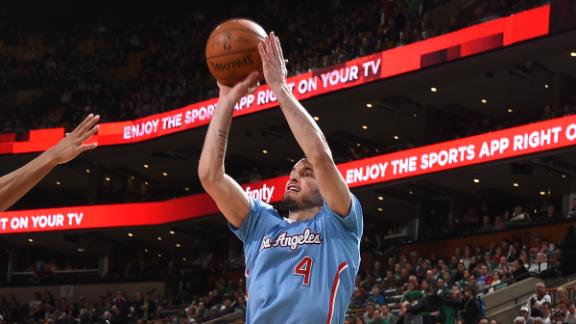 BOSTON -- When the Los Angeles Clippers embarked on this three-game road trip to New York, Philadelphia and Boston, they constantly referred to it as a "business trip."
It may seem like a cliché, but the Clippers haven't always understood the importance of a "business trip" when they leave Los Angeles.
"I don't think we've been a great travel team for the most part," Clippers coach Doc Rivers said. "In big games, we seem to play well on the road, but we're up and down."
If you look at the records of the Knicks, 76ers and Celtics, it would be a stretch to call any a "big game" on paper, but with eight games left in the season and the Clippers within striking range of a top-three seed, every game is big now.
"I thought the guys had an amazing focus when they left," Rivers said. "You could just tell that they were going to take this trip very seriously. They looked at the games, and these were games we could get. But, you have to play to get them, and they did that. I'm very proud of them."
After beating the Boston Celtics 119-106 on Sunday, the Clippers are not only 3-0 on their last long road trip of the season, they also are currently on a seven-game winning streak, their second-longest run of the season. They are also now within one game of the Houston Rockets for the No. 3 seed and a game and a half back of the Memphis Grizzlies for the No. 2 seed. The Clippers play the Grizzlies at Staples Center next month, so they could easily make up that difference by the end of the season.
Of course, the importance of getting the No. 2 seed would be grabbing home-court advantage not only in the first round but the second round, and skipping a postseason rematch with the Golden State Warriors until the conference finals.
"That's why all the games are important," Rivers said. "That's fun. At least I know that now. You can see it. It's pretty easy. We have eight games left."
[+] Enlarge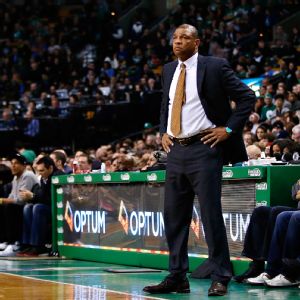 David Butler II/USA TODAY SportsClipper coach Doc Rivers saw his team earn a seventh straight win.
More important than moving up the standings and improving their seeding, the Clippers are also playing their best basketball of the season when it matters most. The common thread of their current seven-game winning streak has been a pesky defense that has helped jump-start an offense that is moving the ball better than it has all season.
"Our defense [has been the key], clearly," Rivers said. "Our offense is beautiful to watch but I think our guys have finally connected the dots. When we're good defensively, we're really good offensively. That's something we've been trying to get them to see all year. Those dots are connected. They get it. The first thing they said when they went back in was 'Get stops and we'll score.' If we don't get stops, then we have to play half court and it's harder to score. I think they have that down."
It's a style Rivers has been preaching since training camp, but for whatever reason it took the Clippers longer than anticipated to pick up where they left off last season, just two wins short of their first-ever conference finals in the face of the Donald Sterling controversy. It seemed as if they thought it would all come together easily when they reconvened at training camp over six months ago.
"At the beginning of the year when we were struggling," J.J. Redick said, "we watched a couple of games from the Oklahoma City [playoff] series and the way we played then was not how we were playing at the beginning of the year. It was almost like, 'Whoa.' But we're getting there. We're definitely getting there. To win games in the playoffs you have to play with pace and you have to get the ball to your second and third option."
The way the Clippers are moving the ball is actually better than it was last season. In fact, many of the Clippers players believe it's the best they've played during their current run of four consecutive playoff berths.
Redick and Matt Barnes are enjoying career seasons from 3-point range. Chris Paul is playing like an MVP candidate and DeAndre Jordan is playing like a defensive player of the year candidate, and both have started every game this season. It's a big reason the Clippers have not only been able to survive but thrive while missing Blake Griffin for 15 games and Jamal Crawford for the past 13 games.
"We have a really good rhythm right now, especially that first unit," Redick said. "With the way teams load to the strong side, you really have to get to your second option, sometimes your third option, and that requires you to swing the ball from side to side and a lot of our possessions end with multiple passes on multiple sides. The other thing that's happened in this stretch is our first unit is getting stops and we get to go against a defense in transition that's not set. That creates a lot of problems.
"A defense essentially has to make tough decisions. Do we stop Chris on the pick-and-roll and leave D.J. to roll? Do we stop D.J. to roll and leave the weakside corner open, which is usually either Matt or me. So we're creating problems and making it tough on the defense."
As much as the Clippers are pushing to finish the season strong and have home court for as long as possible in the postseason, they also realize that their season ended last year on their home court in a series in which they lost twice at Staples Center. While home court is great, it's more about how well you're playing this time of year and the Clippers like the way they're playing right now.
"We could definitely use [home court], but Doc always says, 'In order to win a championship, you have to win a game on the road at some point,'" Paul said. "In the West, it's so deep and so tough that home court might mean but so much."
March, 29, 2015
Mar 29
10:22
PM PT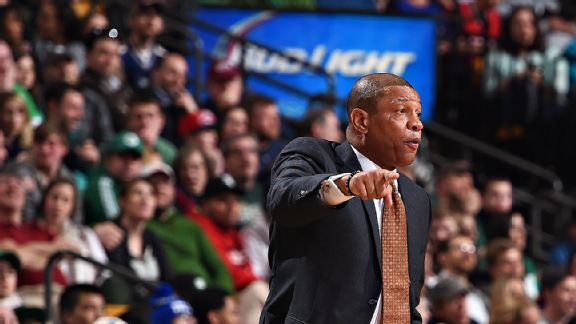 Brian Babineau/NBAE/Getty ImagesClippers coach Doc Rivers was back in Boston on Sunday night.
BOSTON -- When Doc Rivers returns to town now, it's an event. That much was obvious Sunday night when what amounted to a receiving line formed in the hallways inside TD Garden with smiling faces eager to greet the former Boston Celtics coach on his way to his pregame chat with reporters.
That question-and-answer session sprawled more than 15 minutes in length -- three times longer than current Celtics coach Brad Stevens' pregame confab that preceded it -- and Rivers gladly offered Boston-related thoughts on everything from the team's rebuilding process to Rajon Rondo's departure to rookie Marcus Smart.
Rivers said an awful lot of nice things about the Celtics, both before and after his Los Angeles Clippers posted a 119-106 triumph that wasn't nearly as close as the score suggests. As Stevens noted in the aftermath, "Tonight we just got manhandled."
But Rivers just kept showering Boston with praise. He's bullish on the Celtics' playoff chances in the Eastern Conference and marvels at how fast they were able to at least put themselves in position to chase a postseason berth.
Rivers joked that, while not many of his former players are still on the Celtics -- Brandon Bass and Avery Bradley are the only remaining bodies -- he does keep an eye on his former team from afar. Rivers quipped, "I want to tune it in whenever Tommy [Heinsohn is on the broadcast] because it's always interesting." The two former Celtics coaches were spotted chatting together inside the visiting coaches' office long after Sunday's game ended.
The Clippers reminded Boston on Sunday about the difference between a legitimate contender in the Western Conference and a team on the playoff cusp in the Eastern Conference. But Rivers remains impressed with how Boston has positioned itself.
"I don't know if I expected it or didn't -- I just think they're ahead of all the other, quote unquote, rebuilding teams because of all the things they have," Rivers said. "When you look at their team, they have good players, they have assets in players and youth, they have draft picks, and they have money. A lot of teams have one of those. None of the teams have all of those. I think Danny, what does he have, 1,200 draft picks over the next three years? Plus the players, plus the money. I think they're set up to be pretty good pretty quick."
One of those draft picks that Boston owns is the Clippers' 2015 first-round pick, its compensation for trading Rivers to the opposite coast and sparing him the grind of the rebuild he had no desire to navigate.
Rivers was asked if he thinks he's proven himself to be worthy of that first-round pick. With the Clippers having won seven straight after Sunday's win, that pick is currently projected to be 26th overall in June's draft.
"Well, we're playing our way into what I am probably worth," cracked Rivers. "The more wins, the worse the pick is. So then it works out pretty good."
Yes, Rivers looked downright presidential as he navigated the halls outside the Garden locker rooms, shaking hands and sharing a brief moment with familiar faces he crossed paths with.
What once was a nightly routine seems special now because it only happens once per season.
"You don't get to come back but once a year, so it's always nice," Rivers said. "It's great going out in the city and getting a couple of free meals -- I always like those. So that's nice. My friends paid last night; that was terrific of them. They're setting me up for the summer golf. Yeah, it's always nice coming back."
March, 29, 2015
Mar 29
10:08
PM PT
By
ESPN Stats & Information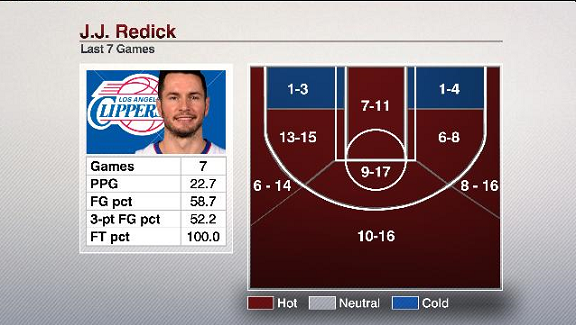 ESPN Stats & InformationJ.J. Redick is shooting great of late.


Sunday was a good day for Duke basketball and also for one particular Duke basketball alumnus.
Los Angeles Clippers guard J.J. Redick has taken full advantage of the team's soft schedule of late. Sunday was his best game yet, as he went 11-of-15 from the field for 27 points in an easy win over the Boston Celtics.
It's the best Redick has shot in an NBA game in which he took at least 15 shots and the fourth-best shooting performance in a game in which he has taken at least 10 shots. He was 11-of-13 from the field in a win over the Portland Trail Blazers earlier this season.
The Clippers have won seven straight games, though granted the past three have come against the New York Knicks, Philadelphia 76ers and Celtics, who are a combined 64-157 this season.
In this seven-game winning streak, Redick is shooting nearly 59 percent from the field (61-of-104) and 52 percent from 3-point range. He is shooting better than any other guard in the NBA since the streak began on March 17 and ranks 10th in the NBA in scoring (22.7 points per game) since that date.
The Clippers are 20-5 this season when Redick makes more than half his shots in a game.
Redick also has a noteworthy streak of his own going. He has made his last 36 free throw attempts, raising his free-throw percentage to 89.7 percent, fourth best in the NBA. Redick is trying to shoot 90 percent from the free-throw line in a season with at least 100 attempts for the fourth time in his career. He would become the 10th player in NBA history with four such seasons, a group whose names include Ray Allen, Reggie Miller and Rick Barry.
That free-throw shooting skill would have come in handy for DeAndre Jordan on Sunday.
Jordan was 3-of-15 from the free throw line. He's the fourth player in the last 50 seasons to make three or fewer free throws and attempt at least 15. The others are Wilt Chamberlain, Shaquille O'Neal and Chris Dudley.
March, 29, 2015
Mar 29
5:55
PM PT
Associated Press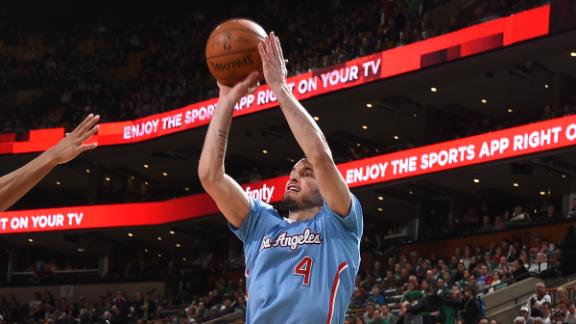 March, 29, 2015
Mar 29
5:52
PM PT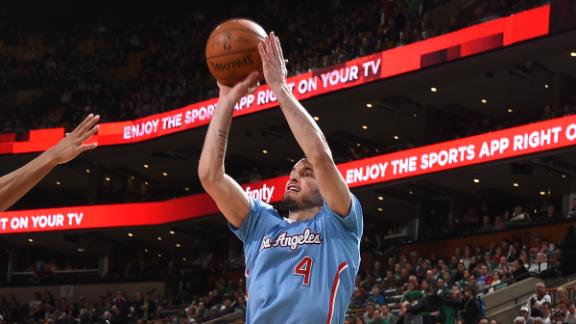 BOSTON -- The video tributes and standing ovations and teary-eyed press conferences were absent for Doc Rivers this time around when he returned to Boston.
He went through all that last season when he returned to play the Celtics for the first time as the Clippers' coach. Rivers still enjoys coming to Boston but this trip was more about getting a win for the Clippers as they try to move up the Western Conference standings than reminiscing about his days as the Celtics' coach.
The Clippers won the game 119-106 and looked like they were going to put it away early, taking a 14-point lead in the first quarter, a 25-point lead in the second quarter and a 35-point lead in the third quarter. But with the Clippers starters on the bench, the much-maligned Clippers second unit allowed the Celtics to cut the lead to 11 with 3:59 left before the Clippers were able to hang on for the win.
While the focus of the game wasn't on Rivers as it was last season, he still received a nice ovation before the game and admitted it's always special to return to Boston.
"Yeah, it's great," Rivers said of coming back to Boston. "You don't get to come back but once a year so it's always nice. It's great going in the city and getting a couple of free meals. I always like those, so that's nice. My friends paid last night and that was terrific of them. I think they're setting me up for the summer golf."
The Clippers have now won seven games in a row, their second longest streak of the season, going into a big game on Tuesday at home against the Golden State Warriors. The Clippers are also just a game and a half out of the second and third seeds in the West, held by Memphis and Houston, respectively. Memphis was trailing the Spurs on Sunday, so the Clippers could inch closer.
March, 29, 2015
Mar 29
11:48
AM PT
BOSTON -- The Los Angeles Clippers passed on signing guard Nate Robinson for the rest of the season and instead signed guard Lester Hudson to a 10-day contract on Sunday.
Robinson was on his second 10-day contract when he suffered a bone bruise to his left knee last Sunday; he has missed the last two games. The Clippers will continue to monitor Robinson's progress and could choose to sign him for the rest of the season after 10 days, depending on his health and how Hudson plays, according to a source.
In nine games with the Clippers this season, Robinson averaged 5.1 points and 2.2 assists in 14 minutes per game.
Hudson is a two-time MVP (2014, 2015) and three-time All-Star (2012, 2014, 2015) in the Chinese Basketball Association, most recently playing for Liaoning, where he averaged 31.2 points, 7.7 rebounds and 6.9 assists in 50 games.
Originally drafted by the Boston Celtics with the 58th overall pick in the second round of the 2009 NBA draft, Hudson, 30, has played three seasons in the NBA. In 52 career NBA games, Hudson has averaged 4.8 points, 1.3 rebounds, 1.3 assists and 10.3 minutes with Boston, Memphis, Washington and Cleveland.
Hudson will be available to make his Clippers debut on Sunday against the Celtics.