April, 24, 2014
Apr 24
12:27
PM PT
SAN FRANCISCO -- Los Angeles Clippers guard Chris Paul participated in shootaround Thursday and will start Game 3 against the Golden State Warriors despite dealing with an injured right hamstring.
"It's all right," Paul said. "I didn't do a whole lot but I'll be ready for tonight."
When asked if he anticipated playing the whole game Paul said, "I hope so. As long as [coach] Doc [Rivers] will let me."
Rivers has restricted Paul, who injured his hamstring in Game 1, and Clippers guard Jamal Crawford over the past two days. Crawford re-injured his left calf in the first half of Game 2 but will play Thursday.
"Jamal is OK but he didn't do a lot," Rivers said. "We knew this coming in. He played two games on it and it's sore so we're just going to see."
Crawford was sidelined for five games with a strained left calf at the end of the season. It was the same injury that sidelined him for eight of nine games last month.
"I got lots and lots of treatment," Crawford said. "The calf limits you a lot. It happened in the first half of the last game and I pulled myself out. I just felt it and I knew. It's discouraging but you just got to get through it. It's the playoffs. I'll be OK. No question. I'm playing."
April, 24, 2014
Apr 24
10:53
AM PT
By
Ian Begley
| ESPNNewYork.com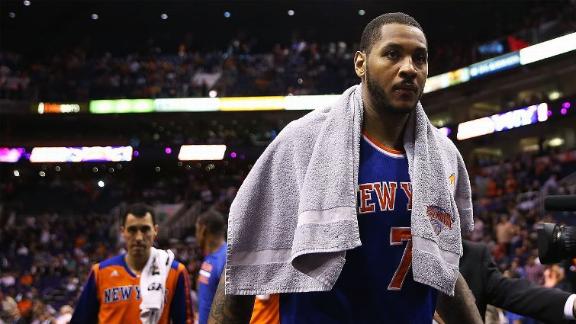 If Hall of Famer Oscar Robertson were advising Carmelo Anthony, he'd tell him to leave the New York Knicks this summer.
"I would leave today [if I were Carmelo]," Roberston said on SiriusXM NBA radio Thursday. "... Let me tell you why: wherever that kid has gone, when he was at Denver, they had a team that fooled around with the ball, fooled around with the ball, then all of the sudden when they needed a basket, threw it to Carmelo. Then, when he shot the ball, they said he shot too much. Then when he didn't shoot they said he didn't shoot enough.
"No matter what he does in New York they're going to criticize him, the people are going to criticize him, because you got guys on [the Knicks] that cannot play. You got guys that are hurt all the time."
Anthony has said that he will opt out of the final year of his contract and test free agency this summer. The Houston Rockets, Chicago Bulls and Los Angeles Clippers are among a group of teams expected to show interest in Anthony.
Robertson thinks Houston would be a perfect fit for Anthony, who was second in the NBA in scoring last season and pulled down a career-high 8.1 rebounds per game.
April, 24, 2014
Apr 24
9:23
AM PT
Sixteen games are in the books from the 2014 NBA playoffs -- two games apiece in eight series replete with drama and surprise -- and the chess match is on. One of the most fascinating aspects of the postseason is how the opposing coaches get to match wits over multiple games, a dynamic we don't see during the rush of the regular season. Player usage, motivational techniques, play calling -- all of these elements of leading a team are under the microscope this time of year.
We know teams tighten their rotations during the playoffs, with star players typically getting between three and six additional minutes per night. Beyond that, however, the matchups dictate who sees more or less time on the floor. A lineup you might not see much in the season may suddenly click against a particular opponent and become a relied-upon combination in the subsequent games. Then, in the very next round, that combination may well disappear.
With that in mind, let's look at one lineup combination for each team (members of the starting five can be included) that I'd like to see more of in the first round.
---
Eastern Conference
Indiana Pacers vs. Atlanta Hawks
Pacers: Ian Mahinmi, George Hill, C.J. Watson, Paul George, Luis Scola (plus-14 in playoffs)
The suggested lineup is an observation about how Frank Vogel might want to manage his reserves. More than anything, as Vogel focuses his rotation around eight players, he may need to abandon the Evan Turner experiment. Turner has scored 12 points in 30 minutes in the series, but Indiana is minus-15 with him on the floor. This suggested lineup was a big part of Indiana's Game 2 win but saw just one minute of court time together during the regular season.
To continue reading this article you must be an Insider
April, 24, 2014
Apr 24
12:09
PM PT
By
Ethan Sherwood Strauss
| ESPNLosAngeles.com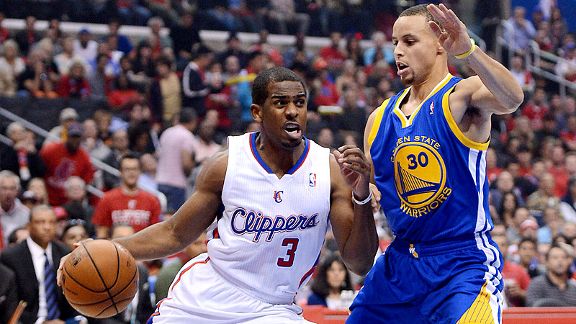 Jayne Kamin-Oncea/USA TODAY SportsChris Paul and Stephen Curry are succeeding with different styles at the NBA's glamour position.
"Point guard" evokes a certain kind of romance that other positions on the basketball floor don't hold. Even if the league's two best players are "small forwards," the "SF" designation doesn't mean as much to people. The point guard is the floor general, the quarterback, the engine of the offense, the head of the snake.
Perhaps the idea of a team's smallest player as its offensive fulcrum is outdated, but it endures. Equally enduring is the idea that there's a "right way" to be a point guard. "He's a pure point guard" gets said a lot more often than "he's a pure power forward," for instance.
Chris Paul
and
Stephen Curry
may be the league's two best at the position, and the Clippers-Warriors series could serve as a contest in whose style is paramount. Paul is the archetypal floor general, heir to a rich tradition of how to run a team. Curry is something different, something new. While Paul attacks defenses "the right way," Curry's distance shooting bends defenses in ways we haven't seen before.
Let us establish their similarities, though. Each hails from North Carolina and played college ball at a private school in his home state. Each claims excellent vision and an exquisite handle. On the face of it, these are similar players. Their differences are stark, though, and are probably rooted in personality traits that can manifest on the court.
---
CP3: The Controller
After a loss in Game 1 against the Warriors, Doc Rivers was asked about the status of Paul.
"Typical Chris," Rivers said. "Very hard on himself as usual. Very focused. I don't know well in that, but I'm learning as this year goes on that if he has a game he didn't like, he gets real hard on himself. And I don't always know if I like that or not yet, to be honest. That's something I'll have to find out."
Earlier in the season, after going 5-of-15 against the Warriors, Paul engaged in a lengthy late-night
shooting practice
on the Staples Center floor. This was after a game the Clippers won handily.
[+] Enlarge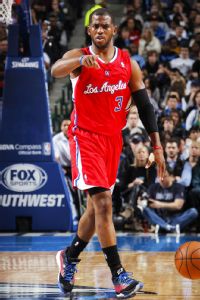 Glenn James/NBAE/Getty ImagesA control freak, Chris Paul is the Peyton Manning of point guards.
It's no surprise Paul's haunted by failure, as he's so detail-oriented about success. He's famously competitive and a total control freak in manner. He constantly works the refs throughout a game, and lobbies with a viciousness that a taller man couldn't pull off.
Every edge must be leveraged, every market inefficiency must be exploited. The head whips back when the defender makes contact, lest the ref ignore the foul. Those 2-for-1 opportunities are all getting used, as though Paul is accumulating frequent flier miles with each of them. He's a coupon-clipping point guard, always seeking to save what less committed men might squander.
The refs aren't the only recipients of his competitive fury. Coworkers get an earful, too. "
I swear I hate a dude who get there, and feel like they done made it
," Paul once groused of an unnamed slacker teammate.
He isn't lying in telling younger players, "
When I step out on the court, Bron, Melo, D-Wade, they know not to take the ball from me
." Some defenders would sooner reach into an active garbage disposal than reach in for a steal on CP3. His hands are too strong, too quick. He also doesn't panic. Defenders try to hound their marks into "speeding up," but Paul refuses to hurry. The little man sticks his butt out, widens his stance, occupies as much space as possible.
You adjust to him, not the other way around. When defenders chase after him, he'll delight in slowing down to bludgeon them with his backside, or draw contact for the foul. Knowing full well he has total control of the ball, Paul operates at his own pace, probing the defense until it falters.
If he's the quarterback of an offense, he's Peyton Manning -- obsessively studious in the impossible pursuit of perfection. The study leads to minimized risk, meaning fewer interceptions or, in Paul's case, turnovers.
Like Manning, Paul's greatest strength -- that tight control -- might be his greatest weakness. Similar to how the Denver quarterback has been criticized for ignoring his running backs, the ball can stick in Paul's hands at times. While Paul tends to end possessions with brilliant passes, he can phase teammates out during the search.
On balance, though, Paul's method produces results. It's also worth noting that he's ceded a measure of control to
Blake Griffin
's creative powers this season. It should also be noted that some Paul passes are more
triumphs of imagination
than feats of problem-solving.
---
SC 30: In the Flow
When asked about how he feels after a loss as rough as the Game 2 loss to the Clippers, Curry said, "Once I go home, I'm the same guy. I try not to let anything on the court affect anything at home and that kind of deal." He later added, "I don't go home and quarantine myself."
Curry is certainly competitive and, like Paul, has a renowned work ethic. But his approach is a bit more relaxed, perhaps more Zen. Laughter is the steady metronome of his shooting drills. He jokes and banters his way around the arc. His quest for perfection might be more about getting in tune with something than exerting control over it.
[+] Enlarge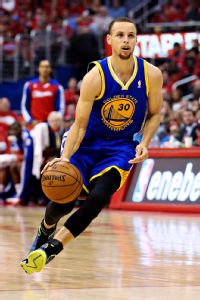 Stephen Dunn/Getty ImagesSteph Curry is stretching defenses and the definition of a point guard.
To David Fleming, Curry described
: "I love everything about shooting, but mostly that perfect form, when your body is in rhythm from the time you plant your feet to the time you release the ball. When it happens, everything is very smooth and calm from your feet through your release. Everything moves through you like a wave, almost. It's a beautiful thing."
Though he can't claim a better handle than Paul, he certainly looks more comfortable out there. He's more upright, preferring regular walking form to Paul's jutted crouch.
Only defenses are subject to Curry's wrath. "If you don't get along with Steph, then the problem is you, not Steph," Mark Jackson said when asked if Curry ever chewed out a teammate. Refs are mostly free of Curry's scorn, too. Whereas Paul collected 10 technical fouls this season, Curry went the whole season without one until Monday night's blowout loss. "
I would get very tired talking every possession, every play
," Curry explained of his lack of lobbying. Perhaps it'd all be a distraction from the pursuit of that perfect shooting wave.
If Curry has a quarterback comparison, then it's Packers-era Brett Favre. As the Favre cliché went, Curry's "just having fun out there." He might pull up from 35 feet if the inspiration strikes, or he might, in full gait, zip a one-handed pass across the court. The bold decisions are animated by a whimsy that seems to insulate him from pressure.
Perhaps his carefree style is born out of being a prodigy. Nobody can shoot like he can off the move. It may come so easily to him that the game seems less a quest for minute advantages and more a testing ground for a superior talent.
Like Favre, Curry's gunslinging style brings big risks and big rewards. This season, Curry leads all players in turnovers while also leading all in 3-pointers made. On the balance, he's super efficient, but that efficiency comes with some horrific-looking giveaways.
The gunslinger's approach is most pronounced in Curry's passing, where he's doing some of the most daring work around the league. Two examples stick out, both from a tightly contested regular-season game against Memphis.
Notice here
how Curry throws
Harrison Barnes
open with a pass that whizzes between four Grizzlies. From the media row angle, it was difficult to see why the pass was going that particular trajectory until Barnes rose up for the dunk. To make this play, you can't be playing scared. There's more evidence of Curry's "no fear" approach later in the game, when with less than a minute to go and a three-point lead, Curry
threw a no-look over-the-shoulder pass
to Jermaine O'Neal.
At the time, the game was considered crucial in helping the Warriors get a playoff seed. The stakes didn't dissuade Curry from going Harlem Globetrotters when inspiration struck. They ended up winning and Curry scored 33 points to go with eight assists.
---
The Choice
If you're choosing between these two players for one game, you're probably taking Paul. He's marginally more efficient in his offensive output, and his defense is superior. Curry might find it difficult to prove his value in this series, as the Warriors are likely to struggle without the injured
Andrew Bogut
.
That's today, but Curry could well rule the future. He's two years younger and he twists defenses in a way Paul does not. Right now, the Clippers are trapping Curry with everyone but the ball boy, for fear he'll hit 3-pointers off the dribble. The Warriors are mostly playing Paul straight up with
Klay Thompson
. Curry's singular ability to hit 3-pointers off the bounce represents a shift in what the position can be, and how it will get teammates open. Paul's command and controlling style harken back to a past of great point guards getting in the lane and expertly micromanaging their teams to success. Curry's free-wheeling, long-bombing style -- which you can see flashes of in the emerging
Damian Lillard
-- promises new space for offenses to explore. Paul is a "true point guard" today. Curry might be what a "true point guard" becomes.
April, 23, 2014
Apr 23
2:02
PM PT
[+] Enlarge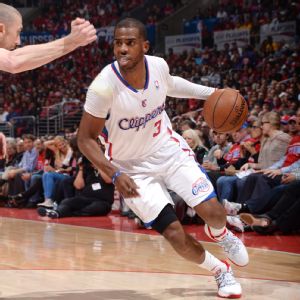 Andrew D. Bernstein/NBAE via Getty ImagesChris Paul has been hampered by an injured right hamstring in the first two games of the Clippers' playoff series against the Warriors.
Los Angeles Clippers point guard Chris Paul was held out of practice for the second straight day Wednesday with a right hamstring injury that has bothered him since late in the first half of Saturday's playoff series-opening loss to the Golden State Warriors.
Paul was able to play through the injury in the Clippers' Game 2 win over the Warriors on Monday night and says he will be ready for Game 3 in Oakland on Thursday.
"I'll be ready, I'm OK," Paul repeatedly said when asked about the injury. "As long as I'm out on the court, I'm good."
That's been a familiar refrain for Paul, who mostly deals with injuries by refusing to acknowledge they affect him.
"I love that approach, because I do believe that. Your mind is strong," Clippers coach Doc Rivers said. "I just have to watch his movement during the games. The only way you can find out with injuries is to go out and play -- then you'll see.
"But I thought he's been great. In the second half [of Monday's win], I thought he got tight -- tight legs, not tight physically -- you could see his movement wasn't there."
April, 23, 2014
Apr 23
10:40
AM PT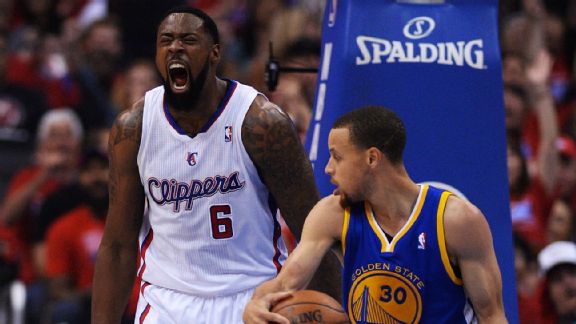 Jayne Kamin-Oncea/USA TODAY SportsRelegated to the bench often early in his career, DeAndre Jordan's impact is now hard to ignore.
LOS ANGELES -- You can debate all the changes that would make the slam dunk contest better, but other than the near-universal agreement that the team format installed this past February should never be done again, there's only one surefire way to improve it:
Name DeAndre Jordan as a permanent contestant.
As incredible of a dunker as Blake Griffin is, the 6-foot-11 Jordan might be even better. But so far, Jordan hasn't been willing to enter his name in the dunk contest field.
"I don't want to go to All-Star [Weekend] to be like a dunk contest guy," he said. "I want to be there for a reason."
The Clippers big man has been saying the same thing long before anyone thought he had a realistic case to actually make an All-Star team.
"I think it's just pride," he explained.
April, 22, 2014
Apr 22
1:15
PM PT
[+] Enlarge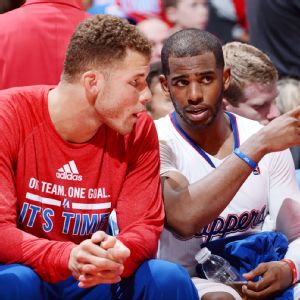 Andrew D. Bernstein/NBAE via Getty ImagesThe Clippers hope Chris Paul's injured hamstring won't keep him sidelined when their series resumes.
PLAYA VISTA, Calif. -- Los Angeles Clippers guard Chris Paul will be limited in practice over the next two days by an injured right hamstring heading into Thursday's Game 3 of the team's first-round playoff series against the Golden State Warriors.
"He won't do much," coach Doc Rivers said Tuesday. "He may do a little tomorrow but nothing today. We're not doing anything today anyway, but I don't need him doing anything."
Paul injured his right hamstring late in the first half of the Clippers' 109-105 Game 1 loss on Saturday and received round-the-clock treatment heading into Game 2, when he played 27 minutes and had 12 points and 10 assists in a 138-98 blowout of the Warriors.
Rivers had thought the two days between games would be most beneficial to J.J. Redick and Jamal Crawford, who missed time heading into the postseason, but he now says no one needs the time off more than Paul, whose right hamstring was wrapped during Monday's game.
April, 22, 2014
Apr 22
12:28
AM PT
By
Ethan Sherwood Strauss
| ESPN.com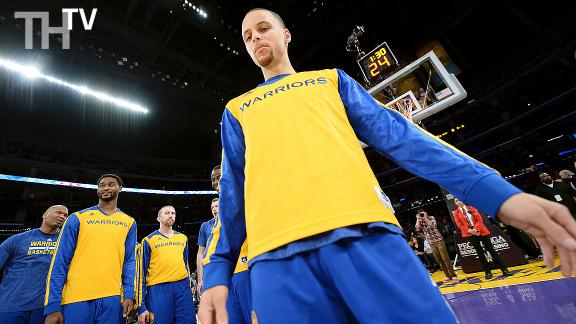 LOS ANGELES -- With 2:45 left in the second quarter, Stephen Curry scored his first points of the game. With 30 seconds left in the quarter, he earned his first trip to the free throw line. There, the "over-rated" chants built. They weren't loud -- few sounds are in the cavernous Staples Center -- but they were noticeable, and might well mark a change in Curry's career.
"That's funny," Curry said of the chants after his Golden State Warriors lost Game 2 to the Los Angeles Clippers 138-98 on Monday night. "That's funny to me. What a difference a day makes, I guess." Though he found humor in the chant, he had to concede, "Obviously I didn't do much in the first half."
He finished with 24 points and eight assists, but most of that production came long after the game was settled. The Clippers' 40-point thrashing of the Warriors was based on their quelling of Curry in the first half, when he made only one shot. On the ball, he was enveloped by double-teams. Off the ball, he was effectively tracked by Chris Paul's supernatural ability to bend a body around screens. Los Angeles smothered Golden State's superstar and feasted off the turnovers his befuddled teammates ceded.
Monday night's chant aside, Curry has had a high approval rating for reasons that go beyond his ability to shoot off the dribble like no one before him. He doesn't look like other superstars as he's slight and baby-faced. Announcers still sometimes refer to Curry as a "kid," even though he has a wife and child of his own. He's never in trouble off the court, he's achingly polite with the media. Curry just isn't the type to draw mockery from opposing crowds. This is the playoffs, though, and he's viewed through the lens of bigger expectations.
April, 22, 2014
Apr 22
12:17
AM PT
LOS ANGELES -- The
Los Angeles Clippers
are still in the beginning stages of piecing together their postseason scrapbook.
[+] Enlarge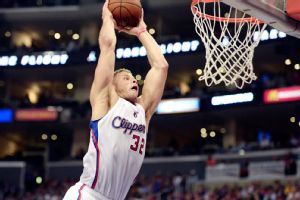 Richard Mackson/USA TODAY SportsAfter playing just 19 minutes in a frustrating Game 1 loss, Blake Griffin led the Clippers with a playoff career-high 35 points in Game 2.
When it comes to leaning back on playoff experience, there isn't much flexibility for a franchise that has never made it past the second round, which is as far as
Chris Paul
,
Blake Griffin
and
DeAndre Jordan
have gone.
Even that simple fact routinely gets forgotten by their own head coach as Doc Rivers has often mentioned this season that the Clippers haven't gotten past the first round despite the fact that they did so two seasons ago while he was with the
Boston Celtics
and the Clippers were coached by Vinny Del Negro.
"Going into it," Rivers said, "the one advantage I thought that Golden State had was that they've already done it."
By "done it," Rivers was referring to the fact that the Warriors advanced past the first round last year before losing to the
San Antonio Spurs
in the second round. Something the Clippers did two years ago before losing in the first round last year, which is the memory fresh in the mind of Rivers and most casual observers.
"This was a totally different team," Paul said. "I think me, Blake and DJ may be the only guys that are left from that team. So us three can draw back from that. But we just have to go out there and play. It doesn't matter about the future or the past. It just matters about right now."
It's the kind of mindset that Rivers has tried to instill in the Clippers this season. He has conducted "playoff practices" since training camp opened six months ago. He began talking to them about coming back after losing a home game in the playoffs around the All-Star break. He told them to envision themselves wearing championship rings as the season came to a close.
April, 22, 2014
Apr 22
12:00
AM PT
[+] Enlarge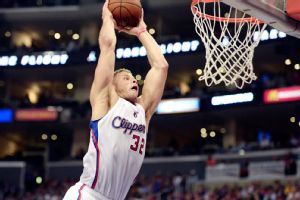 Richard Mackson/USA TODAY SportsAfter playing just 19 minutes in a frustrating Game 1 loss, Blake Griffin led the Clippers with a playoff career-high 35 points in Game 2.
LOS ANGELES -- The NBA playoffs are so much better when we're talking about the star performances instead of the officiating. Unfortunately, with Blake Griffin it has been impossible to separate the two.
He has scored 51 points in 49 minutes played this series, the type of point-per-minute production that validates his status among the league's elite. It's the splits that are so maddening -- to both the Los Angeles Clippers and the Golden State Warriors.
He scored 16 points in Game 1, when he played only 19 minutes (to the Clippers' consternation) before fouling out of a game won by Golden State.
But he roared back with 35 points in Game 2, when he had the foul-trouble-free luxury of playing 30 minutes in the Clippers' 138-98 romp.
"It just allowed me to play a little more aggressive," Griffin said in typical low-key manner.
Chris Paul, sitting next to him, looked at the box score placed between them on the table and scanned his eyes to the personal fouls column on Griffin's line.
"You didn't have any!" Paul said.
April, 21, 2014
Apr 21
10:32
PM PT
LOS ANGELES --
Blake Griffin
didn't need much time getting dressed after Game 1 on Saturday.
He had played just 19 minutes in the game, less than four minutes in the first half and a grand total of 39 seconds in the second quarter. Griffin had never played fewer minutes in a game he wasn't injured during his career.
After preparing for the postseason for the past six months, Griffin was effectively reduced to nothing more than a highly paid spectator in the first game of the playoffs and was on the bench with the game tied in the final minute.
On Monday, Griffin was again on the bench at the end of the game, but under entirely different circumstances.
Despite getting into early foul trouble and losing Game 1, Doc Rivers didn't want Griffin to change anything for Game 2 on Monday. He wanted him to be the same dominating player he had seen all season and trust he wouldn't be saddled with three fouls early.
"Blake needs to play even more intense and even more aggressive," Rivers said. "And not go the other way."
Rivers got what he wanted and Griffin responded with a career playoff-high 35 points in 30 minutes and had no fouls as the Clippers routed the Warriors 138-98 to tie their best-of-seven first-round series before going back to Oakland for Games 3 and 4.
It was the most points the Clippers have ever scored in a playoff game and their largest margin of victory ever in the postseason.
How it happened:
This game was never in doubt. The Clippers stormed out to an 11-point lead in the first quarter that ballooned to a 28-point advantage in the second quarter, thanks in part to the Clippers' second unit. The Clippers would go up 33 in the third quarter and 40 in the fourth quarter and essentially had their way with Golden State from the opening tip to the final buzzer.
What it means:
It means the Clippers have tied the series up at 1-1 and now have to steal a game in Oakland to regain home-court advantage.
Hits:
Griffin scored 35 points in 30 minutes on 13-of-17 shooting from the field and 9-of-10 from the free throw line. After being limited to 19 minutes in Game 1, he was on the floor for as long as he needed to be on Monday.
DeAndre Jordan
had 11 points, 9 rebounds and five blocks,
Chris Paul
had 12 points and 10 assists and
Darren Collison
had 12 points and 10 assists.
Danny Granger
and
Hedo Turkoglu
also combined for 28 points and six 3-pointers.
Misses:
Hard to single out a miss on a night like this for the Clippers.
Stat of the game:
Stephen Curry
scored 20 points in the third quarter and the Clippers increased their lead by six points in the period.
Up next:
The Clippers will take on the Warriors in Game 3 on Thursday at Oracle Arena.
April, 21, 2014
Apr 21
10:30
PM PT
Associated Press
LOS ANGELES -- Blake Griffin scored a career playoff-high 35 points without a foul and the Los Angeles Clippers led all the way in routing the Golden State Warriors 138-98 Monday night to even their first-round series at a game apiece.
Chris Paul added 12 points and 10 assists for the Clippers, who started the game on a 14-4 run and kept on going, maintaining a sizeable double-digit lead through the final three quarters. They finished with a franchise record points for a playoff game.
All the foul trouble that plagued Griffin and Paul in the Clippers' four-point loss in Game 1 belonged to the Warriors this time.
Stephen Curry scored 20 of his 24 points in the third quarter, when the Warriors never got closer than 25 points, while playing with four fouls. Klay Thompson finished with seven points -- 15 under his average -- and four fouls.
April, 21, 2014
Apr 21
1:17
PM PT
[+] Enlarge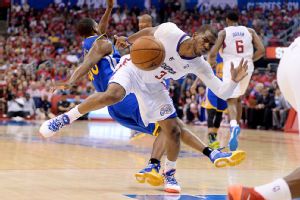 Jayne Kamin-Oncea/USA TODAY SportsThe Clippers' Chris Paul will be ready to play in Game 2 against the Warriors.
PLAYA VISTA, Calif. -- Los Angeles Clippers guard Chris Paul said his hamstring has responded well to round-the-clock treatment and he will be ready to play Monday night in Game 2 of the team's first-round playoff series against the Golden State Warriors at Staples Center.
Paul initially injured his right hamstring late in the first half of the Clippers' 109-105 Game 1 loss to the Warriors on Saturday. He briefly came out of the game on two separate occasions late in the second quarter, but returned to play 18 minutes in the second half of the loss. Since then, he said he's gotten round the clock treatment for the past 48 hours.
"As much as we possibly could," Paul said when asked how much treatment he's gotten since Saturday. "We've got the best training staff in the league. I'll be ready tonight."
Paul has a history of injuries in the playoffs. He also has a history of playing through just about anything.
"Only thing I couldn't play through was the shoulder thing," Paul said of the separated shoulder that cost him six weeks between January and February. "This is fine."