April, 19, 2014
Apr 19
7:50
PM PT
By
Ethan Sherwood Strauss
| ESPN.com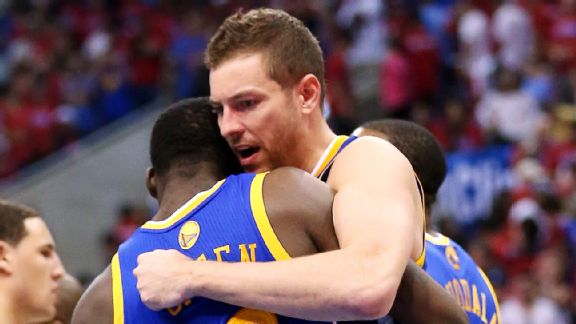 Stephen Dunn/Getty ImagesDraymond Green turned in the kind of plays that made teammate David Lee hug him.
LOS ANGELES -- "Guarantee you I got a text from her telling me about the free throws I missed," Draymond Green said in the locker room.
He was talking about his mother, who jokingly tweeted about spanking her son over two errant foul shots late in the game. Green had also drained two huge free throws earlier in the fourth, but mom isn't prone to letting things slide.
Over social media, she's equal parts optimistic and fiery. She's inclined to remind pundits that where her boy is from, "we breed confidence." The parallels between her and her son aren't difficult to find, just like how the parallels between Green and a surprisingly confident Warriors squad abound.
Logically, you should have counted them out before the game and at points during it. They lack a starting center and a couple of assistant coaches, and their superstar played badly. But despite showing up to a knife fight with spoons, the Golden State Warriors emerged alive -- and with a 1-0 series advantage over the Los Angeles Clippers with a 109-105 win.
April, 19, 2014
Apr 19
7:27
PM PT
LOS ANGELES --
Chris Paul
can often be heard screaming, "It's winning time!" during the fourth quarter of close games.
It's a phrase his teammates have come to expect to hear after every made shot and defensive stop at the end of games to remind them of the moment at hand.
More often than not, "winning time" means just that for the
Los Angeles Clippers
when they find themselves in a tight game with Paul at the helm, especially at home. In fact, the Clippers were 32-0 this season at Staples Center when leading at any point during the fourth quarter.
[+] Enlarge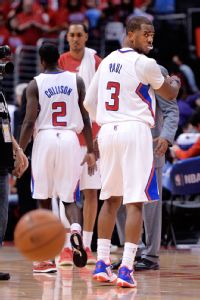 Jayne Kamin-Oncea/USA TODAY SportsChris Paul knows there are plenty of things the Clippers could have done better in Game 1, so he's simply moving on to the next game.
That record is now 32-1 after the Clippers lost Game 1 of their first-round series against the
Golden State Warriors
109-105 on Saturday.
It was an odd game marred by 51 fouls and 60 free throws, but nothing was more unusual than the final two minutes of the game and the Clippers' inability to close with Paul on the court.
The Clippers had come back from an 11-point deficit in the fourth quarter to tie the score on Paul's 3-pointer and later took a 103-102 lead on a
Darren Collison
free throw. It looked as if the Clippers were on the verge of a comeback win when Paul raced down the court for what looked like a fast-break layup that was blocked by
Harrison Barnes
, who connected on a 3-pointer on the other end with 1:42 left.
That would be just the beginning of a litany of late-game errors for the Clippers.
Blake Griffin
, who fouled out after playing only 19 minutes, would miss two point-blank tip-ins before picking up his sixth foul while trying to get the ball from
David Lee
after his second miss.
Paul then stole the ball from
Klay Thompson
with 37.7 seconds left and the score tied and lost it of bounds with a potential 3-on-1 fast-break chance developing with
J.J. Redick
and Collison.
Just 20 seconds later -- and with the Clippers down two -- Paul dribbled the ball out of bounds as he was getting double-teamed by
Steve Blake
and
Draymond Green
. With the Clippers down three, Paul then missed two free throws with 13.9 seconds left before missing the final 3-pointer of the game.
It was the kind of ending Paul was still trying to come to grips with afterward as he looked down at the final box score, searching for something more revealing than what the numbers on the paper offered.
"I've got to take care of the ball," Paul said. "It was just tough. I think the biggest play probably -- other than me missing those free throws -- was that 3-on-1. I want to look at that again, because I probably should've given the ball up to J.J. or Darren, who were running with me. I try to make the right decision in those situations. Unfortunately, I didn't, and I missed a layup. Well, whatever happened, and then they came down. We could've gone up three, but instead, Harrison Barnes makes a shot, and they go up two."
April, 19, 2014
Apr 19
7:10
PM PT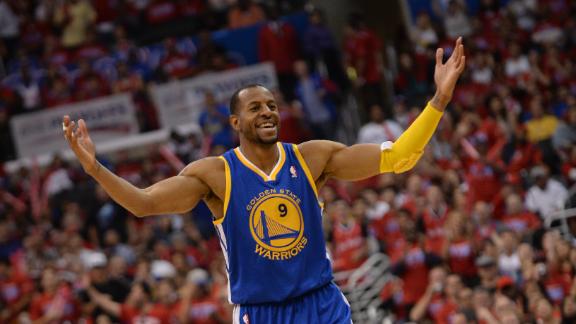 LOS ANGELES -- Maybe instead of wondering why the Golden State Warriors weren't better than a No. 6 seed this season, we should have wondered why they weren't worse.
Yes, we took into consideration that David Lee, Andrew Bogut and Andre Iguodala each missed at least 15 games with injuries. We acknowledged they had lost key reserves and positive locker-room presences Jarrett Jack and Carl Landry. But we didn't consider how many new players they had to work into the mix: Iguodala, Jermaine O'Neal and Marreese Speights at the beginning, then Jordan Crawford and Steve Blake before the trade deadline. And we had no knowledge just how difficult that integration was, at least not to the extent Iguodala alluded to Saturday.
"Everyone's fighting for minutes," Iguodala said. "The chemistry didn't look so bad on the court, but you could tell there was a lot of tension at times throughout the year. You were like, 'When is it going to end?'
"I've seen that on championship teams. Miami, their first year together, they had some serious tension. It never got that bad [here], but you kind of wonder, 'When are you going to come together? When are you going to grow up and understand that it's not about me, or this guy, it's about us as a group?'
April, 19, 2014
Apr 19
9:58
PM PT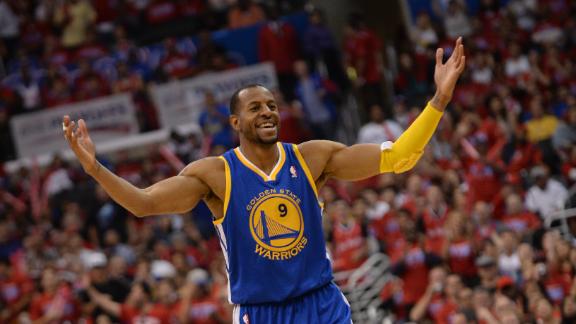 LOS ANGELES -- The narrative leading into this first-round playoff series between the
Los Angeles Clippers
and
Golden State Warriors
was that some sort of MMA fight was liable to break out at any time.
These teams really don't like each other!
No really, there's bad blood!
Bad things could happen!
Beware!
So, naturally, the first game was refereed with extreme caution, and the end result had two of the best players in the series --
Blake Griffin
and
Andre Iguodala
-- sitting on the bench at the end of the Warriors' thrilling 109-105 win.
"I thought all the hype absolutely had an impact on how the game was called," Clippers coach Doc Rivers said. "There's no doubt about that. A lot of tight, touch fouls. I thought Blake, of the six [fouls], three of them were probably touch fouls. Same thing with [
Chris Paul
, who had five fouls].
"But the way I look at is, both teams have to play under the same rules. They did a better job of playing under the same rules that we had to play under."
In all, the referees in Saturday's game called 51 fouls, 29 in the first half, in which Iguodala collected four fouls in 11 minutes and Griffin was limited to less than four minutes with three fouls.
The 51 fouls is not an obscene number -- the four regular-season games between the teams averaged 47 fouls -- but it did seem to affect both the flow and outcome of the game.
"It's frustrating," said Iguodala, the Warriors' best perimeter defender. "Because you put in so much work for these moments. To have a few things not go your way and you know you're not wrong, it can be tough."
For his part, Griffin thought it actually took the expected physicality of this series out of the game.
"To be honest, it felt like just a regular-season game as far as the physicality goes," Griffin said. "I know the series we played last year [against the
Memphis Grizzlies
] and the years before that were way, way, way more physical. So it's kind of hard to know what you can get away with and what you can't.
"But I just I have to be smarter in that area and not put us in that situation."
Or maybe things will just loosen up and Griffin and Iguodala will be able to influence the series, like one would've expected.
April, 19, 2014
Apr 19
4:03
PM PT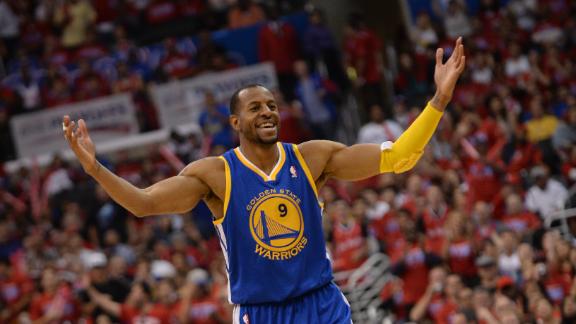 LOS ANGELES -- Time and again over the final month of the season, the
Los Angeles Clippers
found themselves down by double digits in the fourth quarter and time and again they found a way to come back and win.
Against the
Golden State Warriors
in the first game of their first-round series, however, the Clippers could not complete the comeback and ended up losing 109-105.
It was game dominated by the officials, who called 51 fouls, which led to 60 free throws.
Blake Griffin
and
Andre Iguodala
each played less than 20 minutes and both players fouled out.
How it happened:
The Clippers jumped out to a 12-1 lead to start the game and looked as if they might run away with Game 1 before the Warriors came back and took control in the second half. The Warriors took an 11-point lead in the fourth quarter before the Clippers stormed back and took the lead but were not able to hold on. It was the first time this season the Clippers lost a game in which they led at home during the fourth quarter. They were 32-0 before Saturday.
What it means:
The Clippers lost home-court advantage after playing for it all season. They must now win a game at Golden State to win this series, which is something they haven't done since Dec 25, 2011.
Hits:
Chris Paul
finished with 28 points and came up big in the fourth quarter, scoring 10 points in the final period. He did miss two free throws and had a key turnover at the end of the game, but the Clippers wouldn't have had a chance to win without his play in the fourth quarter.
J.J. Redick
had a career playoff effort, scoring 22 points and hitting 4-of-5 from beyond the arc. Griffin had 16 points in only 19 minutes.
Misses:
The referees essentially took Griffin and Iguodala out of this game. Griffin played less than four minutes in the first half with three fouls and fouled out on a lose ball call with the score tied and 48.5 second left. Iguodala played less than 19 minutes in the game and had four fouls in the first half before fouling out.
Stat of the game:
There were 51 combined fouls called. The referees clearly wanted both teams to know that their physicality was only going to go so far in the playoffs. "I think the hype may have had an impact on how this game was called," Clippers coach Doc Rivers said.
Up next:
The Clippers will take on the Warriors in Game 2 of their first-round series on Tuesday at Staples Center.
April, 19, 2014
Apr 19
3:40
PM PT
Associated Press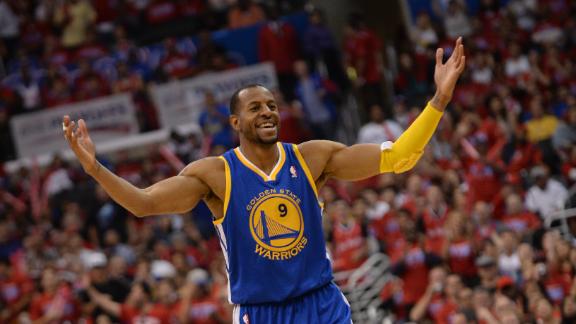 April, 19, 2014
Apr 19
1:43
PM PT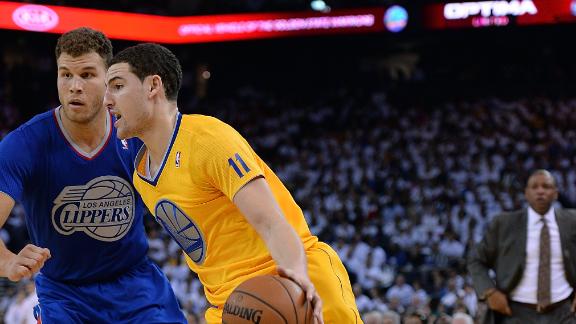 LOS ANGELES -- Golden State Warriors guard Klay Thompson said he didn't regret his now-famous "bull in the china shop" quotes regarding Los Angeles Clippers forward Blake Griffin said on a San Francisco radio station earlier this week.
"At this point I don't really care. No regrets, it's fine," Thompson said Saturday before Game 1 of their first-round series at Staples Center. "When you step through those lines, nobody really cares what you said before. If you go out there and perform, that's all that really matters."
Thompson explained that he wasn't trying to start a conflict with Griffin, he just gave an honest answer to a question about why Griffin has a reputation for frustrating opponents.
"They asked me why he gets under people's skin," Thompson said. "It is what it is. I guess I should've expected that."
The normally buttoned-up Thompson made his comments in a radio interview Wednesday, setting an aggressive tone for the Warriors in this series.
"He is a good guy off the court but he probably just ... I mean ... plays pretty physical and flops a little bit," Thompson told "The Wheelhouse" on 95.7 The Game radio in San Francisco. "He flails his arm around so, you know, you might catch a random elbow or something that doesn't, you know, rub off too well on guys. He's kind of like a bull in a china shop, kind of out of control sometimes. And then you do just see him flop sometimes, like how can a guy that big and strong flop that much.
"I can see how that gets under people's skin and be frustrating to play against."
April, 18, 2014
Apr 18
9:58
PM PT
LOS ANGELES -- As is the case with most feuds, the participants have a hard time remembering exactly why they don't like each other, except for the fact that they, well, don't like each other.
Trying to stroll down memory lane in search of an exact reason or incident seems inconsequential.
[+] Enlarge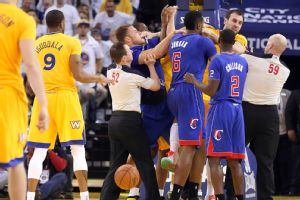 Kelley L Cox/USA TODAY SportsThe Clippers and Warriors admit they really don't like each other, and it seemed to come to a head on Christmas Day this season.
For the
Los Angeles Clippers
and
Golden State Warriors
, the genesis of their feud is no longer important to them. But it might help others to explain why these two star-crossed franchises, which have never met in the postseason before Saturday, dislike each other so much.
"You would have thought they won the NBA Finals"
All good rivalries need a good instigator and the light that lit the flame on the Clippers-Warriors rivalry was the Warriors' bench, led by
Kent Bazemore
during the 2012-13 season.
Mark Jackson, who was then in his second year as the Warriors' coach, wanted his bench to get more involved games. He wanted them to celebrate after every big play and be totally into the game. No one took this more than Bazemore, who was an undrafted rookie out of Old Dominion. His over-the-top celebrations on the sideline became so legendary that it earned a nickname: "Bazemoring."
The birth of "Bazemoring" coincided with the birth of the Clippers-Warriors rivalry. When the two teams met in 2012-13 in the third game of the season, the Clippers had just come off of back-to-back wins against the
Memphis Grizzlies
and
Los Angeles Lakers
. A win over the Warriors, a team that had won 23 games the previous season seemed like an afterthought. Before the game, Clippers players were already talking about a postgame party in Hollywood to commemorate the launch of
Chris Paul
's new shoe.
Not only would the Warriors go on to win the game 114-110 and serve notice they were legitimate contenders now, their bench celebrated every big play just a little bit more than usual. When Steph Curry took a charge from Paul to seal the win with 7.5 seconds left, the Warriors bench went crazy and a rivalry was officially born.
"You would have thought they won the NBA Finals," Paul would later say.
That was just the beginning of the rivalry and the Clippers' growing dislike for the Warriors.
April, 18, 2014
Apr 18
1:18
PM PT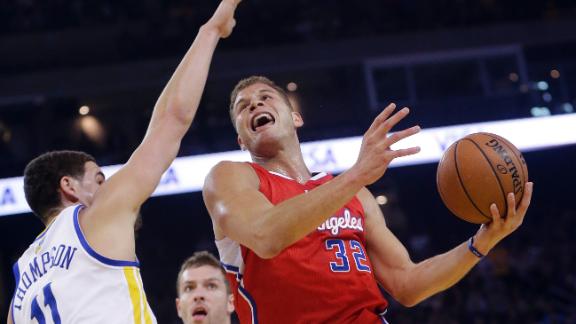 PLAYA VISTA, Calif. -- Two days after Golden State Warriors guard Klay Thompson called out Clippers star Blake Griffin for flopping and playing out of control, L.A. coach Doc Rivers said he wants Griffin to keep doing what he's been doing this season, even if that includes flopping.
"That's Klay's opinion; I don't really care," Rivers said Friday. "I just keep looking at what Blake's done. If he's flopping, then keep doing it because those numbers look awful good to me. So flop on. That's the way I look at it. Whatever he's done this year, I want him to keep doing exactly that. When the votes come for MVP, he'll be in the top three.
"I'm good with anything anybody says. Blake, you just keep doing what you're doing. What's happening is Blake is kicking a lot of people's butts and they need something to say about him."
Griffin didn't want to get into a war of words with Golden State but acknowledged it would be impossible to leave his emotions behind when the Clippers and Warriors open their Western Conference first-round series Saturday.
"I don't think you can leave the emotions behind," Griffin said. "I think both teams need that to a certain extent. You can't be too emotional where it's affecting your play, but you have to play with some emotion. You can't take that out of the game."
Griffin wouldn't go as far as to say the Clippers hate the Warriors, but he did say there was a dislike between certain players on both teams.
April, 18, 2014
Apr 18
4:13
PM PT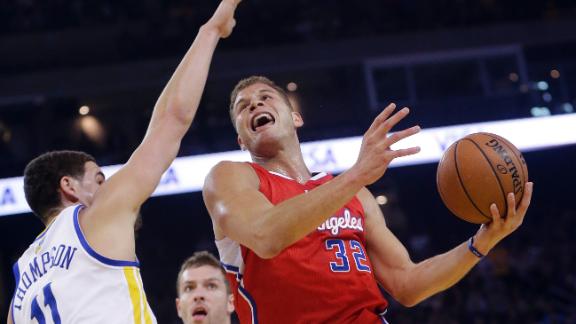 If you can't wait for the
Los Angeles Clippers
-
Golden State Warriors
series to begin, if watching the "Bad Boys" 30 for 30 documentary made you all nostalgic for back-in-the-day rivalries, you'd better hope the NBA keeps the conference playoff format.
This year's West-East disparity has people rushing to their keyboards to scrap the geographic divide and simply take the teams with the 16 best records, regardless of their location. That way everybody's favorite lottery-bound team, the
Phoenix Suns
, would have a place in the postseason party instead of a seat in Secaucus. The sub-.500
Atlanta Hawks
could stay home.
But you know what else would
not
happen in the first round under that scenario? Clippers-Warriors, the series even players and coaches on other teams are talking about with anticipation. This is the matchup that generated nine technical fouls, two ejections and one flagrant foul during four regular-season meetings. It's the series that Clippers forward
Matt Barnes
said will include "some hostility and animosity and hatred."
If you took the top 16 teams, you'd have the Clippers against the
Washington Wizards
. Where's the history there? (Ummmm... one-time Clippers draft pick
Danny Ferry
is the son of former Washington general manager Bob Ferry?)
[+] Enlarge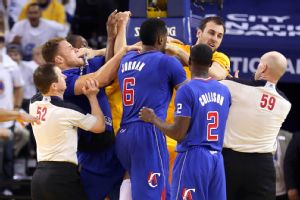 Kelley L Cox/USA TODAY SportsThe Clippers and Warriors have met eight times in the past two years, sparking a heated rivalry.
Proximity, as much as familiarity, breeds contempt. That's why divisions and conferences haven't completely outlived their usefulness. Even though this is the first playoff meeting between the Clippers and Warriors, they've had eight contentious regular-season games the past two years. There have been hard fouls, outright mocking from the sidelines, turf battles and stare downs. It's as much a part of this series as the superstar point guard matchup between
Chris Paul
and
Stephen Curry
.
"I'm not sure you can leave the emotions behind,"
Blake Griffin
said. "I think both teams need that, to a certain extent. You can't be too emotional to where it's affecting your play, but you've got to play with some emotion. You can't take that out of the game."
And thanks to this playoff format, you can't make it easier for these teams to hide on opposite sides of the bracket.
Conference playoff formats played a huge role in the
Detroit Pistons
rivalries, too, as seen in the "Bad Boys" documentary. The most amazing statistic in the film was the 24 games the Pistons and
Boston Celtics
played in two seasons, thanks to two lengthy playoff series and 11 regular-season meetings, back when there were only 23 teams to fill out the 82-game schedule.
Of course, the most memorable part was the footage of the hard punishment inflicted by (and against) the Bad Boys, with such little punishment from the officials and the league.
"It was incredible," Barnes said. "It was physical -- the stuff they did to [Michael] Jordan and [Larry] Bird.
"It was just physical basketball. They may have even tried to hurt each other back then. You kind of just wish that the game [today] could be a little more physical.
"If I did some of those fouls last night that I saw, I'd have to find a new job. Take my kids out of private school, cut my wife's allowance. We'd be in trouble."
What the documentary didn't show was the real aftermath of the Bad Boys, who showed that superior talent could be taken out by rough play. The
New York Knicks
took it from there, and by the mid-'90s some of the grace of the sport was lost. When Jordan took his sabbatical from 1993 to 1995, what was left was a league of slower play and lower scores.
Clippers-Warriors gives us a modern-day remix of the old rivalries. It's ornery, but artistic. There will be elbows at close range, but also long-distance shots by Curry and
Klay Thompson
. There will be trash talk, but also high-flying jams by Griffin and
DeAndre Jordan
.
The primary common link to Pistons-Celtics or Pistons-Bulls? The conference playoff format made their meeting much more likely.
April, 18, 2014
Apr 18
1:11
PM PT
Associated Press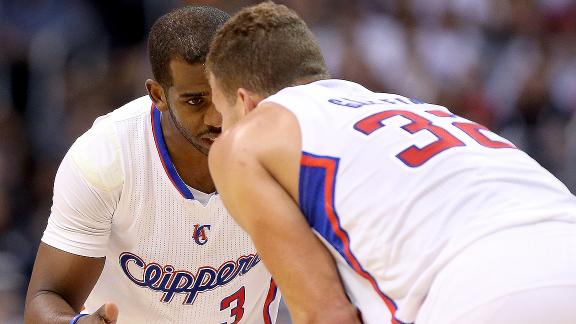 OAKLAND, Calif. -- Golden State Warriors coach Mark Jackson says Jermaine O'Neal will start in place of injured center Andrew Bogut in Game 1 of their Western Conference first-round series against the Los Angeles Clippers on Saturday (3:30 p.m. ET on ABC).
Jackson said Friday that he wants O'Neal to start because it's easier for the 35-year-old veteran to stay loose that way. He also says O'Neal provides a similar skillset to Bogut, who is out indefinitely with a fractured right rib.
The Warriors will use smaller lineups with David Lee or Marreese Speights at center and Draymond Green or Harrison Barnes at power forward when O'Neal is not in the game.
O'Neal averaged 7.9 points and 5.5 rebounds in 44 games this season, his 18th in the NBA. He sat out 25 games following surgery on his right wrist in December and also missed time with injuries to his right foot, groin and both knees.
April, 18, 2014
Apr 18
1:05
PM PT
By
Ethan Sherwood Strauss
| ESPN.com
OAKLAND, Calif. -- The Golden State Warriors and Los Angeles Clippers have yet to play against each other this postseason, but they've already commenced trading shots.
The cross talk continued on Friday, as Golden State coach Mark Jackson responded to an observation from Clippers guard J.J. Redick about Warriors guard Klay Thompson's defense.
"I didn't know that J.J. Redick was a player-coach," Jackson said. "Is he speaking on behalf of Doc Rivers?"
At practice Friday in Playa Vista, Calif., Redick discussed the Clippers' offensive strategy against the Warriors' perimeter defenders.
"If Klay guards Chris [Paul], Chris is going to be in about 4,200 pick-and-rolls a game," Redick said. "We want Klay to be in those pick-and-rolls. Klay and Andre [Iguodala] are great defenders, so as much as we can wear those guys down, that would be great."
Told of Redick's comments, Jackson took the opportunity to praise Paul, a perennial All-Star, before firing a salvo in Redick's direction.
"Chris Paul's a heck of a player, future Hall of Famer," Jackson said. "He's an all-time great. I'm not sitting there saying we have a Chris Paul stopper, so it really doesn't matter. At the end of the day, he's going to create challenges. Not as many as if J.J. Redick was guarding him, but he's going to create some challenges for our defense and any defense."
April, 18, 2014
Apr 18
12:29
PM PT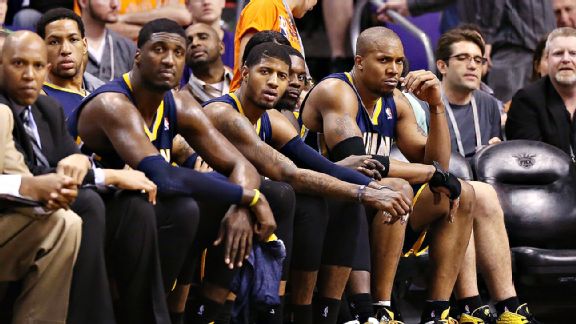 Christian Petersen/Getty ImagesThe Pacers were lucky to hang onto the top seed. How long will they manage to last in the playoffs?
Let's start here: When did it really begin to fall apart for the Pacers?
That's question No. 1. As the NBA prepares itself for its annual entry into Season 2, there are questions that are always left unanswered. In the case of the Indiana Pacers -- who have now generated more unanswered questions than any playoff team in the NBA -- there are so many questions it is almost impossible to know where to begin. What caused the Pacers' spiral? What effect will it have on them once the playoffs begin? Can they recover?
It's not at all as if the Pacers are alone. Far from it. Every team has lingering and irritating questions that they are distancing themselves from or in search of solving. Most won't. The attempt here is not to so much answer these questions as much as it is to acknowledge their presence. (It's become well known over the years that once the playoffs begin a whole new set of unanswered questions will surface.)
And it's usually the team that has separated itself from or escaped all unanswered questions as the team left standing in the end.