December, 20, 2014
Dec 20
2:08
PM PT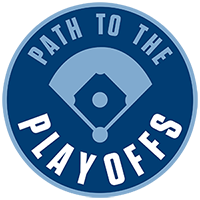 The American League West may be baseball's most entertaining division in 2015 -- following an entertaining 2014 when the A's blew a huge midseason lead. The up-and-coming Astros and a healthier Rangers squad should both be improved, turning this division into a potential five-team mad scramble.
Here is each team's path to the playoffs ...
Los Angeles Angels
2014:
98-64, +143 run differential, lost in ALDS
2015 projection from FanGraphs:
84-78, +26
After leading the majors in wins, it would be easy for the Angels just to stay the course and ride
Mike Trout
for another playoff season.
As you can see from the projection, however, the Angels don't project as anything close to a 98-win team. General manager Jerry Dipoto understands this and has added depth to a starting rotation that may have been over its head last year, acquiring
Andrew Heaney
for
Howie Kendrick
and
Nick Tropeano
from the Astros, two young pitchers who will compete for a starting job.

The path to the playoffs for the Angels:
•
Garrett Richards
and
Matt Shoemaker
have to be the real deal again. They were two of the biggest surprises in baseball last year, with Richards developing into one of the best starters in the league before his August knee injury and Shoemaker going 16-4 with a 3.04 ERA as a rookie (after a 4.64 ERA in Triple-A in 2013). The Steamer projection system has Richards with a 3.64 ERA -- a run higher than 2014's 2.61 -- and Shoemaker at 4.06.
• Mike Trout, back-to-back MVP winner.
• A healthy season from
Josh Hamilton
. He doesn't even have to be the Josh Hamilton of his Rangers days, but something better than .263/.331/.414 and 89 games would be helpful.
• Something from second base. Trading Kendrick (5.4 WAR) is a big blow. Former Rockies infielder
Josh Rutledge
is the favorite for the job right now.
• More consistency from
C.J. Wilson
. He went 13-10 but with a 4.54 ERA as he walked 85 in 175.2 innings and averaged fewer than six innings per start.
• The bullpen that was terrific from June 15 onward (3.08 ERA) to be terrific all season.
• Another 200-inning season from
Jered Weaver
. After dipping below 200 innings in 2012 and 2013, Weaver was back up to 213, as he tied for the league lead with 34 starts (and tied for the lead with 18 wins). He did allow a career-high 27 home runs and his 3.59 ERA was his highest since 2009, but he's still a solid No. 2-caliber starter.
The Angels beat up on the Astros and Rangers last year, going 26-11. They also went 11-0 against the Twins and Phillies. Can they count on going 37-11 against the bottom-feeders again in 2015?

Oakland Athletics
2014:
88-74, +157 run differential, lost wild-card game
2015 projection:
82-80, +11
Billy Beane has made so many moves this offseason, so let's take stock of where the club stands. The lineup would look something like this:
CF
Coco Crisp
3B
Brett Lawrie
DH
Billy Butler
/
John Jaso
1B
Ike Davis
/Butler
RF
Josh Reddick
C
Stephen Vogt
/
Josh Phegley
LF
Sam Fuld
/
Craig Gentry
SS
Marcus Semien
2B
Eric Sogard
SP
Sonny Gray
SP
Scott Kazmir
SP
Drew Pomeranz
SP
Jesse Hahn
SP
Jarrod Parker
/
A.J. Griffin
/
Chris Bassitt
/
Jesse Chavez
/
Sean Nolin
/
Kendall Graveman
Bullpen:
Sean Doolittle
,
Dan Otero
,
Eric O'Flaherty
,
Ryan Cook
,
Fernando Abad
It's difficult to get a good read here. The projections see a .500-ish team, but there are so many moving parts it's a difficult team to project proper playing time. Bob Melvin will be platooning throughout the lineup and the rotation has many options, depending on whether Parker and Griffin are back from their Tommy John surgeries and which of the young guys step up.
The lineup obviously has a big hole minus
Josh Donaldson
, but here are the positives: They're going to catch the ball; they have some hitters with on-base skills; they have a guy who looks he's ready to be a No. 1 in Sonny Gray; they have depth in the rotation; and the bullpen should be solid.
They're going to need the pitching staff to carry the team, but it looks like a rotation that could be sneaky good, with Pomeranz and Hahn, two young starters who looked good last year in limited action (Hahn came over from the Padres in the
Derek Norris
trade). They need Reddick to stay healthy and hit a few more home runs and Butler to hit better than he did in 2014 with the Royals and Semien to handle shortstop and display the on-base ability he showed in the minors.
Everyone's going to be counting out the A's, but in some ways this club resembles the 2012 team that came out of nowhere to win 94 games. I'm not saying they're going to win 94, but sometimes the sum of the parts add up.

Seattle Mariners
2014:
87-75, +80
2015 projection:
88-74, +65
The Steamer projection system that FanGraphs uses has the Mariners as the best team in the American League. But games aren't won via projection systems!
How the Mariners can make the postseason for the first time since 2001:
1.
Felix Hernandez
and
Hisashi Iwakuma
both have to stay healthy. There is little depth in the rotation, so a major injury to one of their workhorses could be catastrophic, especially considering young starters
James Paxton
and
Taijuan Walker
both had injury issues in 2014.
2. They need Paxton and Walker to deliver on their potential.
3.
Nelson Cruz
has to be worth the money. He doesn't have to hit 40 home runs like he did with Baltimore, but he needs to stay on the field and produce that right-handed power in Seattle's lefty-leaning lineup.
4. Production from the leadoff spot. That probably means
Austin Jackson
, who was terrible after coming over from Detroit.
5. Better offense and defense from
Brad Miller
. He's been in trade rumors all offseason and now there's the idea that he turns into a hybrid shortstop/right fielder (platooning with
Justin Ruggiano
). Miller hit .221/.288/.365 last year, but Steamer projects a .252/.314/.395 line and he has more potential than that if he can hit lefties better.
6. More of the same from lineup linchpins
Robinson Cano
and
Kyle Seager
.
7. More tightrope walking from
Fernando Rodney
. Seattle's bullpen had an MLB-best 2.52 ERA last season, and they are bringing back everyone except
Joe Beimel
. Some regression is likely. While the M's have depth behind Rodney, he's still a big key as the ninth-inning guy.
8.
Mike Zunino
has to improve his awful approach/OBP. Yes, he hit 22 home runs, but that came with a .199 average and .254 OBP (and that was helped because he got hit by a league-leading 17 pitches). Is he simply the new
J.P. Arencibia
or will he be something better?
The Mariners have core players in their prime years and excellent front-line talent in Felix, Cano, Seager and Iwakuma. I'd still like them to acquire another hitter to give them more depth, and they have a big problem in center field if Jackson doesn't hit. The strides made in 2014 appear legitimate, but can they go farther in 2015?

Houston Astros
2014:
70-92, -94 run differential
2015 projection:
76-86, -47
The Astros have made some free-agent signings -- relievers
Pat Neshek
and
Luke Gregerson
and shortstop
Jed Lowrie
-- that suggest general manager Jeff Luhnow expects the Astros to make a leap into contention.
Certainly, improving the bullpen will be a huge help. The Astros had an MLB-worst 4.80 bullpen ERA last season, but that doesn't tell the whole story. The Astros were just 61-8 when leading entering the ninth inning. The MLB average is barely over three games lost when leading in the ninth, so better ninth-inning work could be worth an additional four or five wins.
The Astros also had two positions where they got basically no production: first base (they ranked last in the majors in WAR as
Jon Singleton
hit .168 in 95 games) and third base (they ranked 29th in majors as
Matt Dominguez
hit .215 with a .256 OBP). Lowrie looks like he'll stay at shortstop in 2015, holding down the position until
Carlos Correa
is ready, so Dominguez may get one last chance to show he can hit at the major league level. Singleton will certainly be given another chance at first base. They need much better results from both players.
They can also expect big numbers from a full season of
George Springer
-- I like him to exceed the 2.6 WAR projection by quite a bit.
Jose Altuve
became a star in 2014 and
Chris Carter
tied for the MLB lead with 18 home runs after the All-Star break. The Astros were next-to-last in the AL in runs scored but all indications are that total will increase.
The rotation was much improved as
Dallas Keuchel
(2.93 ERA) and
Collin McHugh
(2.73 ERA) developed into a solid 1-2 combo. While nobody expected those numbers, their peripherals were solid, indicating they weren't fluke seasons.
Scott Feldman
was a solid No. 3, so they just need some improvement from the back end of the rotation. New catcher
Hank Conger
, one of the best pitch-framers in the business, could help here.
The Astros improved by 19 wins in 2014. If they improve by 19 wins again, that's 89 ... and maybe a postseason berth.

Texas Rangers
2014:
67-95, -136 run differential
2015 projection:
77-85, -34 runs
Obviously, it starts with getting
Prince Fielder
healthy. And
Shin-Soo Choo
. And
Yu Darvish
. And
Jurickson Profar
. And a full season from
Derek Holland
. Anyway ...
If we start the Rangers out at 77 wins, there are three areas where there is need for improvement:

--Corner outfield. Choo may end up in left or right, but the other position is projected at less than 1.0 WAR. This is why the Rangers were rumored to be in on
Justin Upton
.
• DH. The Rangers are projected at 0.6 WAR. So either
Mitch Moreland
outperforms or they find a better solution.
• The back of the rotation behind Darvish and Holland. Those two combined for 6.4 of the 8.8 projected WAR from the rotation. At least two from the group of
Ross Detwiler
,
Matt Harrison
,
Nick Tepesch
and
Nick Martinez
must have big seasons.
Fielder and Choo are huge keys. Both are capable of on-base percentages close to .400. Get them back and producing like they did in 2013 and a lineup of Choo,
Adrian Beltre
and Fielder suddenly has a lot more meat to it.
Still, the Rangers probably need to make a big move or two. Maybe they go after an outfielder/DH (
Seth Smith
or
Carlos Quentin
from the Padres?). Or maybe they sign
James Shields
or
Max Scherzer
. It's an organization with depth and some interesting young players like second baseman
Rougned Odor
and third baseman
Joey Gallo
. They won 90-plus games from 2010 to 2013. They won't lose 95 again.
December, 16, 2014
Dec 16
12:43
PM PT
ESPN.com news services
[+] Enlarge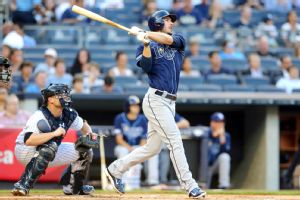 Brad Penner/USA TODAY SportsMatt Joyce batted .254 with nine homers and 52 RBIs last season for Tampa Bay.
ANAHEIM, Calif. -- The Los Angeles Angels have acquired outfielder Matt Joyce from the Tampa Bay Rays in exchange for right-handed reliever Kevin Jepsen.
The Angels have big plans for Joyce, envisioning him as their primary designated hitter and possible No. 2 hitter, which would allow AL MVP Mike Trout to hit third in front of Albert Pujols and Josh Hamilton. Joyce's left-handed bat and playing experience at both corner outfield spots also should allow Hamilton to spend more games as a designated hitter.
"He gives us a lot of flexibility and makes us a deeper and more balanced team," Angels general manager Jerry Dipoto said. "We just felt like this was an opportunity for us to build a deeper and well-balanced lineup for 2015, and continue to move in such a way that we feel like we're making the team better."
December, 15, 2014
Dec 15
12:08
PM PT
December, 11, 2014
Dec 11
6:56
AM PT
ESPN.com news services
[+] Enlarge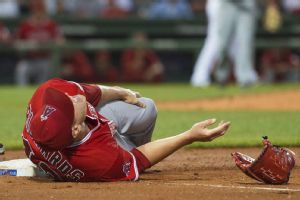 Michael Ivins/Boston Red Sox/Getty ImagesGarrett Richards, hurt in August, may miss the beginning of the season.
The Los Angeles Angels don't expect starting pitcher Garrett Richards to be ready for the start of the 2015 season, manager Mike Scioscia said Wednesday.
Richards had surgery after tearing a tendon in his left knee while covering first base in a game at Boston on Aug. 20. He was 13-4 with a 2.61 ERA last season.
"I think the prognosis of having him back somewhere in the first month to maybe the first six weeks of the season looks very good," Scioscia said.
Angels general manager Jerry Dipoto took a slightly different approach than his manager, calling Scioscia cautious.
"Mike is preparing for the worst-case scenario, which is more his nature," Dipoto said, according to the Los Angeles Times. "We understood it would be a six- to nine-month [recovery]. Mike sleeps better at night planning for it to be the latter of the two. We believe Garrett will be back if not on Opening Day, then at some point in the not-too-distant future."
Richards said earlier this offseason that even though his year ended early, he felt good about what he accomplished.
December, 10, 2014
Dec 10
11:00
PM PT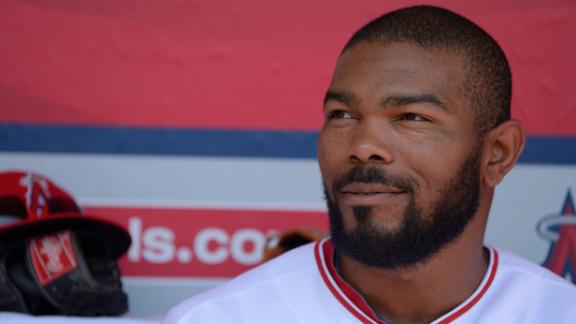 December, 10, 2014
Dec 10
9:36
PM PT
December, 10, 2014
Dec 10
1:57
PM PT
SAN DIEGO -- Left-hander Scott Snodgress, who became a free agent when he was non-tendered by the
Chicago White Sox
last week, has reportedly signed with the
Los Angeles Angels
.
The White Sox were believed to be exploring the possibility of bringing Snodgress back to the organization, but the Southern California native took a minor-league offer from the Angels with an invite to big league camp in spring training. The Angels are the closest major league team to his hometown of Yucaipa, Calif.
Snodgress was a September call-up this past season but struggled in his brief opportunities (2 1/3 innings). He has a 3.84 ERA over four minor league seasons.
The White Sox made Snodgress their fifth-round pick in the 2011 out of Stanford.
December, 9, 2014
Dec 9
2:48
PM PT
SAN DIEGO -- The Dodgers continued to tinker at the margins of their roster while everyone here seems to be anticipating bigger deals.
They traded catcher
Drew Butera
to the Angels on Tuesday for a player to be named later or cash considerations. Butera had been designated for assignment three days earlier to make room on the 40-man roster for Ryan Lavarnway, who was claimed off waivers from the
Boston Red Sox
.
It's the first trade between the Dodgers and Angels since 1976, when they swapped outfielder Orlando Alvarez for catcher Ellie Rodriguez.
Butera hit .188 with a .288 slugging percentage in 61 games for the Dodgers. He is eligible for arbitration and out of options. The Dodgers, at least for now, appear to be content with a catching rotation that includes A.J. Ellis, who batted .191 last year, and
Tim Federowicz
, a .194 lifetime hitter, with Lavarnway, whose catching defense is marginal, possibly getting some time at catcher and first base if he makes the major-league roster.
December, 2, 2014
Dec 2
9:46
PM PT
ESPN.com news services
San Diego Padres shortstop Everth Cabrera and New York Mets outfielder Eric Young Jr. were among 32 players tossed into the free-agent market Tuesday.
More than 200 players entered Tuesday eligible for salary arbitration this winter. Any player offered a contract would be entitled to, at a minimum, roughly one-sixth of his 2015 salary as termination pay if he gets released.
Los Angeles Angels infielder Gordon Beckham, Oakland first baseman Kyle Blanks, Texas right-hander Alexi Ogando, New York Yankees left-hander David Huff, Cincinnati reliever Logan Ondrusek and St. Louis infielder Daniel Descalso also were among the players let go.
Cabrera, an All-Star shortstop in 2013, faces charges of resisting arrest and possession of marijuana in a car after he was stopped by authorities in eastern San Diego County on Sept. 3, while he was on the disabled list. He is scheduled to be arraigned Dec. 8.
He was suspended by Major League Baseball for the final 50 games of the 2013 season for violating the sport's drug agreement in relation to its investigation of the Biogenesis of America drug clinic.
November, 26, 2014
Nov 26
8:05
AM PT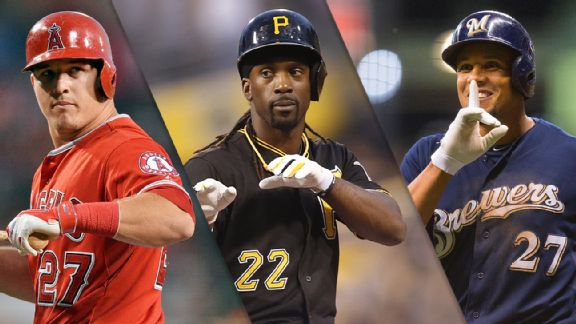 USA TODAY SportsThe top two center fielders in MLB aren't tough to pick out. From there it's a little more difficult.
Ranking the best center fielders is fairly simple at the top.
Mike Trout
, widely regarded as the best player in the game, is No. 1.
Andrew McCutchen
, arguably the second-best position player, is No. 2.
It gets more complicated after
November, 21, 2014
Nov 21
2:44
PM PT
Associated Press
[+] Enlarge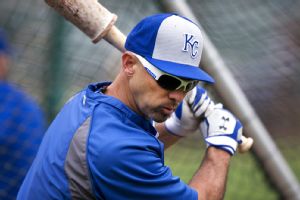 Jason O. Watson/Getty ImagesRaul Ibanez has been tabbed as one of three finalists for the Rays' managerial opening.
ST. PETERSBURG, Fla. -- Raul Ibanez, Kevin Cash and Don Wakamatsu are the finalists to replace Joe Maddon as manager of the Tampa Bay Rays.
Dave Martinez, the Rays' bench coach for the past seven seasons, was among seven candidates dropped Friday. Also cut were Barry Larkin, Doug Glanville, Manny Acta, Craig Counsell, Charlie Montoyo and Ron Wotus.
Tampa Bay said interviews with the finalists will be scheduled for the week of Dec. 1. Maddon left the Rays after nine seasons to manage the Chicago Cubs.
"The decision on Dave Martinez was especially difficult," Rays president of baseball operations Matt Silverman said in a statement. "He's played a key role in our organization's evolution, and he's done all he can to put himself in position to be a manager. In the end, we determined that our clubhouse would best benefit from a new voice that will add to our already strong and cohesive culture."
Ibanez, 42, has spent 19 seasons in the major leagues with Seattle, Kansas City, Philadelphia, the Yankees and the Los Angeles Angels and has 305 homers and 2,034 hits. He helped the Royals win this year's AL pennant.
November, 20, 2014
Nov 20
11:28
PM PT
The
Texas Rangers
reached the 40-man roster limit and protected four players from the Rule 5 draft with several moves Thursday night.
The team added right-handed pitchers Luke Jackson and Jerad Eickhoff, infielder
Hanser Alberto
and catcher
Jorge Alfaro
to the 40-man roster, protecting them from Rule 5 draft.
To make room for the players, the Rangers designated outfielder/first baseman
Jim Adduci
for assignment and traded outfielder
Daniel Robertson
to the
Los Angeles Angels
for cash or a player to be named later.
The club also placed pitchers
Miles Mikolas
and
Aaron Poreda
on unconditional-release waivers, allowing each to play for the Yomiuri Giants of the Japanese League.
The Rangers will receive cash for this move.
In Robertson, 29, the Angels are getting a corner outfielder who hit .271/.333/.333 in 70 games 2014. The Rangers considered him as a possible No. 4 outfielder, but with the team needing to get to the 40-man roster limit, it was best to trade him.
Of the prospects moved to the 40-man roster, Jackson has a possibility of making the roster at some point during the 2015 season.