July, 22, 2014
Jul 22
8:48
AM PT
ESPN.com news services
[+] Enlarge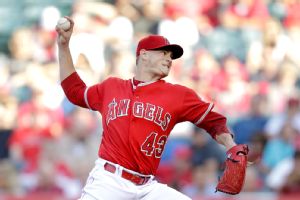 AP Photo/Jae C. HongGarrett Richards has emerged as the Angels' best starter this season but is on pace to easily eclipse his previous career high in innings pitched.
The Los Angeles Angels won't limit Garrett Richards' workload down the stretch this season, especially with the Oakland Athletics squarely in their sights.
Richards has emerged as Los Angeles' top pitcher this season but is on pace to eclipse 200 innings, well over his previous career high.
Angels general manager Jerry Dipoto, however, is not concerned about Richards' durability and said there are no plans to temporarily shut down the right-hander.
"Not at all," Dipoto said Monday, according to MLB.com. "Garrett has thrown from end to end in a season. His innings have not escalated to the point where they're 200-plus, but Garrett throws the ball as easily as anybody you'll ever see. It's not a violent delivery, it's not a violent package. He maintains velocity pretty easily."
Richards has been pivotal in the Angels' revival this season, going 11-2 with a 2.47 ERA in 20 starts. The 26-year-old pitched a career-high 145 innings last season and already is at 131 1/3 innings this year.
July, 22, 2014
Jul 22
1:48
AM PT
By
Christina Kahrl
| ESPNLosAngeles.com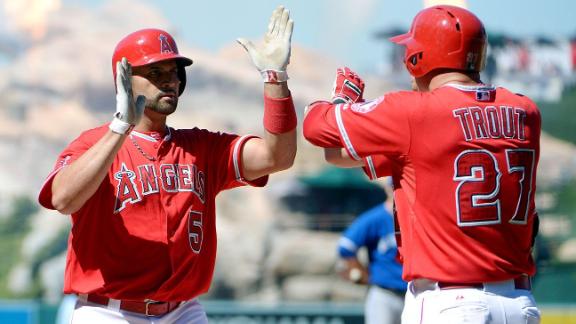 The Angels are the second-best team in baseball. Win or lose going into Monday night's game against the AL East-leading Orioles, they were going to be the second-best team in baseball after the fact. They lost, missing the chance to move within a game of the A's in the AL West race. But it's July and there's still plenty of time, so there's no reason to sweat, right?
Certainly not, at least not if you look at the big picture and the projection models at
FanGraphs
or
Baseball Prospectus
, which say the Angels have a 98 or 99 percent shot at the playoffs. Slam-dunk sure thing? Sounds like it.
But there's a problem with that: It doesn't mean all that much in the era of the one-game play-in wild-card "round." The Angels' shot at winning the AL West is calculated as much less of a sure thing, from
the 20 percent range according to analyst Clay Davenport
, to the 30s for FanGraphs, or the 40s for Baseball Prospectus. These are roughly the same as the chances of the Blue Jays coming back to win the AL East and then also not having to sweat a one-or-done scenario despite probably being 10 games worse than the Angels at season's end. Saying the Angels' shot at playing their way into the one-game coin-toss of the wild card is around 60 or 70 percent is like saying their chance of their season ending a day or two after the regular season is still astonishingly likely.
[+] Enlarge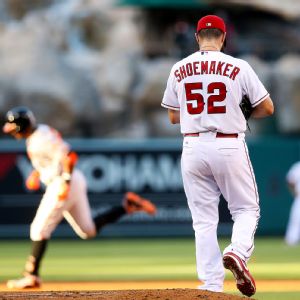 Stephen Dunn/Getty ImagesMatt Shoemaker's loss was the latest tough start for the Angels' non-Richards rotation regulars.
Unless they beat the A's and win the West. Unless they make their math problem now into Oakland's math problem tomorrow. That's their challenge, and losing games like Monday's will only make it harder.
To pull this off in the long weeks to come, they're going to have to find a happier answer in their rotation than the ones they've found so far. While the trades for
Jason Grilli
and
Huston Street
may have shored up their bullpen, there's the larger problem of how good their rotation really is outside of newly minted ace and All-Star
Garrett Richards
. Assuming that
Jered Weaver
's back is sound all the way down the stretch, he hasn't overpowered strong teams' lineups, seeing his OPS jump 50 points and his WHIP increase by 0.3 facing teams that are .500 or better; unsurprisingly, his FIP is 4.12, which suggests sturdy mediocrity, not the ace he once was.
C.J. Wilson
won't be back from his DL stint for a sprained ankle until after the trade deadline; even if he's sound, his 4.29 FIP doesn't suggest he's a solid No. 2, either. And the back-end trio of
Hector Santiago
,
Tyler Skaggs
and
Matt Shoemaker
have put together just 15 quality starts in their 38 turns.
To catch the A's, the Angels are going to need not just one guy but several guys to step up down the stretch. Not just because you can't count on a league-best offense to crank out five or more runs every night, but because the Angels need to have somebody else besides Richards to use in those potentially scary end-of-year situations. What if Richards has to pitch in the last weekend series against the Mariners but the Angels don't catch the A's then? What if they have to play a tiebreaker? Who pitches the wild-card game? Where does that leave them in the ALDS? They'll need some of the non-Richards starters to step up, not just to keep up with the A's and their shored-up rotation, but to be able to win October games when they don't put five or six runs on the scoreboard.
That was why Shoemaker's start against Baltimore was a little more important than just another late-July turn. Barring a trade, somebody is going to be bumped once Wilson comes back from the DL. Even on a night when he struck out a career-high 10 batters, seeing Shoemaker get beaten deep twice by
Adam Jones
was the sort of thing that won't keep the rookie ahead of Skaggs or Santiago, not that either of them is owning his slot.
To be sure, the Angels should be grateful things are this close. Thanks in large part to early-season bullpen problems of their own, the A's are four games worse than you'd project from their runs scored and allowed, which is a big part of the reason they are within striking range for the Angels, even after Oakland went 20-10 in its past 30 games. All it took was the Angels going 22-8 in their past 30 before Monday, no easy thing to do with a rotation that may struggle to match the A's made-over,
Jeff Samardzija
-enhanced rotation in the last 60 games.
If Wilson or Weaver, Shoemaker or Skaggs steps up, things will be that much more interesting all the way down to the wire. If not, the Angels may be one of those great teams that, like the 1993 Giants, wind up getting to brag about how great they were without getting much of an opportunity to prove it come October. Those Giants were caught from behind by the Braves, San Francisco winning 103 games for the second-best record in baseball … and no October invite. The Halos have to hope they'll earn something more than one game better than that -- but more than hoping for it, they'll have to do it.
Christina Kahrl writes about MLB for ESPN. You can follow her on Twitter.
July, 21, 2014
Jul 21
10:29
PM PT
Associated Press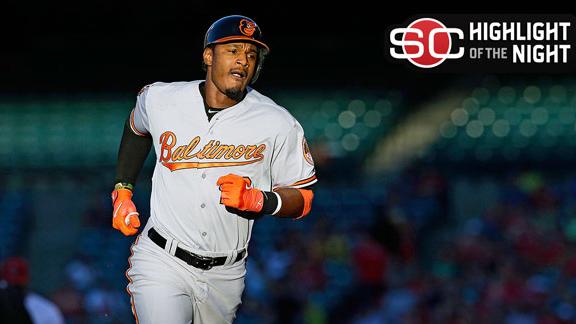 ANAHEIM, Calif. -- Adam Jones hit a pair of two-run homers, including a tiebreaking shot in the sixth inning, and the Baltimore Orioles beat the Los Angeles Angels 4-2 Monday night.
Bud Norris (8-6) won for the fifth time in his last six starts, allowing two runs -- one earned -- and eight hits over 6 2/3 innings with eight strikeouts and two walks. The Orioles increased their AL East lead to four games over the New York Yankees and Toronto Blue Jays.
Norris was recalled from Double-A Bowie, where he was optioned on July 10 in order to keep him on his regular routine during the All-Star break. The Orioles did the same thing with Tuesday's scheduled starter, Miguel Gonzalez, who was optioned to Triple-A Norfolk on July 11.
Zach Britton pitched a perfect ninth for his 17th save.
July, 20, 2014
Jul 20
4:19
PM PT
Associated Press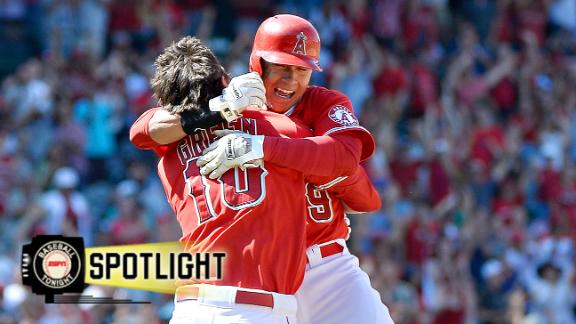 ANAHEIM, Calif. -- Grant Green hit a bases-loaded single off Fernando Rodney with two out in the ninth inning after Albert Pujols tied the score with an RBI double, and the Angels pulled out a 6-5 victory over the Seattle Mariners on Sunday.
Rodney (1-4), the former Angels' closer, replaced Joe Beimel with one out in the eighth and retired the next two batters. He entered the ninth attempting to complete a five-out save and record the 200th of his career, but the Angels rallied for the major league-leading 30th come-from-behind victory.
Mike Trout drew a leadoff walk in the ninth and scored on Pujols' 544th career double, which broke a tie with Tony Gwynn for 28th place all-time.
Joe Thatcher (1-1) worked a scoreless inning for the Angels.
July, 20, 2014
Jul 20
11:23
AM PT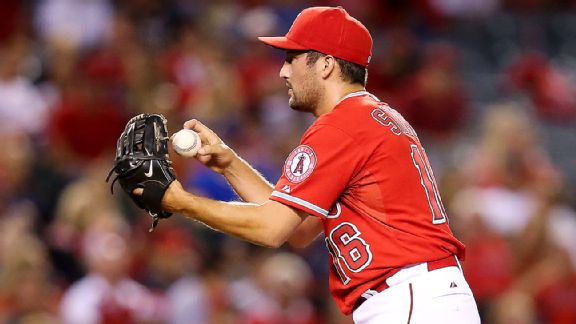 Stephen Dunn/Getty ImagesHuston Street fills a need for the Angels, but they paid a hefty price for his services.
The
Los Angeles Angels
were desperate for a closer in the best year they've had since acquiring
Albert Pujols
and the
San Diego Padres
had a spare closer lying around whom they didn't need, but the amount of talent heading to San Diego in exchange for
Huston Street
is baffling.
The Angels seem to have paid for name value or the Proven Closer™ tag rather than for production; Street hasn't been worth more than 1.0 fWAR -- a metric that
derives a pitcher's WAR using FIP
-- in any season since 2009, coincidentally the last time he reached 60 innings in one year.
Street is a good fit for the Angels' park -- a fly-ball pitcher who throws a ton of strikes -- and wasn't just a Petco Park fabrication, but he's also not going to strand every runner he lets reach base indefinitely. There are only a few right-handed relievers in the American League working with a below-average fastball, like Street has, and only one of them,
Koji Uehara
, is a successful closer. Street is probably worth half a win on paper to the Angels, more than that in the standings because of the high-leverage work he'll get and who he's replacing, but I don't foresee him adding enough W's in the standings to justify all they gave up to get him.
I said on Twitter
that I wouldn't have dealt shortstop prospect Jose Rondon straight-up for two-plus months of Street's services, so I certainly don't like the total price for the Angels in this trade -- and love it for San Diego.
July, 19, 2014
Jul 19
10:31
PM PT
Associated Press
ANAHEIM, Calif. -- Logan Morrison hit a go-ahead RBI double during Seattle's two-run 12th inning, and the Mariners hung on to beat the Los Angeles Angels 3-2 on Saturday night.
The AL West rivals played extra innings for the second straight night, less than 24 hours after the Angels won the series opener 3-2 in 16 innings.
Los Angeles remained 1 1-2 games behind AL West-leading Oakland.
Joe Thatcher (0-1) gave up a leadoff double in the 12th to Kyle Seager before Morrison drove him in with a hit down the left field line. Pinch-hitter Justin Smoak drove in pinch-runner Willie Bloomquist with an infield hit.
Dominic Leone (3-2) pitched one-plus inning for the victory after taking the loss Friday. Leone was pulled after he gave up a leadoff homer to David Freese.
Charlie Furbush got three outs for his first save in four major league seasons.
July, 19, 2014
Jul 19
3:22
PM PT
By
Christina Kahrl
| ESPNLosAngeles.com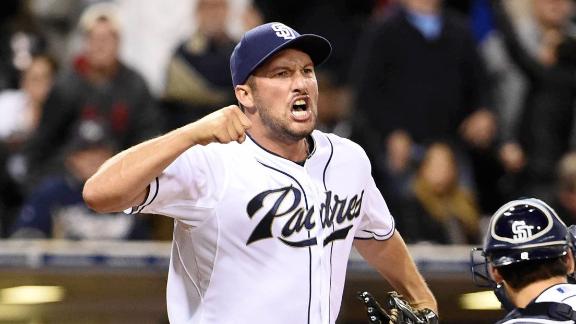 After all of the hue and cry over the Angels' bullpen woes, you'd have to think that the decision to trade for closer
Huston Street
after already getting
Jason Grilli
from the Pirates would answer their needs. Angels manager Mike Scioscia was second in the league in relievers used (behind Cleveland), sorting through answers to a relief crew that, per Baseball Prospectus,
was second-worst in the league
at preventing inherited baserunners to score, allowing 6.1 more runs than you'd expect (with the Tigers owning the dubious honor of being even worse, with 10.3 runs more than expected allowed on inherited baserunners).
My quick takeaways from general manager Jerry Dipoto's decision to go after Street?
1. Getting Grilli and Street is comparable to the Marlins' midseason bullpen overhaul in 2003.
The Marlins had a similarly lousy pen in-season, but they fixed all that when they stopped getting hung up on Braden Looper's virtues and went out and got
Ugueth Urbina
and
Chad Fox
, bumping Looper, their erstwhile closer, forward into earlier in-game situations. Guess what's going to happen with
Joe Smith
? Which is not a bad thing for anyone concerned, because Joe Smith joining Grilli,
Kevin Jepsen
,
Fernando Salas
and
Mike Morin
in the mix in the seventh and eighth innings sounds like a very good thing.
But wait, aren't all of those guys right-handed?
[+] Enlarge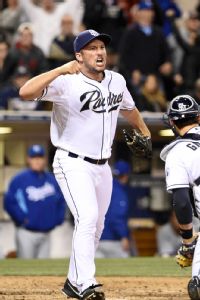 Denis Poroy/Getty ImagesHuston Street should be as fired up to join the Angels as they are about adding him.
2. Not enough lefties? No problem.
The one thing the Angels haven't done in the course of their bullpen makeover is get an awesome lefty, settling for adding veteran
Joe Thatcher
as a token southpaw. Thatcher probably won't get entrusted with lots of leads, but as Scioscia demonstrated quite effectively while winning a World Series in 2002, you don't
have
to have even one top-shelf situational lefty in your pen; he kept
Scott Schoeneweis
around as his lone token lefty threat, but he relied on
Brendan Donnelly
,
Ben Weber
and
Francisco Rodriguez
to protect leads and set up closer
Troy Percival
. In 2004, Scioscia got exactly two innings of lefty relief on the season; the Angels nevertheless won 92 games and the AL West. In 2005, he ramped it all the way up to just 31 ⅓ relief innings from lefties; the Angels won 95 games and the AL West.
Now, no doubt some of you La Russa groupies might quail at this prospect, but Street is exactly the sort of asset whom Scioscia can use and win with. As Stats & Info
pointed out last night
, Street has been essentially indifferent to handedness of late, in that he can beat people on either side of the plate by hitting low-and-outside spots with machine-like consistency. And Grilli has been similarly effective against lefties over time, holding them to a .293 slugging percentage across the last three seasons.
So the Angels may be good to go with just these two, although I'd anticipate that if there's something else Dipoto can pick up cheaply between now and Sept. 1, you can bet he will. But there's the rub, because…
3. Much like the A's deciding to trade away Addison Russell in the Samardzija and Hammel deal, this may be the Angels' last major move.
The Angels (like the A's) don't have much in the way of ready-now farm talent they could call up, and after this trade, they don't have a stock of farm talent to deal from. Per
Keith Law's preseason rankings of one of baseball's worst farm systems
(ranking 29th), Dipoto just dealt three of the Angels' top 10 prospects in second baseman Taylor Lindsey (third in Keith's rankings, No. 1 over at Baseball America), shortstop Jose Rondon (fifth, per Keith) and righty R.J. Alvarez (ninth).
Unless the Angels start dealing players at the major league level, potentially robbing Peter to pay Paul, this may have to be it for them. But a relief quintet of Street, Grilli, Jepsen, Salas and Morin might be more than enough to get it done for the Halos down the stretch. Credit Dipoto for working within his limited means to trade from, and giving a win-now Angels team a great shot at not just catching the A's, but having the kind of relief talent to win with in October.
Christina Kahrl writes about MLB for ESPN. You can follow her on Twitter.
July, 19, 2014
Jul 19
9:02
AM PT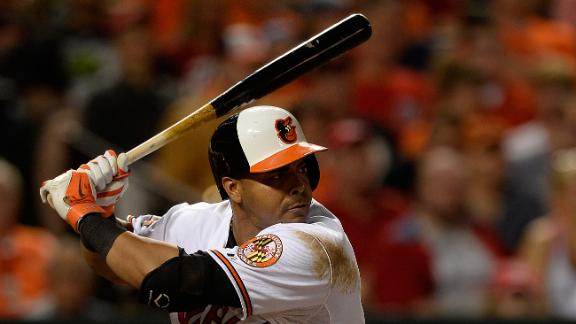 One player won't make or break a team's playoff push, but here is one key guy for each American League club in the second half.
Baltimore Orioles -- Chris Davis
Let's divide Davis' last two years into halves:
Second half, 2012: .269/.337/.530, .338 BABIP, .261 ISO, 32% SO, 8% BB, 31% HR/FB
First half, 2013: .315/.392/.717, .355 BABIP, .402 ISO, 28% SO, 10% BB, 33% HR/FB
Second half, 2013: .245/.339/.515, .309 BABIP, .270 ISO, 32% SO, 12% BB, 21% HR/FB
First half, 2014: .199/.309/.391, .252 BABIP, .192 ISO, 32% SO, 12% BB, 23% HR/FB
I don't know what to make of any of this, except that Davis is probably not as good as the first half of 2013 and not as bad as the first half of 2014. A major reason the Orioles need a better second half from Davis is that among AL players with at least 200 plate appearances,
Steve Pearce
ranked
fourth in wOBA
in the first half and
Nelson Cruz
ranked 11th. Assuming some decline from those two, Davis will have to pick up the slack.
Toronto Blue Jays: Colby Rasmus
Everybody keeps talking about the Blue Jays needing a starter, but from June 1 through the All-Star break only the Red Sox scored fewer runs than the Jays -- and now
Edwin Encarnacion
is out a few weeks with a quad injury. Rasmus hit .212/.266/.453 in the first half; the 12 home runs were nice, nothing else was. He hit .276 with a .338 OBP last year so there's hope for a turnaround.
New York Yankees: Masahiro Tanaka
I don't see how the Yankees climb back into this thing with an injury-depleted, makeshift rotation and an aging lineup that is more old than simply disappointing. The slim chance the Yankees have of winning the East or a wild card rests on the ultimate health of Tanaka's elbow. Maybe more importantly, the state of the
2015
Yankees rests on the health of Tanaka's elbow.
Tampa Bay Rays: Evan Longoria
David Price
is the important Tampa player to the rest of baseball, but before the Rays pack it in and trade Price, they're going to see if they can get to within four or five games of first place by the July 31 deadline. To do that, they need Longoria to heat up. He wasn't terrible in the first half, but a .386 slugging percentage is well below his .512 career mark entering the season.
Boston Red Sox: Xander Bogaerts
The young infielder was hitting .296/.389/.427 through June 1, outstanding numbers for a 21-year-old shortstop. Then the Red Sox activated
Stephen Drew
and moved Bogaerts to third base and he hit .140 with 37 strikeouts and five walks through the All-Star break. Did the position change affect his mental state? Is it simply a failure to adjust to how pitchers have attacked? The final two-plus months may tell us a lot about his future stardom.
Detroit Tigers: Justin Verlander
Last year, the Tigers had a Big Four rotation with
Max Scherzer
, Verlander,
Anibal Sanchez
and
Doug Fister
. They traded Fister, and Verlander went 8-8 with a 4.88 ERA in the first half, so it's really down to the Big Two, although
Rick Porcello
's improvement has added a strong third guy in place of Verlander. Among 86 AL pitchers with at least 50 innings, Verlander is 72nd in ERA. He's underperformed his peripherals a little bit -- 4.02 FIP, 4.46 xFIP -- but even the peripherals are a far cry from peak Verlander.
How far has Verlander fallen? In 2011 and 2012 he had 29 regular starts of eight or more innings. Last year he had three. This year he has one. Right-handers are hitting .329/.377/.505 off him; hard to believe that a guy that was so dominant as recently as last postseason has struggled so severely against same-side hitters. The Tigers don't need a strong Verlander to win the division, but they do want to see a guy they can believe in heading into the playoffs.
Kansas City Royals: Yordano Ventura
Well, yes,
Eric Hosmer
and
Billy Butler
and
Mike Moustakas
... but Ventura (7-7, 3.22) is key because the 23-year-old right-hander is already at 103 innings; he threw 150 last year between the minors and his brief major league stint. He's not a big guy and he relies so much on that upper 90s fastball, meaning you wonder if fatigue will be an issue down the stretch. The Kansas City rotation has been relatively healthy this year -- the Royals have needed just six starts from guys outside their top five (although
Jason Vargas
will miss a couple weeks after undergoing an appendectomy) -- and any chance of winning the wild card will rest on that rotation remaining healthy.
Cleveland Indians: Nick Swisher
The Indians finished the first half at .500, pretty remarkable considering the number of awful performances they received: Swisher hit .208 with a .288 OBP,
Carlos Santana
hit .207,
Justin Masterson
had a 5.51 ERA before finally hitting the DL with a bad knee,
Ryan Raburn
hit .199,
Danny Salazar
pitched his way back to the minors and
Jason Kipnis
' numbers are way down. So there's some second-half upside here, especially from Swisher, who shouldn't have lost his skills overnight at 33.
Chicago White Sox: Chris Sale/Jose Abreu
The White Sox aren't going anywhere so it's all about Sale chasing a Cy Young Award (that may be tough even though he leads the AL in ERA and WHIP as he's pitched 50 fewer innings than
Felix Hernandez
) and Abreu chasing 50 home runs.
Minnesota Twins: Joe Mauer
Mauer hit .271/.342/.353 in the first half with two home runs. He has four more years on his contract after this one at $23 million per year. Was it just a bad three months? Is it the concussion he suffered late last season? The Twins figured that with his .400-plus OBP skills, he'd remain one of the best players in the game, even moving to first base. But after being worth 5.3 WAR last year, he's been worth 0.7 this year. A singles-hitting first baseman doesn't have a lot of value.
Oakland Athletics: Jeff Samardzija
He doesn't have to be the staff ace, not with
Scott Kazmir
and
Sonny Gray
around, but he's under fire to prove his first half with the Cubs was a true improvement. Remember, he had a 4.34 ERA with the Cubs in 2013. Most importantly, Billy Beane acquired Samardzija and
Jason Hammel
to help the A's win the AL West -- but a red-hot Angels team narrowed the deficit to a mere 1.5 games at the break. Considering Gray is in his first full season and Kazmir hasn't pitched more than 158 innings since 2007, Samardzija
will
be expected to be a workhorse for Oakland, the guy who goes seven or eight innings every start to prevent the bullpen from getting burned out.
Los Angeles Angels: Josh Hamilton
I could point to
Garrett Richards
, who pitched like an ace in the first half, but I think he'll pitch close to that level in the second half; he's the real deal. So let's turn to Hamilton, who hit .295/.373/.449 in the first half with five home runs in the 46 games he played. The good news is this:

2012 chase rate: 42.5 percent
2013 chase rate: 37.5 percent
2014 chase rate: 36.1 percent
He's continued to cut down on his free-swinging ways. The bad news is that he's struck out 52 times in 36 games since returning from the DL, with just three home runs. With
Mike Trout
crushing it and
Albert Pujols
on pace for 34 home runs, having a third big power threat would add even more to a lineup that led the AL in runs in the first half.
Seattle Mariners: Taijuan Walker
We know the Mariners have to improve the offense, but that's most likely going to have to come via a trade rather than internal improvement. We know Hernandez is great and that
Hisashi Iwakuma
remains a hidden gem.
Chris Young
had a terrific first half -- remember the whole
Randy Wolf
controversy, which basically allowed Young to come to Seattle in the first place? -- but
Roenis Elias
has struggled of late. That means Walker needs to find some consistency. As bad as the offense has been, Seattle has basically punted the fifth spot in the rotation all year with
Erasmo Ramirez
(4.58 ERA in 11 starts) and
Brandon Maurer
(7.52 in seven starts). If Walker lives up to his hype, he'll be a big improvement.
Houston Astros: Jon Singleton
We've seen
George Springer
flash his potential. Now it's time for Singleton to start doing the same.
Texas Rangers: Rougned Odor
There's not much to watch with the Rangers in the second half, but
Jurickson Profar
's injury forced Odor to the majors earlier than anticipated. He's held his own so far but a strong second half could lead to an interesting position battle next spring with Profar.
July, 19, 2014
Jul 19
12:37
AM PT
Associated Press
ANAHEIM, Calif. -- Rookie Efren Navarro singled home a run with two outs in the 16th inning on Friday night, and the Los Angeles Angels came out of the All-Star break with a 3-2 victory over the Seattle Mariners -- and a new closer.
After the 10th inning, the Angels announced they had acquired two-time All-Star Huston Street from the San Diego Padres in a multiplayer deal that included five minor leaguers.
Dominic Leone (2-2), the eighth Mariners pitcher, gave up a one-out double to All-Star MVP Mike Trout in the 16th and intentionally walked Josh Hamilton with two out after a comebacker by Albert Pujols. Herrera batted for John McDonald and stroked the first pitch up the middle to bring home Trout.
Hector Santiago (2-7), the ninth Angels pitcher, allowed one hit over 2 1/3 innings to get the victory.
July, 19, 2014
Jul 19
12:39
AM PT
By
ESPN Stats & Information
The
Los Angeles Angels
did major patchwork on their bullpen on Friday by obtaining closer
Huston Street
from the
San Diego Padres
in a six-player deal (contingent on a physical).
Street entered Friday with 129 saves over the past five seasons, tied for fourth in the majors in that span. His 1.09 ERA this season would be the best of his career if he can maintain it. He has converted 24 saves in 25 chances in 2014.
The Angels entered the day ranked 24th in the majors in bullpen ERA this season (3.89).
Street's strength is that he is formidable against both left-handed and right-handed hitters.
Over the past three seasons, he's held left-handed batters to a .180 batting average, fifth lowest of the 100 right-handed pitchers who have faced the most lefty hitters in relief in that span. Right-handed hitters are batting only .170 against him in that span, ninth best among
all
relievers.
Street has two different approaches for getting hitters out, depending on from which side of the plate they are hitting. Against righties, he's thrown 62 percent sliders this season (they're 4-for-42 in at-bats ending in that pitch). Against lefties, he throws about two-thirds fastballs with the changeup as his secondary option.
Street will repeatedly work a hitter away, away, away. He's thrown three-quarters of his pitches to the outer-third of the plate or off the outside corner, the highest rate of any pitcher in the majors this season.
Perhaps the biggest reason Street has kept his ERA low this season is his performance with men on base. Opponents are 3-for-32 against him and 1-for-15 with runners in scoring position.