Robbie Grossman hit a three-run homer in the Astros' 4-0 win over the Angels.
Keuchel, 3 Astros relievers combine to 3-hit Angels 4-0
8h
ESPN Stats and Information Group
The Astros pitcher looks to stay sharp against the reigning MVP
13h
ESPN Stats and Information Group
Angel's late-inning offense prevails in Houston
The standout performances from MLB games on Friday, including Mike Trout making history -- again.
Trout hits 2 HRs to lead Angels past Astros, 6-3
1d
ESPN Stats and Information Group
Houston's team batting average is ranked last in the majors
Los Angeles Angels manager Mike Scioscia met with Josh Hamilton this week for the first time in months, and he said he isn't sure when the star will return to the team.
Mike Trout decided he wanted to strike out less. So far, he has. But he's not the only player trending notably.
Angels pitcher Hector Santiago tried to eat a mouthful of cinnamon but couldn't quite complete the task.
Mike Trout's constant improvement of his game during the offseason reminds Buster Olney of a young Magic Johnson.
Jackie Robinson Day was celebrated even in space this year.
3d
Randy Jennings, Special to ESPN.com
Sluggish Texas Rangers will get an off day Thursday before opening an eight-game road trip Friday in Seattle.
Hector Santiago handcuffed the Rangers on four hits and Mike Trout accounted for three of the Angels' 13 hits in a 10-2 Los Angeles win.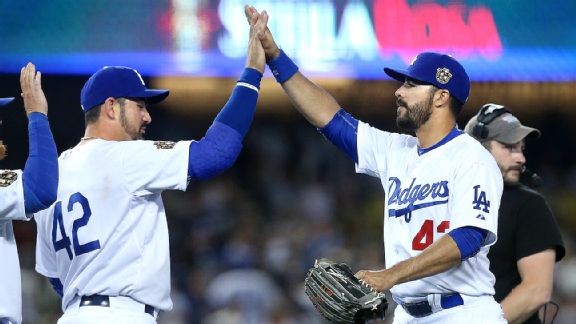 If you look closely at the Opening Day payrolls, you'll notice something amazing. Nearly three-fourths of the franchises started the season with payrolls of $100 million or more.
Apr 18, 2015

,

10:51 PM ET
Astros blank Angels