November, 29, 2012
11/29/12
1:26
PM PT
By
WeAreSC staff
| ESPN Insider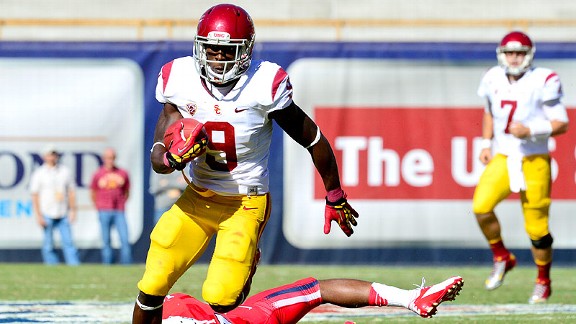 Matt Kartozian/US PresswireMarqise Lee's 345-yard, two-touchdown performance against Arizona was universally lauded by the WeAreSC roundtable as one of the Trojans' best performances.
There were many ups and downs during the 2012 season. Give your responses on the following items (good or bad) that helped shape the season.
Biggest individual plays
Garry Paskwietz
October, 5, 2012
10/05/12
10:53
AM PT
As the Trojans headed out of Salt Lake City with a win over the Utes on Thursday night, they did so with an extra bounce in their step. It wasn't the prettiest of victories, but it was one that showed a lot of the same spirit and resiliency that helped turn the corner for the 2011 team.
[+] Enlarge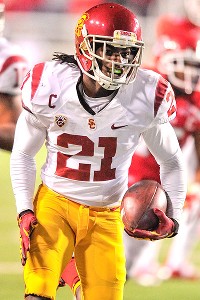 Boyd Ivey/Icon SMINickell Robey's interception return for a touchdown helped seal USC's 38-28 win over Utah.
This was a game that could have gone south quickly based upon the opening possessions. There was a lot of talk coming into the game about how the Trojans had yet to play a complete game this year, and how they were heading into a lion's den of fan frenzy with a Utah crowd that was fired up to host USC in front of a national-television audience. On paper, the Utes were definitely the underdog, but the Trojans had seen hopes and dreams dashed on the road before with untimely conference losses. And when two quick turnovers were turned into 14 Utah points, it had all the makings of another dangerous trap game.
To make matters worse, the source of the early USC angst was a familiar one, a dominant nose tackle wreaking havoc on the Trojans' offense. The scene had played out recently in the loss to Stanford when USC center
Khaled Holmes
was out of action. Holmes was back for the Utah game, but Utes defensive tackle
Star Lotulelei
had a big impact early with his physical presence, and he played a role in creating the turnovers. There was definite concern while wondering what was going to happen for the rest of the night if Lotulelei was able to continue dominating the game.
To continue reading this article you must be an Insider
October, 4, 2012
10/04/12
1:22
PM PT
USC and quarterback
Matt Barkley
started the season as the toasts of college football. Or the hated front-runners, depending on how you respond to the Rorschach test that the Trojans are across the nation.
But a loss at Stanford and middling numbers from Barkley have doused much of the hype and knocked them off the college football radar. National championships and Heisman Trophies are no longer associated with the program in 2012, and more than a few seem eager to stick the dreaded "overrated" label on the team and player.
[+] Enlarge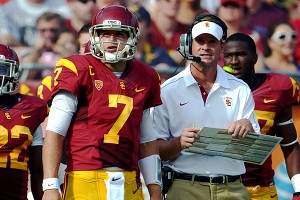 Kirby Lee/Image of Sport/US PresswireQB Matt Barkley and coach Lane Kiffin know that much is still at stake for USC.
"I'm good at blocking all that stuff out," Barkley said. "I know what's significant to us. I know what people who know football are seeing, not just the media and what they are writing. It doesn't get to me or our offense. We've just got to keep our heads down and work for every yard we get."
USC off the radar? Trojans coach Lane Kiffin isn't buying it.
"I don't think at SC you're ever off the radar," he said. "I think that shows in the ratings of games. Even when you're not No. 1, No. 2 or No. 3, all the conversations are about SC and you're always everybody's biggest game. I don't think you ever really come off the radar here."
Backing him up is Utah coach Kyle Whittingham. To him, as well as the Utes fan base, it's a big deal that No. 13 USC is coming to Salt Lake City to play inside Rice-Eccles Stadium on Thursday night (9 p.m. ET on ESPN).
"Without a doubt," Whittingham said. "It's been many, many years since USC was here."
Many years is right. The Trojans' previous visit was in 1917 -- a 51-0 victory.
Still, in the preseason this looked like a game with far more national juice. Most so-called pundits projected this as a likely battle of ranked, unbeaten teams, a game with significance for the Pac-12 South Division as well as the national picture. It was seen as one of just a few potential stumbling blocks for USC as it fired up its engines for a run at the national title game.
Instead, we have USC getting beaten at the line of scrimmage in 21-14 loss to the Cardinal, and Utah getting whipped every which way in a 37-7 humbling at Arizona State.
Both teams are coming off a bye week. The Trojans already had a bounce-back game in their solid 29-7 win over California. The Utes spent the extra week trying to correct the myriad issues exposed by the Sun Devils -- blocking, in particular.
"The offensive line play has been an ongoing project for us. Obviously a priority," Whittingham said. "We had plenty to work on."
The Utes must get the running game going against USC. They need running back
John White
to be fully healthy after an ankle injury -- he didn't look at that way at Arizona State -- because the Trojans have produced a potent pass rush this season (four sacks a game), which could make for a long night for quarterback
Jon Hays
if his play-action fakes aren't working.
The Trojans also have issues on the offensive line, most particularly the health of center
Khaled Holmes
. He's likely out of the game, which means fifth-year senior
Abe Markowitz
will be eyeballing Utah's 325-pound nose tackle
Star Lotulelei
. In last year's meeting, Holmes, probably the best center in the Pac-12, if not the nation, mostly fought Lotulelei to a stalemate. It's difficult to imagine Markowitz won't need a lot of help from his guards.
Utah's hope rests on being able to slow the Trojans' running game and get pressure on Barkley without resorting to a lot of blitzes. While the Utes pride themselves on their man-to-man coverage in the secondary, it's likely they will use a lot of the Cover 2 to help keep Trojans receivers
Robert Woods
and
Marqise Lee
in check. That's what Stanford did, and such schemes have kept Barkley's numbers down because opposing defenses are willing to take chances with alignments that invite Barkley to check into running plays.
"If teams are going to play Cover 2 and just send safeties over the top and double-team both outside receivers, you're going to be forced to run the ball where they can't support the run," Barkley said.
Sure, Barkley would like to go deep every other play, but, he added, "I'm not really worried about being flashy and all that if we're moving the ball."
The problem is the Trojans have been hot and cold moving the ball, through the air or on the ground. They are fifth in the Pac-12 in scoring and pass efficiency, and sixth in total offense, rushing and passing yards. They are 11th in third-down percentage.
Those numbers suggest mediocrity, not the offensive greatness most projected for Barkley and company in the preseason.
Yet, it's still early. A lot can -- and likely will -- happen over the second half of the season. Neither of these teams have permanently set a trajectory for how things will go in 2012.
An upset victory for Utah would be monumental for the program in its second year of Pac-12 play. And an impressive performance by USC could land it back on the national radar.
October, 1, 2012
10/01/12
5:37
PM PT
By
Pedro Moura
| ESPNLosAngeles.com
Stanford's defensive front caused the Khaled Holmes-less USC Trojans a lot of trouble a couple of weeks ago in Palo Alto.

How much havoc could a Utah line, led by Star Lotulelei, wreak this Thursday night if Holmes is again unable to go?

Lotulelei, a potential No. 1 pick in the 2013 NFL draft, is viewed in many circles as one of the top collegiate nose tackles in recent seasons, and he typically takes up two blockers on each snap. He's known to more often require three offensive linemen than one.

Although he may not always be the one threatening to reach the quarterback, it could be difficult for two or three USC offensive linemen to block the rest of the Utah D-line.

USC coach Lane Kiffin has consistently complimented Lotulelei, dating back to last August. He said this week that the 6-4, 320-pounder has gotten even better.

"I think he's really improved," Kiffin said of Lotulelei. "He was a really good player last year, obviously, but he looks like he's trimmed down, stronger, quicker and in better shape.

"He can take over games if you allow him to."

Kiffin stressed the importance of not watching too much of Lotulelei's 2011 tape, because he's much more dominant now than he was then.

USC quarterback Matt Barkley said he can't afford to think specifically about him during Thursday's game. He also said he doesn't need to worry about whether or not Lotulelei is lining up before each snap because "he's always on the field."

Holmes, the Trojans' senior center, offered no hints as to whether or not he'd be suiting up Thursday when leaving the practice field this week, but he did say he understood why Lotulelei has been so hyped.

"Deservedly so," Holmes said.
August, 3, 2012
8/03/12
5:47
PM PT
By
Pedro Moura
| ESPNLosAngeles.com
Here's the second post in our new 'film study' series started earlier this week.
Every other day from now until Aug. 23, we'll be putting up a set of pertinent-to-this-year notes from each game, going of course in chronological order from the Minnesota season opener to the UCLA season finale. At the end, on Aug. 25, we'll have one last post with our overall takeaways from the re-watching. By then, it'll be the week of this year's opener.
We did USC's 19-17 win over Minnesota on Wednesday. Here, now, are our five notes — four big things and a bunch of little ones — from USC's 23-14 win over Utah on Sept. 10, 2011.
Barkley's mistakes
This was either
Matt Barkley
's second- or third-worst performance of the 2011 season. We'll be able to more accurately place it after a re-watching of the October win over Cal, but he just doesn't look sharp in this contest.
Notable mistakes included a clear overthrow of
Robert Woods
on a screen play in the first quarter and two miscommunications with
Rhett Ellison
-- the latter of which resulted in an interception. At first, it looked as if it were an Ellison mistake, but the two players' reactions seem to indicate otherwise. And, after the first one, you can clearly see coach
Lane Kiffin's
mouth, "Come on, Matt" from the sideline on the TV broadcast.
A displeased Barkley told the sideline reporter after the game that the Trojans had "a lot of work to do on offense, that's for sure."
That seems like so long ago, doesn't it?
September, 8, 2011
9/08/11
4:31
PM PT
By
Pedro Moura
| ESPNLosAngeles.com


USC right guard John Martinez is only the third scholarship player in school history to hail from the state of Utah, quite a feat when considering how close the two states are and how many players from California sign with the Utes every year.

For example, 29 California natives are on the Utah roster at the moment. So, yes, getting Martinez, the top-ranked guard in the Class of 2009 out of Cottonwood High in Salt Lake City, to come to USC was quite a coup for the Trojans a couple years ago, and very few people in the state of Utah have forgotten about it.

And when Martinez visited a Utah practice this past spring when he was back home for a time, he said he received quite the negative reaction from players and fans on the field.

"I got a bunch of dirty looks when I went over there, for sure," Martinez said Thursday. "Just because everybody knew who I was since I played high school around there."

Now, the redshirt sophomore will be starting at right guard for the second consecutive week Saturday and matching up directly against one of his friends from home, nose tackle Star Lotulelei. He also played high school ball with starting linebacker Matt Martinez and grew up with the Kruger brothers, defensive ends Dave and Joe.

Left guard Abe Markowitz, who still hasn't been medically cleared to play against the Utes with a foot injury but plans to suit up anyway, also has a number of connections to the Utes. Hailing from Hawaii, Markowitz played against linebacker V.J. Fehoko in high school and grew up with Kahuku natives Nai Fotu and Afa Bridenstine as well, both linebackers.

The Utes take their football seriously. Martinez' four uncles who played at Utah and two more who played at BYU will be making the 10- or 11-hour road trip down to Los Angeles for the game -- but they'll be cheering not for their nephew but for the Utes.

Well, maybe a little bit for him "on the side," Martinez jokingly conceded.
2014 TEAM LEADERS
| TEAM | RUSH | PASS | TOTAL |
| --- | --- | --- | --- |
| Offense | 158.2 | 294.6 | 452.8 |
| TEAM | PF | PA | MARGIN |
| Scoring | 35.1 | 23.8 | 11.3 |