October, 26, 2012
10/26/12
10:13
AM PT
By
Pedro Moura
| ESPNLosAngeles.com
In arguably their toughest game to date, the No. 10
USC Trojans
face an intriguing
Arizona Wildcats
team on Saturday at 12:30 p.m. PT in Tucson.
The Trojans, coming off a blowout home win over Colorado, will face Oregon in a highly anticipated game next week.
Here are 10 things to watch against Arizona:
1. Arizona's explosive offense
. Regardless of his quick exit from Michigan and the fallout thereafter, Rich Rodriguez is clearly an elite offensive mind. And his spread schemes have caught on quickly in Tucson. Rodriguez's Arizona team is gaining yards at a prolific pace -- 549 per game, fifth-best in the the nation. His quarterback, the athletic
Matt Scott
, redshirted last season as a senior under Mike Stoops, a rare move for a player of his caliber. But, man, how lucky has Rodriguez been to have such an experienced, talented quarterback in his arsenal in his first season at a new school? Scott has been the centerpiece of the offense, and everything else has flowed from there. He helps the Wildcats run roughly 85 plays per game, tiring out opposing defenses and forcing teams to make tough substitution decisions.
2. Nice kickoff time
. USC coach Lane Kiffin has said it before -- 12:30 is his favorite kickoff time, especially on the road. It allows his players to get home at a reasonable hour so the next day's meetings don't feel like a continuation of gameday. Sure, it'll be hotter in Tucson than it would've been with a night kickoff, but there's another added advantage to the early start: Arizona's rowdy (and close-to-the-field) student section, known as the ZonaZoo, may be too warm to get as loud as they do for night games. Considering USC's well-documented struggles with crowd noise on the road this year, that might be big.
3. Barkley's opportunity
. It hasn't come totally out of the blue -- there is certainly a precedent for returning quarterbacks' stock to drop a bit -- but
Matt Barkley
's 2012 season has not been the overwhelming success some expected. He's had good games against Hawaii, Utah and Colorado, but he hasn't played exceptionally against a good opponent yet. Will last Saturday's record-setting day set the tone for a string of good performances from the senior signal-caller? Perhaps. And it's not like the Wildcats' D is going to shut the Trojans out or anything. It's just a matter of truly exploding. Anything less than 275 or so yards and three touchdowns will be a disappointment in this game, and he really could go for a lot more.
4. Protecting him.
Of course, a large reason why Barkley hasn't played exceptionally is because of his line. It's hard to throw deep when you can't sit in the pocket for more than three seconds at a time. With
Max Tuerk
likely to start at left tackle, maybe there will be significant improvement. But Kiffin and Co. have learned how to make use of other ways to give Barkley time to throw, so this isn't as big a problem as it was a month ago.
5. Defensive rotations
. This, on the other hand, might be a real problem. Kiffin has never been one to make extensive use of his second- and third-stringers -- he'll tell you he only really trusts his starting 22 -- so the Trojans' backups often don't get as much on-field time as others across the country. That's started to change a bit last year and more this year, as the USC staff realized it needed to develop depth, but it's still not a strong point. Kiffin's idea to rotate defensive guys in last week against Colorado, mimicking what defending Arizona's offense will require, might end up looking like a genius move by early Saturday evening.
6. Underrated running back
. Quick -- who do you think has gained more yards for scrimmage this season, Arizona's
Ka'Deem Carey
or USC's
Silas Redd
and
Curtis McNeal
, combined? The answer is, surprisingly, the former. Carey, the talented sophomore, is already approaching 1,000 yards on the ground this year for the Wildcats and has also been a legitimate receiving threat . He's gained 1,064 rushing and receiving yards, whereas the Trojans' McNeal and Redd have totaled 957. Obviously that's a product of the opportunities he's been given in Arizona's fast-paced offense, but that might not be as big a reason as you think: Carey's still gaining a respectable 5.4 yards per carry and a very respectable 10.1 yards per catch.
7. Memories of 2009.
Remember the moment when Pete Carroll's final season at USC officially went off the rails? It came against this team, in the last game of the regular season. The Trojans came in reeling at 8-3 and ranked No. 18 in the country and produced a pitiful 282-yard offensive output. Barkley was quoted as saying the team's energy level was off from kickoff. "I don't know why we're putting ourselves in bad situations," he said then. Not that anyone's expecting it to, but that obviously can't happen Saturday.
8. Close games since '07.
Here's an interesting fact: Every one
of the last five games between these two teams has been decided by seven points or less. Arizona won that 2009 game by four, the Trojans won by seven last year, by three in 2010 and then by seven in 2007 and 2008. Does that necessarily mean that USC won't blow Arizona out? No. What the squads did against each other four and five years ago doesn't mean much to this year's teams. But don't be surprised if you see another close game.
9. Oregon
. OK, so this isn't exactly about tomorrow's game -- but it's sort of gotten to the point of the college football season that resembles September in the major leagues, in that teams are starting to scoreboard watch. Scoreboard watching could get pretty brutal at Arizona Stadium on Saturday. Oregon kicks off against Colorado 30 minutes before the Trojans and Wildcats, and the Ducks could easily be up by three or four touchdowns in that time. As long as USC tops Arizona, next week's game will be one of the most talked-about matchups of the year.
10. A prediction
. Much like recent history would suggest, this game should be close. USC's offense won't have a ton of trouble putting up points, but the defense could struggle with adjusting to Arizona's attack. There's only so much preparation you can get done against Colorado and your own scout team. Monte Kiffin has proven adept at making defensive adjustments, though, so improvement's not out of the question. And going through some adversity against the spread this week will probably end up helping USC against Oregon. So, the Wildcats could take an early lead, but expect the Trojans to surpass them later in the game -- maybe with a good third quarter, finally -- and win by a small margin. USC 38, Arizona 35.
October, 25, 2012
10/25/12
11:32
AM PT
The five key storylines as No. 9 USC (6-1 overall, 4-1 Pac 12) takes on Arizona (4-3, 1-3) in a Pac-12 showdown.
1. USC defense vs. Arizona spread offense:
On paper, this will be the toughest offensive opponent the Trojans have faced this year. The Wildcats have taken quickly to new head coach Rich Rodriguez's hurry-up spread offense and the results have been impressive, with almost 550 total yards of offense per game. It will be up to the Trojans' swarming and attacking defense to pressure the quarterback and look for turnovers or stops.
2. Arizona QB Matt Scott vs. USC cornerbacks:
To break down the previous point even further, the key battle within the battle will be Scott throwing the ball against a USC cornerback position that has been in flux.
Nickell Robey
has been solid on one side, but there has been a rotation opposite him, with either
Torin Harris
or
Josh Shaw
appearing to be the primary options. The Trojans will probably need both against the quick pace of the Wildcats offense.
October, 25, 2012
10/25/12
11:31
AM PT
By
WeAreSC staff
| ESPN Insider
What are the three keys to USC defeating Arizona this weekend?
Garry Paskwietz
1. Continued success in red zone:
The Trojans rank No. 2 in the Pac-12 in red zone offense and defense, a trend that needs to continue against Arizona. There's little doubt both teams are going to gain some yardage in this game, so the big key will be limiting the number of opponent drives that end in touchdowns and converting when you have your opportunities.
To continue reading this article you must be an Insider
October, 25, 2012
10/25/12
11:30
AM PT
Last weekend, Arizona's
Matt Scott
and USC's
Matt Barkley
led their teams to victory and played well. And, of course, you heard a lot more about Barkley than Scott.
For one, Barkley was brilliant and Scott was just very good. Barkley completed 19 of 20 passes for 298 yards with six touchdowns and no interceptions against Colorado. It was the most efficient performance in the country this year and the most efficient in the history of the Pac-12. And, oh by the way, he now has 102 career TD passes, a Pac-12 record.
[+] Enlarge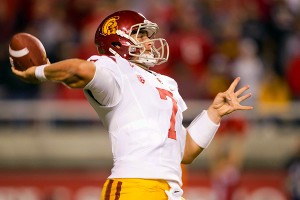 Russ Isabella/US PresswireSenior QB Matt Barkley has the Trojans sitting at 6-1 (4-1 Pac-12) entering Week 9.
Scott, who leads the Pac-12 in passing yards per game with 336.4, played a more supporting role while throwing for 256 yards and four touchdowns and rushing for 43 yards and a score in the blowout win over Washington.
Yet it surely felt familiar. USC is always big news, even when it's not winning championships. And Barkley is the most famous college quarterback in the country, even if he's not going to win the Heisman Trophy.
Scott? His outstanding numbers and notably quick adoption of new coach Rich Rodriguez's offense resonates only regionally, if at all. At least that's the case today.
That might change. These two seniors meet for the first time Saturday in Tucson, with Barkley, a four-year starter, trying to lead the Trojans back into the national title picture, which obviously means not overlooking Scott and the Wildcats because of the Nov. 3 date with Oregon.
Check that. These two did meet before, and let's hope this one is as fun as the first time: Oct. 4, 2007.
That's when Barkley, a junior at top-ranked Mater Dei in Santa Anna, Calif., and already highly celebrated, met Scott, a senior at No. 2 Centennial High of Corona, first clashed in front of roughly 10,000 fans in the Santa Ana Bowl.
[+] Enlarge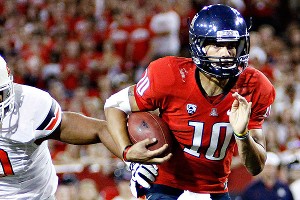 AP Photo/Wily LowSenior QB Matt Scott and the Wildcats are 4-3 (1-3 Pac-12) entering Week 9.
Mater Dei
won 51-37
in a game that lasted three hours and 15 minutes and featured 58 first downs and 1,295 yards of offense, a California high school record that only fell this season.
"The fans definitely got their money's worth," Mater Dei coach Bruce Rollinson told reporters after the game. "That was some show."
Scott passed for 176 yards and rushed for 178. Barkley was 21 of 31 for 364 yards and two touchdowns. The Centennial defense, by the way, featured Vontaze Burfict,
Brandon Magee
, Shelly Lyons and
Will Sutton
, who all signed with Arizona State. In a joint interview in 2011, the Pac-12 blog once asked Burfict, Magee and Lyons about this game, and they all became just a bit grumpy. It's fairly well-known that Barkley and Burfict
are not exactly close
.
Barkley was a five-star prospect in 2008, the nation's highest-rated quarterback. He signed with USC, which at that point was on a dynastic run atop the then-Pac-10, with a 6-1 record in BCS bowl games over the previous seven years and two national titles.
So, what does Rodriguez think of Barkley?
"He's obviously been one of the best quarterbacks in the history of the Pac-12," he said. "He's likely to be the first pick in the NFL draft. We're facing one of the all-time greats and also a tremendous leader."
Scott, a year ahead of Barkley, was a three-star prospect who picked Arizona over California, Boise State and Utah. The Wildcats went 5-7 in 2007, their ninth consecutive non-winning season. He beat out Nick Foles for the starting job in 2009, but then lost out to Foles three games into the season. When Foles was hurt in 2010, he came off the bench and played well, but he opted to redshirt in 2011 so he could finally inherit the keys to the offense as a fifth-year senior.
When asked about Scott, USC coach Lane Kiffin's first word is, "Wow."
"I think he's a phenomenal player," he said. "I didn't realize he is as fast as he is -- accurate, arm strength. He's playing great, doing an unbelievable job with the system."
So there's plenty of mutual admiration for both QBs.
Scott said he and Barkley know each other from football camps and recruiting and get along well. But, yes, it would be meaningful to best Barkley on Saturday.
"Yeah, they are the No. 9-ranked team, so it's going to mean a lot more," Scott said. "It's a big stage, a great quarterback is coming in here. It would mean a lot to outplay him."
If Take 2 is anything like Take 1 in 2007, this one figures to be pretty interesting.
October, 25, 2012
10/25/12
11:28
AM PT
548.7: Average yards per game compiled by the Arizona offense, No. 5 in the nation

Rich Rodriguez's spread-option offense has been a hit this season in Tucson, putting up huge numbers week in and week out. Quarterback Matt Scott has already thrown for more than 2,300 yards and 17 touchdowns in seven games, while running back Ka'Deem Carey averages 120.3 yards rushing per game.


[+] Enlarge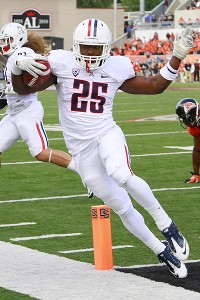 AP Photo/Don RyanKa'Deem Carey will be looking to find the end zone early and often against USC on Saturday.
464.7: Average yards per game allowed by the Arizona defense allows, No. 104 in the nation
In direct contrast to the stellar output of the offense, the Wildcats' defense has struggled, ranking near the bottom of the Pac-12 in just about every major defensive statistical category. Lacking a consistent pass rush, it's ranked 111th nationally against the pass (291.1 yards allowed per game).
4.3: Average number of points Arizona has scored in the first quarter of games in 2012

It's safe to say that the Wildcats have a knack for getting off to slow starts. The Wildcats have accumulated a total of just 30 first-quarter points through seven games, and they were shut out in the first 15 minutes of regulation in each of the team's three losses.
3: Times that Arizona has eclipsed the 50-point mark in just seven games this season

Not surprisingly, the Wildcats are a perfect 3-0 in those matchups, and the last time an Arizona team went over the 50-point plateau three times in one season was in 1954.
1-3: Arizona's record against nationally ranked opponents

The Wildcats are battle-tested to say the least, having already faced four ranked opponents. And while Arizona's 59-38 win over Oklahoma State stands as the team's only victory in those matchups, with the exception of the Oregon game, the Wildcats were only a play or two away from coming out on top in those other contests.
October, 23, 2012
10/23/12
8:18
PM PT
LOS ANGELES -- The Trojans were back on Brian Kennedy/Howard Jones Field on Tuesday morning, going full-pads once again in preparation for this Saturday's clash at Arizona. And while USC is coming off arguably their most complete performance of the season -- a 50-6 victory over Colorado -- Trojans head coach Lane Kiffin is well aware that the team has a tough stretch coming up, starting this weekend with the Wildcats and their potent spread-option offensive attack.
[+] Enlarge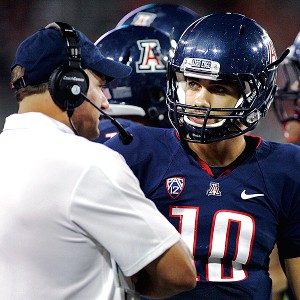 AP Photo/John MillerThe combination of Rich Rodriguez and Matt Scott has worked wonders for the Arizona offense thus far.
"I think we have a lot of concerns," Kiffin said. "We're always trying to improve regardless of who we're playing, just like last week. And obviously we need to fix penalties, we need to do better on third downs and now we're going to have to step it up even more on defense. We're going to play some great offenses, including this one -- the No. 5 offense in the country at their place -- so we're going to have our hands full."
More on the Wildcat offense
To continue reading this article you must be an Insider
October, 22, 2012
10/22/12
4:35
PM PT
USC Trojans (6-1 overall, 4-1 in Pac-12) vs. Arizona Wildcats (4-3 overall, 1-3 in Pac-12)
Date:
Saturday, October 27
[+] Enlarge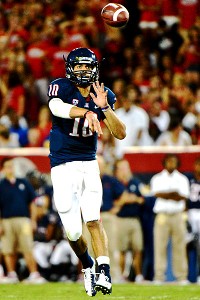 Matt Kartozian/US PresswireDual-threat QB Matt Scott leads a potent Arizona offense.
Time:
12:30 p.m. PT
Location:
Wildcat Stadium (Tucson, Ariz.)
TV:
ABC or ESPN2
Radio:
ESPNLA 710 (pre-game show begins at 7 a.m. PT)
Scouting Arizona:
Arizona, under new coach Rich Rodriguez, snapped a three-game losing streak (all to ranked teams) with a convincing 52-17 win against Washington on Saturday.
The Wildcats sport a potent offense that is fifth nationally in total offense (548.7 yards per game, first in Pac-12) and passing offense (352.3 ypg, first in Pac-12) and 20th in scoring offense (39.1, second in Pac-12). Senior QB
Matt Scott
(200 of 311, 64.3 percent, 2,355 yards, 17 TD, eight INT in 2012, plus 65 carries, 265 yards, 4.1 avg, three TD) is fourth nationally in total offense (374.3, first in Pac-12). Sophomore RB Ka'Deem Carey (155 carries, 842 yards, 5.4 avg, 11 TD, plus 22 receptions, 222 yards, 10.1 avg, one TD) is 14th nationally in rushing (120.3, fourth in Pac-12), 16th in all-purpose running (154.3, third in Pac-12) and tied for 18th in scoring (10.3, second in Pac-12). Sophomore WR
Austin Hill
(44 receptions, 678 yards, 15.4 avg, seven TD in 2012), who is 14th nationally in receiving yards (96.9, fourth in Pac-12) and senior
Dan Buckner
(44 rec, 599 yds, 13.6 avg, 2 TD in 2012) are the top pass catchers.
On the other hand, UA's defense is in the bottom 20 nationally in total defense (464.7 yards per game, 11th in Pac-12). Junior MLB
Jake Fischer
(67 tackles, 4.5 for loss, two forced fumbles, two fumble recoveries) is the Pac-12's top tackler (9.6), while sophomore safety Tra'Mayne Bondurant (43 tackles, 10.5 for loss, one INT, 4 deflections, 1 forced fumble) and sophomore CB
Jonathan McKnight
(29 tackles, three INT, 3 deflections) lead the secondary. -- courtesy USC sports information
2014 TEAM LEADERS
| TEAM | RUSH | PASS | TOTAL |
| --- | --- | --- | --- |
| Offense | 158.2 | 294.6 | 452.8 |
| TEAM | PF | PA | MARGIN |
| Scoring | 35.1 | 23.8 | 11.3 |