April, 14, 2014
4/14/14
12:00
PM PT
So much has been expected from
USC
defensive lineman
Kenny Bigelow
, you'd think his name should already have been etched alongside such former Trojans D-line greats as Shaun Cody, Sedrick Ellis and Mike Patterson.
A mountain of a man at 6-foot-4 and 315 pounds, Bigelow came to Troy in the spring of 2013 with "Conquest" blaring and projections of greatness, having graduated a semester early from Elkton (Md.) Eastern Christian Academy.
A household name in recruiting circles for years, Bigelow was expected to step right in as a freshman and contribute, but sometimes those projections from the recruiting gurus don't come to fruition.
March, 5, 2014
3/05/14
10:00
AM PT
By
WeAreSC staff
| ESPNLosAngeles.com
Next week offers a look at the future, the present and the past of USC football. Give one player you are looking forward to seeing at the Los Angeles Nike Camp, one player who will be the talk of the opening week of spring ball, and one player who can improve his NFL stock the most on Pro Day.
Nike Camp

Garry Paskwietz:
When Steve Sarkisian was an assistant coach at USC he saw the Trojans utilize tall and athletic wide receivers such as Mike Williams and Dwayne Jarrett with a lot of success.
Equanimeous St. Brown
from Anaheim (Calif.) Servite has a 6-foot-4, 190-pound frame that would seem to offer a similar package of skills, and the Trojans have been very clear in pointing out that fact during the recruiting process. It will be interesting to see how St. Brown compares to the other receivers at the Nike camp, and if he has any connections with USC quarterback commit
Ricky Town
.
[+] Enlarge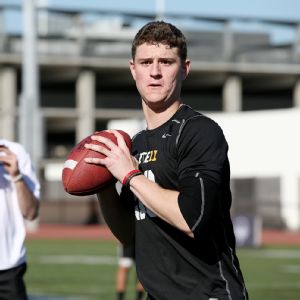 Tom Hauck/ESPNTrojans QB commit Ricky Town will get a chance to recruit players at the Los Angeles NFTC this weekend.
Johnny Curren:
Defensive tackles such as
Rasheem Green
from Gardena (Calif.) Serra simply don't come around very often right in USC's backyard, and I think that he's as crucial a target that there is in this class for the Trojans, particular with the possible departure of
Leonard Williams
following the 2014 season. The linemen one-on-ones are always the highlight of every NFTC, and with a rare combination of 6-foot-5, 269-pound size and exceptional athleticism, I'm really curious to see how Green matches up against the top offensive linemen that Southern California has to offer. From what I've seen from him in the past, he has the ability to really dominate at this event.
Greg Katz:
For me, it will be quarterback commit Ricky Town, especially if he competes against
Josh Rosen
. While that could be interesting if both decide to toss it around, the real story will be Town interacting with Trojans recruits who could someday be his teammates. Yes, it's all about recruiting of players by players, and Town has good reason to be active on Sunday at Redondo Beach (Calif.) Union High. It could be fascinating.
Opening week of spring

GP:
It was a relatively quiet transition year for
Kenny Bigelow
as a redshirt. After coming in as a top-ranked recruit who many thought would make an immediate impact, Bigelow had time to sit back and watch while learning the college game and spending time in the weight room. That year off should start paying immediate dividends next week when a hungry Bigelow gets a chance to remind everyone why he was such an elite prospect.
JC:
Collecting 52 tackles,
Su'a Cravens
played more like a veteran in 2013 than a freshman, and I expect even bigger things from him in the future starting this spring. Possessing unique playmaking ability to go along with his remarkable physical attributes, I'm particularly interested to see how defensive coordinator Justin Wilcox utilizes his talents in his new scheme. Will Cravens line up at a traditional safety position? Or might Wilcox put him at a possible linebacker/safety hybrid spot, similar to where he showcased
Shaq Thompson
at Washington? In either case, Cravens has the potential to emerge as a leader of the defense this spring.
GK:
The talk of spring ball in the opening week will be -- to the surprise of nobody -- All-American defensive tackle Leonard Williams. With two seasons under his belt, Williams is being touted by some as one of the all-time greats at USC. It figures that even in restricted drills and learning a new system, Williams will look even more destructive in the first week and more noticeably sculptured.
Pro Day

GP:
Marcus Martin
was limited at the combine, which didn't hurt him but it certainly didn't help him either. Martin has a real opportunity to secure his spot as the top center in the draft and a probable mid-round selection with a solid performance at pro day. He got a boost to his profile recently when Mel Kiper ranked him as the top available center but, as Pete Carroll used to always remind everyone, the NFL simply doesn't know as much about an early entry player, so Martin can go out and remind them why he deserves that ranking.
JC:
Snubbed from the NFL Scouting Combine,
Morgan Breslin
will receive his first shot to make an impression for scouts at USC's Pro Day, and I think that he'll make the most of it. With his senior campaign marred by injury, people forget that he had 13 sacks in 2012. Now apparently healthy, Breslin possesses a tremendous burst off the line, a non-stop motor, and a fierce work ethic that would seemingly make him a welcome addition to any NFL roster. Currently somewhat of a hidden commodity, I think that come March 12 more than a few NFL teams will fall in love with what he can bring to the table.
GK:
If he performs, one would think it would have to be Morgan Breslin, who shockingly wasn't invited to the NFL draft combine. Breslin will apparently have a lot to prove, and a good showing on Pro Day could return him back into the good graces of NFL teams. This is a big day for No. 91.
January, 24, 2014
1/24/14
9:00
AM PT
The Pac-12 has 26 of the 98 early entrants in the NFL draft. That's impressive. Some players are locks to get drafted. Others might have jumped the gun a bit and find themselves on practice squads or brushing up on their Canadian. We'll see.
What we're more concerned about here is who is going to replace them. Some answers are clearer than others. Some teams might have to alter their schemes just to account for a departed player.
Here's a look at the possible replacement players in the Pac-12 South. We'll look at the North later this morning.
Leaving:
Ka'Deem Carey
, RB, Arizona.
The replacement:
Jared Baker
should be in the mix, though an injury will keep him out of spring ball. He's expected to return in time for fall camp.
Pierre Cormier
and
Zach Green
will also get looks. Speaking with folks at Arizona, the word right now is that it's wide open. One player could emerge, or it could end up being a by-committee approach. Nothing is off the table at this point.
Leaving:
Carl Bradford
, LB, Arizona State
The replacement:
There really isn't anyone who has Bradford's skill set in the program yet, so the position is wide open.
Viliami Latu
has potential. So does
Chans Cox
, who was hurt a lot last season. They are also excited about incoming freshman
Ismael Murphy-Richardson
. He might not be ready to jump in immediately, but he could be the Devil backer by 2015.
[+] Enlarge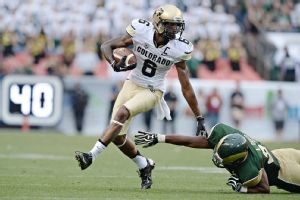 Ron Chenoy/USA TODAY SportsColorado will have a hard time replacing the explosive plays that Paul Richardson provided.
Leaving:
Paul Richardson
, WR, Colorado
The replacement:
It was probably going to be
Jeff Thomas
before he transferred. Now it's probably going to be a rotation of
D.D. Goodson
,
Devin Ross
, or redshirt freshmen
Bryce Bobo
or
Elijah Dunston
.
Nelson Spruce
has been solid, but he's not the breakaway threat Richardson was. This will be a key spring battle to watch.
Leaving:
Xavier Su'a-Filo
, OL, UCLA
The replacement:
Simon Goines
should be back after starting six games at left tackle before an injury forced him out.
Scott Quessenberry
stepped in and played five games at left guard, which is where he'll likely be next season with Goines back at tackle.
Leaving:
Dion Bailey
, LB, USC
The replacement:
Leon McQuay III
saw some playing time and is very highly regarded by the coaching staff. His contributions last season were mostly on special teams, but he'll take on a larger role with Bailey's departure.
Leaving:
Marqise Lee
, WR, USC
The replacement:
Remember
George Farmer
? He's still around and could be in for a big season if healthy.
Darreus Rogers
and
Steven Mitchell
both are promising, but both have missed time with injury. You never truly replace a Biletnikoff winner, but playing opposite a surging
Nelson Agholor
could help boost the production of whoever gets in the regular rotation.
Leaving:
George Uko
, DT, USC
The replacement:
Transfer
Delvon Simmons
is coming off a redshirt season, as is freshman
Kenny Bigelow
. Both should get some serious looks, as this will be one of the hot position battles this spring. Someone will ultimately win the job, but expect a rotation with both next season.
Leaving:
Marcus Martin
, C, USC
The replacement:
Lots of ifs here. It could be
Max Tuerk
moving over from guard, but he'll also be in the mix for right tackle to replace
Kevin Graf
.
Khaliel Rodgers
redshirted and is an option at guard or center.
Giovanni Di Poalo
could also get a look.
Leaving:
Xavier Grimble
, TE, USC
The replacement:
Grimble and
Randall Telfer
were basically co-starters, so all this probably means is Telfer's workload increases as he becomes the clear No. 1.
Jalen Cope-Fitzpatrick
is the only other scholarship tight end on the roster.
Leaving:
Jake Murphy
, TE, Utah
The replacement:
Westlee Tonga
seems like the logical fit. He has been around for a few years and has some experience, but was injured most of last year. He'll get another opportunity to be the lead tight end in the newest installment of Utah's offense.
October, 30, 2013
10/30/13
1:15
PM PT
Here are 7 freshmen who could play much bigger roles for the Trojans in 2014:
• RB
Ty Isaac
: In his limited action so far in 2013 -- eight carries for 59 yards, a team leading 7.4 yards-per rush -- Isaac has shown that his future is bright. He has excellent size in the range of 6-foot-3 and 225 pounds, plus he has a nice forward lean and pretty good speed.
Silas Redd
will be the only tailback to leave an already crowded rotation but Isaac should be able to quickly carve a niche as a power back with the capability of putting up good numbers.
[+] Enlarge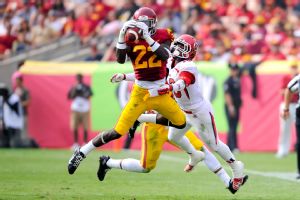 AP Photo/Gus RuelasFreshman safety Leon McQuay III had his first career interception in the Trojans' win over Utah.
• WR
Darreus Rogers
: It's no surprise that Rogers is on this list, considering how injuries have been the only thing to slow him in his brief USC career. He had one catch in the first three games, did not play the next three, and then had 11 catches for 122 yards in the last two games combined when finally healthy. Rogers is a physically strong receiver who will find a lot of success with intermediate routes. If
Marqise Lee
leaves early for the draft, as is widely suspected, look for Rogers to move into the starting role alongside
Nelson Agholor
.
• OL
Jordan Simmons
: Among the USC reserve linemen, Simmons was the one most ready to step in as a major contributor before going down with a knee injury last week that will force him out of the remainder of the year. Assuming he is able to come back healthy for the start of 2014, he could definitely be in the mix for a starting spot depending upon how the rotation shakes out.
• DL
Kenny Bigelow
: There were a lot of expectations on Bigelow to come in and be an immediate contributor as a freshman this season but that just didn't pan out. Bigelow has his moments on the practice field but there are also times when you can see that it was a big leap for him to be at the USC level. The redshirt year should do wonders and chances are Bigelow will be ready to play an expanded role along the line next fall.
• OLB
Jabari Ruffin
: Both of the USC outside linebackers will be graduating this year so chances are good that Ruffin will be filling one of the starting spots next year. Ruffin has been backing up
Devon Kennard
this year and has nine tackles, one sack and a forced fumble. He has also been an active part of special teams.
• CB
Chris Hawkins
: The corner spot has been one of the biggest issues with the defense this year and Hawkins offers the promise of being a good addition to the group in 2014. Hawkins brings good fundamentals to the position and the redshirt year should allow him to add more bulk to his frame.
• S
Leon McQuay III
: There has been a lot of attention paid to fellow freshman safety
Su'a Cravens
-- and justifiably so -- but McQuay has been quietly improving on the practice field and even showed a glimpse of his future against Utah with three tackles and an interception in his first start. McQuay has also shown a real knack in practice for blocking field goals.
March, 20, 2013
3/20/13
9:39
AM PT
The Trojans are navigating through their share of injuries this spring. But at this time of year, as long as the injuries are not serious, they can offer a mixed blessing of sorts.
When one player is forced to sit on the sideline, it gives another player the chance for extended reps with the hope of showing the coaches he is ready for a bigger role. For the injured player, there is still plenty of time to return either in spring or in fall camp before the season begins. As quarterback
Max Wittek
noted after a recent knee injury, "you never want this to happen, but if it's going to happen, better to have it happen now."
[+] Enlarge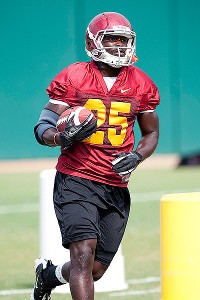 AP Photo/Grant HindsleySilas Redd's knee injury opens the door for other USC tailbacks to impress this spring.
Wittek is perhaps the most notable USC injury right now, primarily because he is engaged in a battle for the starting quarterback spot. Wittek suffered the knee sprain on March 9 prior to a scrimmage at the Coliseum and has been out ever since. He is expected to return when the Trojans practice on March 26.
Cody Kessler
has played well with Wittek out and any small gains by either player can end up meaning a lot in a competition that is so close.
On the same day that Wittek got hurt,
Marqise Lee
also went down with a "minor" knee injury and has been held out as well. There isn't as much of an impact here as Lee certainly isn't in any competition for his starting job. If anything, his absence gave the other receivers a chance to step up and the overall group is doing well from top to bottom. Right now,
Nelson Agholor
appears to be the clear leader for the starting spot opposite Lee.
A recent loss came with the news that
Silas Redd
would undergo surgery this week for a torn meniscus. Redd is the established senior starter at tailback, but he has only been on the USC campus for eight months, so any time spent on the field was beneficial. Instead, Redd will be out until fall camp and the Trojans are further limited at tailback with
Tre Madden
still not cleared for full contact due to his knee rehab. That means the remaining spring practices will be huge for guys like
D.J. Morgan
,
Buck Allen
and maybe even
Justin Davis
, although it remains to be seen how much a recent broken finger will hamper him.
The offensive line had been fairly healthy until the news that
Chad Wheeler
will miss the rest of spring with a knee injury. Wheeler had added bulk and was progressing nicely as the No. 2 left tackle.
On the defensive side of the ball, injuries are really impacting the interior depth on the line and the safety positions.
There are three linemen who have missed all of spring:
J.R. Tavai
,
Greg Townsend
and
Cody Temple
. All three figure to provide important depth at the three interior spots of the 5-2 defense, so it's vital to get them back on the field. Right now, the Trojans have
Kenny Bigelow
as a legit reserve at nose tackle, but the other spots are being manned by players out of position such as
Charles Burks
.
Scott Starr
is also out of action until fall, and he is expected to be a key reserve behind
Morgan Breslin
.
[+] Enlarge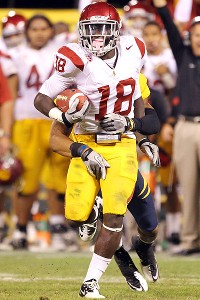 Ezra Shaw/Getty ImagesAs Dion Bailey recovers from shoulder surgery, the question of whether he'll play safety or linebacker in 2013 remains unanswered.
In the secondary, the Trojans have a lot of talent but not much is going to be settled until the coaches figure out where to put
Dion Bailey
. Most speculation centers around Bailey ending up at safety rather than linebacker, but he won't be available for spring after recent shoulder surgery. So
Josh Shaw
,
Demetrius Wright
and
Su'a Cravens
are auditioning for starting spots.
Gerald Bowman
could also be in that mix, but he is also out this spring. This means it's likely the safety rotation won't be determined until well into fall camp.
At corner, the top player through the early part of spring was
Kevon Seymour
, but he has missed the last couple of days with an ankle injury.
Devian Shelton
is also out with a foot injury. That means extended reps for
Torin Harris
,
Anthony Brown
and
Ryan Henderson
, as well as the freshman
Chris Hawkins
.
USC coach Lane Kiffin said after Saturday's scrimmage that the time off for spring break this week was coming at a good time for a team looking to get a few bodies back. The Trojans return to the practice field next Tuesday and having some of those injured players on the field will go a long way toward helping to determine starting spots.
Kiffin also acknowledged that the extra hitting in practices so far this spring -- done to achieve his goal of returning to a more physical style of play -- has played a part in having so many injuries. He said the team will continue to practice with full hitting for the rest of spring but gave no word on if there will be any changes in philosophy beyond that point.
March, 15, 2013
3/15/13
9:08
AM PT
The Trojans are almost two weeks through spring ball, and while it is still early, here's a look at how the team's depth chart might shake out if the season were to start today.
Quarterback
Cody Kessler
(6-1, 215, RS So.) OR
Max Browne
(6-5, 215, Fr.);
Max Wittek
(6-foot-4, 235 pounds, RS So.)
To continue reading this article you must be an Insider
February, 6, 2013
2/06/13
10:46
PM PT
On a day that perhaps will be remembered more for the signatures the USC staff didn't secure than the ones it did, an upbeat Lane Kiffin took center stage inside the John McKay Center on Wednesday night to officially announce the Trojans' 2013 signing class.
[+] Enlarge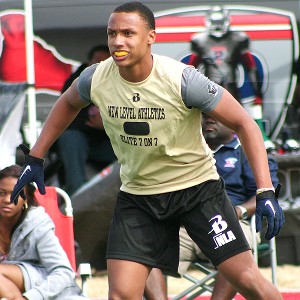 Erik McKinney for ESPN.comTwelve of USC's 13 signees are ranked in the ESPN 300, led by Su'a Cravens at No. 12 overall.
With a total of 13 members comprising the group, it's a class low in numbers but rich in talent, with 12 ranking in the ESPN 300 -- almost all of whom will be counted on to make an immediate contribution on the field for the Trojans.
"A very exciting day for USC football as we welcome 13 new guys into our program," Kiffin said. "We think that these players can come in right away and help us -- all of them. And probably a couple of them will start. Obviously, we have some holes to fill, but they are impact players and players that could have gone anywhere in the country."
Spearheading the class is a standout group of seven players already enrolled in school and set to participate in spring drills in March. They are Elkton (Md.) Eastern Christian Academy defensive lineman
Kenny Bigelow
, Sammamish (Wash.) Skyline quarterback
Max Browne
, Stockton (Calif.) Lincoln running back
Justin Davis
, Murrieta (Calif.) Vista Murrieta safety
Su'a Cravens
, Rancho Cucamonga (Calif.) cornerback
Chris Hawkins
, Seffner (Fla.) Armwood safety
Leon McQuay III
and Carson (Calif.) wide receiver
Darreus Rogers
.
November, 29, 2012
11/29/12
8:42
PM PT
The resignation of USC assistant head coach Monte Kiffin on Thursday night didn't send shock waves through the Trojans' No. 2-rated recruiting class. The move was hardly surprising and had no effect on the commitment status of recruits.
[+] Enlarge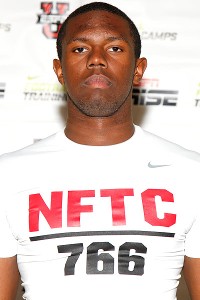 Tom Hauck for ESPN.comUSC linebacker commit Michael Hutchings doesn't see Monte Kiffin's resignation affecting his pledge to the Trojans.
Four-star outside linebacker
Michael Hutchings
(Concord, Calif./De La Salle), who committed to USC in July, wondered which direction the Trojans' defense is headed.
"It doesn't affect me too much," Hutchings said. "I really like Coach Kiffin. I think he's a great defensive mind, but I don't really have a big reaction to it. My main concern is whether they'll stay at a 4-3 defense or change to 3-4. ... I'd just want to know my role in the new defense."
To continue reading this article you must be an Insider
June, 7, 2012
6/07/12
7:38
AM PT
By
Pedro Moura
| ESPNLosAngeles.com
This is getting a little ridiculous.

Top-ranked safety Su'a Cravens' Wednesday commitment to USC has put the Trojans in an unprecedented position at this point in the recruiting season. They're essentially getting every in-state prospect they want thus far and some out-of-staters, to boot.

Will that change at some point before Signing Day in February? Probably. But unless some of the eight top prospects who have already committed to USC change their collective minds over the next eight months, the Trojans' 2013 recruiting class is shaping up to be the best in the country.

Cravens is the 14th-best 2013 prospect in the land, according to the ESPN150. The crazy thing is that places him third among USC commitments in his class, behind ninth-ranked defensive tackle Kenny Bigelow and 12th-ranked quarterback Max Browne.

At 6-1 and 205 pounds, Cravens has ideal height for a 16-year-old safety prospect and enough bulk to make an eventual move to linebacker a possibility. More importantly, he also has the national stature that's going to help USC continue to build its class in the next half-year-plus.

Sure, Bigelow and Browne are top-rated players and potential first-year contributors. But neither of them are the type of recruiter that Cravens is -- the Matt Barkley type who can get out and be vocal about his college choice and influence others to make that same choice.

Don't be surprised if recruits recall Cravens as they commit to USC over the next several months, and don't be surprised if Lane Kiffin and Co. call his commitment the key to the 2013 class next February -- or in December, if he does enroll early, as appears a possibility.

USC's class now numbers eight, all of whom are rated as four-star prospects by ESPN RecruitingNation. Six of those eight are in the ESPN150, and the final two are just outside of it, based on their numbered grade.

The Trojans' final class will number anywhere from 15-18, depending on how many spring enrollees they take and how many openings they decide to leave for the next spring.
May, 15, 2012
5/15/12
3:16
PM PT
By
Pedro Moura
| ESPNLosAngeles.com
Illinois running back
Ty Isaac
, one of the top backfield prospects in the country, committed to USC on Tuesday, giving the Trojans their sixth commitment of the 2013 recruiting season and arguably their most important.
Here's why: Isaac, ranked sixth at his position by ESPNU and 68th overall, is the first top-flight running back prospect to commit to the Trojans since
D.J. Morgan
in the class of 2010. Well, there was
Amir Carlisle
in 2011, but
that ship has sailed
.
Simply enough, USC direly needed a back in this class to provide some actual depth at the position once
Curtis McNeal
leaves. Actually, the Trojans needed two -- and they might get another later this week, when Northern California prospect
Justin Davis
makes his college announcement.
But Isaac's even better than the typical four-star prospect -- at least for USC -- because he's a legitimate big back, one who would ideally work in tandem with Morgan upon his arrival in Los Angeles. The Trojans tried to get one of those under the radar in
Buck Allen
in 2011 but realized this spring he's more of a standard-sized runner than anything else.
At 6-3 and 215 pounds in his junior year of high school in Joliet, Ill., Isaac is definitely a big back.
He becomes the third skill-position player to commit to the Trojans in the last six weeks. Highly-touted quarterback
Max Browne
(Sammamish, Wa./Skyline) committed last month as an early enrollee and receiver
Eldridge Massington
(Mesquite, Tex./West Mesquite) committed earlier this month.
Defensive end
Kylie Fitts
(Redlands, Calif./Redlands East Valley) and cornerback
Chris Hawkins
(Rancho Cucamonga, Calif./Rancho Cucamonga) also committed in April. Defensive tackle
Kenny Bigelow
(Elkton, Md./Eastern Christian) became the first member of the 2013 class when he committed last November.
April, 12, 2012
4/12/12
9:02
PM PT
By
Pedro Moura
| ESPNLosAngeles.com
Here are notes from Thursday's practice that won't make it into our other coverage from the session, the last official practice until August for the Trojans. Of course, USC scrimmages on Saturday at the Coliseum in the annual spring game, which starts at 1:30 p.m.
Running back Buck Allen took the most snaps out of the backfield he has taken all spring and showed improvement as he returns from a strained right hamstring that bothered him for nearly a month. He, Curtis McNeal and D.J. Morgan are again the Trojans' only three scholarship running backs with Tre Madden now out for the year.
Cornerback Brian Baucham continued his strong play toward the end of the spring with an interception on a tipped pass off a Max Wittek-to-Junior Pomee throw. Baucham has put himself into the competition for the third corner spot.
Injury report: Receiver Victor Blackwell (foot) did not participate in practice but could return for Saturday's scrimmage, Lane Kiffin said. Kiffin also said cornerback Ryan Henderson could play Saturday. Receiver George Farmer (hamstring) did only individual work, as has been the case since the first week of the spring. It seems unlikely he will participate in the scrimmage portion of Saturday's session. Officially out for Saturday are tight end Randall Telfer (hamstring) and linebackers Dallas Kelley and Marquis Simmons.
Among the recruits at practice were high-profile 2013 defensive tackle Kenny Bigelow, the first player to commit to the Trojans' next class, and 2015 quarterback David Sills, who was also there Tuesday. Signee Jabari Ruffin was also in attendance and spent some time with linebackers coach Scottie Hazelton after practice.
Final notes: USC will not tackle in Saturday's scrimmage to preserve players' health over the offseason, Kiffin said. We'll have more on that on Friday. ... Tight end Christian Thomas underwent surgery this week on his ailing hip and is expected to be ready for fall camp. ...Defensive back Josh Shaw had his hardship waiver claim granted by the NCAA on Thursday and will be eligible to play for the Trojans in 2012. We'll have more on what that means for USC later.
2014 TEAM LEADERS
| TEAM | RUSH | PASS | TOTAL |
| --- | --- | --- | --- |
| Offense | 158.2 | 294.6 | 452.8 |
| TEAM | PF | PA | MARGIN |
| Scoring | 35.1 | 23.8 | 11.3 |