October, 23, 2014
Oct 23
8:00
AM PT
Jim never has a second cup of coffee at home.
Leading off
If you believe what Todd Graham has been saying all along -- that
Taylor Kelly
is his starting quarterback
once he's back to 100 percent
-- then you can expect to see Kelly at the helm for the No. 14 Sun Devils when they travel to Washington this weekend.
Speaking with the media on Wednesday after practice, Kelly said he feels 100 percent and is ready to go.
Here's an excerpt from Zach Buchanan's piece in
The Arizona Republic
:
Kelly insists he's capable of making all the movements required of playing quarterback, which in ASU's system also means a lot of running the ball on read options. If he's worried about anything, it's a bit of mental rust.

Kelly has been throwing in some capacity for a few weeks, but nothing prepares you for game action.

"The main thing I was worried about was my eyes, trusting my eyes and the game speed and stuff," Kelly said. "It's been a really great experience this week, and things are going to work great."
During Kelly's absence,
Mike Bercovici
led the Sun Devils to a 2-1 record with wins over USC and Stanford.
The flip side
ASU's opponent, may or may not have its starter back for Saturday's matchup.
Cyler Miles
is still day-to-day after suffering a concussion in the loss last week to Oregon. Redshirt freshman
Troy Williams
has been taking first-team reps. Here's what Washington offensive coordinator
Jonathan Smith
told reporters after practice Wednesday
:
I think he's understanding and throwing the ball really accurately. That was the slight edge we thought Jeff (Lindquist)brought in the first game. And then we were really pleased at how Troy created some offense with his arm (against Oregon). He really has some arm talent, and that showed in the last month.
Williams was 5-of 10-for 37 yards against the Ducks. He rushed five times for 28 yards and a touchdown.
News/notes/team reports
Just for fun
Andre Yruretagoyena
talks about getting his ears pierced, running without pants and his kitten.
Seriously
.
You just knew it was going to make an appearance ...
Wave the flag at the World Series. #GoCougs @WSUCougars pic.twitter.com/XPTfmdtFKT

— Brett Ward (@bward09wsu) October 21, 2014
October, 22, 2014
Oct 22
10:00
PM PT
By
Kyle Bonagura, Kevin Gemmell, Chantel Jennings
and
David Lombardi
| ESPNLosAngeles.com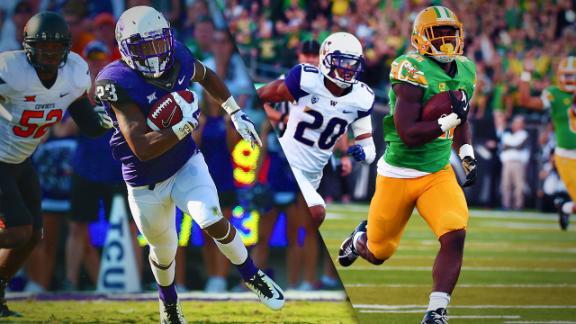 Your humble #4Pac welcomes you to another installment of what will be a regular feature on the Pac-12 blog. Here's how it works: We take one question or one topic, or maybe it's some other really cool format that we haven't even thought of yet, and all contribute our thoughts.
Have a suggestion for something we should address in a future #4Pac roundtable? Go ahead and send it to our
mailbag
.
Today, we're trying to make sense of the Pac-12 South as we head into the home stretch. Who's your favorite the win the division?
David Lombardi/@LombardiESPN:

As you may have noticed, "minefield" has been my description of choice for the Pac-12 South. So this is a dangerous question to answer.
Personally, I'm a "defense wins championships" guy, so I'll work with a process of elimination here: ASU hasn't yet proven they can consistently play sturdy defense (don't get too excited about shutting down Stanford's unimpressive 2014 offense), USC takes critical stretches off on that side of the ball (see their Hail Mary defense), Arizona has also been leaky, and UCLA has battled defensive discipline issues all season long.
That leaves me with Utah, a team leading the nation with 5.5 sacks per game and on pace for a record 71.5 sacks, as the only consistent defensive choice. Combine that with
Devontae Booker
's excellent running, and it becomes apparent that the Utes are the team with the necessary stability to be considered Pac-12 South favorites.
Chantel Jennings/@ChantelJennings:
I see it coming down to the winner of Arizona State-Arizona. And (drum roll please) in that matchup, I'd have to go with the Wildcats. I think Rich Rodriguez has enough talent on the field and trickery in his playbook to come away with a win in that game. The game is at Arizona so that would be going against the grain of road teams winning matchups, which makes sense. Arizona's defense has been suspect at times this season, but I think that group will begin making some major strides, but at the end of the day this is going to be about what offense is going to put the most points on the board. I think we're going to see a group of young players like
Anu Solomon
and
Nick Wilson
carry the banner for the Pac-12 South. It's going to be one heck of a rematch at Levi's Stadium when the Wildcats take on Oregon. That's a game I wouldn't mind seeing again.
Kevin Gemmell/@Kevin_Gemmell:
I mentioned this earlier in the week on our Spreecast. Utah reminds me a lot of Stanford in 2012. They are a team that isn't getting a ton of production out of the quarterback position, but they are winning on strength of a running game, good defense and efficient special teams play.
I know, I know. The upcoming schedule looks brutal. But we've seen that this year's Utes can handle the road -- something previous editions haven't been particularly good at. Booker's emergence (563 yards, five touchdowns in his last three games) has been enough to sustain an offense that has struggled in the air.
Defensively, this might be the best overall unit in the conference.
Nate Orchard
is a backfield menace and
Gionni Paul
has quietly been one of the best middle linebackers in the league. The secondary is hunting and the special teams are top notch.
Tom Hackett
has done an outstanding job flipping the field and anytime the Utes get in or around the 30-yard line, it's almost guaranteed points, courtesy of "Automatic"
Andy Phillips
.
The South is a mess right now. And you could easily make an argument for five teams to win the league. And you wouldn't be wrong about any of them. So why not Utah?
Kyle Bonagura/@BonaguraESPN
The fact that you can make a legitimate case for five teams to win the South means there isn't an obvious favorite. Best tie-breaker?
Remaining schedule ... and that clearly favors USC.
At 4-1 in conference play, the Trojans are two wins up on Arizona (2-1), Utah (2-1) and UCLA (2-2) and one on Arizona State (3-1). We've already established there are no easy games in the Pac-12, so that they're already at four is significant. And with that understood, their remaining slate -- at Utah, at Washington State, home against Cal, at UCLA -- is the most manageable.
Take Utah for example. The Utes have six more conference games -- USC, at Arizona State, Oregon, at Stanford, Arizona, at Colorado -- so while there's a good chance they beat USC on Saturday, their road to the division title is significantly more difficult. The other three teams face similar futures, which leaves USC with the best shot to emerge.
October, 22, 2014
Oct 22
9:00
PM PT
Welcome to the mailbag. I pray come and crush a cup of wine. And follow me on
Twitter
.
Arthur in Poulsbo, Washington writes
: If the Sun Devils win the rest of their games (big if), do you think the UCLA game with Bercovici's first start, will hurt their chances in getting into the playoffs?
Kevin Gemmell
: I think a one-loss Pac-12 champion is a lock, whether that's ASU, Arizona, Utah or Oregon.
But since you're talking about ASU specifically, let's look at the schedule: at Washington (a team that started the year ranked), vs. Utah (a top 20 team as of this week), versus Notre Dame (a top 10 team this week), at Oregon State, versus WSU and at Arizona (a top 15 team).
Combine all of that with the fact they have already beaten two ranked teams and their lone loss was at home to No. 11 (at the time), I think the Playoff Selection Committee would look very, very favorably on the Sun Devils for going 11-1.
Here's the catch, they probably won't. And Arizona and Utah probably wouldn't go 11-1, either (they all play each other, anyway). Oregon has the "easiest" road the rest of the way, so the Ducks might end up with just one loss. But would you be shocked if they didn't? I sure wouldn't be.
A one-loss Pac-12 champion is a sure-thing. Take it to the bank. It gets dicey with a 2-loss team. But even that I think might be safe -- if the committee members truly take depth of conference and strength of schedule into account.
This is a brave and scary new world we're entering. Year 1 will go a long way toward setting some precedents.
---
Derek in Cedar Rapids, Iowa writes:
Well, that was a brutal display by the Cardinal offense on Saturday! My question has to do with the explanation that Stanford is lacking a 220-pound back to run between the tackles, and that is the reason that the offense is so poor. Yes, Tyler Gaffney always seemed to fall forward for an extra yard last year, but how much of this has to do with an offensive line that is not (yet) living up to its recruiting rankings? If the blocking is what it needs to be, shouldn't
Remound Wright
,
Barry Sanders
and company be able to hit the hole for nice, positive gains? In other words, how much of this struggle has to do with the revamped offensive line, rather than Gaffney joining Stepfan Taylor and Toby Gerhart in the NFL?
Gemmell
: The answer to your question is yes, and yes. Yes, the Cardinal have not found a reliable back to give them, at least, 15 carries a game consistently. And yes, the offensive line has not lived up to the considerable hype it garnered when these guys were first recruited.
Does that mean they never will? Of course not. Remember,
Andrus Peat
is the only returning starter of the bunch. The rest of them -- while having seen a little playing time in the past -- are first-year starters.
But it's not all on the line. Because in Stanford's scheme, pass protection is a
huge
responsibility for the backs. And none of them have excelled in that department. For as outstanding as Gaffney and Taylor were at carrying the load, they were also very good at reading defenses and picking up blitzes.
This wouldn't have happened
in those days.
Or this
.
It is a combination of everything all snowballing into an avalanche of offensive inefficiency. You take an inexperienced line, combine it with backs who haven't done a great job in pass protection/getting extra yards and a quarterback who hasn't played particularly well, and you have the worst offense in the conference.
---
Mark in Phoenix writes
: It was a dominating weekend for the Pac 12 South over the North. Is it too soon to remove the justifier of "so far" and declare that the Pac 12 South is better than the North?
Gemmell
: By my count, the Pac-12 South is 7-4 against the North in their 11 inter-division matchups this year. Advantage, South.
Five of the six Pac-12 South teams are ranked, compared to just one team from the North. Advantage, South.
Every team but Oregon in the North has at least two conference losses, while the South has four teams with one conference loss and another with two. Advantage South.
The North has Oregon, the league's highest-ranked team at No. 6 and likely the Pac-12's best chance at making the College Football Playoff. Advantage, North.
Yes, the South is clearly the dominant division right now. That will sort itself out in the coming weeks with showdowns like USC at Utah, Arizona at UCLA and Utah at ASU. And then there are the rivalry games at the end of the year.
But outside of the SEC West, I don't think there is another division in football that is as nasty as the South.
The North has a chance to right things in the coming weeks. Arizona travels to Washington State this week and ASU heads to Washington. UCLA at Washington and Oregon at Utah in a couple of weeks will be interesting.
A rising South, in one sense, is great for the conference. The USC-Stanford rivalry is at a tipping point, as is the Arizona-Oregon matchup. There has never been a better time to be a fan of Pac-12 football. On the flip side, the power shift makes the league that much more balanced, which leads to further criticism of the league nationally.
I think back to a quote Mark Helfrich gave me a couple of weeks ago, when he said the Pac-12 has a perception that parity equals mediocrity, but in other leagues, parity equals strength.
Hopefully when the music stops and the four playoff teams are named, the Pac-12's depth will be an asset, not a deterrent.
October, 22, 2014
Oct 22
4:40
PM PT
No. 20 USC took part in a two-hour practice session in shorts, shoulder pads and helmets on Wednesday morning, and with a game at No. 19 Utah coming up this Saturday, Trojans head coach Steve Sarkisian said he liked what he saw from his team, and in particular, the role that team leaders have played this week.
[+] Enlarge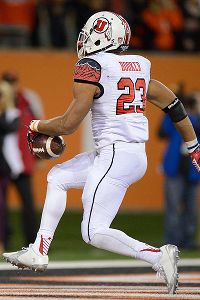 AP Photo/Troy WayrynenDevontae Booker is among the Pac-12's leading rushers with 742 yards and seven touchdowns in six games.
"They practiced really hard today, which I'm thankful for as a coach – on a Wednesday, midseason, that they had that right amount of energy," Sarkisian said. "I think that kind of gives me a little bit of an idea about the focus that they have heading into the game. There are still things for us to clean up. Obviously, we're just in the middle of this game plan mode, but all in all, what they brought today was really encouraging. I think we have some natural leaders in that department that kind of set the tone for the way they practice –
Nelson Agholor
,
JuJu Smith
,
Buck Allen
,
Leonard Williams
,
J.R. Tavai
… all those guys. I think they set the tone and the other guys do a great job of following."
USC's defense figures to face quite a test on Saturday in the form of Utah tailback
Devontae Booker
. The talented runner has 563 rushing yards in the Utes' last three contests, and his 123.7 yards-per-game average for the season ranks second in the Pac-12 behind Trojans tailback Allen (129.9).
Following practice on Wednesday, Sarkisian noted the challenge that Booker poses to the USC defense, particularly to the Trojans' front seven.
"I think he's a very physical runner, I think he gets behind his pads, I think he runs angry, I think that he almost appears to get stronger as the game goes on, and as you start to arm-tackle him, that's when he starts breaking those arm tackles and creating big plays," Sarkisian said. "So, for us it's key that we can keep him as corralled as best we can near or at the line of scrimmage so that he can't get his momentum going into the secondary. So, our defensive front has a tall order this week."
Injury updates
After spending the vast majority of Tuesday's workout on the sideline, inside linebacker Hayes Pullard returned to action on Wednesday and took part in a large portion of practice. He appeared to be moving well and didn't show any sign of being affected by the knee injury that he suffered on Saturday. "We got a lot more out of Hayes today, which was encouraging," Sarkisian said.
October, 22, 2014
Oct 22
10:00
AM PT
If you want an indication of how things are going for the Trojans on Saturday against Utah, watch the battle between the USC offensive line and the front seven of the Utes.
Much has been made about the inexperience of a Trojans offensive line that features three true freshman in the rotation, and they will be going up against a typically big Utah defensive front that likes to get after the quarterback. While the Trojans line has seen improvement lately in run blocking, the ability to pass protect for
Cody Kessler
will be taken to another level in this game. Utah leads the nation in sacks (5.5 per game) and tackles for loss (10.2 per game), and sacked UCLA 10 times.
[+] Enlarge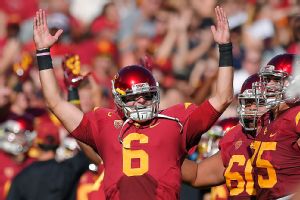 AP Photo/Mark J. TerrillCody Kessler is coming off a career game against Colorado, but he'll be tested against a Utah defensive line that leads the nation in sacks per game.
"They're pretty stout up front," USC freshman guard
Viane Talamaivao
said. "They get after the ball and they have good pass rushers. We're going to have to work really hard to make sure the pocket is clean for Cody."
Utah is led by senior defensive end
Nate Orchard
, a three-year starter, who has 39 tackles, 13 tackles for loss, and 10.5 sacks. Utah will likely try to follow a similar plan to the one used by Boston College when the Eagles defeated USC earlier this season by stunting and confusing the Trojans line, and we'll see how much the line has learned since that game.
"Utah has a very aggressive front and they look to get after the quarterback," USC coach Steve Sarkisian said. "It's nothing new for them; they've been this way for years under Coach [Kyle] Whittingham and coach [Kalani] Sitake and I've got a lot of respect for the way they do it. They play a specific style that, in my opinion, is unique to them with the aggressiveness they show on the defensive front.
"The best way to prepare for them is to go out and execute at a high level. We have to understand what we're going up against, the physicality that it's going to take, and then we need to be creative with our play-calls to make sure that we're taking care of our offensive line and putting them in positive positions to be successful. Our line will be challenged. First of all, Utah is really talented, and secondly, the crowd noise and road environment will be a factor."
Effectively protecting Kessler will go a long way, as this is a USC offense that is coming off its most dynamic performance of the season. Not only did Kessler set a school record with seven touchdown passes against Colorado, but the Trojans had a pair of 100-yard receivers and came within a few yards of having two tailbacks with 100 yards apiece. There was also an increased element of throwing the ball downfield, something that had been missing as a consistent threat early in the season.
"This is what we've been working towards with this offense," Sarkisian said. "We've got a really quality run game going right now that we're confident in, we've got an excellent short-to-intermediate pass game that we're confident in, and now when we're throwing it down the field that sure makes it more difficult on the defense."
That USC run game has been led by
Javorius Allen
, who leads the Pac-12 in rushing (129.9 per game) and has put together four 100-yard games in a row. Utah is giving up only 114.3 yards per game, a mark that is No. 2 in the Pac-12 and 20th in the nation. It's another one of those "strength on strength" battles, making the battle in the trenches one of the critical factors in the game.
October, 22, 2014
Oct 22
9:38
AM PT
Associated Press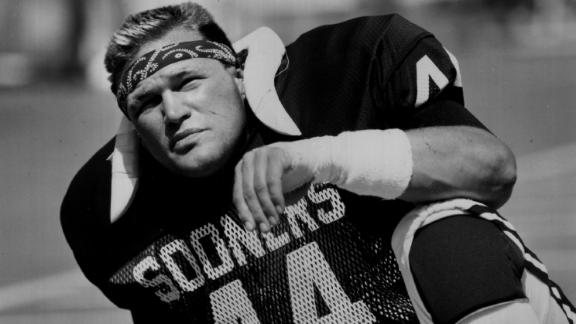 IRVING, Texas -- Kansas State coach Bill Snyder is among the 81 coaches and players up for election to the College Football Hall of Fame.
The National Football Foundation on Wednesday released the ballot for the class that will be announced Jan. 9. Former Heisman Trophy winners Rashaan Salaam of Colorado, Ricky Williams of Texas and Eric Crouch of Nebraska are among the 75 players from the Football Bowl Subdivision on the ballot.
Oklahoma linebacker Brian Bosworth and Southern California receiver Keyshawn Johnson are also up for election.
The NFF tweaked its rules for eligibility a few years ago to allow active coaches, such as Snyder, to be eligible for the election after they turn 75.
The 75-year-old Snyder is in his 23rd season at Kansas State. He has a record of 183-91-1.
October, 22, 2014
Oct 22
8:41
AM PT
October, 22, 2014
Oct 22
11:36
AM PT
By
Brian Fremeau
| ESPN Insider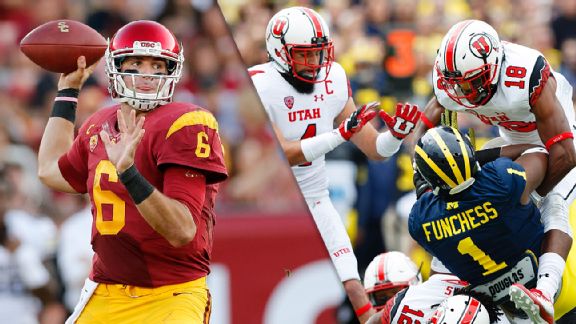 Icon Sportswire/USA Today SportsStatistics show the battle between USC's offense and Utah's defense will be one to watch.
One of the more intriguing matchups of the weekend takes place in the Pac-12 South, a showdown Saturday night between the
USC Trojans
and the
Utah Utes
. With a victory, USC would be the first Pac-12 team in either division to five conference wins. Utah looks to remain undefeated against the Pac-12 South division as it begins a brutal five-game stretch against the league's best.
The game is intriguing from an advanced stats view, as well, a head-to-head battle between one of the nation's best offenses and one of the best defenses. Traditional box score statistics might not recognize the matchup as particularly remarkable. USC's offense ranks 28th nationally in points per game and 31st nationally in yards per game. Utah's defense ranks 35th in points allowed and 55th in yards allowed per game. But those raw numbers don't account for the strength of opposition faced or the context of play and drive efficiency.
To continue reading this article you must be an Insider
October, 22, 2014
Oct 22
10:45
AM PT
Several Pac-12 commitments and prospects saw some significant movement in the
updated ESPN 300 rankings released Wednesday
. Overall, the conference holds commitments from two of the top 22 prospects in the country and 26 of the top 300. With fewer than four months until signing day, let's take a look at where the Pac-12 stands in the ESPN 300.
To continue reading this article you must be an Insider
October, 22, 2014
Oct 22
8:00
AM PT
4, 8, 15, 16, 23, 42
Leading off
It's depth chart Wednesday! All 12 teams are in action this week -- no byes. Actually, it will be like this for the next two weeks. So that's exciting! Here are the most current depth charts for all the teams in action this week, save UCLA, which doesn't post a weekly depth chart. As always, I'll note any significant changes below.
Notes
Heisman updates
Usually in this space every Wednesday, we've been linking the straw poll from
Heismanpundit.com
. However Chris Huston, friend of the blog who runs that site, has put it on hold while he does some work for the official Heisman site. We wish him the best.
So today we'll update you with the
ESPN.com Heisman poll.
Oregon quarterback
Marcus Mariota
still sits behind Mississippi State's
Dak Prescott
. But he closed the gap last week with his performance against Washington.
Here's how the latest poll shakes out, followed by their total points:
Dak Prescott (47)
Marcus Mariota (42)
Melvin Gordon (25)
Tie: Amari Cooper (9)
Jameis Winston (9)
Prescott and Mariota were the only players receiving first-place votes. Looks like it's a two-man race to the finish.
Dak Prescott & Marcus Mariota are atop ESPN's Heisman Watch http://t.co/lwKSDCvg17 Which QB would you rather have? pic.twitter.com/49IPVmGfpQ

— ESPN CollegeFootball (@ESPNCFB) October 21, 2014
News/notes/team reports
Just for fun
A cool behind-the-scenes photo journal of
UCLA's trip to Cal
.
Bravo, Oregon fans. Bravo.
When Oregon students get bored w/game, they break out beer pong in stands pic.twitter.com/344nVOlGW8 (via @JeffWhiteee)

— darren rovell (@darrenrovell) October 21, 2014
The Trojans will rock these shiny new lids on Saturday.
#USC will wear the new helmets again on Saturday at #Utah. pic.twitter.com/HMAYhzRLMD

— Lindsey Thiry (@LindseyThiry) October 21, 2014
October, 21, 2014
Oct 21
6:30
PM PT
Here's another look at random stats pertaining to the Pac-12.
Friday
No. 6 Oregon vs. California at Levi's Stadium, Santa Clara, California
Oregon has scored 79 points off turnovers, most in the conference.
Oregon has gained 61.9 percent of the possible yards on offense, most in the conference.
Cal leads the nation in touchdowns in conference games (26).
Oregon true freshman RB Royce Freeman has scored 12 touchdowns, most in the conference.
Cal QB Jared Goff ranks No. 2 in the Pac-12 with an 80.8 QBR, which ranks No. 6 nationally.
Saturday
No. 25 UCLA at Colorado

Colorado is second in the Pac-12 averaging 49.3 pass attempts per game, but allows a conference-low 1.71 sacks per game.
The Bruins have had 13 drives of 80 yards or more, the most in the Pac-12.
UCLA picks up at least one first down on 82.4 percent of its drive, second-most in the Pac-12 behind Arizona.
Colorado has gone for it on fourth down 22 times, the most in the Pac-12.
In goal-to-go situations, both UCLA and Colorado have both scored touchdowns on 11 of 13 attempts with two made field goals.
Oregon State at Stanford

Stanford is tops in the conference in yard margin per game in Pac-12 play, averaging 113 more yards than its opponents.
Stanford has committed four turnovers in the red zone-- six teams in the conference have committed none.
Oregon State averages the most seconds of possession per play in the conference (28.3), but is followed closely by Stanford (28.0).
Oregon State scores on 37.2 percent of its drives, while Stanford is at 31.4 -- two of the three lowest rates in the Pac-12.
Stanford did not lose to Oregon State during its school-record 72-week streak in the AP Top 25 that was snapped this week. The Cardinal's last loss to Oregon State came in 2009, when it was unranked.
No. 15 Arizona at Washington State

Opposing defenses have committed 17 penalties against Arizona, the most against any Pac-12 team.
Arizona averages the fewest seconds of possession per play in the Pac-12 (20.1).
Arizona RB Nick Wilson owns the Pac-12's longest rush of the season -- an 85-yard touchdown run against UTSA. Only two other players have a carry longer than 57 yards yards.
Three WSU receivers – Vince Mayle, River Cracraft and Dom Williams – have a reception of 84 yards or longer. Of the rest of the conference, only Arizona (Cayleb Jones and Austin Hill) has more than one.
WSU punts on just 29.5 percent of its drives, the third-lowest percentage in the Pac-12.
No. 20 USC at No. 19 Utah
Utah averages 4.83 drives per game without a first down, the most in the Pac-12. USC averages 3.86, the second most.
Utah RB Devontae Booker averages 187.7 yards rushing in conference games, the second most among Power 5 running backs behind Wisconsin's Melvin Gordon (217) ... and USC's Buck Allen is far behind. He ranks No. 6 (149).
USC QB Cody Kessler is among the most accurate quarterbacks in the country. His completion percentage (69.5) ranks No. 5 and his interception percentage (0.4) is No. 3.
Utah (5.18) and USC (5.36) rank No. 2 and No. 3 respectively in yards per play allowed in Pac-12 play.
No. 14 Arizona State at Washington
Washington has turned the ball over on just 3.4 percent of its possessions, the lowest rate in the Pac-12.
Arizona State is one of five teams in the country averaging over 320 yards passing and over 190 yards rushing on offense.
Arizona State's defense has committed 11 penalties that resulted in first downs, second fewest in the country.
ASU averages 6.74 yards per play, which ranks second in the Pac-12 and 15th nationally.
Washington averages 181.4 passing yards per game, the fewest in the Pac-12.
Past weeks
Week 1
Week 2

Week 3
Week 4
Week 5
Week 6

Week 7
Week 8
October, 21, 2014
Oct 21
2:29
PM PT
With No. 20 USC (5-2 overall, 4-1 Pac-12) set to face No. 19 Utah (5-1 overall, 2-1) in Salt Lake City this Saturday in a crucial matchup in the Pac-12 South Division race, Trojans head coach Steve Sarkisian said that his team came out for Tuesday's full-pads practice session focused right from the get-go.
"I thought the guys came out with a good intention to work to improve, to really soak in the game plan, which is what Tuesdays are about -- really getting the meat and potatoes of the game plan installed, working through the kinks of it, and then getting it cleaned up in our meetings this evening and getting back on the field tomorrow for practice," Sarkisian said. "I think these guys understand the value of this game and what it means in conference standings, which is important to know."
At the top of Sarkisian's list of concerns is an attacking Utah defense that ranks No. 1 nationally in both sacks (5.5 per game) and tackles for loss (10.2 per game). Led up front by defensive end
Nate Orchard
, the Utes figure to provide quite a test for USC's improving, but still young offensive line.
"Utah plays a specific style that, in my opinion, is unique to them," Sarkisian said. "They've had great defensive linemen over the years in
Star Lotulelei
, and the Krugers and all of those different guys. Now it's kind of Nate Orchard's turn to be the lead guy for them. So, the best way to prepare for them is we have to go out and execute at a high level. We have to understand what we're going up against and the physicality that it's going to take for us to play with, and then we need to be creative with our play calls to make sure that we're taking care of our offensive line and putting them in positive positions to be successful."
Kessler hears from USC passing greats
USC quarterback
Cody Kessler
said that since throwing for a school single-game record seven touchdown passes this past weekend, he's received a steady flow of congratulatory messages, including from some notable USC signal-callers of the past in Matt Leinart,
Mark Sanchez
and
Matt Barkley
.
"It's kind of cool because there's such a long tradition here," Kessler said. "The guys that I got to watch before me, to kind of hear from them and for them to reach out on different types of social media is a really cool feeling."
Kessler said that it was the message from Barkley -- whose record Kessler broke on Saturday -- that made the biggest impression.
"I think the most meaningful one was from Matt Barkley, just because it was his record, and he was like my big brother when he was here," Kessler said. "A lot of the stuff I learned here is from him. He taught me how to play the game here, and how to handle everything, and how to be off the field as well. And to be able to do that, and hear from him after on social media and then get a text was a really cool feeling."
Injury update
News and notes
With a loud and spirited crowd potentially expected to be on hand in Rice-Eccles Stadium this Saturday, Sarkisian had crowd noise piped in during the Trojans' practice.
With Pullard limited in practice, sophomore Michael Hutchings took his place with the No. 1 defense at MIKE linebacker.
John Plattenburg and Leon McQuay III were the two starting safeties with Bowman sidelined during 11-on-11 periods.
During the field goal period, Heidari connected on 3-of-3 field goal attempts, including a 47 yarder. Wood went 2-for-3, with his miss coming on a 47-yard attempt.
Freshman wide receiver JuJu Smith blocked a punt during a special teams period.
There was a large number of NFL scouts in attendance on Tuesday, including those from the Baltimore Ravens, Chicago Bears, Green Bay Packers, Minnesota Vikings, New Orleans Saints, San Diego Chargers and Tampa Bay Buccaneers.
Sarkisian said that the team will wear the new metallic-tinted helmets again this Saturday when they face Utah.
October, 21, 2014
Oct 21
10:38
AM PT
By
WeAreSC staff
| ESPNLosAngeles.com
1. Was the Colorado win the breakout game the USC offense was looking for?
Garry Paskwietz:
It was definitely the most dynamic game of the season, and I think a lot of USC fans -- and coach Steve Sarkisian -- would describe that dynamic element as the biggest missing piece of the offense to this point so by that standard you can say it was a breakout kind of game. You had
Cody Kessler
with his school-record seven touchdowns, you had a pair of running backs around the 100-yard mark and a pair of receivers who broke the 100-yard mark. That's a pretty good offensive night no matter who the opponent.
Johnny Curren:
I think Colorado certainly was the breakout game that the USC offense was looking for. After all, just about everything clicked for Sarkisian & Co. Kessler threw for a school-record seven touchdowns, and both
Buck Allen
and
Justin Davis
shined on the ground. Still, it's important to take into account the fact it all happened against a Colorado defensive unit that has struggled throughout much of 2014. Because of that, I'm more interested to see if the USC offense can continue to find success against Utah this weekend, as well as through the rest of the schedule. If the offense does continue to perform at a high level, however, I think that everyone will point to the Colorado game as the moment when everything first came together.
Greg Katz:
Yes, in terms of showing against a weak defense that the Trojans' offense can be balanced and the passing game can be vertical. We'll find out this Saturday night at Utah if the balanced offense the Trojans showcased on homecoming will be the same we see in Salt Lake City. A word of caution: The opener against Fresno State, with all its offensive fireworks, was an anomaly to a certain extent to what the rest of the season has been prior to playing Colorado.
2. What will be the biggest test on the road this week against Utah?
Garry Paskwietz:
Keeping pressure off Kessler. The Trojans' young offensive line has shown growth in the run game lately, now they will get a test against a formidable pass rush that comes early and often. Sarkisian said the Utes' M.O. is to get after the quarterback, and with a nation-leading 5.5 sacks per game, it's pretty obvious that they do it well.
Johnny Curren:
I think that the Trojans' biggest test will come up front on offense, as the USC offensive line is set to go up against an extremely talented Utah front seven that has the Utes currently ranking No. 1 nationally in both sacks (5.5 per game) and tackles for loss (10.2 per game). There's no denying the fact that Tim Drevno's young group has made tremendous strides as of late, but they're going to need to come up with their best performance yet in this one.
Greg Katz:
To be able to match and sustain the physical aspect that Utah will bring on both offense (rushing) and defense (QB sacking). The Trojans showed at Arizona that they can survive in a major hostile environment. Utah could be the toughest test of the season thus far.
3. Will Allen end up in New York as a Heisman finalist this year?
Garry Paskwietz:
To paraphrase a line from "Dumb and Dumber," I'm saying there's a chance. There is a pretty good group at the top of the Heisman pecking order that Buck would need to crack but if he can maintain his per game average, he would end the season with roughly 1,600 rushing yards and that would be a hard candidate to keep away from the Big Apple. There is certainly a long way to go before that can happen and a lot that would need to fall in the right direction but Buck has done his part to give himself a chance.
Johnny Curren:
I do think Allen will end up as a Heisman finalist this year, primarily because he just seems to keep getting better and better. He's running with so much confidence right now, and he's so talented not only as a rusher, but also as a receiver. I think that his final numbers at the end of the regular season are going to be really impressive. Of course, one thing that will certainly play a part is what kind of record the Trojans have when it's all said and done. If they keep winning, he's going to start getting a lot more media attention. If they don't, his accomplishments risk getting buried.
Greg Katz:
It all depends how he plays against UCLA and more importantly Notre Dame. Ask me today and I say, "No." Buck is having a wonderful season and will be rewarded come NFL draft time. However, he has not been given the preseason publicity push needed to be in the mix.
2014 TEAM LEADERS
| TEAM | RUSH | PASS | TOTAL |
| --- | --- | --- | --- |
| Offense | 189.3 | 273.4 | 462.7 |
| TEAM | PF | PA | MARGIN |
| Scoring | 35.6 | 23.1 | 12.4 |