October, 17, 2012
10/17/12
11:28
AM PT
The major preseason stories in the Pac-12 were four new coaches, the return of
Matt Barkley
, the nation's leading Heisman Trophy candidate, and USC and Oregon apparently headed for a showdown with national-championship implications on Nov. 3.
The major midseason stories are a little different.
USC and Oregon could still be an epic clash, just not as epic because USC already has lost. Also, Barkley's middling numbers for an offense that hasn't been consistently in sync have diminished the national perception of the Trojans. The Ducks are now the Pac-12 team at the center of the national discussion.
As for the four new coaches, three have gotten off to great-to-solid starts in year one. But how will they finish? And will Mike Leach get Washington State on track?
Will Arizona State maintain its fast start, or are the Sun Devils headed for a tough dose of reality as the schedule firms up, starting with Oregon on Thursday?
Speaking of fast starts: Oregon State. The Beavers have surged, and coach Mike Riley has moved from the hot seat to the throne of a national-coach-of-the-year candidate. Oregon and Oregon State are the only two unbeaten teams in the conference, so it's not inconceivable that the Civil War could be for the North Division crown, a spot in the Pac-12 title game and, perhaps, a chance to play for the national title.
It could become the season's true epic clash.
As for hot-seat talk, as distasteful as it is, nearly all of such focus will be on California coach Jeff Tedford. The Bears have won two in a row after a 1-4 start, but it remains in the air whether this team can be consistent enough to earn a bowl berth. A losing record wouldn't be good for Tedford.
[+] Enlarge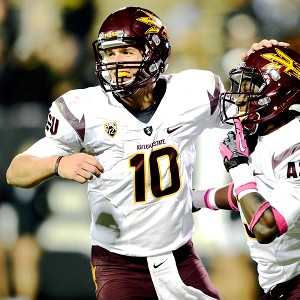 Ron Chenoy/US PresswireTaylor Kelly (10) and Arizona State could make a loud statement with Oregon coming to town.
Finally, in terms of individual awards, it will be interesting to see if any Pac-12 player emerges as a true Heisman Trophy contender. Might Barkley turn it up during the second half? Will Oregon's
De'Anthony Thomas
start to fill up "SportsCenter" with highlights? Is there a potential dark-horse candidate?
Ultimately, midseason reviews don't mean much. Teams and players can reverse course -- positively or negatively -- at any moment.
But what it is fair to say is there are plenty of rich plot lines heading into the season's second half, even if those were not the stories that advanced the season.
Bold prediction
: The conference will fill all seven of its bowl obligations, plus one. Oregon is already in; Oregon State, Arizona State, USC and UCLA are all one win from being bowl-eligible. If you follow the Sunday zaniness that is
our weekly bowl projections
, you know your bloggers project Oregon to the national championship, which opens up one more spot. We see Stanford and Washington bowling. That's seven right there. The eighth spot is up for grabs, with Arizona and Cal the likely candidates. Cal could get to .500 this week, then would need two more wins with Utah, Washington, Oregon and Oregon State remaining. If Arizona takes care of Colorado and Utah in the second half, that leaves it looking for one more win over from among Washington, USC, UCLA and Arizona State.
Looking forward to
: The race in the Pac-12 South. Once thought to be gift-wrapped for the Trojans, the recent inconsistent play of USC opens up the possibility of someone else as the South's representative in the title game. The Trojans are still the favorite, but Arizona State and UCLA aren't going to make it easy. Both of UCLA's losses have come to North Division teams, USC's loss was to Stanford and ASU's was out of conference. It's more wide-open than we ever could have imagined in August.
Top five games (by date, not importance):
Oct. 18, Oregon at Arizona State
: Time to find out if the Sun Devils are for real. They have the conference's No. 1 scoring defense facing Oregon's top-ranked scoring offense. The Sun Devils rank second in scoring. Both teams are getting phenomenal quarterback play and both like to work fast.
Oct. 27, UCLA at Arizona State
: This is a pivotal game in the aforementioned race for the South Division title. It features two explosive offenses and two of the league's brightest young quarterbacks. Some pretty good players from both defenses as well.
Nov. 3, Oregon at USC
: This is still the big one. An Oregon win gives the Ducks some much-needed national credibility, while a USC victory puts the Trojans back in the BCS championship hunt. Might be a last-gasp Heisman run for Thomas and/or Barkley.
Nov. 17, USC at UCLA
: A new chapter in this historic rivalry begins with Jim Mora at the helm for the Bruins. He has made them a player in the Pac-12 South, and lest we forget, coordinator Noel Mazzone's offense put up 43 points on USC last year when he was with ASU. This one could decide the South champion.
Nov. 24, Oregon at Oregon State
: The stakes could be stratospheric -- as in national championship implications for both schools. If the Ducks take care of business Nov. 3 and Oregon State can navigate a second-half schedule that includes Stanford and ASU, then all of Oregon will show up for what could conceivably be the Pac-12 game of the year.
October, 5, 2012
10/05/12
10:54
AM PT
By
Johnny Curren
| ESPNLosAngeles.com
A look at the positives and negatives from USC's 38-28 victory over Utah on Thursday night.
THREE UP
1. Matt Barkley:
Returning to the stellar form that everyone grew accustomed to seeing in the last half of the 2011 season, Barkley completed 23 of 30 passes for 303 yards and three touchdowns. The outing marked the 12th time in his career that he threw for more than 300 yards in a game, and what was particularly impressive about this one was the way that he stretched the field.
To continue reading this article you must be an Insider
October, 5, 2012
10/05/12
10:53
AM PT
As the Trojans headed out of Salt Lake City with a win over the Utes on Thursday night, they did so with an extra bounce in their step. It wasn't the prettiest of victories, but it was one that showed a lot of the same spirit and resiliency that helped turn the corner for the 2011 team.
This was a game that could have gone south quickly based upon the opening possessions. There was a lot of talk coming into the game about how the Trojans had yet to play a complete game this year, and how they were heading into a lion's den of fan frenzy with a Utah crowd that was fired up to host USC in front of a national-television audience. On paper, the Utes were definitely the underdog, but the Trojans had seen hopes and dreams dashed on the road before with untimely conference losses. And when two quick turnovers were turned into 14 Utah points, it had all the makings of another dangerous trap game.
To make matters worse, the source of the early USC angst was a familiar one, a dominant nose tackle wreaking havoc on the Trojans' offense. The scene had played out recently in the loss to Stanford when USC center
Khaled Holmes
was out of action. Holmes was back for the Utah game, but Utes defensive tackle
Star Lotulelei
had a big impact early with his physical presence, and he played a role in creating the turnovers. There was definite concern while wondering what was going to happen for the rest of the night if Lotulelei was able to continue dominating the game.
To continue reading this article you must be an Insider
October, 5, 2012
10/05/12
1:10
AM PT
By
Pedro Moura
| ESPNLosAngeles.com
SALT LAKE CITY -- Here are notes and quotes from No. 13
USC
's 38-28 win over Utah that won't make it into our other coverage from the game:
The Holmes-Barkley rapport
Center
Khaled Holmes
, the culprit on USC's two early turnovers that spotted the Utes 14 points, took every bit of available blame for his errors -- to the media and to his teammates.
He also said his connection with quarterback
Matt Barkley
-- the two played together in high school -- played a role in the Trojans' quick rebound. USC scored a touchdown on its ensuing drive, preventing a total collapse.
"I think that could have happened," Holmes said. "But fortunately it was not the case.
"Matt and the whole team had my back."
USC's more candid players did admit some interesting reactions to Holmes' second mistake, which was eerily similar to the first one that came just a few minutes before. He snapped the ball badly the first time, then misread the cadence on the second, which led to another bad snap because Barkley wasn't ready.
"After seeing it again, you're like, 'C'mon, man, seriously?'" receiver
Robert Woods
said he was thinking as he walked off the field. "Here we go again."
Woods' brief exit
Woods fell to the turf late in the first quarter when he tried to run off the field while dazed after a hit, a scary moment that turned out to be only a minor fright.
"That was funny. That was actually pretty funny," said
Marqise Lee
, his teammate and good friend.
Woods said he remembered most of the incident.
"I remember trying to run," he said. "But I couldn't see. And then I fell."
About an hour after the game's conclusion, he said he hadn't seen the video of it, yet, but noted it was "probably on YouTube."
Not much later, Lane Kiffin's assistant, Kyrah McCowan, tweeted a picture of Woods watching the play with tight end
Xavier Grimble
.
Woods said the concussion test given to him by USC's medical staff consisted of three questions: Who is the current president, what is today's date and what is 100 minus 7, minus 7, minus 7.
He passed all three, he said, and was allowed to return to the game after one missed play.
"There's no way you're gonna have Robert sit on the bench, no matter what it is," Lee said.
Morgan's return
On
D.J. Morgan
's eye-black during Thursday's game were two words: "Never Left."
Morgan wanted to show that he hadn't left the Trojans' offense despite missing USC's past three games after undergoing minor knee surgery to remove scar tissue from a high-school knee injury.
He said he felt as though he did that.
"It was very exciting," Morgan said. "My performance today came because of my preparation, because I prepared like I knew I was gonna play, like I was a starter."
Morgan, a redshirt sophomore, said he was still rehabbing following the knee surgery and didn't yet feel 100 percent recovered.
"Adrenaline kinda hides all that," Morgan said.
Homecoming for Martinez
USC right guard
John Martinez
is only the third Trojans letterman to hail from the state of Utah, and he grew up a Utes fan, attending a number of games at Rice-Eccles Stadium.
So he said Thursday night's game was "kinda a little bit personal" for him and that his teammates had asked him a bunch of questions about the atmosphere in the week leading up to the game.
He said it felt like a traditional Utah crowd amped up to another level Thursday night.
Martinez also was the player asked to help Holmes with the task of double-teaming Utah's
Star Lotulelei
, and he said it was intense.
"Their D-line is a friggin' monster to go against," Martinez said.
Injury report
Multiple USC players said running back
Curtis McNeal
suffered a concussion in the first quarter of Thursday night's game. It appeared to occur on a run play that did not count because of a holding penalty.
McNeal didn't return and did not record any statistics.
Silas Redd
, USC's other top running back, left the game initially with a shoe issue in the third quarter but did not return. It's not known if he suffered any sort of injury.
Defensive end
J.R. Tavai
did not make the trip to Utah. Only 56 scholarship players traveled for the Trojans.
Final notes:
USC tied the school record for consecutive games without being shut out at 186 straight contests. ... The crowd of 46,037 was the fourth-largest in Utah school history. ... Kicker
Andre Heidari
missed two field goals in a game for the first time in his career Thursday. They were only the third and fourth misses of his career. ... Third-string quarterback
Cody Kessler
did all the holding for the first time this season. Barkley has typically filled that role this season. Kessler appeared to place the ball poorly on Heidari's second miss.
October, 5, 2012
10/05/12
12:51
AM PT
By
Pedro Moura
| ESPNLosAngeles.com
SALT LAKE CITY -- Here's USC coach Lane Kiffin's press conference following the
Trojans
' 38-28 win over
Utah
on Thursday night at Rice-Eccles Stadium.
Kiffin addresses the play of his senior signal-caller, his thought process after USC went down 14-0 less than three minutes into the game and several other pertinent topics.
See the video here:
October, 4, 2012
10/04/12
11:43
PM PT
By
Pedro Moura
| ESPNLosAngeles.com
SALT LAKE CITY -- It took the
Utah Utes
165 seconds to score 14 points in Thursday night's game against No. 13 USC. It took them more than 56 minutes to score 14 more, as the
USC Trojans
' offense and defense both tightened up for a 38-28 win at Rice-Eccles Stadium.
Here are five things we learned about USC in the win:
1. This team has some fight
Fourteen points in 2½ minutes? USC essentially gave itself a real-life spread to fight back from in this game -- and, fittingly, the Vegas spread for this one hovered at about 14 points.
The Trojans handled it with aplomb, weathering the storm to an impressive extent and taking back the lead before halftime in a hostile environment. Coach Lane Kiffin said it was a situation that he'd be glad happened by the end of the season. That makes sense.
USC is going to face tougher teams than the Utes, for sure, but they're probably not going to face a tougher start than that all year.
Star receiver
Marqise Lee
said the 14-point deficit gave the Trojans "an opportunity to fully understand our team as a whole."
"Is SC going to break down or pick it back up?" he envisioned people around the country asking after that. "There you see: We pick it back up."
2. USC's defense is better than people realize
In Lane and Monte Kiffin's first season with the Trojans, the USC defense was downright awful at times. And the Trojans still had some bad moments in 2011.
But the truth is, this unit hasn't had a bad game, yet, this year. They're actually starting to become a force.
Taking away Utah's first two touchdowns that USC's D had almost nothing to do with and the fourth-quarter score against the backups, the Trojans allowed only seven points and created seven points of their own with a
Nickell Robey
pick-six.
A Lane Kiffin-coached team being good on defense? Yes, it's true.
Kiffin admitted after Thursday's game that his defense was playing the best it has in his 30-game tenure at USC.
3. Woods can still play
His numbers weren't fantastic, but
Robert Woods
was a big part of USC's offensive performance in the Trojans' win.
He and Lee were both given more room to work on Thursday night, probably because Utah saw the tape of the Cal game and saw USC's ground attack can be effective. And both guys did a lot with it, Woods pulling down six passes for 69 yards and a score and Lee flirting with 200 yards on 12 catches.
Woods had a first-half scare when he tried to deliver a block on Utah's
Brian Blechen
during a punt return, then stumbled to the turf while trying to run off the field.
His explanation said a lot, though.
"I just got dazed for a little bit and tried to get up, not stay down," Woods said. "For pride."
The junior receiver has a lot of that.
4. Holmes is an ideal leader
It's unusual in football to be able to correctly fault a single player for an opposing touchdown, but USC center
Khaled Holmes
really was directly responsible for both of Utah's early scores.
He had bad snaps on two of the Trojans' first five to give the ball to the Utes and a holding penalty mixed in there on a failed run play.
Here's the thing, though: From then on, he played great. And he took full responsibility for his mistakes afterward, apologizing to his teammates in the locker room after the game before Kiffin even had a chance to speak.
He said he made a point to forget the plays after Utah scored twice in the first three minutes.
"You have to," Holmes said. "Quarterbacks have to forget it if they throw a pick, cornerbacks have to do it if they get beat deep. Unfortunately I had two terrible plays. But I was able to get past them, and the guys never faltered with their confidence in me. And I couldn't be any more grateful for that."
Holmes didn't offer any excuses. He's had to come out of games twice in the past four weeks due to injury, but he didn't even mention that.
5. Barkley might yet have a chance at the Heisman
Based on his early-season play, experts around the country had been rapidly dropping USC's Matt Barkley on their Heisman Trophy leaderboard, and deservedly so: He hasn't really been playing as well as he did late last year.
But he had a fantastic game in Salt Lake City, completing 23 of his 30 passes for 303 yards, three touchdowns and no picks. He made only one or two bad decisions the entire game. And two drops by his receivers prevented his numbers from really looking supreme.
Sure, if the
West Virginia Mountaineers
's
Geno Smith
keeps putting up "video-game numbers" -- as Barkley called it this week -- he'll be the Heisman favorite.
But to count Barkley out now would be premature.
October, 4, 2012
10/04/12
9:51
PM PT
By
Pedro Moura
| ESPNLosAngeles.com
SALT LAKE CITY -- The No. 13
USC Trojans
overcame a rough start to top the
Utah Utes
38-28 in another crazy Thursday night game. Here's a report card for the Trojans:
PASSING ATTACK
When USC was able to pass the ball, it went exceedingly well.
Matt Barkley
had his best performance of the year, making good decisions all game.
Robert Woods
and
Marqise Lee
were dynamic after the catch, as usual. Tight end
Randall Telfer
had an incredible touchdown grab.
RUSHING ATTACK
If there was any question at all that Lane Kiffin was right to recruit
Silas Redd
away from the
Penn State Nittany Lions
this summer, it was answered Thursday night. Redd saved USC's offense after the early-game fiascos and did a remarkable job considering the Trojans' poor offensive line effort.
IN THE TRENCHES
USC's defensive line didn't produce anywhere near as many sacks as it did against Cal, but the pressure was there all game.
Morgan Breslin
is really a force. On offense, the Trojans' line still has a lot of work to do. An "A" and a "C," respectively, equals a "B."
DEFENSE
Hey, 14 of Utah's points were basically gifted by the USC offense. So the Trojans' D did just fine to limit the Utes to 14 more. Monte Kiffin's unit has quietly been impressive this year and has actually been more consistent than the offense through five games.
SPECIAL TEAMS
Andre Heidari
could have really hurt the Trojans with his two missed field goals -- and one more he was lucky to get to retake. Should he even have been kicking?
Kyle Negrete
's one punt did go for a 47-yard net, so that helped.
COACHING
Lane Kiffin & Co. did a good job calming their players down after the nightmarish start. But play-calling needed some work, especially early on. And couldn't they have been a little bit more cautious with Woods after he fell to the field in the first half?
October, 4, 2012
10/04/12
1:22
PM PT
USC and quarterback
Matt Barkley
started the season as the toasts of college football. Or the hated front-runners, depending on how you respond to the Rorschach test that the Trojans are across the nation.
But a loss at Stanford and middling numbers from Barkley have doused much of the hype and knocked them off the college football radar. National championships and Heisman Trophies are no longer associated with the program in 2012, and more than a few seem eager to stick the dreaded "overrated" label on the team and player.
[+] Enlarge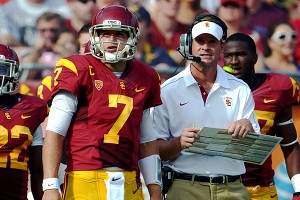 Kirby Lee/Image of Sport/US PresswireQB Matt Barkley and coach Lane Kiffin know that much is still at stake for USC.
"I'm good at blocking all that stuff out," Barkley said. "I know what's significant to us. I know what people who know football are seeing, not just the media and what they are writing. It doesn't get to me or our offense. We've just got to keep our heads down and work for every yard we get."
USC off the radar? Trojans coach Lane Kiffin isn't buying it.
"I don't think at SC you're ever off the radar," he said. "I think that shows in the ratings of games. Even when you're not No. 1, No. 2 or No. 3, all the conversations are about SC and you're always everybody's biggest game. I don't think you ever really come off the radar here."
Backing him up is Utah coach Kyle Whittingham. To him, as well as the Utes fan base, it's a big deal that No. 13 USC is coming to Salt Lake City to play inside Rice-Eccles Stadium on Thursday night (9 p.m. ET on ESPN).
"Without a doubt," Whittingham said. "It's been many, many years since USC was here."
Many years is right. The Trojans' previous visit was in 1917 -- a 51-0 victory.
Still, in the preseason this looked like a game with far more national juice. Most so-called pundits projected this as a likely battle of ranked, unbeaten teams, a game with significance for the Pac-12 South Division as well as the national picture. It was seen as one of just a few potential stumbling blocks for USC as it fired up its engines for a run at the national title game.
Instead, we have USC getting beaten at the line of scrimmage in 21-14 loss to the Cardinal, and Utah getting whipped every which way in a 37-7 humbling at Arizona State.
Both teams are coming off a bye week. The Trojans already had a bounce-back game in their solid 29-7 win over California. The Utes spent the extra week trying to correct the myriad issues exposed by the Sun Devils -- blocking, in particular.
"The offensive line play has been an ongoing project for us. Obviously a priority," Whittingham said. "We had plenty to work on."
The Utes must get the running game going against USC. They need running back
John White
to be fully healthy after an ankle injury -- he didn't look at that way at Arizona State -- because the Trojans have produced a potent pass rush this season (four sacks a game), which could make for a long night for quarterback
Jon Hays
if his play-action fakes aren't working.
The Trojans also have issues on the offensive line, most particularly the health of center
Khaled Holmes
. He's likely out of the game, which means fifth-year senior
Abe Markowitz
will be eyeballing Utah's 325-pound nose tackle
Star Lotulelei
. In last year's meeting, Holmes, probably the best center in the Pac-12, if not the nation, mostly fought Lotulelei to a stalemate. It's difficult to imagine Markowitz won't need a lot of help from his guards.
Utah's hope rests on being able to slow the Trojans' running game and get pressure on Barkley without resorting to a lot of blitzes. While the Utes pride themselves on their man-to-man coverage in the secondary, it's likely they will use a lot of the Cover 2 to help keep Trojans receivers
Robert Woods
and
Marqise Lee
in check. That's what Stanford did, and such schemes have kept Barkley's numbers down because opposing defenses are willing to take chances with alignments that invite Barkley to check into running plays.
"If teams are going to play Cover 2 and just send safeties over the top and double-team both outside receivers, you're going to be forced to run the ball where they can't support the run," Barkley said.
Sure, Barkley would like to go deep every other play, but, he added, "I'm not really worried about being flashy and all that if we're moving the ball."
The problem is the Trojans have been hot and cold moving the ball, through the air or on the ground. They are fifth in the Pac-12 in scoring and pass efficiency, and sixth in total offense, rushing and passing yards. They are 11th in third-down percentage.
Those numbers suggest mediocrity, not the offensive greatness most projected for Barkley and company in the preseason.
Yet, it's still early. A lot can -- and likely will -- happen over the second half of the season. Neither of these teams have permanently set a trajectory for how things will go in 2012.
An upset victory for Utah would be monumental for the program in its second year of Pac-12 play. And an impressive performance by USC could land it back on the national radar.
October, 2, 2012
10/02/12
11:18
AM PT
1.
Two teams with a lot to lose:
Coming into the season, this was penciled in as a highlight matchup between the expected front-runners for the Pac-12 South. Instead, both teams already have a conference loss, so another defeat would really be a blow in terms of conference standings.
2.
USC defensive pressure vs. Utah QB Jon Hays:
The Utes have given up 11 sacks behind an inexperienced offensive line, while the Trojans already have 16 sacks to their credit. Look for USC's pass-rushers to pin their ears back and come after Hays early and often.
3.
Homecoming for USC RG John Martinez:
Two weeks ago, Martinez went up against his brother,
Keni Kaufusi
, a defensive lineman at Cal. He won't face any relatives this week, but it will be homecoming for the former Murray (Utah) Cottonwood star. Martinez will have several former high school teammates lining up for the Utes.
To continue reading this article you must be an Insider
October, 1, 2012
10/01/12
5:37
PM PT
By
Pedro Moura
| ESPNLosAngeles.com
Stanford's defensive front caused the Khaled Holmes-less USC Trojans a lot of trouble a couple of weeks ago in Palo Alto.

How much havoc could a Utah line, led by Star Lotulelei, wreak this Thursday night if Holmes is again unable to go?

Lotulelei, a potential No. 1 pick in the 2013 NFL draft, is viewed in many circles as one of the top collegiate nose tackles in recent seasons, and he typically takes up two blockers on each snap. He's known to more often require three offensive linemen than one.

Although he may not always be the one threatening to reach the quarterback, it could be difficult for two or three USC offensive linemen to block the rest of the Utah D-line.

USC coach Lane Kiffin has consistently complimented Lotulelei, dating back to last August. He said this week that the 6-4, 320-pounder has gotten even better.

"I think he's really improved," Kiffin said of Lotulelei. "He was a really good player last year, obviously, but he looks like he's trimmed down, stronger, quicker and in better shape.

"He can take over games if you allow him to."

Kiffin stressed the importance of not watching too much of Lotulelei's 2011 tape, because he's much more dominant now than he was then.

USC quarterback Matt Barkley said he can't afford to think specifically about him during Thursday's game. He also said he doesn't need to worry about whether or not Lotulelei is lining up before each snap because "he's always on the field."

Holmes, the Trojans' senior center, offered no hints as to whether or not he'd be suiting up Thursday when leaving the practice field this week, but he did say he understood why Lotulelei has been so hyped.

"Deservedly so," Holmes said.
October, 1, 2012
10/01/12
2:23
PM PT
By
Johnny Curren
| ESPNLosAngeles.com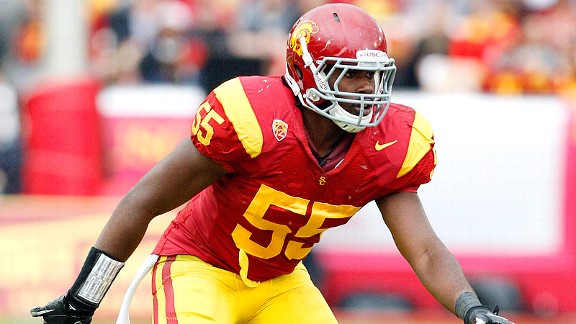 Cal Sport Media via AP ImagesFinally healthy, Lamar Dawson is wreaking havor for the Trojans from his linebacker position.
LOS ANGELES -- It was shorts and shoulder pads for the Trojans on Monday morning for what USC coach Lane Kiffin referred to as a Thursday practice in terms of its look and what was covered. Just three days remain before the Utah game, and a refreshed USC squad is anticipating a spirited crowd at sold-out Rice-Eccles Stadium.
"I think the players are anxious to play again after having some time off," said Kiffin following practice. "And we're excited for it. I think it will be a very entertaining game in a place that I think will be rocking when we go in there. It'll be a good test for us."
Storyline of the day: Cornerbacks
The cornerbacks were the topic of the day on Monday, with Kiffin noting the stellar play of
Nickell Robey
at the outset of his post-practice media session. You don't hear the 5-foot-8 standout's name called very often, but that's not necessarily a bad thing, and certainly by no fault of his own.
"I think he's played great, they just don't throw at him," said Kiffin. "You're seeing of him a little bit like Robert [Woods]. If they take something away, or don't give you the opportunity, it's hard to get numbers. "
The best way to get Robey more opportunities, Kiffin said, would be to get improved play out of the opposite cornerback position, something that the Trojans have struggled with in 2012.
"We need to play better at the other spot, and force them to throw the ball to [Robey]," he said. "We need to cover better, we need to tackle better and we need to make the play when the play is there. It's no secret we haven't played well there. We haven't played well there all year, and it's unfortunate for Nickell because, I mean, we've watched the film, the ball goes the other way all the time."
Time for Harris to settle in
The quick fix for the Trojans opposite Robey since the Syracuse game has been
Torin Harris
, but with Harris having missed extensive time at the start of the season due to injury, Kiffin admitted that maybe they rushed him. The good news is that, with some extra time to get in shape this week, there's hope Harris will begin to resemble the standout cover corner that the staff fell in love with at the beginning of the 2011 season.
"Torin has missed a lot of time," Kiffin said. "We probably played Torin too much right away. As you go back to that Syracuse game, he played 70 snaps or something. We can't do that because he'd been out for so long. So I think this bye has been good for him. He's got some extra conditioning in, and I think he'll continue to improve."
Awesome Dawson
Lamar Dawson
has been one of the stars of the defense since returning from injury before the Syracuse game, racking up 19 tackles in the past two contests alone. And this might just be the tip of the iceberg for the 6-foot-2, 235-pound middle linebacker.
"I think we played our best game on defense last week -- it had a lot to do with him," said Kiffin. "He's played physical, and he's finally getting comfortable. He's only in his second year, and he's been hurt in both seasons and missed time. So it's almost like he kind of now has one full season of games. So we're really excited about his development and the way that he's played the last two weeks."
Mr. Versatility
It's not as if
T.J. McDonald
had a whole lot more to prove heading into this season in terms of his individual play, but now you can add versatility to his long list of talents. The Trojans have been bringing the 2011 All-American safety up on certain plays into a kind of hybrid defensive end position, freeing him up to cause havoc at the line of scrimmage. It's safe to say that the move has been a success so far, further emphasizing his unique abilities.
"We did some similar things with Eric Berry a few years ago in our one year with him, and it really kind of came from watching T.J. blocking kicks -- how well he rushed," explained Kiffin. "And when it came up, our defensive ends had been beat up like they still are, so it allows us to get some reps there with some speed. And obviously he can drop too, and do all of the things in coverage as well."
Hays a backup no more
Utah's offense was dealt a crushing blow in the second game of the season when fourth-year starting quarterback Jordan Wynn went down with a career-ending shoulder injury. Six-foot senior
Jon Hays
has taken over, and the transition has certainly come with its struggles -- the Utah offense currently ranks dead-last in the Pac-12 in passing offense (298.2 yards per game). Hays has shown promise, and with 11 starts under his belt, he doesn't lack experience.
"I thought he's thrown the ball well," Kiffin said. "I thought there were a couple times where they could have helped him out by making some plays outside. From a competitive standpoint, you like when you see a backup that you're getting ready to play, but when you watch him, he's not really a backup. And he played a lot last year."
October, 1, 2012
10/01/12
11:47
AM PT
[+] Enlarge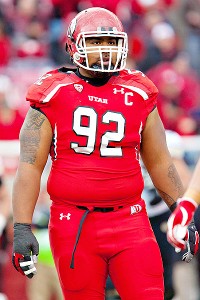 Russ Isabella/US PresswireUtah's Star Lotulelei, a potential top five pick in the 2013 NFL draft, anchors Utah's defense.
USC (3-1, 1-1 Pac-12) vs. Utah (2-2, 0-1 Pac-12)
Time:
Thursday, Oct. 4, 6:00 p.m. PT
Location:
Rice-Eccles Stadium, Salt Lake City, Utah
TV:
ESPN
Radio:
ESPNLA 710
Scouting Utah:
Eighth-year head coach Kyle Whittingham's Utah squad, rested after a bye, is coming off a 37-7 loss at Arizona State in its Pac-12 opener two weeks ago. That came a week after upsetting No. 25 BYU at home, 24-21. Senior QB
Jon Hays
(40-of-68, 58.8%, 467 yards, four TDs, one interception in 2012) has taken over for junior QB Jordan Wynn (25-of-38 passing, 65.8 completion percentage, 247 yards, two TDs, one interception), who had his second straight season cut short by a shoulder injury (the fourth of his career) when he was injured against Utah State. Hays is 7-4 starting in place of Wynn, who retired after throwing for 4,637 yards and 33 touchdowns. Senior RB
John White
(65 carries, 233 yards, 3.6 yards per carry, one TD; five receptions for 36 yards) is the top runner, while senior WR
DeVonte Christopher
(nine receptions, 83 yards, plus four kick returns for 98 yards), sophomore WR
Dres Anderson
(eight receptions, 116 yards, one TD) and sophomore TE
Jake Murphy
(nine receptions, 91 yards, 10.1 avg, two TDs) are among the featured pass-catchers.
The Utes' defense, which is tied for 25th in sacks per game (2.8, sixth in Pac-12), is led by senior DT
Star Lotulelei
(19 tackles, four for loss, one sack, two forced fumbles in 2012), who was an All-Pac-12 first team pick in 2011 when he won the Pac-12's Morris Trophy. Lotulelei is aided by junior LB
Trevor Reilly
(25 tackles, four for loss, 2.5 sacks, one fumble recovery) and senior LB
Dave Fagergren
(23 tackles, one for loss). Senior punter
Sean Sellwood
(47.8 avg) is second nationally in punting.
-- Courtesy USC sports information
2012 TEAM LEADERS
| TEAM | RUSH | PASS | TOTAL |
| --- | --- | --- | --- |
| Offense | 150.6 | 282.3 | 432.9 |
| TEAM | PF | PA | MARGIN |
| Scoring | 34.2 | 24.6 | 9.6 |