October, 5, 2012
10/05/12
1:10
AM PT
By
Pedro Moura
| ESPNLosAngeles.com
SALT LAKE CITY -- Here are notes and quotes from No. 13
USC
's 38-28 win over Utah that won't make it into our other coverage from the game:
The Holmes-Barkley rapport
Center
Khaled Holmes
, the culprit on USC's two early turnovers that spotted the Utes 14 points, took every bit of available blame for his errors -- to the media and to his teammates.
He also said his connection with quarterback
Matt Barkley
-- the two played together in high school -- played a role in the Trojans' quick rebound. USC scored a touchdown on its ensuing drive, preventing a total collapse.
"I think that could have happened," Holmes said. "But fortunately it was not the case.
"Matt and the whole team had my back."
USC's more candid players did admit some interesting reactions to Holmes' second mistake, which was eerily similar to the first one that came just a few minutes before. He snapped the ball badly the first time, then misread the cadence on the second, which led to another bad snap because Barkley wasn't ready.
"After seeing it again, you're like, 'C'mon, man, seriously?'" receiver
Robert Woods
said he was thinking as he walked off the field. "Here we go again."
Woods' brief exit
Woods fell to the turf late in the first quarter when he tried to run off the field while dazed after a hit, a scary moment that turned out to be only a minor fright.
"That was funny. That was actually pretty funny," said
Marqise Lee
, his teammate and good friend.
Woods said he remembered most of the incident.
"I remember trying to run," he said. "But I couldn't see. And then I fell."
About an hour after the game's conclusion, he said he hadn't seen the video of it, yet, but noted it was "probably on YouTube."
Not much later, Lane Kiffin's assistant, Kyrah McCowan, tweeted a picture of Woods watching the play with tight end
Xavier Grimble
.
Woods said the concussion test given to him by USC's medical staff consisted of three questions: Who is the current president, what is today's date and what is 100 minus 7, minus 7, minus 7.
He passed all three, he said, and was allowed to return to the game after one missed play.
"There's no way you're gonna have Robert sit on the bench, no matter what it is," Lee said.
Morgan's return
On
D.J. Morgan
's eye-black during Thursday's game were two words: "Never Left."
Morgan wanted to show that he hadn't left the Trojans' offense despite missing USC's past three games after undergoing minor knee surgery to remove scar tissue from a high-school knee injury.
He said he felt as though he did that.
"It was very exciting," Morgan said. "My performance today came because of my preparation, because I prepared like I knew I was gonna play, like I was a starter."
Morgan, a redshirt sophomore, said he was still rehabbing following the knee surgery and didn't yet feel 100 percent recovered.
"Adrenaline kinda hides all that," Morgan said.
Homecoming for Martinez
USC right guard
John Martinez
is only the third Trojans letterman to hail from the state of Utah, and he grew up a Utes fan, attending a number of games at Rice-Eccles Stadium.
So he said Thursday night's game was "kinda a little bit personal" for him and that his teammates had asked him a bunch of questions about the atmosphere in the week leading up to the game.
He said it felt like a traditional Utah crowd amped up to another level Thursday night.
Martinez also was the player asked to help Holmes with the task of double-teaming Utah's
Star Lotulelei
, and he said it was intense.
"Their D-line is a friggin' monster to go against," Martinez said.
Injury report
Multiple USC players said running back
Curtis McNeal
suffered a concussion in the first quarter of Thursday night's game. It appeared to occur on a run play that did not count because of a holding penalty.
McNeal didn't return and did not record any statistics.
Silas Redd
, USC's other top running back, left the game initially with a shoe issue in the third quarter but did not return. It's not known if he suffered any sort of injury.
Defensive end
J.R. Tavai
did not make the trip to Utah. Only 56 scholarship players traveled for the Trojans.
Final notes:
USC tied the school record for consecutive games without being shut out at 186 straight contests. ... The crowd of 46,037 was the fourth-largest in Utah school history. ... Kicker
Andre Heidari
missed two field goals in a game for the first time in his career Thursday. They were only the third and fourth misses of his career. ... Third-string quarterback
Cody Kessler
did all the holding for the first time this season. Barkley has typically filled that role this season. Kessler appeared to place the ball poorly on Heidari's second miss.
October, 5, 2012
10/05/12
12:51
AM PT
By
Pedro Moura
| ESPNLosAngeles.com
SALT LAKE CITY -- Here's USC coach Lane Kiffin's press conference following the
Trojans
' 38-28 win over
Utah
on Thursday night at Rice-Eccles Stadium.
Kiffin addresses the play of his senior signal-caller, his thought process after USC went down 14-0 less than three minutes into the game and several other pertinent topics.
See the video here:
October, 4, 2012
10/04/12
11:43
PM PT
By
Pedro Moura
| ESPNLosAngeles.com
SALT LAKE CITY -- It took the
Utah Utes
165 seconds to score 14 points in Thursday night's game against No. 13 USC. It took them more than 56 minutes to score 14 more, as the
USC Trojans
' offense and defense both tightened up for a 38-28 win at Rice-Eccles Stadium.
Here are five things we learned about USC in the win:
1. This team has some fight
Fourteen points in 2½ minutes? USC essentially gave itself a real-life spread to fight back from in this game -- and, fittingly, the Vegas spread for this one hovered at about 14 points.
The Trojans handled it with aplomb, weathering the storm to an impressive extent and taking back the lead before halftime in a hostile environment. Coach Lane Kiffin said it was a situation that he'd be glad happened by the end of the season. That makes sense.
USC is going to face tougher teams than the Utes, for sure, but they're probably not going to face a tougher start than that all year.
Star receiver
Marqise Lee
said the 14-point deficit gave the Trojans "an opportunity to fully understand our team as a whole."
"Is SC going to break down or pick it back up?" he envisioned people around the country asking after that. "There you see: We pick it back up."
2. USC's defense is better than people realize
In Lane and Monte Kiffin's first season with the Trojans, the USC defense was downright awful at times. And the Trojans still had some bad moments in 2011.
But the truth is, this unit hasn't had a bad game, yet, this year. They're actually starting to become a force.
Taking away Utah's first two touchdowns that USC's D had almost nothing to do with and the fourth-quarter score against the backups, the Trojans allowed only seven points and created seven points of their own with a
Nickell Robey
pick-six.
A Lane Kiffin-coached team being good on defense? Yes, it's true.
Kiffin admitted after Thursday's game that his defense was playing the best it has in his 30-game tenure at USC.
3. Woods can still play
His numbers weren't fantastic, but
Robert Woods
was a big part of USC's offensive performance in the Trojans' win.
He and Lee were both given more room to work on Thursday night, probably because Utah saw the tape of the Cal game and saw USC's ground attack can be effective. And both guys did a lot with it, Woods pulling down six passes for 69 yards and a score and Lee flirting with 200 yards on 12 catches.
Woods had a first-half scare when he tried to deliver a block on Utah's
Brian Blechen
during a punt return, then stumbled to the turf while trying to run off the field.
His explanation said a lot, though.
"I just got dazed for a little bit and tried to get up, not stay down," Woods said. "For pride."
The junior receiver has a lot of that.
4. Holmes is an ideal leader
It's unusual in football to be able to correctly fault a single player for an opposing touchdown, but USC center
Khaled Holmes
really was directly responsible for both of Utah's early scores.
He had bad snaps on two of the Trojans' first five to give the ball to the Utes and a holding penalty mixed in there on a failed run play.
Here's the thing, though: From then on, he played great. And he took full responsibility for his mistakes afterward, apologizing to his teammates in the locker room after the game before Kiffin even had a chance to speak.
He said he made a point to forget the plays after Utah scored twice in the first three minutes.
"You have to," Holmes said. "Quarterbacks have to forget it if they throw a pick, cornerbacks have to do it if they get beat deep. Unfortunately I had two terrible plays. But I was able to get past them, and the guys never faltered with their confidence in me. And I couldn't be any more grateful for that."
Holmes didn't offer any excuses. He's had to come out of games twice in the past four weeks due to injury, but he didn't even mention that.
5. Barkley might yet have a chance at the Heisman
Based on his early-season play, experts around the country had been rapidly dropping USC's Matt Barkley on their Heisman Trophy leaderboard, and deservedly so: He hasn't really been playing as well as he did late last year.
But he had a fantastic game in Salt Lake City, completing 23 of his 30 passes for 303 yards, three touchdowns and no picks. He made only one or two bad decisions the entire game. And two drops by his receivers prevented his numbers from really looking supreme.
Sure, if the
West Virginia Mountaineers
's
Geno Smith
keeps putting up "video-game numbers" -- as Barkley called it this week -- he'll be the Heisman favorite.
But to count Barkley out now would be premature.
September, 21, 2012
9/21/12
9:52
AM PT
WeAreSC recruiting reporter Blair Angulo answers reader questions in his mailbag every Friday. Have a USC recruiting question of your own? Submit it here.
Jeremy: Where does 'SC ultimately project Kylie Fitts? Seems like he can grow into a Shaun Cody pass-rushing DT-type.
Fitts has been recruited as a defensive end, so the assumption is that's where he projects best at the college level. But you're correct, Jeremy, Fitts does have the capabilities to be a superb interior pass-rusher. I saw him in person last week against Vista Murrieta, and he lined up inside on a number of occasions. Fitts is versatile, yes, but remember: The Trojans have commitments from the second- and fifth-ranked defensive tackles in
Kenny Bigelow
(Elkton, Md./Eastern Christian Academy) and
Eddie Vanderdoes
(Auburn, Calif./Placer). If Fitts turns out to be better suited in the interior, then he'll make the switch. For now, though, he appears to be an end.
September, 10, 2012
9/10/12
11:57
AM PT
After a summer filled with uncertainty,
Darreus Rogers
(Carson, Calif./Carson) announced on his Twitter account Monday that he will enroll at USC in January.
The former four-star receiver was cleared by the NCAA on Thursday, but USC appears to be set at its limit of 75 scholarships.
"Grey shirting want [sic] be going to school until January because im already behind," Rogers
tweeted
.
Trojans coach Lane Kiffin has not discussed his use of scholarships with reporters, so where Rogers falls under his plan is unclear. In 2011, Rogers was the CIF Los Angeles City Section's leading receiver with 1,251 yards.
To continue reading this article you must be an Insider
September, 7, 2012
9/07/12
2:35
PM PT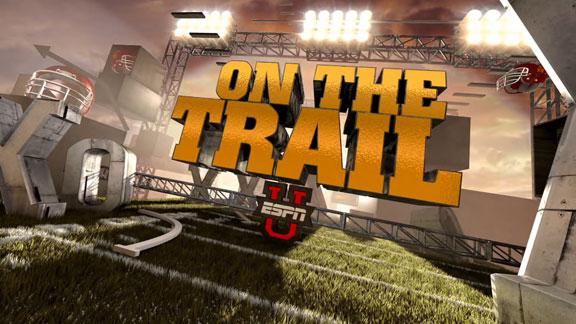 RecruitingNation breaks down the latest in Trojans' recruiting, including No. 9 player overall Kenny Bigelow, No. 40 Leon McQuay III and No. 56 Jalen Ramsey. Tom Luginbill breaks down Trojans' QB commit Max Browne.
2014 TEAM LEADERS
| TEAM | RUSH | PASS | TOTAL |
| --- | --- | --- | --- |
| Offense | 158.2 | 294.6 | 452.8 |
| TEAM | PF | PA | MARGIN |
| Scoring | 35.1 | 23.8 | 11.3 |