USC:

Notre Dame Fighting Irish
March, 21, 2014
Mar 21
8:00
AM PT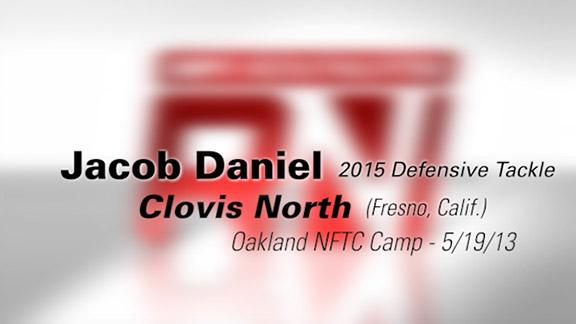 Throughout this recruiting cycle, RecruitingNation will profile a number of ESPN 300 prospects in the 2015 class, including an inside look at the prospect, his recruitment, a scouting report and what college program could benefit when he ultimately makes his decision.
It's now a common occurrence for seventh and eighth graders to collect scholarship offers and even make verbal commitments to schools. Defensive tackle
Jacob Daniel
didn't take that route to becoming an elite prospect. In fact, when Daniel was that age, he wasn't playing football at all.
[+] Enlarge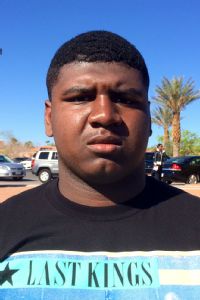 Blair Angulo/ESPN.comJacob Daniel didn't grow up a football player but took to the sport quickly in high school.
"I was a basketball player and I didn't play football until my freshman year," said Daniel, a 6-foot-4, 300-pound lineman who now checks in as the No. 61 overall prospect and No. 10 defensive tackle in the country. "I didn't even really like football."
Daniel began his career as an offensive tackle, but was moved to the middle of the defensive line as a sophomore. It was during that season when his football light went on.
"We were playing Clovis High and we were undefeated," Daniel said of a game his team would eventually lose. "There were about 5,000 people in the stands and there was all that noise. I thought, 'Wow, this is fun.' That sealed the deal for me with football."
Daniel said he now can't live without the sport and is extremely grateful that night put him on a path to where he is now. He gives California two of the top 10 defensive tackle prospects -- along with
Rasheem Green
-- which should make Pac-12 coaches extremely happy, considering the position has been fairly thin in terms of depth in the state over the past few years.
Thomas Toki
and
Kahlil McKenzie
also give California four of the top 20 defensive tackles in the nation, and Daniel said he's had his eye on the group for a while now, watching their highlight tapes.
Daniel, Green and McKenzie had a chance to meet during a trip to USC for the Trojans' junior day this winter, and while Daniel said he had a good time with the other ESPN 300 prospects and that he could see them working well as teammates, there's no guarantee they'll wind up at the same school, as all three still have plenty of the recruiting process left to explore.
For Daniel, roughly 30 offers have been cut to a final 11 schools, and he'll look to take that group down to five by the summer. And when Daniel ultimately settles on one program and makes his commitment, the coach might want to take a moment to send a thank you to the fans that filled that Fresno football stadium two years ago.
About his recruitment:
Daniel made an early commitment to Washington, but pulled away from that when Steve Sarkisian left for USC. Daniel cut his list to 11 schools this spring, as Alabama, Arizona, Arizona State, California, Fresno State, Mississippi, Notre Dame, Oregon, UCLA, USC and Washington remain in the hunt. The big defensive tackle is looking to trim that list even further before summer begins, as he'd like to head into the long break with a top five schools.
To continue reading this article you must be an Insider
March, 9, 2014
Mar 9
9:30
PM PT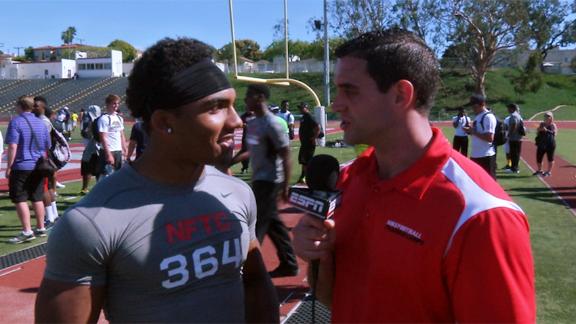 REDONDO BEACH, Calif. -- Thirty athletes from the West region in the
ESPN Junior 300
met at Redondo Union (Calif.) High School on Sunday morning for the first Nike Football Training Camp of the spring. With hundreds of recruits in attendance, it wasn't surprising that many of the top prospects coming into the event stood out.
To continue reading this article you must be an Insider
February, 4, 2014
Feb 4
2:00
AM PT
1. Pete Carroll joined Jimmy Johnson and Barry Switzer as the only coaches to win a national championship and a Super Bowl. But he is the fourth head coach to win a national championship and an NFL title. Paul Brown finished No. 1 at Ohio State in 1942, and won three NFL Championships with the Cleveland Browns in the 1950s (and four titles in the All-America Football Conference right after World War II).
2. What strikes me about Carroll's double is how few men who won a national championship even tried to coach in the NFL. Beginning in 1936, when the Associated Press began its poll, I counted 15: in addition to the four coaches above, add Dan Devine, Dennis Erickson, Lou Holtz, John McKay, John Robinson, Bobby Ross, Nick Saban, Steve Spurrier, Gene Stallings, Jock Sutherland and Bud Wilkinson.
3. It's early, I know, but Notre Dame is already shaping up as one of the most interesting stories going into the 2014 season. Quarterback
Everett Golson
is back, but the anchor of the defensive line, nose tackle
Louis Nix III
left early for the NFL, and coach Brian Kelly has new coordinators on both sides of the ball. Not to mention slipping from 12-1 in 2012 to 9-4 last season. This will be Kelly's fifth season in South Bend. The last coach employed at Notre Dame for more than five seasons? Lou Holtz (1986-96).
January, 31, 2014
Jan 31
11:00
AM PT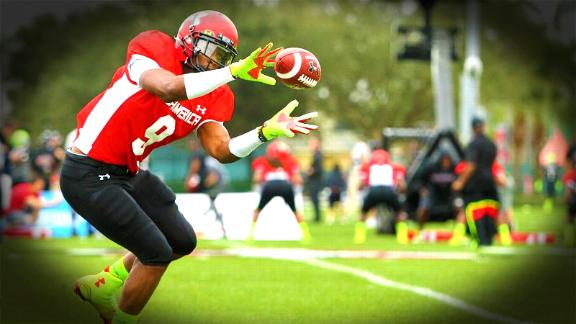 Plenty of attention will be paid to the West on signing day, as four of the region's top eight recruits are set to announce their commitments on Wednesday. That number -- which includes the top-ranked uncommitted prospect in
Adoree' Jackson
(Gardena, Calif./Serra) -- dwarfs that of the top eight prospects in any of the other regions.
But before each makes a huge statement on signing day, all made some noise this week, as this region and the Pac-12 conference sets up for a very interesting day on Feb. 5.
To continue reading this article you must be an Insider
January, 30, 2014
Jan 30
5:30
AM PT
The Early Offer is RecruitingNation's regular feature, giving you a daily dose of recruiting in the mornings. Today's offerings: Nebraska coach Bo Pelini brought his lucky charm with him on the recruiting trail Wednesday; while a lot of fans are focused on
Adoree' Jackson
and
John Smith
, schools haven't forgotten about
Damien Mama
; and Notre Dame's upgrades to its facilities will help on the trail.
Hope recruits don't have allergies
To continue reading this article you must be an Insider
January, 9, 2014
Jan 9
8:00
AM PT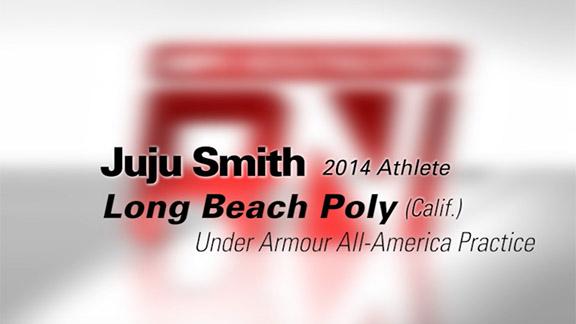 As an assistant coach and head coach at Long Beach (Calif.) Poly, Raul Lara has seen more than his share of talented football players. Willie McGinest, DeSean Jackson, Marcedes Lewis, Winston Justice, Jurrell Casey, Manuel Wright, Darnell Bing, Samie Parker, Kareem Kelly and Derrick Jones have all passed through the halls as Jackrabbits during Lara's tenure.
It's probably fitting that in Lara's final season as head coach of the Jackrabbits, he was able to go out with a player who has the potential to turn into the best that Poly has ever produced.
John Smith
's game is as diverse and electric as his name isn't. Though, that was taken care of rather quickly, as Smith became JuJu at an early age -- a nickname bestowed upon him by his aunt after John John refused to take.
Now, Smith has accomplished enough at the high school level that JuJu has made its way into the lexicon of virtually every football fan in Southern California. And now college football fans are hoping that JuJu finds his way onto their school's roster this fall. The 6-foot-1, 206-pound athlete is the nation's No. 38 prospect overall and its No. 3 prospect in the athlete category, holding offers from Alabama, Michigan, Nebraska, Notre Dame, Ohio State, Oregon, UCLA, USC and just about every school in between.
To continue reading this article you must be an Insider
December, 28, 2013
12/28/13
12:14
PM PT
ORLANDO -- Let the season of indecision begin.
Tyler Luatua
(La Mirada, Calif./La Mirada), the No. 1-rated tight end nationally who committed to Notre Dame on Dec. 16, said he's interested in looking more closely at hometown USC.
To continue reading this article you must be an Insider
October, 18, 2013
10/18/13
12:30
PM PT
Here's what to watch for when the
USC Trojans
pay a visit to the
Notre Dame Fighting Irish
on Saturday:


1. Orgeron in South Bend:
This will be the first big test of Ed Orgeron's tenure as interim coach and it's a doozy. The game is expected to be a physical battle -- which should fit Orgeron just fine -- but there's something about this rivalry which can bring out some interesting twists and turns. How Orgeron manages his team during those twists and turns will go a long way in the eventual outcome.
2. Momentum:
Both teams come into the game looking to continue momentum. For the Irish, the majority of the momentum was built in 2012 when the team advanced to the national title game. There was a lot of excitement around the program for 2013 and you know they didn't expect to have two losses at this point in the season. They certainly don't want a third at the expense of the Trojans. USC, meanwhile, is riding a wave of Orgeron-inspired emotion over the last two weeks since the coaching transition. The Trojans would love to see a victory against the Irish to build on what Orgeron has already accomplished.
3. Lee and Breslin:
The Trojans beat Arizona last week without arguably their best players on offense and defense.
Marqise Lee
(knee) and
Morgan Breslin
(hip) sat out the game against the Wildcats, but there is optimism both will be able to play this week. There's no discounting how big that would be for the Trojans. Lee has yet to have a true Marqise Lee-type game this year but you know it's due at any time. Even his simple presence on the field will help loosen the coverage on
Nelson Agholor
, who is also capable of big things. As for Breslin, he is the most productive pass rusher the Trojans have, and the Irish have only given up four sacks this year. That gives a clear indication of why Breslin is needed in this game.
4. Big man on Big man:
Former USC assistant coach Marv Goux had a special passion for this rivalry that he described as "Big Man on Big Man Football." The matchup on Saturday should be a classic return to that style as both teams will be looking to rely on the guys up front. As mentioned above, the Irish offensive line has been outstanding this year in terms of protecting the quarterback. The USC front seven has been very good as far as sacks and tackles for loss. That's a good "strength on strength" battle that should be fun to watch. On offense, the Trojans will be looking to establish the run with a good rotation of backs, while the Irish counter with a pair of big-time run-stuffers in the middle of their line.
5. Clay Helton:
The new offensive play-caller for the Trojans is going to be critical in this game. If there is an area of concern it is with the USC secondary, which has proven to be vulnerable against the pass this year. The best way to limit the Notre Dame opportunities on offense is to control the ball when you have it. This is where Helton will need to be sharp. He will need to spread the ball around to his various weapons and get
Cody Kessler
in a rhythm, but first he will need to establish the run. For the Trojans to win the game they will need to be able to run the ball with consistency. Fortunately for Helton, he has the offensive line and backs to do it.
October, 16, 2013
10/16/13
5:30
PM PT
USC travels to Notre Dame Stadium for a Saturday night showdown in what is one of the nation's top rivalries. Both teams are 4-2 and unranked, but the Trojans appeared to have been granted a new lease on life under interim coach Ed Orgeron, as they topped Arizona in their first game without Lane Kiffin in charge. The Irish, meanwhile, are coming off a much-needed win over Arizona State and a bye, as they look to make it three-for-their-last-four against USC after previously dropping eight in a row.


Matt Fortuna and Ted Miller take a look at this weekend's matchup.
Matt
: We'll start with the obvious, Ted. USC is a talented team that just got a bit of a second wind this past week under Orgeron. Was the performance against Arizona simply the culmination of weeks of frustration? Or do you think these Trojans have new life and need to be looked at as the kind of threat many of us have been expecting them to be the last two years?
Ted
: Is it fair for a know-it-all sportswriter to type that he has no idea? USC has been so difficult to read the past two seasons. You look at the 22 starters and think, "That's a lot of talent." But it doesn't translate to execution. Was that all Kiffin's fault? I don't think so, though the offense looked significantly better with Clay Helton calling the plays. Even the quasi-redemptive win over Arizona revealed the Trojans' tangible Achilles heel -- depth. USC jumped to an impressive first-half lead but seemed to wear down in the second half. I do think the locker room will continue to unite around Orgeron, as fiery a motivator as there is. The question is whether USC will be as motivated and focused on the road as it was at home. And can it maintain that in the fourth quarter?
Speaking of mercurial teams, the Fighting Irish. I picked Notre Dame to beat Arizona State (reaches around, pats self on back), but I did that as much because of the Sun Devils' tendency to throw up on themselves just when they seem to take a step forward as believing the Irish were better. Where does this team stand? How did the week off help -- or hurt -- the cause?
Matt
: Well, this answer may sound quite familiar, too, but I think we're all still trying to figure out the Irish. A loss to ASU would have been brutal, as BCS hopes would have been eliminated by the mid-point of the season. Of course, USC can erase those scenarios this week, too, much the same way it did two years ago in a similar situation -- seventh game of the season, prime time at Notre Dame Stadium, Irish coming off a bye. Everyone slept on those Trojans that time, and they ended up turning in a 10-2 campaign while the Irish locker room nearly revolted on its head coach in that game's aftermath.
Notre Dame's front-loaded schedule looks a little less daunting in retrospect -- losses to Michigan and Oklahoma look worse by the week, as does a tight win at Purdue. But there is that small matter of Stanford underwhelming, too, and the Cardinal are easily the toughest opponent the Irish have left after the USC one, so it is not out of the question to see Notre Dame make a final push for a 10-2 mark and BCS bid.
That said, it needs to take some of the lessons from the ASU win and apply them moving forward. Coach Brian Kelly showed his players a highlight tape of three tight wins from 2012 leading up to that game in an effort to demonstrate just how razor-thin the margin for error was. We saw a much more complete performance from the Irish against the Sun Devils, but there was still a pick-six and a defense that looked little like last year's dominating unit.
I'll say this: USC's improved play under the one-game regime of Orgeron has seemed to add a much-needed jolt going into this matchup. It's USC-Notre Dame, with the Irish looking like they may have turned a corner in the rivalry last year and going for three wins out of four this year. Do you think the Trojans, having seen the Irish clinch a title-game berth on their field last season, carry a bit of a chip on their shoulder coming into this year's game? I know it sounds cliche, but from over here it looks like USC's 2013 issues have been more mental than anything else.
Ted:
This is one of the truly great college football rivalries, one that is unique with its cross-country feel. If the Trojans can't get fired up for this one, then that will show you the Trojans' problems were as much the sort of player they recruited as the guy leading them onto the field. And, of course, in a rivalry game, the players who lost the year before should be particularly motivated to exact revenge.
Still, I see that as an uphill slog for USC. For one, the Trojans are banged up, with receiver
Marqise Lee
and outside linebacker
Morgan Breslin
, among others, highly questionable for the game. Second, Notre Dame is superior on both lines. I see USC hanging early but then getting worn down. Further, the pass defense has been poor, which means Irish quarterback
Tommy Rees
could again look like the solid decision-maker he was against Arizona State.
That said, if USC does manage to get the upset, we might have to re-evaluate USC's prospects this season. And, perhaps, even raise an eyebrow at what Orgeron is doing leading the Trojans.
November, 24, 2012
11/24/12
3:00
PM PT
Join our ESPN.com college football experts for the game of the week between the Notre Dame Fighting Irish and the USC Trojans.

Contribute your thoughts and questions beginning at 8 p.m. ET. See you there.


November, 21, 2012
11/21/12
10:45
AM PT
By
WeAreSC staff
| ESPNLosAngeles.com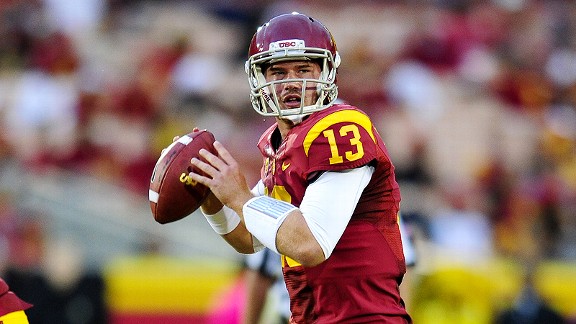 Cal Sport Media/AP ImagesWith freshman Max Wittek starting on Saturday, USC will need to establish the run in order to beat Notre Dame.
Max Wittek can play a big role in the USC-ND rivalry in his first extended action. Who is your all-time unsung hero in this rivalry?
Garry Paskwietz:
Sammy Knight. In 1996, the Trojans were losing, 14-6, to the Irish in the fourth quarter when Notre Dame quarterback Ron Powlus hit Malcolm Johnson with a pass near the USC goal line. A score there and the Irish probably go on to win, but Knight made the play of the day when he stripped the ball from behind and recovered inside the 5-yard line. USC drove the length of the field to tie the game and went on to win, 27-20, in overtime to break a 13-year winless streak against the Irish.
Greg Katz:
My favorite unsung hero would be linebacker David Lewis in the 1974 comeback game. Lewis made a tremendous tackle on Mark McLane on the Trojans' kickoff following Anthony Davis legendary 102-yard scoring kickoff return. The hit by Lewis brought the Coliseum crowd to its feet.
To continue reading this article you must be an Insider
November, 21, 2012
11/21/12
10:45
AM PT
LOS ANGELES – Trojan Nation is in shock. No National Title. No Pac-12 crown. Not even champs of the Pac-12 South Division. Some uncharacteristic losses, and then the capper -- a resounding loss to rival UCLA, which USC has owned over the past decade. This is not expectations. This is not how you sleep well at night.
[+] Enlarge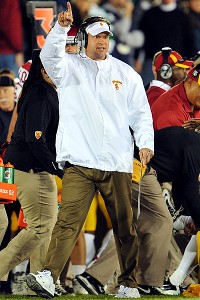 Matt Cashore/US PresswireAnother performance like the one the Trojans put forth at Notre Dame last year would be timely for Lane Kiffin and USC.
Since the announcement of sanctions in early 2010, the gloom and despair was quickly turned to hope and excitement. Pat Haden was in Heritage Hall. While there were questions about him, Lane Kiffin was luring top recruits to USC. The new McKay Center was coming. And there were great Trojans emerging like
Matt Barkley
,
Robert Woods
, and
Marqise Lee
.
Now, as of Thanksgiving 2012, the momentum has clearly gone the other way. There is no denying that the program isn't on the right track. The team is underperforming. They take the field seemingly unprepared, both from an execution standpoint and emotionally. The joy and passion of the game is hard to locate in these Trojans, and the passion of the fans is being directed in calls for change.
To continue reading this article you must be an Insider
November, 19, 2012
11/19/12
1:51
PM PT
By
Pedro Moura
| ESPNLosAngeles.com
On January 5, 2011, five days before his first class at USC,
Max Wittek
played in the Under Armour All-American Game.
Among the future stars on the field that day:
Jadeveon Clowney
,
Braxton Miller
,
Brett Hundley
and one
Marqise Lee
, playing safety.
Yet the biggest star of the day was probably Wittek, who starred for the losing team, throwing two touchdown passes, including a 49-yarder, to give his team the late lead at Tropicana Field in St. Petersburg, Fla.
At one point, he completed seven straight passes. He also evaded Clowney on a memorable 10-yard scramble, showing his above-average mobility.
Why are you getting this information now? Because Wittek, now a redshirt freshman for the unranked Trojans, is scheduled to start Saturday's game against No. 1 Notre Dame, with
Matt Barkley
sitting out with a sprained shoulder.
It'll be the first-ever start for the 19-year-old, and this week will be his biggest turn in the spotlight since that Florida day.
He proved ready then. What about now?
The 6-4, 245-pound Wittek has a big arm -- a significantly stronger one than Barkley's. He's also more mobile, but prone to taking ill-advised chances. He can go from wonderful to awful in the span of a snap, but he started to find more of a middle ground in fall camp this year.
Wittek has done a commendable job subbing in for Barkley on limited occasions so far this season, completing 8-of-9 passes for 95 yards and a touchdown in three appearances. His lone incompletion was the first pass he threw against Colorado last month.
He'll be swarmed by media after the Trojans practice on Tuesday, but, if the past several months are any indication, he'll do just fine. Wittek has taken informal interview lessons from Barkley since his days in high school at Santa Ana Mater Dei.
Wittek has said he feels he has made big gains in controlling his nerves since coming to USC.
"Out there, I don't feel nervous at all, ever, anymore," he told ESPNLosAngeles.com in August, two days before he was officially named Barkley's backup over Cody Kessler. "Not that I did last year, either, but there were moments when, for example, I knew a blitz was coming and I knew I had to do something but I didn't know what that something was.
"Now. I'm bang-bang and I know the call."
He'll need to know all the calls on Saturday. An interception or two is to be expected, but so is a pretty touchdown pass.
The Trojans may rely heavily on their running game this weekend, but they'll need Wittek to make enough plays to keep them in the game against the Irish.
2013 TEAM LEADERS
| TEAM | RUSH | PASS | TOTAL |
| --- | --- | --- | --- |
| Offense | 174.2 | 218.1 | 392.3 |
| TEAM | PF | PA | MARGIN |
| Scoring | 28.5 | 21.3 | 7.2 |