My lunch with Brandon (Belt)
May, 7, 2013
5/07/13
9:00
AM ET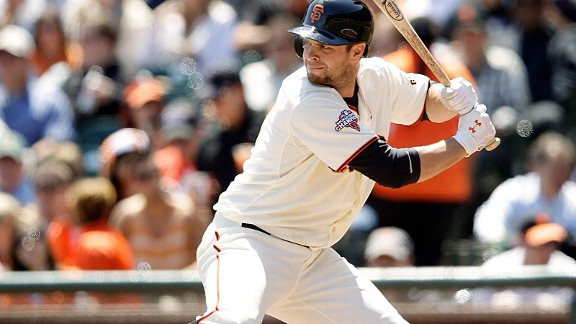 Ezra Shaw/Getty ImagesThe key for Belt is keeping his weight back until his hands start moving forward.
The mystery of
San Francisco Giants
first baseman
Brandon Belt
, my
17th-rated prospect in baseball going into the 2011 season
, only deepened this spring when he had a strong March statistically but seemed to maintain the bad habits at the plate that plagued him in the second half of 2012.
I sat down with Belt, an ardent fan of the Olive Garden restaurant chain, over lunch last week at one of Phoenix's best restaurants, the new location of Pizzeria Bianco in the Town & Country shopping center, serving the original's famous pizzas as well as fresh pasta made in-house. The conversation focused on his swing mechanics, but I admit to an ulterior motive of introducing Belt to my kind of Italian food.
Belt first emerged as a prospect in 2010, racing through three levels of the minors and finishing the year by ripping up the Arizona Fall League, a time when his swing was very balanced and he kept his weight back consistently enough to be able to hit left-handed pitching and handle fastballs inside. Keeping his weight back -- which means waiting to transfer his weight to his front leg until he gets his hands moving forward -- has turned out to be the biggest challenge for Belt in translating his minor league success into major league performance. It was a problem for him at the end of 2012 and carried over into spring training and the start of 2013.
"I was real off balance, I don't know what the reason for that was, maybe I had crossed that line again," Belt said Tuesday. "I was lunging at the ball. They wanted me to stay back, and the thing that happened right there is that [Bruce Bochy] told me what they saw, and they let me fix it. I think that's what helped out a lot. Sometimes [the coaches] are all saying the same thing but saying it in different ways, then one person says it and it clicks in my head."
Belt says he was aware of the problem before, even during spring training when he was having some success.
"For the entirety of spring training I felt pretty balanced," he said. "There were times when I got off balance, and somewhere along the way I got out of whack. Although I was keeping my hands back, I was able to hit off-speed pitches. If you threw me a fastball, I was late on it."