Candidates for demotion and promotion
April, 23, 2013
4/23/13
10:44
AM ET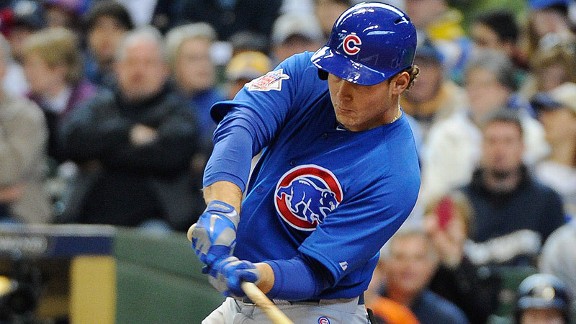 Benny Sieu/USA TODAY Sports The Cubs could solve a lot of problems by letting Anthony Rizzo use his old swing again.
Chicago Cubs
manager Dale Sveum caused a stir the other day
by suggesting that
first baseman
Anthony Rizzo
and shortstop
Starlin Castro
could be sent to the minors if they didn't ... well, I'm not sure what they are supposed to do, because Castro is hitting better than the median National League shortstop and Rizzo has twice as many homers (six) as any other NL first baseman.
Neither guy is lighting the league on fire, but threatening them with a demotion to the minors seems a little draconian, and maybe a sign that the manager's a little in over his head.
But the immodest proposal brings up a better question -- which players around the majors indeed might be better served by a demotion to Triple-A? And which minor leaguers might be in line for an imminent call-up?
Demotion candidates

Anthony Rizzo | 1B, Chicago Cubs
Rizzo's stat line this season is heavy on secondary skills; he's walking, and hitting for power, but not making much contact or hitting for average, with a very low BABIP (.171). For most hitters, I wouldn't be concerned with a lower-than-normal BABIP or contact rate in a small sample. In Rizzo's case, however, the Cubs appear to have altered his swing, getting his hands loaded lower and farther back than last year so that he's swinging more up through the ball, which should generate more power but would absolutely reduce contact and lead to more popups, all of which is true so far.
I've been told this kind of swing reflects Sveum's philosophy of hitting, but in Rizzo's case, I didn't think anything in his swing last season needed fixing. The Cubs should let him revert to his 2012 mechanics, which produced a successful half-year in the majors with a good contact rate and plenty of power for a 22-year-old.