MLB predictions: divisions and awards
March, 29, 2011
3/29/11
9:17
AM ET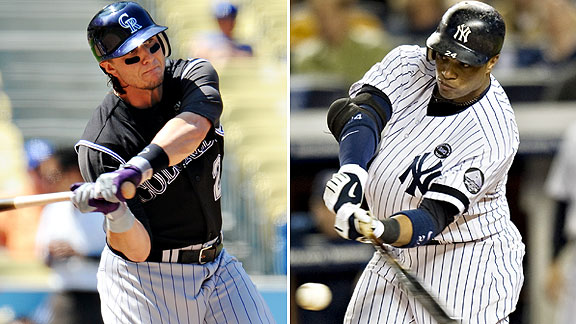 Icon SMIBoth of these gentlemen should be in the hunt for an MVP award in their respective leagues.
I filed divisional and playoff predictions Friday that will appear in our overall MLB preview package, but for the past few years I've drilled down a little further and eyeballed some won-lost records for all 30 teams while also explaining my logic in my standings and awards predictions.
Here are the picks for 2011:
AL East
I'd love to tell you the upstart
Tampa Bay Rays
could do it again, and they're certainly close enough to the Big Two to have a few things fall their way and sneak into the playoffs, but I think they win the title this year of "Best team not playing in the postseason." The Red Sox are the most complete team in the league right now, although I think their run-scoring may fall a little short of expectations, but their run prevention should be among the league's strongest. The Yankees' lineup will be a year older but could benefit from a healthier A-Rod and maybe some Jesus Montero later in the year; their weakness, on the other hand, will be run prevention, and I don't think I'm being controversial if I say they have maybe two starters I trust.
The Blue Jays have a long list of bounceback candidates, led by
Adam Lind
,
Aaron Hill
and now-freed
Travis Snider
, to go with some very intriguing young pitching, although
Brandon Morrow
's injury and
Brett Cecil
's lost velocity are bad omens. Baltimore spent some money to improve the big league product this winter, but any progress the Orioles see this year in the standings will come from emerging young stars like
Brian Matusz
,
Matt Wieters
or Zach Britton.
AL Central
Adam Dunn
seems like an ideal fit for a White Sox team that needed his OBP and some power to offset an inevitable step back by
Paul Konerko
, and I think their bullpen will once again be among the league's strongest. Their weakness is the back of the rotation, as I've never been an
Edwin Jackson
believer, and if we heard next week that
Jake Peavy
would never pitch again I don't think anyone would be surprised. I wonder if the Twins' apparent willingness to trade
Francisco Liriano
is motivated less by money than by something they know about his health or durability that we don't; this is not typically a rash organization or one that would blithely trade away a piece they need if they're going to contend this year. Detroit's rotation could be pretty strong if you think
Rick Porcello
turns it around (I was shocked by his struggles last year after such a strong rookie season) and
Brad Penny
stays healthy, but there's decline written all over that offense, and expensive bullpens are more often expensive than they are effective.
The Royals have a 100-loss team on paper -- or 105 or more -- but they're not going to spend the whole season with that roster; look for Mike Moustakas to get some big league time this year, joined later by Mike Montgomery, John Lamb and Eric Hosmer. I like Cleveland's current roster a little more than I like Kansas City's, but their system offers Lonnie Chisenhall and a number of projected relievers in its upper levels, without the high-end starters the Royals are bringing along.
AL West