The challenges of scouting in Europe
September, 13, 2011
9/13/11
11:26
AM ET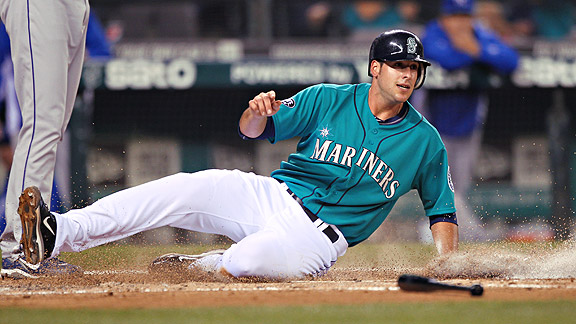 Otto Greule Jr/Getty ImagesAlex Liddi reaching the majors with the Mariners bodes well for the future of baseball in Europe.
Alex Liddi
reached the majors this week, marking multiple milestones not just for himself, but for the sport. He's the first Italian-born big leaguer since World War II, and the first who grew up in Italy, as opposed to players from early last century who were born in Italy but emigrated here as children. But more important to MLB is the fact that he's the first player signed from the sport's European academy to reach the majors, and as the talent level in Europe continues to improve -- something Leander Schaerlaeckens
writes more about on ESPN.com today
-- he should be followed by many more from all over the continent.
Europe has had no trouble producing athletic talent in sports that are more popular at the youth level, such as soccer, ice hockey, or even regional sports like handball or cycling, so the potential to find legitimate baseball prospects exists. But even with MLB's growing efforts with its main academy (located in Tirrenia, Italy, a coastal town about 15 kilometers from Pisa) and new regional academies in countries where baseball has at least established a foothold, scouts face significant challenges in identifying and evaluating players.
Just getting young athletes interested in baseball was, for some time, the major obstacle for baseball in Europe; you can't take a raw athlete at 16 or 18, stick a bat in his hands, and expect him to be able to handle even decent college pitching. "Baseball, even though it has been in Europe many many years, wasn't given the priority perhaps by the various countries in terms of athletics," according to Bob Engle, vice president of international operations for the
Seattle Mariners
. "But the main thing occurring [to change that] is more exposure. Global communications have helped, and it helps to have some players at the major league level from Europe."
Rene Saggiadi, the polyglot European scout for the
Arizona Diamondbacks
, agrees that this remains an obstacle but is changing for the better. "We're drawing more athletes to the sport, that's the crucial part. Now teams have to scout Europe because there are good athletes. The problem is how to keep them playing baseball, or most will just drop out when they get to the ages of 14-16," either to concentrate on their studies or to focus on a more popular sport, such as soccer.
Aside from the increased exposure that Engle mentioned, which includes availability of live games online and through ESPN America, MLB has increased its commitment to developing European players through its own European Academy in Tirrenia, and by supporting national federations that run their own academies. There are at least 20 of those local academies, some full-time and some part-time, some national and some regional, across eight European countries and South Africa, which has sent its best players to the MLB academy in Terrenia since the latter opened. The Dutch national federation has led the way with six regional academies, and they further indicated their commitment to the sport with their recent announcement that <a href=http://www.mister-baseball.com/netherlands-present-bid-book-mlb-week-york/ they hope to host MLB games in the Netherlands in 2014 when their new stadium complex opens near Amsterdam.
These local academies are critical to developing young players, because baseball is a sport of specialized skills in which athleticism is important but not sufficient for success. Players go to live at the academy, go to school in the morning, then play every afternoon with quality instruction they wouldn't otherwise get. "A player in an area with no infrastructure would plateau at 13 because of lack of coaching," says Saggiadi. "Now the academies give those players a chance, arguably giving them the best coaches in each country, where they're training and playing every day."
The Dutch are also leaders in working to get younger athletes into baseball, which is critical in countries where soccer might pick off the best athletes before they reach their teen years. "It's a distinct disadvantage that the young athletes aren't getting into the game until 13 or 14," according to Engle, under whose stewardship the Mariners have now signed two big leaguers from Europe: Liddi and
Greg Halman
. "That puts them behind others, particularly position players who don't get the quality at-bats against quality pitching."
Another major challenge for scouts in Europe and for the players themselves is the short schedule most teenaged prospects play there. "Players are lucky if they play 40-50 games in a year," Saggiadi says. Local club teams only play a handful of games, so scouts need to evaluate players at structured events organized by MLB or by individual national baseball federations. That schedule starts in the spring. "In late April or early May there are academy tryouts," Saggiadi says. "It's the most exciting time of the year for us. We go country to country, six countries in a week this year and nine last year over ten days, where the players go through simple pro workouts. They do the 60-yard dash, infield and outfield [practice], BP and bullpens. We can see 400 players over a week, all selected by qualified personnel."
The typical summer for top European prospects -- and the scouts chasing them -- begins a few weeks before those tryouts, when MLB's European office runs its Tournament of Academies in Regensburg, Germany, a five-day event involving six to eight countries that send rosters that should, in theory, comprise their best prospects. In August, the top 50 to 55 players from the federation tryouts assemble at MLB's European Academy for three weeks of intensive instruction, which is also the best scouting opportunity, because it's a rare chance to see the prospects play quality competition, and because the weather, while warm, is usually dry. The group of players this year included a few older players who aren't really pro prospects. They are there to raise the level of competition and to help groom future coaches who could also proselytize for the game in their home countries.
This increased structure and attempts to make evaluating talent a little easier has led to a rise in signings and signing bonuses, with several players a year earning bonuses of $100,000 or more. It has also allowed for the development of talent in countries beyond the Netherlands and Italy, which were most likely to see their youth teams qualify for international tournaments, by creating local competitions that seek to pit the best players against each other.
---
With nine teams boasting a full-time scouting presence in Europe and 22 having signed at least one European-born player in the past decade, major league clubs are showing that they recognize the long-term potential of the region. But everyone I spoke to for the story agreed that a few more steps need to come before Europe becomes an essential stop for all 30 teams on the international scouting circuit.
Continued growth in the academy system is a must, and there's a lot of optimism on that front. MLB has taken steps to provide support to the existing national and regional academies, sometimes financially but more often in things that can only come from the U.S.: equipment and instruction. MLB sends coaches to Tirrenia and to local academies every year, from former big leaguers like Bruce Hurst, Lee Smith and
Wally Joyner
to minor league coaches and coordinators with strong track records in development. They've also sent strength and conditioning coaches to work with academy coaches and have developed a comprehensive offseason training manual for European baseball players that focuses on strength training specific to baseball.
"