New CBA a net loss for baseball
November, 22, 2011
11/22/11
4:09
PM ET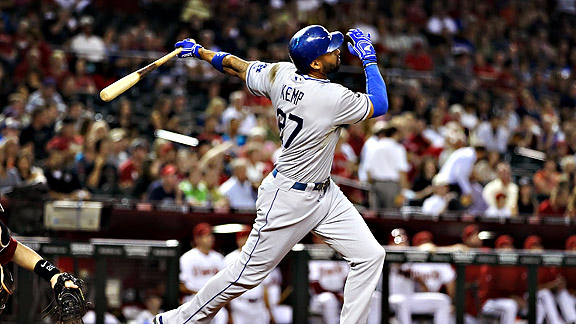 Christian Petersen/Getty ImagesMatt Kemp chose baseball over basketball, but players like him probably won't under the new CBA.
Earlier today, MLB announced the
details of a new collective bargaining agreement
, which changes a lot of rules around the draft and international scouting as well as some rules for minor league free agents, on drug testing, and on the All-Star Game. The net result here is a big negative for the sport -- not enough to counteract the benefit of another five years without a labor stoppage, but enough of a negative to hurt the sport in the long run. I would hope Bud Selig's successor as commissioner is open-minded enough to re-evaluate this CBA's provisions for limiting spending on amateur players after we see its effects over the next five years.
I'll respond to
MLB's summary of the agreement
point by point, omitting points where I don't have any thoughts to share. (The portions in italics come directly from the summary.)
III-a-3. Article XX(B) free agents signing minor league contracts who are not added to the
Opening Day roster or unconditionally released 5 days prior to Opening Day shall receive
an additional $100,000 retention bonus and the right to opt out on June 1.
So in effect, it's cheaper to add such minor league free agents to the 40-man roster than it is to stash them in Triple-A all year. This is a huge deal, especially for clubs that were aggressive with minor league free agents. (These rule XX(B) free agents have major league experience and have been outrighted off a 40-man roster before, so they can elect free agency at the end of the regular season if they're not on a 40-man at that time.)
(Update: As it turns out, I confused Article XX(B) with Article XX(D) -- I know what you're thinking, you just did the same thing yesterday -- so the impact of this rule is much less than I indicated on Tuesday. The only free agents affected here are major league free agents -- with six years of major league service time -- who fail to land a major-league deal the following season. That is, if, say, Albert Pujols couldn't get a major-league contract offer and had to accept a minor-league contract for 2012, he'd fall under this new rule. That group might include three to five players per year; Dontrelle Willis was one example from 2011.)
b. Draft Pick Compensation

1. Starting in 2012, "Type A" and "Type B" free agents and the use of the Elias ranking
system will be eliminated.
Really, the best news I've had all day. This system was designed to drag down free agent salaries. I think we know now that that didn't happen, but like most such taxes, it had unintended consequences -- in this case, limiting the markets for relief pitchers as teams didn't want to give up first-round draft picks to sign them. And the lunacy of some of the Type A and B designations is best consigned to the historical dustbin anyway.
A. Only Players who have been with their Clubs for the entire season will be subject
to compensation.
Also known as the
"screw you, Anthopoulos" clause
.
B. A free agent will be subject to compensation if his former Club offers him a
guaranteed one-year contract with a salary equal to the average salary of the
125-highest paid Players from the prior season. The offer must be made at the
end of the five-day free agent "quiet period," and the Player will have seven days
to accept the offer.
So it's no longer tied to performance -- this is probably good, as the odds of both sides agreeing on a performance measure were effectively zero -- but it's tied to the former club's perception of value. That average salary would be right around $12 million or so this year, so you're going to see very few relievers, fifth starters, or backup infielders carrying draft pick compensation in the future. That's a positive as well.
C. A Club that signs a player subject to compensation will forfeit its first round
selection, unless it selects in the top 10, in which case it will forfeit its second-highest
selection in the draft.
This is pointless. It's a strong deterrent for lower-revenue clubs that depend on drafting and development to sign any qualifying free agent, so while they might still gain picks from losing free agents, they're also much less likely to want to add a key free agent when they're in or near contention. I wish MLB would sever the artificial connection between free agency and the draft entirely.
D. The Player's former Club will receive a selection at the end of the first round
beginning after the last regularly scheduled selection in the round. The former
Clubs will select based on reverse order of winning percentage from the prior
championship season.
So the boost a team gets from losing a free agent is less than the cost to the team that signs the same free agent. This makes it clear that the agenda here is not to help clubs that lose players, but to continue the 25-year-long attempt to drag down free agent salaries.
e. Rule 4 Draft

1. The draft will continue to be conducted in June, but the signing deadline will be moved
to a date between July 12 and July 18 depending on the date of the All-Star Game.
This is about 90 percent good. Players typically signed near the deadline anyway, so why not move it up and get them out and playing in the complex leagues or short-season minor leagues? You might even see a few first-rounders get to low Class A in their first year out, pushing them a little closer to the big leagues.
The earlier signing date means that the draft process will be completely over before the trading deadline, before the Cape Cod League holds its All-Star Game and finishes up its season, and before the series of major high school showcases that run from Aug. 1-15. Those last two points are particularly relevant to scouting directors who often had to cut short their August scouting of the following season's amateurs to finish signing some of their top picks.
The 10 percent that isn't good? It hurts the Arizona Fall League. College players who didn't sign until August would make their pro debuts out here in the AFL. That group of players will largely disappear from AFL rosters because they'll have played six weeks of pro ball after signing.
There was some sentiment a year ago among scouting directors that the draft should be pushed back until late June, after the College World Series was over, but that is not addressed in the language that's currently available. There are still a lot of details for the union and MLB to hash out now that the Memorandum of Understanding is done.
2. Drafted players may only sign Minor League contracts.
This just protects teams from themselves. Very, very few draft picks actually merited major-league contracts and the 40-man roster spots those contracts bring with them, but teams handed them out far more often than they should have. It does remove a small bit of leverage from the players, who would often use the demand for a major-league deal as a way to get more money in a straight bonus on a minor-league deal.
3. Signing Bonus Pools

A. Each Club will be assigned an aggregate Signing Bonus Pool prior to each draft.
For the purpose of calculating the Signing Bonus Pools, each pick in the first 10
rounds of the draft has been assigned a value. (These values will grow each year
with the rate of growth of industry revenue.) A Club's Signing Bonus Pool equals
the sum of the values of that Club's selections in the first 10 rounds of the draft.
Players selected after the 10th round do not count against a Club's Signing
Bonus Pool if they receive bonuses up to $100,000. Any amounts paid in excess
of $100,000 will count against the Pool.

B. Clubs that exceed their Signing Bonus Pools will be subject to penalties as
follows:

Excess of Pool Penalty (Tax on Overage/Draft Picks)

• 0-5 percent; 75 percent tax on overage

• 5-10 percent; 75 percent tax on overage and loss of 1st round pick

• 10-15 percent; 100 percent tax on overage and loss of 1st and 2nd round picks

• 15-plus percent; 100 percent tax on overage and loss of 1st round picks in next two drafts
This is the part where MLB tells talented young amateur athletes -- who, by the way, aren't union members and had zero voice in these negotiations -- that baseball is a lousy avenue for them to take, at least financially, and they should probably check out other sports. Yet MLB does not realize that it is to their substantial benefit to sign players early, and at relatively higher prices: You get the athletes into your system where football or basketball can't poach them, and you get to develop them yourselves rather than farming out that effort to the NCAA.
College coaches must be thrilled, as this will likely mean a lot more teenaged arms for them to blow out through overuse. It's also a boost to Team USA and the Cape Cod League, which have seen their quality drop over the past several years as players increasingly signed out of high school. I'm sure the NCAA is thrilled as well as they have the prospect of more high-profile prospects to harass for using attorneys during the draft process.