Coaches erred in Rodon decision
April, 13, 2014
4/13/14
10:43
AM ET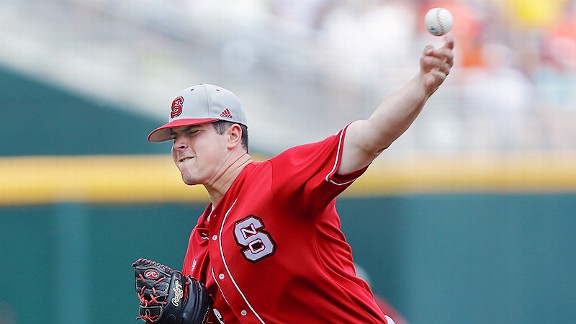 AP Photo/Nati HarnikControversy surrounds the decision to have Carlos Rodon throw 134 pitches on April 11.
Those of you who follow me
on Twitter
saw me
voice my displeasure
over NC State's usage of left-hander
Carlos Rodon
, the best college player in this year's draft class, on Friday night. Rodon, who has pitched with a 50- or 55-rated fastball all year, was going on short rest on Friday, but showed up (paradoxically) with more velocity, sitting at 92-94 mph and touching 96.
NC State then decided to push Rodon to 134 pitches, sending him back out to start his final inning after he'd already thrown 118 pitches, an acceptable, if upper-bound, number for a 21-year-old pitcher. This was a clear example of a coaching staff putting their own interests over those of a pitcher, a perfect example of moral hazard at work in amateur baseball, one that calls for regulation by the NCAA.
The Wolfpack, despite having two of the best college players in the country this year, are 5-11 in the ACC so far (19-14 overall) and in danger of missing the NCAA tournament, a result that would be devastating given their talent level. The potential cost of missing the tournament is so high that the coaching staff has the incentive to try to win at all costs, including asking players to do things that may not be in their own best interests, such as throwing 134 pitches in one outing. Only one MLB pitcher did that in all of 2013:
Tim Lincecum
, in his July 13 no-hitter. (In fact, since the start of the 2010 season, only four MLB pitchers have thrown 134 or more pitches. Three were no-hitters, one was
Brandon Morrow
's 17-strikeout one-hitter in 2010, and all four spread those pitches over nine innings rather than Rodon's 7 2/3 innings.)