MLB predictions: divisions and awards
April, 3, 2012
4/03/12
9:44
AM ET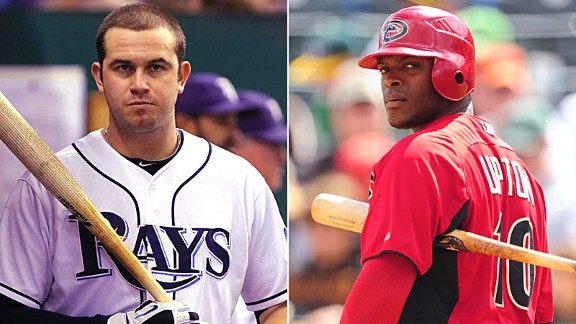 US PresswireLooking for your 2012 MVPs? Evan Longoria and Justin Upton are a good place to start.
As usual, I've sketched out my win-loss predictions for all 30 teams and winners for the six major postseason awards. Usually, I find it's easy to pick a few teams I think will run away from their respective packs -- which isn't to say I've had any great success in doing so -- but this year feels more compressed than the typical season, especially in the two East divisions. It likely won't play out that way, of course, but I could make compelling arguments for four teams in the AL East to win their divisions, and at least three in the NL East to do the same. Awards predictions follow the division picks.
Here are the picks for 2012:
AL East
Aside from Baltimore -- not a 90-loss team in any other division but this one, and still featuring enough interesting players that you want to watch them -- the biggest gap between any two teams in this division is between the
Toronto Blue Jays
and
Boston Red Sox
/
Tampa Bay Rays
, which isn't that big of a gap to begin with. I like the Blue Jays' depth, I think their rotation is a little underrated, I see plenty of bounceback candidates up and down that roster without many big regression candidates, and I think the front office is motivated to add talent during the season if they're close to a playoff spot. As for the top three clubs, even with
Michael Pineda
's spring struggles, the
New York Yankees
still line up as the best team top to bottom, and all the focus on Pineda has meant the addition of
Hiroki Kuroda
has flown under the radar. The Red Sox have the most questions and the least depth of the contenders here, and I'm also skeptical of
Daniel Bard
's ability to turn over AL lineups three times, especially those with a lot of left-handed hitters.
AL Central
The
Detroit Tigers
seem to me to be the team most likely to run away with its division, even with a top-heavy roster that doesn't give them a lot of options if any major piece in the lineup or rotation should miss a significant chunk of time; there just isn't another club in the division that's close to them. The
Kansas City Royals
' run prevention should improve this year thanks to the best defense they've run out there in ages, and I think
Eric Hosmer
is primed for a big breakout season. The
Cleveland Indians
had a lot of things go right last year that won't repeat in 2012, but their falloff will be mitigated by improvements from two of
Carlos Santana
,
Shin-Soo Choo
, and
Michael Brantley
. The
Minnesota Twins
' performance this year largely hinges on the health of their two best players, which is a better question for the doctors (or Stephania Bell) than it is for me. The White Sox aren't a 95-loss team on paper right now, but I expect they'll look to move another veteran or two as the season goes on and things could get ugly on the South Side.
AL West