Picking division and award winners
March, 28, 2013
3/28/13
9:18
PM ET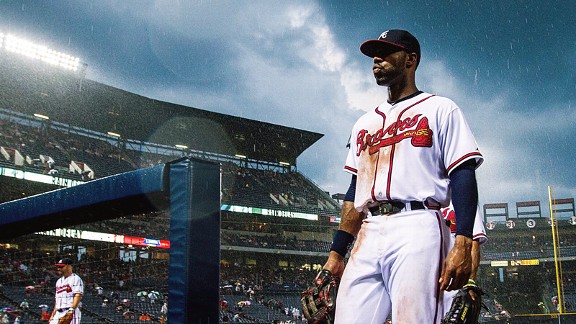 Daniel Shirey/USA TODAY SportsJason Heyward is poised to become an MVP candidate in 2013.
As usual, I've sketched out my win-loss predictions for all 30 teams and winners for the six major postseason awards. I've tried to include at least one thought on each team that explains my predictions, as well as notes on some key players or possible impact call-ups. Awards predictions follow the division picks.
AL East
The
Toronto Blue Jays
made headlines this winter, mostly for the right reasons, but their lack of depth behind the shiny front line of recognizable stars has already been slightly exposed with the demotion of
Ricky Romero
. As good as they could be, the Jays slide in behind the
Tampa Bay Rays
.
The Rays have a history of exceeding expectations, perhaps due to their lack of name value, and they have reinforcements sitting in Triple-A ready to help by June or so, including top prospect
Wil Myers
.
The
Boston Red Sox
's offseason scored low marks from me -- the
Shane Victorino
contract was the worst of the winter -- yet it's still a solid team and a much better one than last year, especially if the improved looks from
Clay Buchholz
and
Jon Lester
hold true into the season.
The
New York Yankees
' run of injuries -- funny what happens when your team's core gets old -- could drop them to last place or sub-.500 territory, although the team they'll run out there in April should keep them afloat until
Derek Jeter
and
Curtis Granderson
come back.
The
Baltimore Orioles
' 2012 season was a great story but was built on an unsustainable foundation of luck and bullpen performance. They did nothing to upgrade the team this winter and may be overreliant on players who are likely to deliver less value this year. Their best hopes for a step forward are
Chris Tillman
, whose stuff was better in the second half, and
Matt Wieters
, who is about two years late on that big offensive breakout I had predicted for him.
AL Central
The Tigers should run away with this division, but they should have done so last year and won it by just three games, falling seven wins short of the 95 I predicted. This year's club is a little stronger on paper, thanks to
Anibal Sanchez
,
Torii Hunter
and
Victor Martinez
, with ninth-inning relief duties the only question mark -- and a wildly overblown one at that.