Keith Law:

Washington Nationals
January, 30, 2015
Jan 30
9:22
AM ET
Organization Ranking: 9
I've
ranked every farm system
, as well as the
top 100 MLB prospects for 2015
. Below, I've ranked at least the top Nats 10 prospects, plus an overview of the system and any other names of note beyond the top 10. I also discuss any prospects who might help the big league club in 2015, one or two prospects whose stock has taken a big hit in the past year, and a sleeper prospect who I think can jump into the main top-100 list for 2016
December, 17, 2014
12/17/14
9:29
PM ET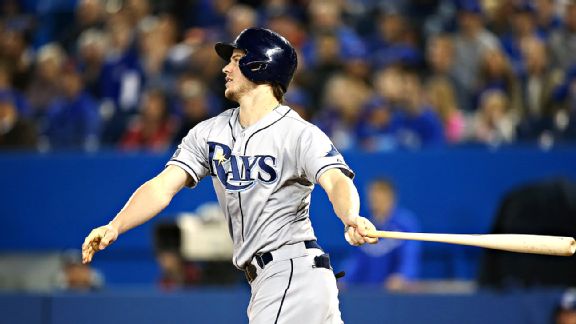 Tom Szczerbowski/Getty ImagesWil Myers is the big name in Wednesday's deal, but the Nationals made out the best.
Today's
three-team, 11-player trade
was a rarity for its focus on young players, both major leaguers and prospects, with just two backup catchers as the veterans in the deal. The
San Diego Padres
got something they wanted, but at a substantial cost; the
Washington Nationals
seemed to make out like bandits in a de facto one-for-two swap; and the
Tampa Bay Rays
appeared to be much lower on
Wil Myers
and higher on
Steven Souza
than the rest of the industry.
San Diego's haul
The Padres get a tremendous buy-low opportunity here with Myers, who turned 24 last week with less than two years of major league service so far.
To continue reading this article you must be an Insider
October, 3, 2014
10/03/14
12:17
PM ET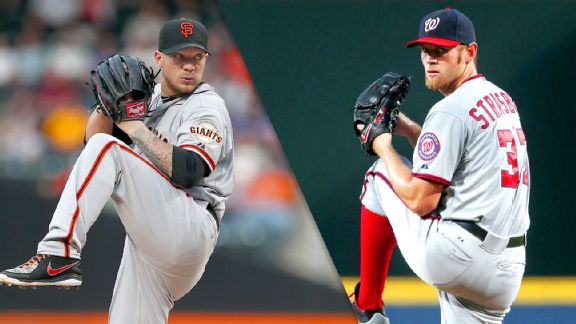 USA TODAY SportsJake Peavy and Stephen Strasburg square off in Game 1 of the NLDS on Friday afternoon.
I posted
my thoughts
on both American League Division Series yesterday, so here is the companion piece, predictions for both National League Division Series and with my rationales. My early guess at the World Series matchup and winner is below.


San Francisco Giants vs. Washington Nationals
I think the Nationals are the best team in the postseason, and also the team best built for the postseason, which is not necessarily the same thing, but both are applicable in this case.
To continue reading this article you must be an Insider
April, 28, 2014
4/28/14
10:38
PM ET
The
Washington Nationals
went a little off the board this winter with the hiring of manager
Matt Williams
, a respected coach with the
Arizona Diamondbacks
and former All-Star who had a grand total of zero games of professional managerial experience.
That inexperience has shown all over the place, as Williams has demonstrated that he's in way over his head so far -- never more so than in his mishandling of the team's most talented player,
Bryce Harper
, who is now
headed for surgery on his thumb
and will be lost until at least early July.
Leaders do not make their points at the expense of their best subordinates, but that is exactly what Williams did when he
chose to pull Harper from a game on April 19
because Harper didn't fully run out a routine ground ball back to the pitcher. Harper was coming off an injured quad and, from what I'm told, battling the flu on the day when he chose, wisely, not to run out a ground ball so routine that had the pitcher rolled the ball to first base he still would have beaten Harper by a few feet. Asking any player to run that ball out shows an emphasis on superficial, meaningless behavior over actions that actually increase the team's chances of winning a game. No one ever scored an extra run by showboating for the cameras, but that is exactly what Williams wanted Harper -- who was injured and sick -- to do.
Harper singled out
Williams' tirade on "lack of hustle," directed at a player who is hustle incarnate, was a low point for the Nationals this season, but Harper's injury, which came as he tried to stretch a double into a triple by -- wait for it -- hustling, is a new nadir.
To continue reading this article you must be an Insider
April, 17, 2014
4/17/14
4:35
PM ET
DELMARVA, Md. -- Tuesday rain meant Wednesday's marquee minor league pitching matchup in Delmarva, Md., was a 5 p.m., seven-inning game to start a doubleheader, which meant hitters unlucky enough to have to face
Baltimore Orioles
prospect
Hunter Harvey
(son of former Angel and Marlin closer Bryan) or
Washington Nationals
prospect
Lucas Giolito
had to do so with the late-evening shadows interfering as well. Both pitchers lived up to expectations, combining for 11 shutout innings, allowing eight baserunners and striking out 13.
• Harvey was throwing 91-94 mph with plus sink on his fastball and was very aggressive with the pitch, coming inside to right- and left-handed batters without fear.
To continue reading this article you must be an Insider
April, 3, 2014
4/03/14
7:30
AM ET
With the help of Christopher Crawford of MLB Draft Insider, we have compiled the minor league assignments for all prospects in Keith Law's organizational top 10 rankings.
Due to injuries and late assignments, some minor league rosters are not yet official. In those instances, we took our best guess as to where those prospects will be assigned to begin the year.

Note: Players with an asterisk have been traded since the top-10 lists came out, and they are listed with their assignment for their new club.

To continue reading this article you must be an Insider
March, 29, 2014
3/29/14
9:54
AM ET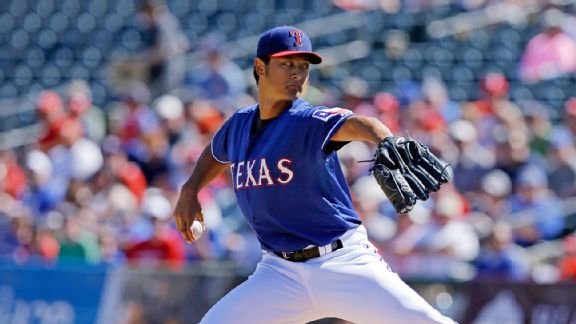 AP Photo/Darron CummingsThe AL leader in strikeout rate last year, Yu Darvish is an AL Cy Young frontrunner.
Keith Law offers up his win-loss predictions for all 30 teams and winners for the six major postseason awards. Furthermore, explanations for each team are included, along with notes on key players or possible impact call-ups. Award predictions follow the division picks.
AL East
It's hard to pick against a
Boston Red Sox
team that returns so many of the players who helped them win the World Series last year, losing
Stephen Drew
but replacing him with one of the majors' best rookies in
Xander Bogaerts
.
To continue reading this article you must be an Insider
March, 8, 2014
3/08/14
9:49
AM ET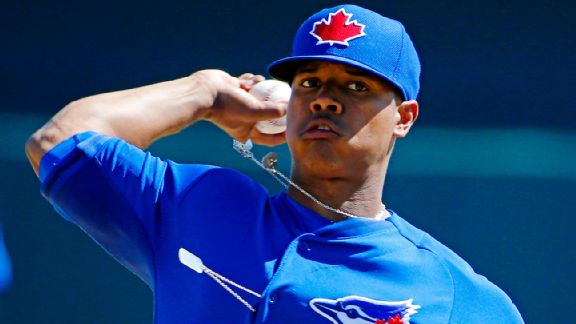 AP Photo/Gene J. PuskarMarcus Stroman fanned 129 batters in 111 2/3 innings at Double-A last season.
DUNEDIN, Fla. -- The
Toronto Blue Jays
and
Tampa Bay Rays
rolled out a number of young arms Friday, led by Toronto's No. 2 overall prospect Marcus Stroman, who is in the running for a rotation spot. Stroman showed his full four-pitch repertoire and has the durability to start, but problems keeping his fastball down led to trouble for him.
Stroman was 91-95 mph over his three innings of work, getting a little arm-side run but no sink or downhill plane. He left several fastballs up, with
Kevin Kiermaier
hitting a 92 mph four-seamer out to deep right.
To continue reading this article you must be an Insider
February, 11, 2014
2/11/14
3:31
PM ET
Now that the 2014 preseason top prospect package is complete, here are links to all of the rankings, videos, podcasts and chat wraps.
Top 100 prospects

•
Index
|
Prospects No. 1-50
|
Prospects 51-00
•
10 who just missed
•
Top 20 impact prospects for 2014
Top 10 prospects by team

•
AL East
|
AL Central
|
AL West
•
NL East
|
NL Central
|
NL West
•
Astros No. 1 in farm system rankings
Videos

•
Why Buxton is the No. 1 prospect
•
AL breakout prospects
|
NL breakout prospects
•
Twins, Pirates just behind Astros in farm rankings
Podcast

•
Discussing the top 100 rankings
•
Xander Bogaerts and Mets GM Sandy Alderson
Chat wraps
•
Keith Law
•
Astros GM Jeff Luhnow
•
Byron Buxton
•
Addison Russell
December, 2, 2013
12/02/13
9:19
PM ET
The
Washington Nationals
seemed like a good bet to go after an undervalued starter for the back of their rotation (I guessed
Brett Anderson
, who was originally drafted by Mike Rizzo in Arizona, in a post earlier on Monday) and they did just that,
sending some quantity
-- infielder
Steve Lombardozzi
and lefties
Ian Krol
and Robbie Ray -- to the
Detroit Tigers
for
Doug Fister
, who'll give Washington one of the best rotations in either league for 2014.
Detroit might fill some minor holes, but I don't think they got full value back given the market for starters right now and how effective Fister has been the past two seasons.
The Nats get Fister for the next two years before he hits free agency, coinciding nicely with their main window of contention, as Jordan Zimmerman,
Ian Desmond
, and
Tyler Clippard
are all scheduled to hit free agency after 2015 as well.
To continue reading this article you must be an Insider
September, 17, 2013
9/17/13
8:49
AM ET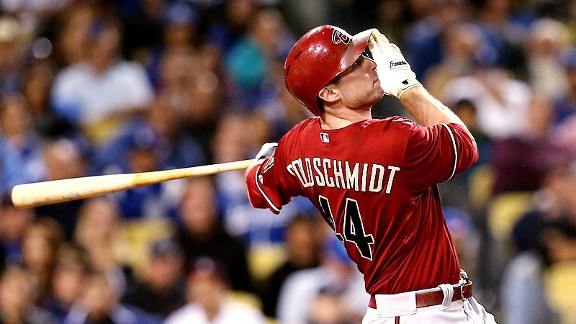 Stephen Dunn/Getty ImagesPaul Goldschmidt has proven to be a much better player than Keith expected him to be.
I wrote last year about
five players on whom I'd been wrong
at some point, whether in an initial evaluation or even a second look in pro ball. In that spirit, here's the 2013 edition, looking at six more players who beat my expectations and who I now think will continue to do so.

I saw Goldschmidt only once as a prospect, at the Futures Game in Phoenix in 2011, and saw a strong guy who wasn't a great athlete and showed raw power in BP but didn't have more than average bat speed. I talked to a number of pro scouts and front-office guys after that and heard similar opinions, calling him a fringy regular or a platoon first baseman.
To continue reading this article you must be an Insider
June, 30, 2013
6/30/13
3:19
PM ET
I made my first trip to Frawley Stadium in Wilmington, Del., on Saturday night, receiving a wonderful welcome from the Blue Rocks' staff and catching a few famous pitching prospects in the process, thanks to a doubleheader against the Potomac Nationals.
Wilmington Game 1 starter,
Kyle Zimmer
, was the Royals' first overall pick in the 2012 rule 4 draft, a converted position player who showed a big fastball and curveball and had a very easy, athletic delivery that pointed to a top-of-the-rotation ceiling. All of that was on display on Saturday night, as he threw a seven-inning shutout. It was a game in which he gave up just two hits and one hard-hit ball while punching out six batters.
Zimmer showed three plus pitches on Saturday, led by a 93-97 mph fastball that he moved around the zone well and was willing to elevate to get swings and misses. He held that velocity into the final innings, still hitting 95-96 regularly as the game wound down. His curveball is still a thing of beauty, 78-83 with depth and angle to it, and he's comfortable throwing it to both sides of the plate.<!—offer-->
To continue reading this article you must be an Insider