Keith Law:

Toronto Blue Jays
December, 3, 2014
12/03/14
8:00
PM ET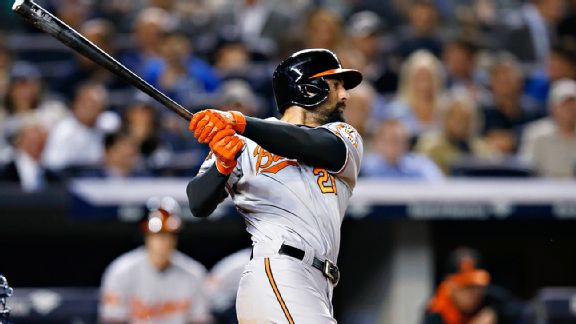 AP Photo/Kathy WillensNick Markakis had 42 extra-base hits and 50 RBI in 704 plate appearances in 2014.
I've liked much of what the
Atlanta Braves
have done this autumn, starting with replacing most of their front office and continuing with the trade of
Jason Heyward
, but the
Nick Markakis
contract doesn't make much sense in any context. He'd be a great one- or even two-year flier for someone willing to bet on a change of scenery (and hitting coaches) helping him, but giving him a four-year, $45 million deal that runs through his age-34 season doesn't fit any of what the club appeared to be trying to do.
Markakis peaked at age 24, and has since devolved into a high-contact singles hitter who plays adequate right-field defense with a great arm. (He was a very good pitching prospect back at Young Harris College, with more teams looking at him as a pitcher in the 2003 draft than as a hitter.) The Orioles never found the missing link with Markakis to regain that lost power, as he has become exceedingly short to the ball, hitting it on the ground too often and driving it to the gaps too infrequently.
He has lost more than 25 extra-base hits a year from his first two full seasons in the majors and only a major change in approach -- both mental and mechanical -- will get it back. It could happen, but I certainly wouldn't put real money on it, and this contract seems to price in some kind of offensive bounce back.
November, 28, 2014
11/28/14
11:43
PM ET
The
Toronto Blue Jays
won the offseason two years ago with their huge deals with the
Miami Marlins
and
New York Mets
; those were mostly aimed at remaking their rotation. So far this winter, their moves have focused on overhauling the lineup, and while wins in November don't always mean wins the next October, a
deal that nets them
Josh Donaldson
for
Brett Lawrie
and a trio of prospects is a damn good start for Toronto general manager Alex Anthopoulos. He's added one of the best players in baseball for a package of prospects that doesn't quite add up.
[+] Enlarge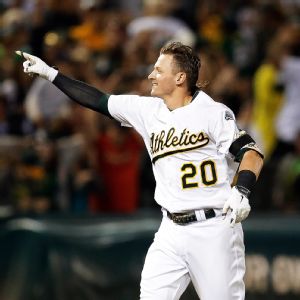 AP Photo/Ben MargotJosh Donaldson, pointing northeast, presumably.
Donaldson turns 29 next month, is just entering
To continue reading this article you must be an Insider
November, 17, 2014
11/17/14
3:11
PM ET
The market for
Russell Martin
quickly established itself at the four-year mark for $70 million to $74 million, and the first team to commit to five years seemed likely to get the player. With the Dodgers and Cubs both involved and working with seemingly infinite payrolls, the Jays had to go to five years to have any hope of landing him. They've
done that
in a deal that pays Martin $82 million.
In practical terms
To continue reading this article you must be an Insider
April, 3, 2014
4/03/14
7:30
AM ET
With the help of Christopher Crawford of MLB Draft Insider, we have compiled the minor league assignments for all prospects in Keith Law's organizational top 10 rankings.
Due to injuries and late assignments, some minor league rosters are not yet official. In those instances, we took our best guess as to where those prospects will be assigned to begin the year.

Note: Players with an asterisk have been traded since the top-10 lists came out, and they are listed with their assignment for their new club.

To continue reading this article you must be an Insider
March, 29, 2014
3/29/14
9:54
AM ET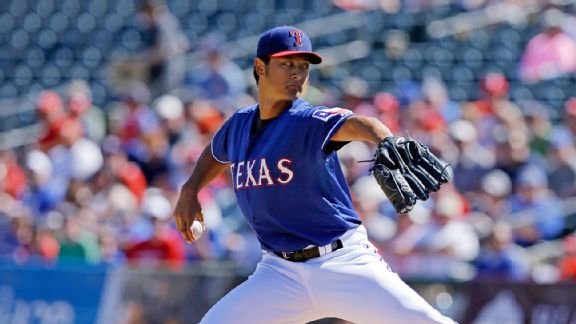 AP Photo/Darron CummingsThe AL leader in strikeout rate last year, Yu Darvish is an AL Cy Young frontrunner.
Keith Law offers up his win-loss predictions for all 30 teams and winners for the six major postseason awards. Furthermore, explanations for each team are included, along with notes on key players or possible impact call-ups. Award predictions follow the division picks.
AL East
It's hard to pick against a
Boston Red Sox
team that returns so many of the players who helped them win the World Series last year, losing
Stephen Drew
but replacing him with one of the majors' best rookies in
Xander Bogaerts
.
To continue reading this article you must be an Insider
March, 9, 2014
3/09/14
12:20
PM ET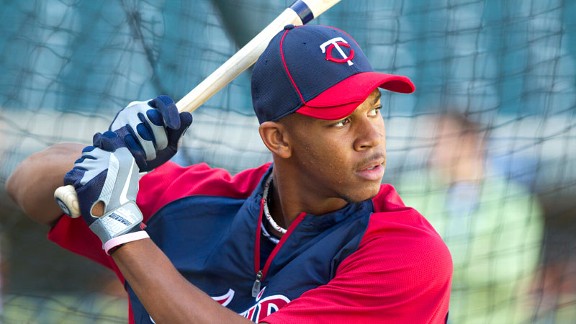 Brace Hemmelgarn/Getty ImagesByron Buxton has shown little to dissuade evaluators about his sky-high projections.
DUNEDIN, Fla. -- Here are some notes from my last game of Florida spring training for the year, a game which pitted the
Minnesota Twins
against the
Toronto Blue Jays
.
•
Byron Buxton
, the best prospect in baseball coming into this year, didn't disappoint, hitting a hanging slider from Toronto starter
Drew Hutchison
deep over the left-center field wall, showing off his speed with a couple of sub-4.1-second run times from home to first, and smoking a ground ball in the ninth inning ... that led to a double play with the infield in, but hey, let's not quibble over details.
Buxton saw a ton of pitches across his five at-bats, taking the first pitch every time, putting himself in good position to get a pitch to hit in every at-bat but one. There's little new to say here; he's a true five-tool guy, showing or projecting as plus in all five of those categories, with an improving approach at the plate. He did let the ball travel well on him on Saturday, taking advantage of his quick wrists to start his bat a little later than most hitters would. His only real miscue was failing to call for a fly ball to shallow center on the shortstop side, so that the shortstop ran out to catch it and had to peel off at the last second, after which no one caught it.
•
Max Kepler
didn't put anything into orbit like Buxton did, but acquitted himself well through three at-bats, including a double to the right-center wall off a
Kyle Drabek
curveball, a four-pitch walk, and a base hit off Hutchison.
To continue reading this article you must be an Insider
March, 8, 2014
3/08/14
9:49
AM ET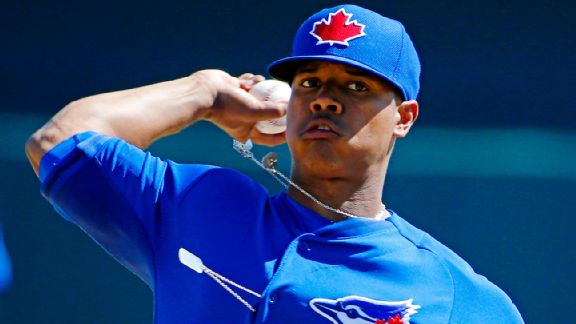 AP Photo/Gene J. PuskarMarcus Stroman fanned 129 batters in 111 2/3 innings at Double-A last season.
DUNEDIN, Fla. -- The
Toronto Blue Jays
and
Tampa Bay Rays
rolled out a number of young arms Friday, led by Toronto's No. 2 overall prospect Marcus Stroman, who is in the running for a rotation spot. Stroman showed his full four-pitch repertoire and has the durability to start, but problems keeping his fastball down led to trouble for him.
Stroman was 91-95 mph over his three innings of work, getting a little arm-side run but no sink or downhill plane. He left several fastballs up, with
Kevin Kiermaier
hitting a 92 mph four-seamer out to deep right.
To continue reading this article you must be an Insider
February, 11, 2014
2/11/14
3:31
PM ET
Now that the 2014 preseason top prospect package is complete, here are links to all of the rankings, videos, podcasts and chat wraps.
Top 100 prospects

•
Index
|
Prospects No. 1-50
|
Prospects 51-00
•
10 who just missed
•
Top 20 impact prospects for 2014
Top 10 prospects by team

•
AL East
|
AL Central
|
AL West
•
NL East
|
NL Central
|
NL West
•
Astros No. 1 in farm system rankings
Videos

•
Why Buxton is the No. 1 prospect
•
AL breakout prospects
|
NL breakout prospects
•
Twins, Pirates just behind Astros in farm rankings
Podcast

•
Discussing the top 100 rankings
•
Xander Bogaerts and Mets GM Sandy Alderson
Chat wraps
•
Keith Law
•
Astros GM Jeff Luhnow
•
Byron Buxton
•
Addison Russell
December, 10, 2013
12/10/13
9:55
AM ET
LAKE BUENA VISTA, Fla. --
Roy Halladay
's retirement brought about the usual postcareer canonization we hear when any very good player hangs them up -- He's a surefire Hall of Famer! He's a lock! If he's not a Hall of Famer, just tear the place down!
There's a five-year waiting period between a player's retirement and his first year on the ballot, a lag I always assumed was there to help escape the emotional response to the end of a great player's career and add the perspective that distance can provide. Halladay may very well get into the Hall of Fame, and I'd certainly be thrilled to see him get in as a fan and as someone who got to see several of his best years up close when I was working for Toronto, but I don't think his case, examined objectively, is quite so clear-cut.
In fact, Hall voters have summarily rejected a number of pitchers comparable to Halladay, which is why I think Halladay could turn out to be a very interesting test case for the modern era.
Halladay's HOF résumé
Halladay's case for the Hall revolved around his high, lengthy peak, as he won two Cy Young Awards, deserving both of them, and having a solid case for a third in 2011, while ranking in the top five in his league in Baseball Reference's WAR eight times, all in a 10-year span.
To continue reading this article you must be an Insider
December, 2, 2013
12/02/13
12:11
PM ET
I liked
Dioner Navarro
as a potential
value signing in free agency this winter
, looking at the catcher for one year and about $2 million (which could easily stretch to $2.5 million to $3 million, with continued acceleration in free-agent salaries this winter) to see if his offensive spike in 2013 had any legs to it.
He does a few things well enough to merit giving him a major league deal and a starting job, including solid walk rates, average pop and above-average throwing, but just hadn't performed anything like this in five years, and the breakout came back in the National League.
The
Toronto Blue Jays
seem a lot more optimistic about Navarro than I was, giving him
two years and $8 million guaranteed
, which isn't every-day player money, but is more than just a backup's cost.
Toronto received nothing but grief from the catcher's spot in 2013, where
J.P. Arencibia
posted a .227 OBP in nearly 500 plate appearances -- the only player with at least 400 PAs to post an OBP under .240 in 2013.
To continue reading this article you must be an Insider
October, 16, 2013
10/16/13
11:05
AM ET
On Monday,
I wrote about players I saw last week
in the Arizona Fall League who made positive impressions on me, some of whom caused me to improve my own evaluations of those players over where they were before my trip.
Today I'll look at the other side, 10 players who didn't meet my expectations, and in some cases who'll slide down my prospect rankings as a result. I've also appended notes on other players of interest who didn't fit squarely in either category.
To continue reading this article you must be an Insider
October, 14, 2013
10/14/13
11:54
AM ET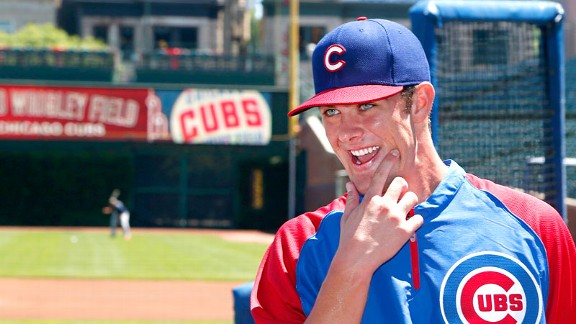 AP Photo/Charles Rex ArbogastKris Bryant, Chicago's first-round draft choice in 2013, has been impressive so far.
I miss living in Arizona for many reasons, but one is the loss of easy access to the Arizona Fall League. This year, I just had a four-day, eight-game trip to scout the many prospects in that circuit. I did get to see every team's BP and two-thirds of the league's pitchers, so while it wasn't as much as I would have liked, it was enough to form some quick impressions and start some fresh evaluations.
Today I give you notes on the players who, in one way or another, stood out to me in a positive light, in most cases raising my opinions of those players. Two stipulations here:
1.
I didn't see everybody, so the omission of any player isn't an indictment of his performance
2.
The Fall League is a great place to scout, but sometimes players are tired or rusty from the layoff since the end of the minor league season, so the looks aren't always ideal.
To continue reading this article you must be an Insider
June, 27, 2013
6/27/13
10:25
AM ET
If we are supposed to believe that the All-Star Game counts for something other than TV ratings and MLB revenues, why don't we see rosters built to win the game? It's part popularity contest, part reward for having a good two months to start the season, but very little about how the rosters are selected makes it look as though the teams are there to win.
Lineups built to win the game would look like All-Star lineups but would move some players around to different positions to try to build the strongest team possible, while also avoiding those hot-start players who aren't the best choices at their respective positions.
Here are the lineups, including one starter and one reliever per team, that I'd set up to give each league the best chance to win one game.
To continue reading this article you must be an Insider