April, 10, 2014
Apr 10
9:15
AM ET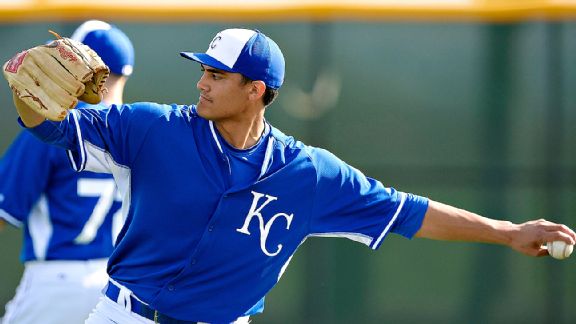 John Sleezer/Getty ImagesIf Sean Manaea regains his mid-90s velocity he could become an elite starter.
I tabbed Wilmington (Royals) and Myrtle Beach (Rangers) as two of
the most loaded minor league rosters
to start the season, and lo and behold, the two faced each other this week in the first home series for the Blue Rocks. I went to the first two games of the three-game series, and have the following to report about these two clubs in the high Class A Carolina League.
Wilmington (Kansas City Royals affiliate)
• Lefty
Sean Manaea
made his pro debut Tuesday night, throwing 60 pitches before he was lifted once he hit his limit. Manaea was the Royals' second pick in the 2013 draft, 34th overall, a potential top-10 pick before he suffered an injury to the labrum in his hip in a start last March at the late, unlamented Metrodome. The Royals signed him for $3.55 million, comparable to a top-five selection, after working out a below-slot deal with their first pick, infielder
Hunter Dozier
.

Manaea hit 88 to 92 mph Tuesday night, touching 94, and dipping to 88-90 in his last inning, but the tremendous deception in his delivery had hitters swinging through his fastball for much of the outing.
To continue reading this article you must be an Insider
April, 3, 2014
Apr 3
9:45
AM ET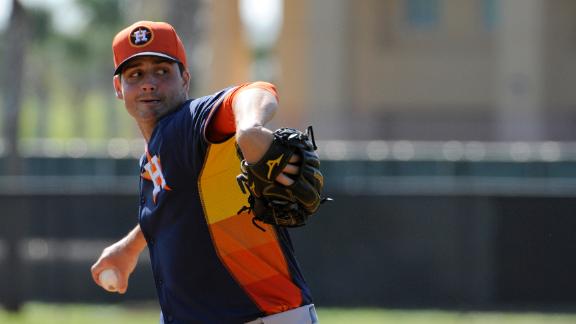 Thursday is Opening Day for the minor leagues, and final rosters have been appearing online over the last 24 hours. Christopher Crawford has compiled lists showing where the
top 10 prospects in each organization have been assigned
, and here I'll highlight six rosters in particular that are loaded with top prospects or other guys I'd gladly travel to go watch.
Wilmington Blue Rocks (Kansas City Royals, high Class A)
Top 100 prospects:
SS Raul Mondesi Jr., RHP Miguel Almonte
Former top 100 guys:
OF Bubba Starling
First-round picks:
IF Hunter Dozier (2013), LHP Sean Manaea (2013), Starling (2011)
Other prospects of note:
RHP Aroni Nina, C Zane Evans, C Cam Gallagher, RHP Christian Binford

I may be biased, but the team in my own backyard might just be the most loaded roster in all of minor league baseball.
To continue reading this article you must be an Insider
March, 29, 2014
Mar 29
9:54
AM ET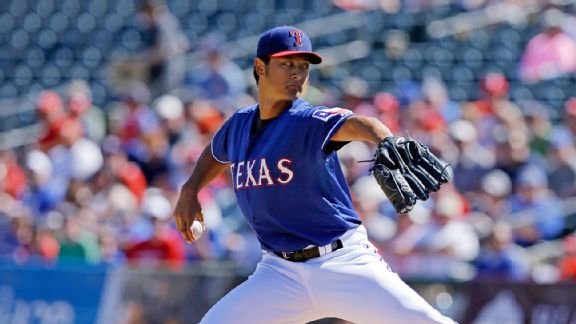 AP Photo/Darron CummingsThe AL leader in strikeout rate last year, Yu Darvish is an AL Cy Young frontrunner.
Keith Law offers up his win-loss predictions for all 30 teams and winners for the six major postseason awards. Furthermore, explanations for each team are included, along with notes on key players or possible impact call-ups. Award predictions follow the division picks.
AL East
It's hard to pick against a
Boston Red Sox
team that returns so many of the players who helped them win the World Series last year, losing
Stephen Drew
but replacing him with one of the majors' best rookies in
Xander Bogaerts
.
To continue reading this article you must be an Insider
March, 24, 2014
Mar 24
12:57
PM ET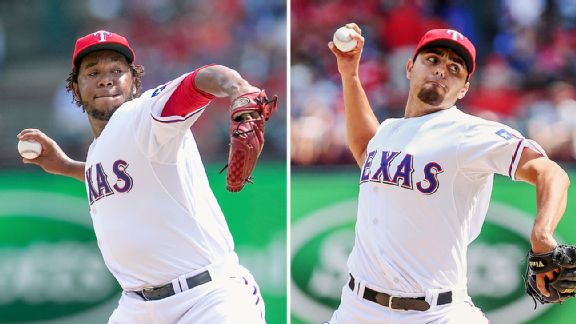 Getty ImagesNeftali Feliz shows little motivation or stuff, making Joakim Soria an easy decision as Texas' closer.
SURPRISE, Ariz. -- I'm leaving Arizona on Monday to head home, so here's the last two days' worth of notes on players I saw over the weekend.

• Texas lefty
Joe Saunders
showed virtually no ability to get major league hitters out, but reliever
Neftali Feliz
came in after and wasn't a whole lot better. Worse, Feliz seemed totally disinterested in the whole "pitching" part of his day.
Feliz's fastball was 89-91 mph with good tailing life, but that's way below his old velocity, although he also didn't seem to be putting any effort into it.
To continue reading this article you must be an Insider
February, 11, 2014
Feb 11
3:31
PM ET
Now that the 2014 preseason top prospect package is complete, here are links to all of the rankings, videos, podcasts and chat wraps.
Top 100 prospects

•
Index
|
Prospects No. 1-50
|
Prospects 51-00
•
10 who just missed
•
Top 20 impact prospects for 2014
Top 10 prospects by team

•
AL East
|
AL Central
|
AL West
•
NL East
|
NL Central
|
NL West
•
Astros No. 1 in farm system rankings
Videos

•
Why Buxton is the No. 1 prospect
•
AL breakout prospects
|
NL breakout prospects
•
Twins, Pirates just behind Astros in farm rankings
Podcast

•
Discussing the top 100 rankings
•
Xander Bogaerts and Mets GM Sandy Alderson
Chat wraps
•
Keith Law
•
Astros GM Jeff Luhnow
•
Byron Buxton
•
Addison Russell
December, 21, 2013
12/21/13
5:04
PM ET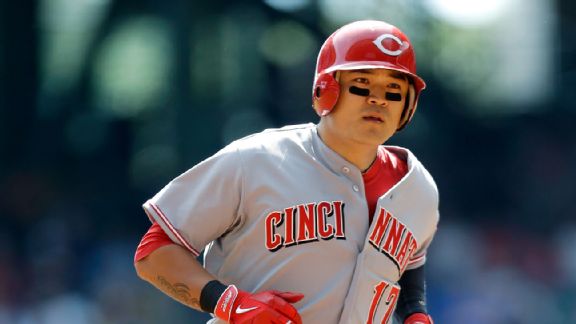 Mike McGinnis/Getty ImagesShin-Soo Choo signed a seven-year, $130 million contract with the Texas Rangers on Saturday.
The
Texas Rangers
' deal with
Shin-Soo Choo
makes them the best team in the American League West on paper, and perhaps the best or second-best team in the league via that same medium, but it's an
awfully lengthy deal
for a player who has a large hole in his game and is already 31 years old.
Choo is one of the majors' best on-base threats, filling a critical need for a Rangers lineup that was far less potent in 2013 without
Josh Hamilton
and with
Elvis Andrus
having a rough season. Even if Choo's walk spike was just a
Chone Figgins
-esque walk-year performance, he's still a good bet for a .390 or better OBP, and his left-handed power should fare well in the Ballpark in Arlington.
To continue reading this article you must be an Insider
December, 3, 2013
12/03/13
5:41
PM ET
The
Oakland Athletics
traded some
long-term value for short-term value
in acquiring outfielder
Craig Gentry
and right-hander
Josh Lindblom
from the
Texas Rangers
, but the Rangers walk away with a potential everyday player in outfield prospect
Michael Choice
and a sleeper from low Class A in second baseman Chris Bostick. I see the value here for Oakland but prefer the Rangers' side of the transaction.
Craig Gentry does two things very well: He's an elite defender in center and he has a career .376 OBP against lefties; one of those skills is very useful, the other one is a little like being the world's best horse-and-buggy driver.
To continue reading this article you must be an Insider
November, 20, 2013
11/20/13
10:41
PM ET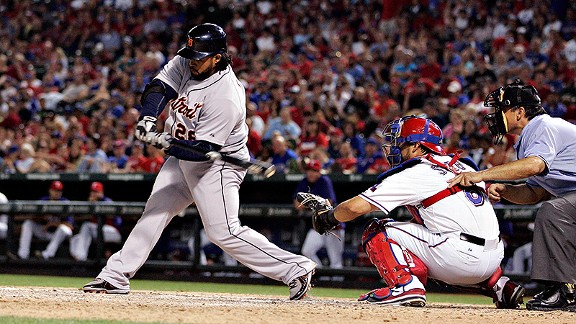 Tim Heitman/USA TODAY SportPrince Fielder will now be swinging the bat in Arlington wearing a home uniform.
This is a classic challenge trade, my position player for your position player, both guys with huge contracts but who are also coming off disappointing years -- or in
Ian Kinsler
's case, two disappointing years. In
the pending deal
that sends Kinsler to the Tigers and
Prince Fielder
plus $30 million to the Rangers, Texas gets the better end of the trade in baseball terms, I think, but that assumes that Fielder's miserable 2013 was more about bad luck and personal troubles than a sudden, early collapse of his skills at age 29. And there's more to the deal than just the immediate on-field impact.
To continue reading this article you must be an Insider
August, 20, 2013
8/20/13
11:48
AM ET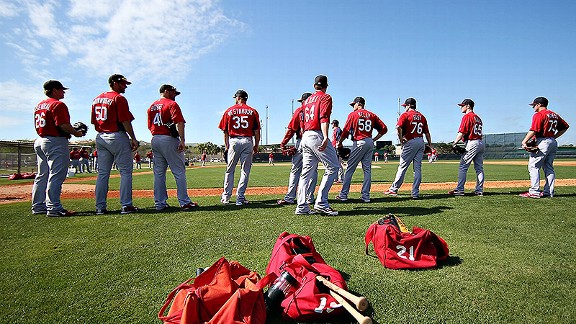 Leon Halip/Getty ImagesFor starting pitching depth throughout an organization, it's tough to top St. Louis.
For this post I was asked to take a look at every position and pick which team has the most overall talent if you look at the organization as a whole. So if a team has a strong shortstop at the major league level but no depth within the organization, it could come in behind a team with a decent shortstop but a couple of really good prospects at the position. So think of this as the sum of current MLB talent plus what's in the pipeline.
It's worth a reminder that strong depth at one position is a good way to fill holes via trades. Anybody saying too much talent at one position doesn't matter because you can't play three shortstops is clueless from a business and personnel standpoint. As a note: outfield and pitching have been consolidated because of how we calculate value at those positions.
Catcher

The Yankees have more prospect depth at the catcher position than any other team, with Gary Sanchez a potential star if he can improve his receiving enough to remain at the position, while J.R. Murphy is emerging as at least a strong backup.
Austin Romine
should be getting regular playing time in the majors down the stretch, at least once the Yankees decide their playoff odds are too low to ... well, playing
Chris Stewart
isn't exactly pushing them toward the playoffs anyway, so why not just play Romine and see what you've got?
That said, the Pirates probably have more present value than the Yankees because of
Russell Martin
, with
Tony Sanchez
probably a solid major league backup and 18-year-old Reese McGuire among the game's top dozen or so catching prospects. There is so little catching in full-season minor leagues right now that you would be hard-pressed to identify 10 clear everyday starters without reaching down to short-season leagues.
First base
To continue reading this article you must be an Insider
July, 22, 2013
7/22/13
6:56
PM ET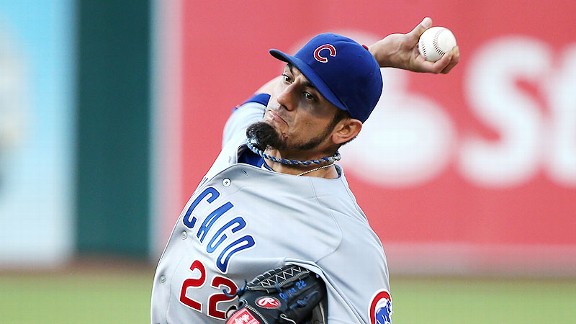 Brad Mangin/MLB Photos via Getty ImagesMatt Garza is an elite pitcher but he's had trouble staying healthy.
After zeroing in on
Matt Garza
for a few days, the
Texas Rangers
acquired him from
the
Chicago Cubs
on Monday for prospects
Mike Olt
and C.J. Edwards, right-hander
Justin Grimm
, and a player to be named later.
The Rangers' need for a starter had become desperate, as their alternative to acquiring Garza was calling David Clyde to ask if he had anything left. Garza replaces Grimm in the rotation, which would be something on the order of a 4-5 win upgrade over the course of a full season (in terms of wins above replacement), and maybe as much as 2 WAR from now until the end of the season.
To continue reading this article you must be an Insider
June, 27, 2013
6/27/13
10:25
AM ET
If we are supposed to believe that the All-Star Game counts for something other than TV ratings and MLB revenues, why don't we see rosters built to win the game? It's part popularity contest, part reward for having a good two months to start the season, but very little about how the rosters are selected makes it look as though the teams are there to win.
Lineups built to win the game would look like All-Star lineups but would move some players around to different positions to try to build the strongest team possible, while also avoiding those hot-start players who aren't the best choices at their respective positions.
Here are the lineups, including one starter and one reliever per team, that I'd set up to give each league the best chance to win one game.
To continue reading this article you must be an Insider