Keith Law:

Tampa Bay Rays
February, 24, 2015
Feb 24
10:51
AM ET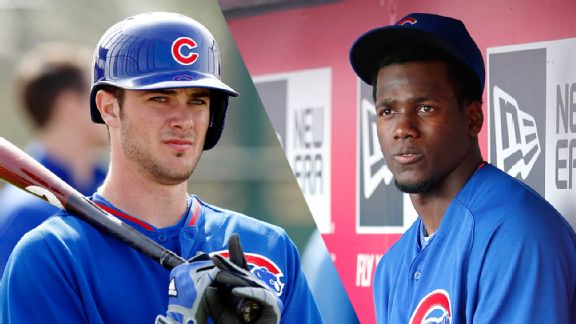 AP Photo, Getty ImagesTwo Cubs prospects, Kris Bryant and Jorge Soler, top Keith's list of top prospects for 2015 production.
When I put together my
ranking of the top 100 prospects
in baseball each winter (
here's the complete guide
to the prospects package), I base it on the overall potential I see from each player over the course of his first six years of service in the majors -- the length of time he'd spend with his parent club before reaching free agency -- and apply a discount to players who are further away from the majors. The prospects' potential production strictly in 2015 is only a minor consideration, because weighing it more heavily would lead to a list more populated with low-ceiling players rather than the potential All-Stars I think have more asset value.
To balance that out, I produced another list, this one ranking the top 20 prospects in baseball based solely on how much value I think they
might produce in 2015
. This list includes one of my least favorite kinds of forecasting (because I don't do it well and have no idea how to do it well): estimating playing time for the next seven months. So you're getting my best guesses -- guesses is the operative term here -- for probably 30 or 40 players underlying the rankings below and my decisions on which players to include. If a prospect you like isn't listed here, it might be only because I don't think he gets the playing time in 2015 to make the list.
I don't consider Boston outfielder
Rusney Castillo
or Arizona outfielder-maybe-third-baseman
Yasmany Tomas
as "prospects" due to their ages (27 and 24, respectively) and lengthy experience in Cuba's Serie Nacional, but were I to rank them, I'd have Castillo third on this list and Tomas sixth. I believe more in Castillo's athleticism and glove; Tomas is bigger and stronger, but he's not a great athlete and doesn't have Rusney's bat speed.
With that, let's look at the top impact prospects for 2015:

1. Kris Bryant, 3B, Chicago Cubs
Bryant probably won't head north with the Cubs on April 5, but he'll be at Wrigley Field maybe two weeks later as the Cubs look to push off his eventual free agency by a year. He's my pick right now to win NL Rookie of the Year, likely to hit 20-plus homers and get on base at a strong clip even with a strikeout rate that will probably top 25 percent.

2. Jorge Soler, RF, Chicago Cubs
If Bryant doesn't win the ROY award, maybe his teammate will. Soler hit the majors like he was fusing deuterium and tritium nuclei, but it lasted only about a week before he discovered the travails of a hitter facing the major league strike zone.
February, 24, 2015
Feb 24
9:03
AM ET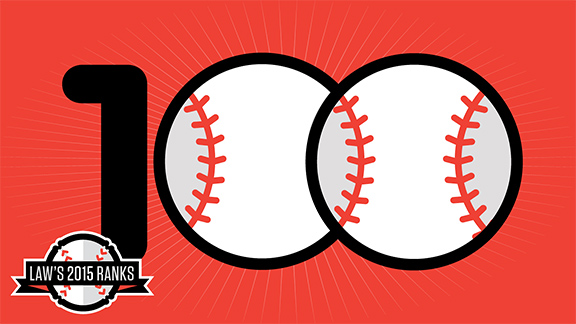 ESPN IllustrationKeith Law has addressed his 2015 top prospects from all angles.
Now that the 2015 preseason top-prospect package is complete, here are links to all of the rankings, videos, podcasts and chat wraps.
Top 100 prospects

•
Index
|
Prospects Nos. 1-50
|
Prospects 51-00
•
10 players who just missed
•
Top 20 impact prospects for 2015
Top 10 prospects by team

•
Index (all 30 teams)
• By team:
Baltimore Orioles
Boston Red Sox
New York Yankees
Tampa Bay Rays
(FREE)
Toronto Blue Jays
Chicago White Sox
Cleveland Indians
Detroit Tigers
Kansas City Royals
Minnesota Twins
Houston Astros
Los Angeles Angels
Oakland Athletics
Seattle Mariners
Texas Rangers
Atlanta Braves
Miami Marlins
New York Mets
Philadelphia Phillies
Washington Nationals
Chicago Cubs
Cincinnati Reds
Milwaukee Brewers
Pittsburgh Pirates
St. Louis Cardinals
Arizona Diamondbacks
Colorado Rockies
Los Angeles Dodgers
San Diego Padres
San Francisco Giants
Prospect rankings by position

•
Position rankings, including separate lists for RHPs and LHPs
Farm system rankings

•
Cubs, Twins top rankings of all 30 farm systems
Videos

•
Breakdown of top 3 prospects
•
Sleeper prospects
•
Best, worst farm systems
Chats
•
Jan. 29 chat
•
Keith Law archive
More on prospects

•
Szymborski: ZiPS projections top 100 prospect rankings
•
Karabell: Top 10 fantasy prospects for 2015
January, 30, 2015
Jan 30
9:08
AM ET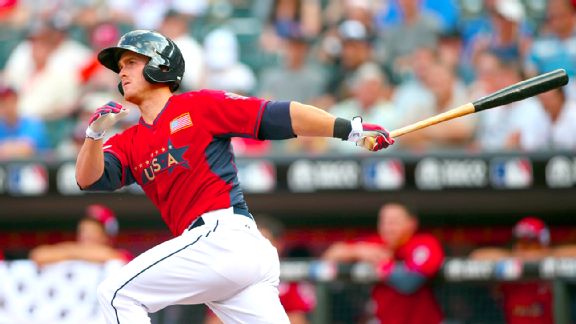 Jerry Lai/USA TODAY SportsCatcher Justin O'Conner, the Rays' top prospect, must develop as a hitter but is adept defensively.
Organization Ranking: 23
I've
ranked every farm system
, as well as the
top 100 MLB prospects for 2015
. Below, I've ranked at least the top 10 prospects for the Rays, plus an overview of the system and any other names of note beyond the top 10. I also discuss any prospects who might help the big league club in 2015, one or two prospects whose stock has taken a big hit in the past year, and a sleeper prospect who I think can jump into the main top-100 list for 2016.
Top 10 prospects
1.
Justin O'Conner
, C
2.
Daniel Robertson
, SS
3. Willy Adames, SS
4. Taylor Guerrieri, RHP
5. Stephen Souza, OF
6. Nate Karns, RHP
7. Nick Ciuffo, C
8.
Hak-Ju Lee
, SS
9. Brent Honeywell, RHP
10. Casey Gillaspie, 1B
Overview
Adames and Souza are both interesting cases as the primary returns in two major trades, and in both cases the Rays have more optimistic forecasts for the players than the rest of the industry. If you like Adames, you're hoping he is comparable to
Jhonny Peralta
, an offensive shortstop with power who is good enough to handle shortstop, even though he won't necessarily win any awards for style. He handled low Class A very well as the Midwest League's second-youngest position player, with a high-leverage swing that looks like it'll produce more home runs as he gets older. He has the arm and hands for short, but the body is atypical for the position, and as a fringy runner, he'll need to improve his footwork to have even average range there. The bat should profile well at second or third, especially given how well he fared against much older competition in 2014, assuming that power comes. Souza was the main return for
Wil Myers
, a major league-ready outfielder who has the size (6-foot-4, 225 pounds) for a power hitter but the short, quick swing of a contact guy; I think he's a 40-double, 15-homer hitter when he peaks, unless he changes his swing to be more rotational and get more loft in his finish. He's an average runner with good instincts on the bases. He's also nearly two years older than Myers and just reached the majors for the first time in September. He might match Myers' production right now but doesn't have Myers' upside, and the probability that the next six years of Souza's time are worth more than the next five of Myers' is low.
Karns' first year in Triple-A didn't go quite as well as expected, although his stuff is intact and he continues to miss bats with the mid-90s fastball and plus curveball; he struggled to stay in his delivery when working from the stretch, costing him command and leading to a lot of one-bad-inning outings.
Guerrieri was a top-100 prospect before he blew out his elbow; his rehab went slowly this year and the Rays had to shut him down when he came up a bit sore, although they remain optimistic he'll return to 100 percent. Ciuffo was at the end of my top 100 last year but a serious stomach ailment wrecked his 2014 season, robbing him of much of his strength; he did throw out 48 percent of runners, and his receiving has always been plus, but he crossed up his feet too often and needs to clean that up. Lee broke his ankle early in 2013, right before a likely call-up to the majors, and didn't look like his old self at all in 2014. Speed was an integral part of his game on both sides of the ball, and if he's lost that to the fracture, then he's probably just an up-and-down guy. Honeywell was their fourth-round pick out of a Tennessee junior college, a screwballer who showed better stuff (beyond the screwball) in pro ball, 90-94 mph with an above-average changeup, with much better command and control than he'd shown in the spring, when most area scouts weren't on him in the round where Tampa Bay selected him. Gillaspie was their first-rounder, 20th overall, a reach for me given the profile of a first base-only college bat who has the strength for power but doesn't use his lower half at all -- similar to brother
Conor
but with better makeup.
The Rays added two prospects from the
Arizona Diamondbacks
in the
Jeremy Hellickson
trade -- infielder Andrew Velazquez (12) and outfielder Justin Williams (15). Velazquez will probably end up at second base with a chance to be a regular because he has a great eye, short swing and plus speed. Williams' huge, raw power hasn't shown up in games yet, but he's been a much better hitter for average in pro ball than I would have guessed based on his all-out swing and approach in high school.
Ryan Brett
(14) also has a short, direct swing and good feel to hit, but it's an empty batting average and I don't think he has the speed or glove to be an everyday player. Adrian Rondon (13) signed for $2.95 million in July; the Dominican shortstop has a simple, line drive-oriented swing, and the Rays felt his approach and ability to pick up spin was very advanced for a 16-year-old. Former first-rounder Mikey Mahtook (16) hasn't regained the power he showed in his draft year but should have a nice career as a fourth outfielder.
2015 impact
Souza is penciled in as the everyday right fielder, taking over Myers' spot. Karns should be their No. 5 starter on Opening Day. Lefty
Enny Romero
(18) has been a starter throughout his minor league career, but his future is in the bullpen and he could help the Rays there as the primary lefty setup man.
Burch Smith
, acquired in the Myers trade, could also surface as a middle reliever or spot starter.
The fallen
Richie Shaffer (17) was their first-round pick in 2012, a fringy third baseman with tremendous bat speed that led to hard contact and power, but he's never reproduced that in pro ball, hitting .222/.318/.440 in Double-A last year. He did hit .295/.415/.632 from July 31st onward after some slight adjustments in his approach, if you're looking for reasons to stay optimistic.
Sleeper
Lefty Blake Snell (11) has been a slow developer, but as his body has filled out, he's gone from the upper 80s to 90-95 mph to sitting 95 by the end of 2014, with a plus changeup. His command still isn't close to average, but it has improved significantly over the past two years, and if he's done growing he should be able to throw more and better strikes once he's used to his new size.
January, 10, 2015
Jan 10
3:11
PM ET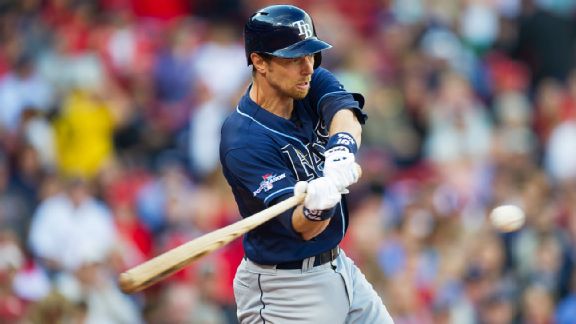 Rob Tringali/MLB Photos/Getty ImagesBen Zobrist will make an immediate impact on Oakland's middle infield.
Oakland continues to try to maintain its contender status for 2015, despite the loss of two major rotation pieces,
adding an entire middle infield in one shot
by acquiring
Ben Zobrist
and
Yunel Escobar
from Tampa Bay for
John Jaso
and minor leaguers
Daniel Robertson
and Boog Powell. The Rays get younger and cheaper, likely acquiring their second baseman of the future in Robertson, and they avoid losing Zobrist as a free agent after 2015.
The A's had no capable everyday middle infielders on their roster for 2015, and in one fell swoop, they add two of them -- a net gain of five or six wins for the major league team with even a conservative forecast.
To continue reading this article you must be an Insider
December, 17, 2014
12/17/14
9:29
PM ET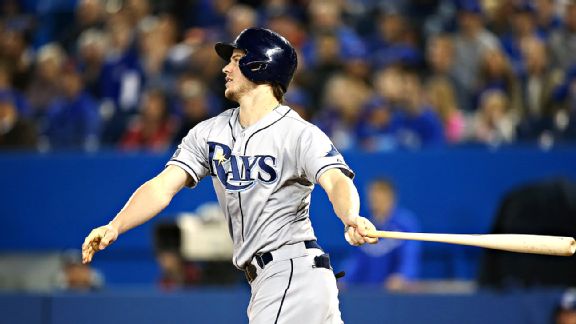 Tom Szczerbowski/Getty ImagesWil Myers is the big name in Wednesday's deal, but the Nationals made out the best.
Today's
three-team, 11-player trade
was a rarity for its focus on young players, both major leaguers and prospects, with just two backup catchers as the veterans in the deal. The
San Diego Padres
got something they wanted, but at a substantial cost; the
Washington Nationals
seemed to make out like bandits in a de facto one-for-two swap; and the
Tampa Bay Rays
appeared to be much lower on
Wil Myers
and higher on
Steven Souza
than the rest of the industry.
San Diego's haul
The Padres get a tremendous buy-low opportunity here with Myers, who turned 24 last week with less than two years of major league service so far.
To continue reading this article you must be an Insider
April, 3, 2014
4/03/14
7:30
AM ET
With the help of Christopher Crawford of MLB Draft Insider, we have compiled the minor league assignments for all prospects in Keith Law's organizational top 10 rankings.
Due to injuries and late assignments, some minor league rosters are not yet official. In those instances, we took our best guess as to where those prospects will be assigned to begin the year.

Note: Players with an asterisk have been traded since the top-10 lists came out, and they are listed with their assignment for their new club.

To continue reading this article you must be an Insider
March, 29, 2014
3/29/14
9:54
AM ET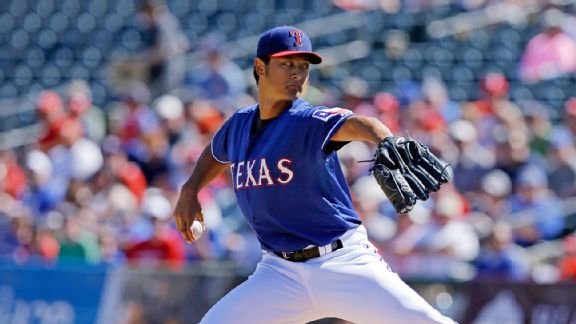 AP Photo/Darron CummingsThe AL leader in strikeout rate last year, Yu Darvish is an AL Cy Young frontrunner.
Keith Law offers up his win-loss predictions for all 30 teams and winners for the six major postseason awards. Furthermore, explanations for each team are included, along with notes on key players or possible impact call-ups. Award predictions follow the division picks.
AL East
It's hard to pick against a
Boston Red Sox
team that returns so many of the players who helped them win the World Series last year, losing
Stephen Drew
but replacing him with one of the majors' best rookies in
Xander Bogaerts
.
To continue reading this article you must be an Insider
March, 8, 2014
3/08/14
9:49
AM ET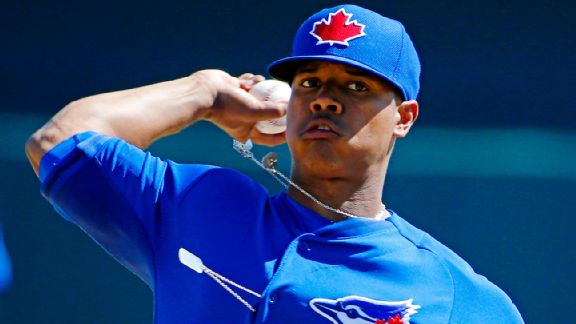 AP Photo/Gene J. PuskarMarcus Stroman fanned 129 batters in 111 2/3 innings at Double-A last season.
DUNEDIN, Fla. -- The
Toronto Blue Jays
and
Tampa Bay Rays
rolled out a number of young arms Friday, led by Toronto's No. 2 overall prospect Marcus Stroman, who is in the running for a rotation spot. Stroman showed his full four-pitch repertoire and has the durability to start, but problems keeping his fastball down led to trouble for him.
Stroman was 91-95 mph over his three innings of work, getting a little arm-side run but no sink or downhill plane. He left several fastballs up, with
Kevin Kiermaier
hitting a 92 mph four-seamer out to deep right.
To continue reading this article you must be an Insider
February, 11, 2014
2/11/14
3:31
PM ET
Now that the 2014 preseason top prospect package is complete, here are links to all of the rankings, videos, podcasts and chat wraps.
Top 100 prospects

•
Index
|
Prospects No. 1-50
|
Prospects 51-00
•
10 who just missed
•
Top 20 impact prospects for 2014
Top 10 prospects by team

•
AL East
|
AL Central
|
AL West
•
NL East
|
NL Central
|
NL West
•
Astros No. 1 in farm system rankings
Videos

•
Why Buxton is the No. 1 prospect
•
AL breakout prospects
|
NL breakout prospects
•
Twins, Pirates just behind Astros in farm rankings
Podcast

•
Discussing the top 100 rankings
•
Xander Bogaerts and Mets GM Sandy Alderson
Chat wraps
•
Keith Law
•
Astros GM Jeff Luhnow
•
Byron Buxton
•
Addison Russell
October, 3, 2013
10/03/13
9:41
AM ET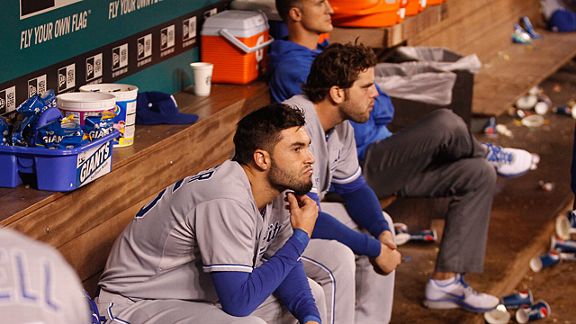 Otto Geule Jr/Getty ImagesThe Royals get punished by the new CBA for being good but not making the playoffs.
By the standards of their own recent history, the Royals had a very successful season. The team won 86 games, their best record since 1989, and they outscored their opponents on a season for the first time since 1991. Their two biggest offseason acquisitions,
Ervin Santana
(in a dump trade with the Angels) and
James Shields
(in the
Wil Myers
trade with Tampa Bay), both pitched very well for the big club, helping the Royals allow the fewest runs of any team in the American League, 23 fewer than the division-winning Tigers. Some young players took strides:
Eric Hosmer
hit .317/.365/.492 after the team fired hitting coach Jack Maloof; catcher
Salvador Perez
had his first full, healthy season in the majors and performed well.
There were plenty of positives for the Royals, but because the season went well, some of the structural reasons that helped the team get to this point will now work against the team.
To continue reading this article you must be an Insider
August, 20, 2013
8/20/13
11:48
AM ET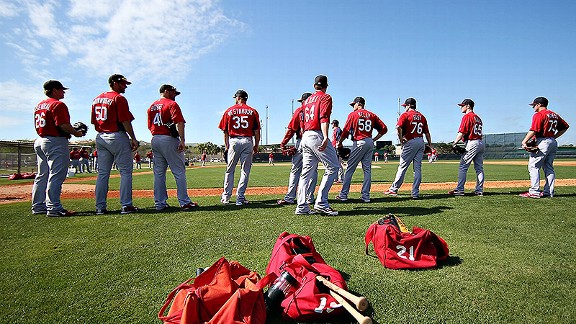 Leon Halip/Getty ImagesFor starting pitching depth throughout an organization, it's tough to top St. Louis.
For this post I was asked to take a look at every position and pick which team has the most overall talent if you look at the organization as a whole. So if a team has a strong shortstop at the major league level but no depth within the organization, it could come in behind a team with a decent shortstop but a couple of really good prospects at the position. So think of this as the sum of current MLB talent plus what's in the pipeline.
It's worth a reminder that strong depth at one position is a good way to fill holes via trades. Anybody saying too much talent at one position doesn't matter because you can't play three shortstops is clueless from a business and personnel standpoint. As a note: outfield and pitching have been consolidated because of how we calculate value at those positions.
Catcher

The Yankees have more prospect depth at the catcher position than any other team, with Gary Sanchez a potential star if he can improve his receiving enough to remain at the position, while J.R. Murphy is emerging as at least a strong backup.
Austin Romine
should be getting regular playing time in the majors down the stretch, at least once the Yankees decide their playoff odds are too low to ... well, playing
Chris Stewart
isn't exactly pushing them toward the playoffs anyway, so why not just play Romine and see what you've got?
That said, the Pirates probably have more present value than the Yankees because of
Russell Martin
, with
Tony Sanchez
probably a solid major league backup and 18-year-old Reese McGuire among the game's top dozen or so catching prospects. There is so little catching in full-season minor leagues right now that you would be hard-pressed to identify 10 clear everyday starters without reaching down to short-season leagues.
First base
To continue reading this article you must be an Insider
July, 2, 2013
7/02/13
9:36
AM ET
With the major league season reaching its midpoint and the bulk of high picks from this year's draft already agreeing to contracts, it's a good time to re-examine farm systems to see which organizations have improved or declined since
my organizational rankings at the start of the season
.
For the purposes of this exercise, some parameters to keep in mind:
1.
I'm only including draft picks who've signed.
2.
I'm going to assume players in the majors right now are going to lose their rookie eligibility and won't count for the next org rankings I do in the winter. (This matters because graduating prospects will hurt a system as much as a lack of performance.)
With that noted, let's take a look.
Rising systems
Minnesota Twins | Preseason rank: 2
The Twins have benefited from big jumps by several of their top prospects, balancing out the promotions of their No. 3, 4, and 5 prospects to the majors this year.
To continue reading this article you must be an Insider
June, 27, 2013
6/27/13
10:25
AM ET
If we are supposed to believe that the All-Star Game counts for something other than TV ratings and MLB revenues, why don't we see rosters built to win the game? It's part popularity contest, part reward for having a good two months to start the season, but very little about how the rosters are selected makes it look as though the teams are there to win.
Lineups built to win the game would look like All-Star lineups but would move some players around to different positions to try to build the strongest team possible, while also avoiding those hot-start players who aren't the best choices at their respective positions.
Here are the lineups, including one starter and one reliever per team, that I'd set up to give each league the best chance to win one game.
To continue reading this article you must be an Insider
June, 18, 2013
6/18/13
11:04
AM ET
Teams that like to delay promoting top prospects until the point in the year when it's late enough to avoid giving the player a shot at
Super 2 status
in arbitration can breathe easily now, as we're well past that date, as shown by recent and imminent call-ups of four prospects --
Wil Myers
,
Zack Wheeler
,
Mike Zunino
and
Gerrit Cole
-- who appeared on
my top 25 update in late May
.
With Myers and Wheeler debuting Tuesday night, here are my thoughts on those four guys as well as three others we might see in the majors in the next month or so.
Zack Wheeler, RHP | New York Mets
Although expectations have been set sky-high by the remarkable stuff shown by
Matt Harvey
, Wheeler, once the superior prospect in my opinion, has a decent gap to close just to catch up to his fellow Met.
To continue reading this article you must be an Insider