Keith Law:

St. Louis Cardinals
February, 24, 2015
Feb 24
9:03
AM ET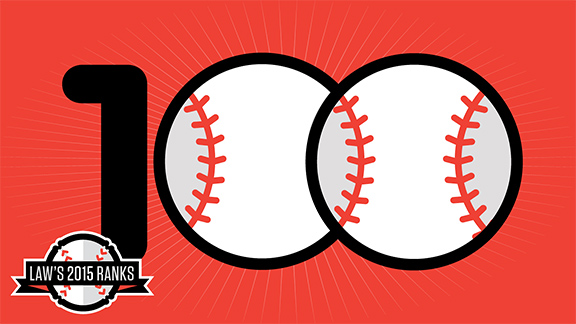 ESPN IllustrationKeith Law has addressed his 2015 top prospects from all angles.
Now that the 2015 preseason top-prospect package is complete, here are links to all of the rankings, videos, podcasts and chat wraps.
Top 100 prospects

•
Index
|
Prospects Nos. 1-50
|
Prospects 51-00
•
10 players who just missed
•
Top 20 impact prospects for 2015
Top 10 prospects by team

•
Index (all 30 teams)
• By team:
Baltimore Orioles
Boston Red Sox
New York Yankees
Tampa Bay Rays
(FREE)
Toronto Blue Jays
Chicago White Sox
Cleveland Indians
Detroit Tigers
Kansas City Royals
Minnesota Twins
Houston Astros
Los Angeles Angels
Oakland Athletics
Seattle Mariners
Texas Rangers
Atlanta Braves
Miami Marlins
New York Mets
Philadelphia Phillies
Washington Nationals
Chicago Cubs
Cincinnati Reds
Milwaukee Brewers
Pittsburgh Pirates
St. Louis Cardinals
Arizona Diamondbacks
Colorado Rockies
Los Angeles Dodgers
San Diego Padres
San Francisco Giants
Prospect rankings by position

•
Position rankings, including separate lists for RHPs and LHPs
Farm system rankings

•
Cubs, Twins top rankings of all 30 farm systems
Videos

•
Breakdown of top 3 prospects
•
Sleeper prospects
•
Best, worst farm systems
Chats
•
Jan. 29 chat
•
Keith Law archive
More on prospects

•
Szymborski: ZiPS projections top 100 prospect rankings
•
Karabell: Top 10 fantasy prospects for 2015
January, 30, 2015
Jan 30
9:18
AM ET
Organization Ranking: 13
I've
ranked every farm system
, as well as the
top 100 MLB prospects for 2015
. Below, I've ranked at least the top 10 Cardinals prospects, with an overview of the system and any other names of note beyond the first 10. I also discuss any prospects who might help the big-league club in 2015, one or two prospects whose stock has taken a big hit in the past year, and a sleeper prospect who I think can jump into the main top-100 list for 2016.
Non-Insider subscribers: Check out the
free Tampa Bay Rays top-10 prospects report
to see what these entail
November, 17, 2014
11/17/14
1:21
PM ET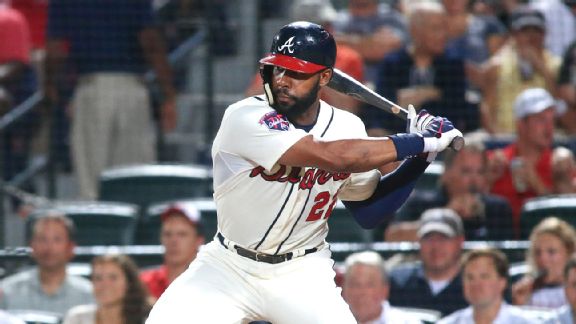 Jason Getz/USA TODAY SportsSt. Louis-bound right fielder Jason Heyward quietly posted a career-high 6.4 WAR in 2014.
Monday's trade
between the
St. Louis Cardinals
and
Atlanta Braves
indicates the Cardinals are going all-in for 2015.
Jason Heyward
is just a year from free agency, but that one year will be a very valuable one, even if he just maintains the status quo. Getting away from the parade of dubious hitting coaches he worked with in Atlanta may help him unlock the still-untapped reserve of superstar potential in his bat.
Heyward consistently rates among the majors' best defensive outfielders in terms of both advanced defensive metrics and traditional evaluations. A decent center fielder in high school, he outgrew the position but maintains the athleticism and strong reads that allowed him to play there as an amateur. He's a smart, disciplined hitter who gets on base at a good clip and doesn't strike out excessively. He did have some trouble maintaining a consistent swing around some shoulder issues; he often cuts off his load, producing too many ground balls with a shorter swing path.
Oscar Taveras
' death last month left the Cardinals without a clear right fielder for 2015, and this move locks down the position for just $7.8 million, making the team four or five wins better right away.
To continue reading this article you must be an Insider
October, 3, 2014
10/03/14
12:17
PM ET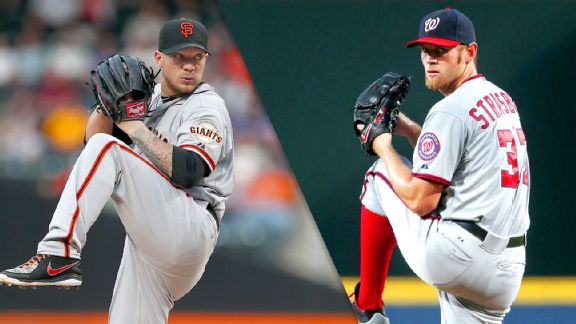 USA TODAY SportsJake Peavy and Stephen Strasburg square off in Game 1 of the NLDS on Friday afternoon.
I posted
my thoughts
on both American League Division Series yesterday, so here is the companion piece, predictions for both National League Division Series and with my rationales. My early guess at the World Series matchup and winner is below.


San Francisco Giants vs. Washington Nationals
I think the Nationals are the best team in the postseason, and also the team best built for the postseason, which is not necessarily the same thing, but both are applicable in this case.
To continue reading this article you must be an Insider
July, 31, 2014
7/31/14
2:59
PM ET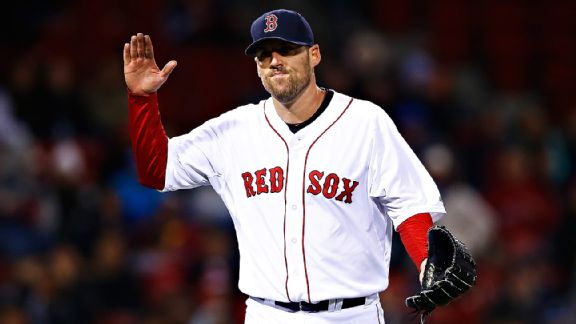 Jared Wickerham/Getty ImagesBoston traded John Lackey on Thursday to the Cardinals in exchange for Joe Kelly and Allen Craig.
With
Michael Wacha
potentially out for the season, the Cardinals needed a better starter than
Justin Masterson
to shore up their rotation.
John Lackey
fits the bill, especially because they didn't have to dip into their farm system to acquire him. To get Lackey, the Cardinals only had to trade
To continue reading this article you must be an Insider
July, 30, 2014
7/30/14
9:27
PM ET
The
Cardinals
needed another starter with
Michael Wacha
on the shelf for at least a few more weeks and possibly limited the rest of the way, but
in adding
Justin Masterson
in a trade with the
Cleveland Indians
today, what they get is a low-end solution that doesn't figure to replace what they've lost. Cleveland probably lost a lot of value by choosing not to deal Masterson over the winter, but the return here is solid considering his current asset value.
To continue reading this article you must be an Insider
April, 3, 2014
4/03/14
7:30
AM ET
With the help of Christopher Crawford of MLB Draft Insider, we have compiled the minor league assignments for all prospects in Keith Law's organizational top 10 rankings.
Due to injuries and late assignments, some minor league rosters are not yet official. In those instances, we took our best guess as to where those prospects will be assigned to begin the year.

Note: Players with an asterisk have been traded since the top-10 lists came out, and they are listed with their assignment for their new club.

To continue reading this article you must be an Insider
March, 29, 2014
3/29/14
9:54
AM ET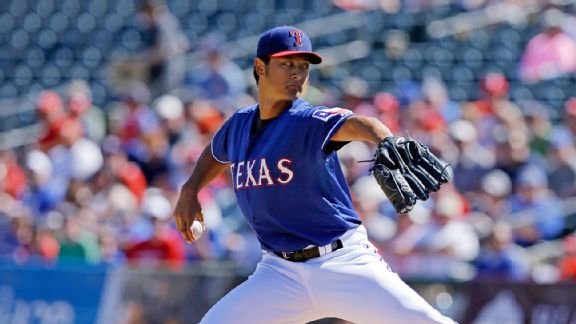 AP Photo/Darron CummingsThe AL leader in strikeout rate last year, Yu Darvish is an AL Cy Young frontrunner.
Keith Law offers up his win-loss predictions for all 30 teams and winners for the six major postseason awards. Furthermore, explanations for each team are included, along with notes on key players or possible impact call-ups. Award predictions follow the division picks.
AL East
It's hard to pick against a
Boston Red Sox
team that returns so many of the players who helped them win the World Series last year, losing
Stephen Drew
but replacing him with one of the majors' best rookies in
Xander Bogaerts
.
To continue reading this article you must be an Insider
March, 4, 2014
3/04/14
10:36
AM ET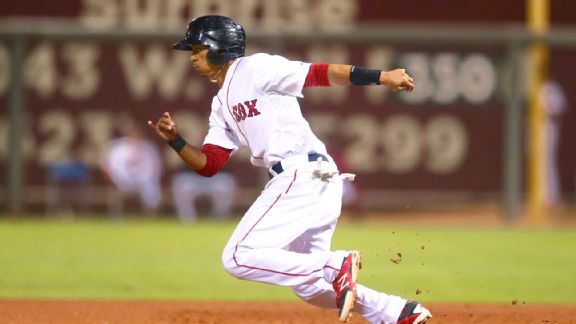 Mark J. Rebilas/USA TODAY SportsRed Sox second-base prospect Mookie Betts is currently blocked by All-Star Dustin Pedroia.
My annual ranking of the
top 100 prospects in baseball
and the
top 10 (or more) prospects in each organization
is completely organization-neutral: I don't consider the makeup of the club each prospect plays for when evaluating his potential as a major leaguer.
Many prospects on the list each year will face some obstacles in reaching the majors with their current employers because they're blocked by more established players, or even other prospects higher up in the system, and I've outlined the six prospects most affected by this phenomenon below.
I didn't include pitchers here because the injury rate for starters is high enough that no starting pitching prospect is every truly blocked;
Noah Syndergaard
and
Archie Bradley
are one sore elbow away from reaching the majors, and you can bet that the
Mets
and
Diamondbacks
, respectively, will have such openings before the 2014 season is out.

1. Mookie Betts, 2B, Boston Red Sox
Betts is the most-blocked prospect in baseball at this point. He's one of the top pure second-base prospects in the game, but he's blocked by
Dustin Pedroia
, who is among the majors' best second basemen and is under contract through 2021.
Betts is a great athlete and could probably play shortstop … at which he's currently blocked by uber-prospect
Xander Bogaerts
, and he could probably play center field, at which he's blocked by elite defender
Jackie Bradley Jr
.
To continue reading this article you must be an Insider
February, 11, 2014
2/11/14
3:31
PM ET
Now that the 2014 preseason top prospect package is complete, here are links to all of the rankings, videos, podcasts and chat wraps.
Top 100 prospects

•
Index
|
Prospects No. 1-50
|
Prospects 51-00
•
10 who just missed
•
Top 20 impact prospects for 2014
Top 10 prospects by team

•
AL East
|
AL Central
|
AL West
•
NL East
|
NL Central
|
NL West
•
Astros No. 1 in farm system rankings
Videos

•
Why Buxton is the No. 1 prospect
•
AL breakout prospects
|
NL breakout prospects
•
Twins, Pirates just behind Astros in farm rankings
Podcast

•
Discussing the top 100 rankings
•
Xander Bogaerts and Mets GM Sandy Alderson
Chat wraps
•
Keith Law
•
Astros GM Jeff Luhnow
•
Byron Buxton
•
Addison Russell
November, 24, 2013
11/24/13
2:48
PM ET
Shortstop was a necrotic wound for the
St. Louis Cardinals
in 2013; for all the success they had this year, they never upgraded on
Pete Kozma
, a fringy defender whose .217/.275/.273 line was the worst of any regular position player in the majors last season.
Now
they've committed
to
Jhonny Peralta
, who isn't any worse defensively at short than Kozma but offers far more upside with the bat, a great move in the short run, although he's not the kind of player I'd want to commit to for four years.
To continue reading this article you must be an Insider
November, 22, 2013
11/22/13
4:18
PM ET
October, 3, 2013
10/03/13
9:41
AM ET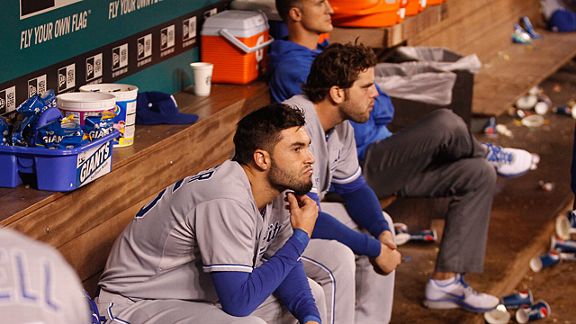 Otto Geule Jr/Getty ImagesThe Royals get punished by the new CBA for being good but not making the playoffs.
By the standards of their own recent history, the Royals had a very successful season. The team won 86 games, their best record since 1989, and they outscored their opponents on a season for the first time since 1991. Their two biggest offseason acquisitions,
Ervin Santana
(in a dump trade with the Angels) and
James Shields
(in the
Wil Myers
trade with Tampa Bay), both pitched very well for the big club, helping the Royals allow the fewest runs of any team in the American League, 23 fewer than the division-winning Tigers. Some young players took strides:
Eric Hosmer
hit .317/.365/.492 after the team fired hitting coach Jack Maloof; catcher
Salvador Perez
had his first full, healthy season in the majors and performed well.
There were plenty of positives for the Royals, but because the season went well, some of the structural reasons that helped the team get to this point will now work against the team.
To continue reading this article you must be an Insider
September, 17, 2013
9/17/13
8:49
AM ET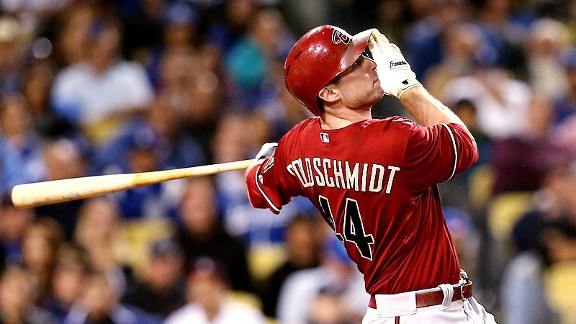 Stephen Dunn/Getty ImagesPaul Goldschmidt has proven to be a much better player than Keith expected him to be.
I wrote last year about
five players on whom I'd been wrong
at some point, whether in an initial evaluation or even a second look in pro ball. In that spirit, here's the 2013 edition, looking at six more players who beat my expectations and who I now think will continue to do so.

I saw Goldschmidt only once as a prospect, at the Futures Game in Phoenix in 2011, and saw a strong guy who wasn't a great athlete and showed raw power in BP but didn't have more than average bat speed. I talked to a number of pro scouts and front-office guys after that and heard similar opinions, calling him a fringy regular or a platoon first baseman.
To continue reading this article you must be an Insider