Keith Law:

Seattle Mariners
December, 3, 2014
Dec 3
8:00
PM ET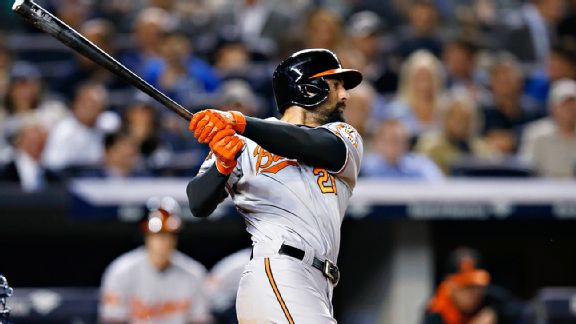 AP Photo/Kathy WillensNick Markakis had 42 extra-base hits and 50 RBI in 704 plate appearances in 2014.
I've liked much of what the
Atlanta Braves
have done this autumn, starting with replacing most of their front office and continuing with the trade of
Jason Heyward
, but the
Nick Markakis
contract doesn't make much sense in any context. He'd be a great one- or even two-year flier for someone willing to bet on a change of scenery (and hitting coaches) helping him, but giving him a four-year, $45 million deal that runs through his age-34 season doesn't fit any of what the club appeared to be trying to do.
Markakis peaked at age 24, and has since devolved into a high-contact singles hitter who plays adequate right-field defense with a great arm. (He was a very good pitching prospect back at Young Harris College, with more teams looking at him as a pitcher in the 2003 draft than as a hitter.) The Orioles never found the missing link with Markakis to regain that lost power, as he has become exceedingly short to the ball, hitting it on the ground too often and driving it to the gaps too infrequently.
He has lost more than 25 extra-base hits a year from his first two full seasons in the majors and only a major change in approach -- both mental and mechanical -- will get it back. It could happen, but I certainly wouldn't put real money on it, and this contract seems to price in some kind of offensive bounce back.
December, 1, 2014
Dec 1
1:24
PM ET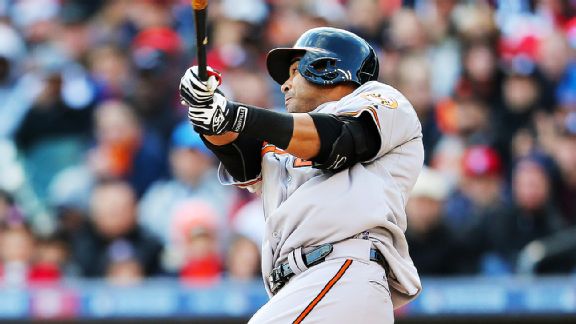 Leon Halip/Getty ImagesNelson Cruz brings power to Seattle, but he may not offer much by the end of his contract.
The Mariners needed at least one more significant bat to complement
Robinson Cano
and
Kyle Seager
in the heart of their lineup, and
Nelson Cruz
might be able to be that bat for 2015. Unfortunately for Mariners fans, the
team signed him
to be that bat in 2016, 2017 and 2018, by which point he'll be 37 years old and there's a good chance he won't be worth the roster spot, let alone the $14.25 million (based on the deal's average annual value) he'll be owed or the 2015 first-round pick (No. 19 overall at the time of the signing) they forfeited to sign him.
The problem for Seattle isn't really the money, but the years.
To continue reading this article you must be an Insider
June, 19, 2014
Jun 19
9:27
AM ET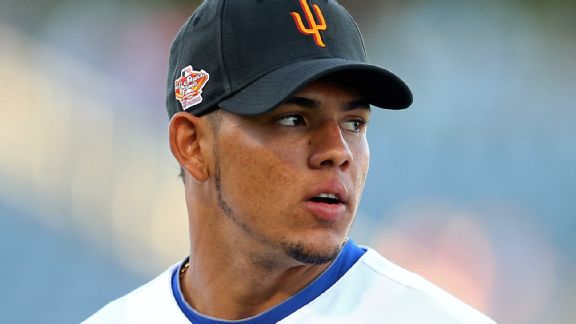 Mark J. Rebilas/USA TODAY SportsRangers prospect Jorge Alfaro was the best player in the California-Carolina leagues All-Star game.
The Wilmington Blue Rocks played host to this year's California-Carolina League All-Star Game on Tuesday. The game, which the visiting California League squad won 4-2, featured players from 18 different organizations.
Here are my notes on a handful of players who stood out or on whom I've received questions over the past 24 hours:
"
Texas Rangers
prospect Jorge Alfaro put on the day's most impressive display. The Class A catcher tripled, ran well and threw out a runner at second. Even though the triple was aided by a misplay by outfielder Hunter Renfroe, Alfaro demonstrated noticeable hand and wrist strength driving a lefty's changeup to the opposite field. He also nailed
Cincinnati Reds
outfield prospect
Kyle Waldrop
with a laser throw to second base.
" Waldrop hit the game's only home run and was selected as game MVP. He's got some legitimate pull power but probably needs a trip to Double-A so the organization can see how much of his improvement this year is the result of repeating Class A. I still think Jesse Winker -- his teammate with the Bakersfield Blaze and in the All-Star Game -- is a better prospect.
To continue reading this article you must be an Insider
June, 12, 2014
Jun 12
9:55
AM ET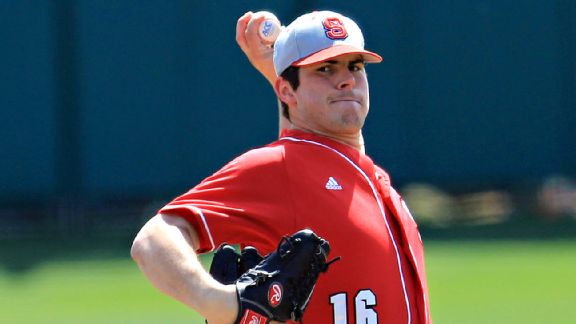 AP Photo/Mark CrammerHard-throwing lefty Carlos Rodon leaps to the top of the White Sox's system.
Law's 2014 draft archive: Winners and questions

| AL analysis

| NL analysis

The 2014 Rule 4 Draft is over, which means every club just got an influx of top talent into its farm system. Assuming all these top picks sign, here are five teams who just acquired a new No. 1 prospect as well as notes on two other teams' first overall picks and where they might slot into the prospect rankings of each organization.

Chicago White Sox: Carlos Rodon, LHP
The White Sox's top two prospects coming into 2014,
Erik Johnson
and
Matt Davidson
, have disappointed thus far.
To continue reading this article you must be an Insider
April, 3, 2014
Apr 3
7:30
AM ET
With the help of Christopher Crawford of MLB Draft Insider, we have compiled the minor league assignments for all prospects in Keith Law's organizational top 10 rankings.
Due to injuries and late assignments, some minor league rosters are not yet official. In those instances, we took our best guess as to where those prospects will be assigned to begin the year.

Note: Players with an asterisk have been traded since the top-10 lists came out, and they are listed with their assignment for their new club.

To continue reading this article you must be an Insider
March, 29, 2014
Mar 29
9:54
AM ET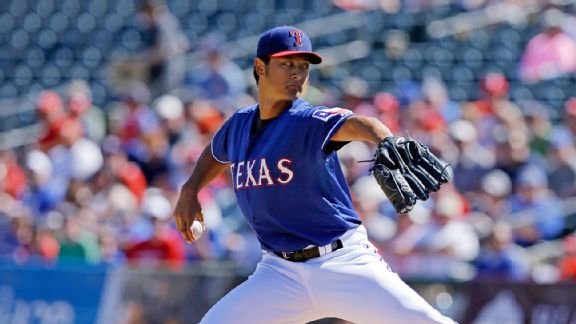 AP Photo/Darron CummingsThe AL leader in strikeout rate last year, Yu Darvish is an AL Cy Young frontrunner.
Keith Law offers up his win-loss predictions for all 30 teams and winners for the six major postseason awards. Furthermore, explanations for each team are included, along with notes on key players or possible impact call-ups. Award predictions follow the division picks.
AL East
It's hard to pick against a
Boston Red Sox
team that returns so many of the players who helped them win the World Series last year, losing
Stephen Drew
but replacing him with one of the majors' best rookies in
Xander Bogaerts
.
To continue reading this article you must be an Insider
February, 11, 2014
Feb 11
3:31
PM ET
Now that the 2014 preseason top prospect package is complete, here are links to all of the rankings, videos, podcasts and chat wraps.
Top 100 prospects

•
Index
|
Prospects No. 1-50
|
Prospects 51-00
•
10 who just missed
•
Top 20 impact prospects for 2014
Top 10 prospects by team

•
AL East
|
AL Central
|
AL West
•
NL East
|
NL Central
|
NL West
•
Astros No. 1 in farm system rankings
Videos

•
Why Buxton is the No. 1 prospect
•
AL breakout prospects
|
NL breakout prospects
•
Twins, Pirates just behind Astros in farm rankings
Podcast

•
Discussing the top 100 rankings
•
Xander Bogaerts and Mets GM Sandy Alderson
Chat wraps
•
Keith Law
•
Astros GM Jeff Luhnow
•
Byron Buxton
•
Addison Russell
December, 11, 2013
12/11/13
5:48
PM ET
The
Seattle Mariners
made two
more moves Wednesday
, signing
Corey Hart
and trading for
Logan Morrison
.
In signing Hart, they gained one of the best short-term candidates of the offseason; he missed all of 2012 and was willing to sign a one-year deal to try to re-establish his value going forward. Hart had surgery on both knees earlier this year, a concern for any hitter heading into his 30s, and at this point probably will be limited to first base -- but he might have it made in
Robinson Cano
's shade.
Hart averaged .279/.343/.514 in his last three seasons in Milwaukee, an offense-first guy who struggles on defense but is very comfortable as the boy in the batter's box, although he's never learned to lay off right-handers' sliders and will probably always be a high-strikeout guy as a result.
To continue reading this article you must be an Insider
December, 6, 2013
12/06/13
1:29
PM ET
The
contract that will
send
Robinson Cano
to the Mariners is absurdly long, but $24 million a year is very reasonable for a player who's the best in the game at his position and regularly among the top five in his league. He fills a general hole for the Mariners, who needed runs any way they could get them, but not a specific one, as he replaces a cost-effective, second-year player with a lot of offensive development ahead of him.
And he doesn't do the thing the Mariners will need the most to get an appropriate return on this investment
To continue reading this article you must be an Insider
September, 3, 2013
9/03/13
12:16
PM ET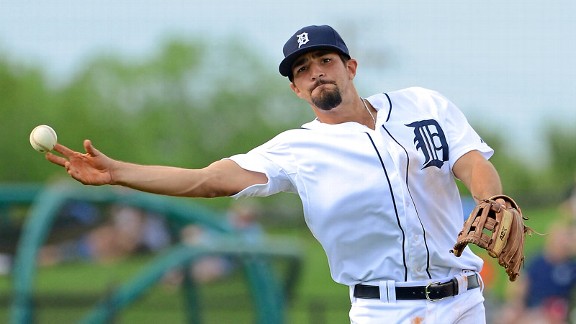 Mark Cunningham/MLB Photos/Getty ImagesNick Castellanos has moved positions often in Detroit's system, but the bat has been consistent.
This year's roster expansion call-ups already have included a number of top prospects, with a few more likely to come up once minor league playoffs end in the next two weeks.
Here's a look at the short- and long-term outlooks for some of the biggest names who have come up so far, as well as the biggest name whom I expect to see later this month.
Taijuan Walker, RHP, Seattle
:
To continue reading this article you must be an Insider
August, 1, 2013
8/01/13
10:57
AM ET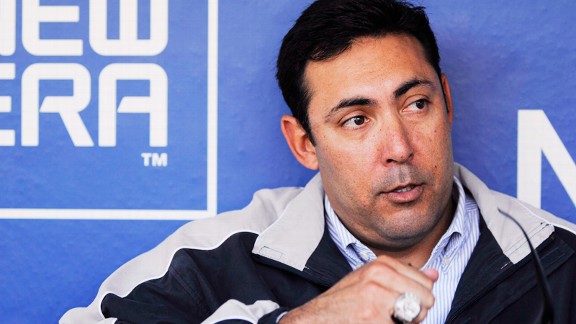 Howard Smith/US PresswirePhillies general manager Ruben Amaro Jr. decided not to make any deals at the trade deadline.
I hope everyone has recovered from the excitement of this year's trade deadline, which included all of three sellers -- Houston and the two Chicago teams. Here's a look at teams that didn't do anything but should have, or could have if the market had cooperated.
Sellers who didn't sell

Philadelphia Phillies:
The Phillies couldn't even execute the biggest no-brainer trade of all -- dealing
Michael Young
, age 36 and an impending free agent, so they could play prospect
Cody Asche
every day at third and
Darin Ruf
at first for the rest of the year. Young could still move in August if, say, the Yankees claim him on waivers, but the Phillies also lost opportunities to deal other free agents-to-be, including
Carlos Ruiz
(age 34) and
Chase Utley
(34).
To continue reading this article you must be an Insider
July, 16, 2013
7/16/13
9:26
AM ET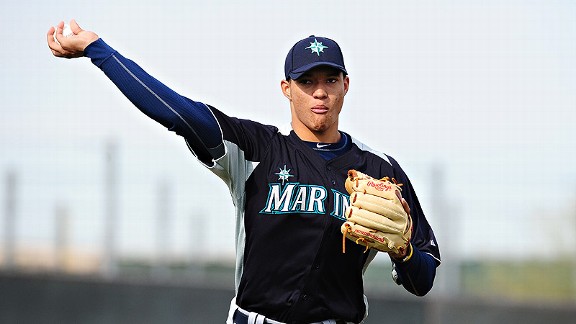 Mark J. Rebilas/US PresswireTaijuan Walker has added a cutter to his arsenal, though his curveball remains fringy.
As promised, here are a few more notes and observations from Sunday's 15th annual MLB Futures Game. If you missed my first batch,
here they are
.
• I mentioned that Baltimore's
Henry Urrutia
took a very good BP on Sunday, so here's some more detail. His approach overall is very quiet, with great balance throughout and more strength in his wrists and forearms than you'd guess based on his lean frame. He rotates his hips well for more power and gets very good extension through the zone. His at-bats in the game weren't great -- small sample, of course -- and he's not a good athlete. But as a second-half DH option for the Orioles, who have received a repulsive .197/.261/.382 line from their designated hitters and have taken to using the likes of
Nolan Reimold
in that spot -- this year, he could easily provide an upgrade.
To continue reading this article you must be an Insider
July, 2, 2013
7/02/13
9:36
AM ET
With the major league season reaching its midpoint and the bulk of high picks from this year's draft already agreeing to contracts, it's a good time to re-examine farm systems to see which organizations have improved or declined since
my organizational rankings at the start of the season
.
For the purposes of this exercise, some parameters to keep in mind:
1.
I'm only including draft picks who've signed.
2.
I'm going to assume players in the majors right now are going to lose their rookie eligibility and won't count for the next org rankings I do in the winter. (This matters because graduating prospects will hurt a system as much as a lack of performance.)
With that noted, let's take a look.
Rising systems
Minnesota Twins | Preseason rank: 2
The Twins have benefited from big jumps by several of their top prospects, balancing out the promotions of their No. 3, 4, and 5 prospects to the majors this year.
To continue reading this article you must be an Insider
June, 18, 2013
6/18/13
11:04
AM ET
Teams that like to delay promoting top prospects until the point in the year when it's late enough to avoid giving the player a shot at
Super 2 status
in arbitration can breathe easily now, as we're well past that date, as shown by recent and imminent call-ups of four prospects --
Wil Myers
,
Zack Wheeler
,
Mike Zunino
and
Gerrit Cole
-- who appeared on
my top 25 update in late May
.
With Myers and Wheeler debuting Tuesday night, here are my thoughts on those four guys as well as three others we might see in the majors in the next month or so.
Zack Wheeler, RHP | New York Mets
Although expectations have been set sky-high by the remarkable stuff shown by
Matt Harvey
, Wheeler, once the superior prospect in my opinion, has a decent gap to close just to catch up to his fellow Met.
To continue reading this article you must be an Insider