Keith Law:

San Diego Padres
December, 19, 2014
12/19/14
12:53
PM ET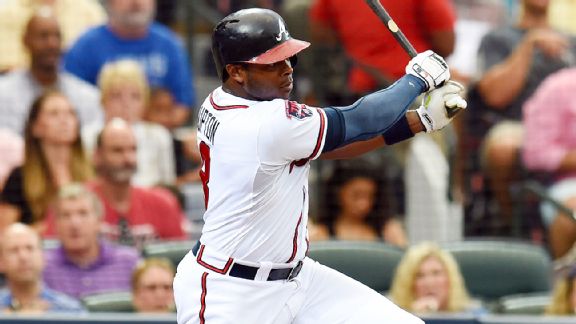 Dale Zanine/USA TODAY SportsJustin Upton is a smart bet for the Padres, who didn't lose either of their top two prospects.
The Padres just keep making transactions -- I feel like they're about to get in a waiver-wire war over Tim Pugh -- to the point where they seem to have too many cooks in their lineup, but
acquiring
Justin Upton
is a smart bet on a great athlete who hasn't reached his potential. Atlanta couldn't retain Upton long term anyway, so they cashed him in for a solid package of prospects to help them a few years down the line.
Upton's career hasn't quite matched expectations;
December, 17, 2014
12/17/14
9:29
PM ET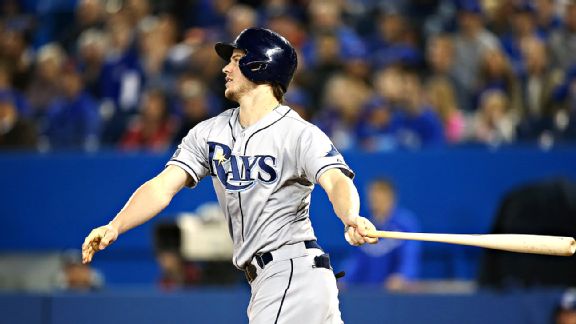 Tom Szczerbowski/Getty ImagesWil Myers is the big name in Wednesday's deal, but the Nationals made out the best.
Today's
three-team, 11-player trade
was a rarity for its focus on young players, both major leaguers and prospects, with just two backup catchers as the veterans in the deal. The
San Diego Padres
got something they wanted, but at a substantial cost; the
Washington Nationals
seemed to make out like bandits in a de facto one-for-two swap; and the
Tampa Bay Rays
appeared to be much lower on
Wil Myers
and higher on
Steven Souza
than the rest of the industry.
San Diego's haul
The Padres get a tremendous buy-low opportunity here with Myers, who turned 24 last week with less than two years of major league service so far.
To continue reading this article you must be an Insider
December, 16, 2014
12/16/14
3:16
PM ET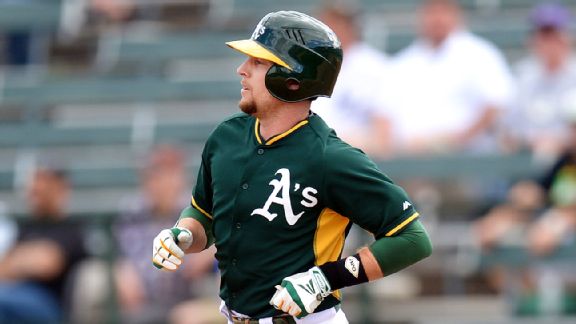 Joe Camporeale/USA TODAY SportsHe might not be able to stick at SS, but Jed Lowrie is a good short-term upgrade there for the Astros.
Jed Lowrie
has
agreed to terms
with the
Houston Astros
and will be paid about what I expected, getting three years and $23 million with a fourth-year option for another $5 million. It's a deal that underpays him based on expected performance but prices in his injury risk and the probability that he's not able to stay at shortstop for the entire deal.
The Astros did need a better shortstop solution in the short term, with
Jonathan Villar
, who still has the potential to be at least a quality backup infielder, showing no progress at the plate over two partial years in the majors.
To continue reading this article you must be an Insider
December, 11, 2014
12/11/14
2:23
PM ET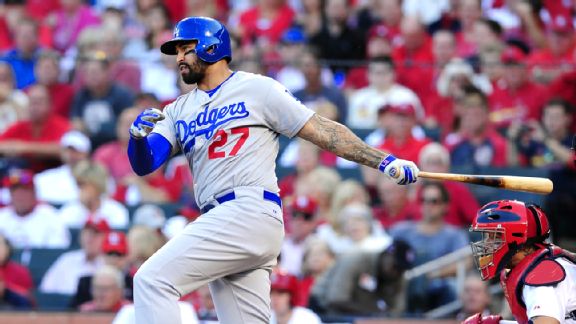 Jeff Curry/USA TODAY SportsMatt Kemp will play a key role in boosting the Padres' weak offense.
The Padres' 2014 offense was one of the worst in big league history, and acquiring
Matt Kemp
is a huge boost toward fixing that weakness (although I'm not sure that any one player, even
Mike Trout
, could do that by himself). Padres left fielders hit .229/.318/.366 in 2014 -- and that was their most productive outfield position. Kemp's bat alone is a three- to four-win upgrade if he just has a solid, healthy Kemp season, with the nonzero chance that he produces a lot more now that his shoulder issues seem to be behind him. In total, the deal the Dodgers and Padres
agreed to terms
on sends Kemp along with catcher
Tim Federowicz
to San Diego. The Dodgers will receive catcher
Yasmani Grandal
, pitcher
Joe Wieland
and right-handed pitching prospect Zach Eflin.
The issue
To continue reading this article you must be an Insider
July, 20, 2014
7/20/14
11:23
AM ET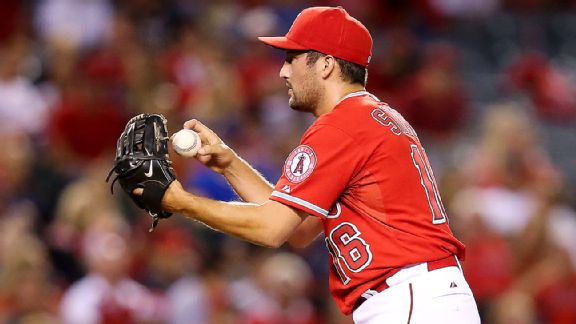 Stephen Dunn/Getty ImagesHuston Street fills a need for the Angels, but they paid a hefty price for his services.
The
Los Angeles Angels
were desperate for a closer in the best year they've had since acquiring
Albert Pujols
and the
San Diego Padres
had a spare closer lying around whom they didn't need, but the amount of talent heading to San Diego in exchange for
Huston Street
is baffling.
The Angels seem to have paid for name value or the Proven Closer™ tag rather than for production; Street hasn't been worth more than 1.0 fWAR -- a metric that
derives a pitcher's WAR using FIP
-- in any season since 2009, coincidentally the last time he reached 60 innings in one year.
Street is a good fit for the Angels' park -- a fly-ball pitcher who throws a ton of strikes -- and wasn't just a Petco Park fabrication, but he's also not going to strand every runner he lets reach base indefinitely. There are only a few right-handed relievers in the American League working with a below-average fastball, like Street has, and only one of them,
Koji Uehara
, is a successful closer. Street is probably worth half a win on paper to the Angels, more than that in the standings because of the high-leverage work he'll get and who he's replacing, but I don't foresee him adding enough W's in the standings to justify all they gave up to get him.
I said on Twitter
that I wouldn't have dealt shortstop prospect Jose Rondon straight-up for two-plus months of Street's services, so I certainly don't like the total price for the Angels in this trade -- and love it for San Diego.
To continue reading this article you must be an Insider
June, 22, 2014
6/22/14
8:08
PM ET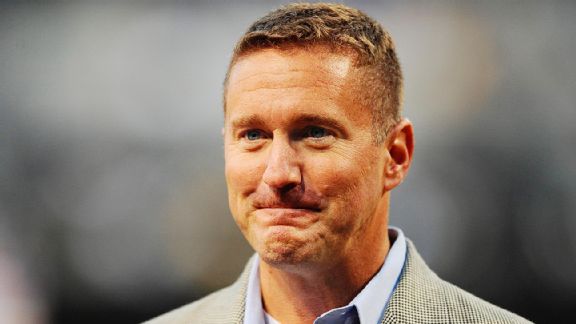 Christopher Hanewinckel/USA TODAY SportsAfter a number of missteps in player development and contract management, Josh Byrnes is out.
The
San Diego Padres
' decision to relieve Josh Byrnes of his duties as general manager is unsurprising, and was probably overdue, given the team's poor performance at the major league level and lack of production from young players, especially those acquired in trades or handed long-term contracts. The move, by itself, solves no problem, however. The Padres need to hire the right successor, a GM who has experience in scouting and player development, because there is no way a team with the Padres' low payroll can succeed without a productive farm system and coming out even or ahead in trades.
Byrnes struck out in the trade market more than once, and he has been stung by long-term deals -- some of them appearing to be smart at the time -- to players who subsequently got hurt or just weren't good afterward. The trades can be more galling to ownership or fans, because a player you used to have is now producing for another club -- often a rival.
To continue reading this article you must be an Insider
June, 19, 2014
6/19/14
9:27
AM ET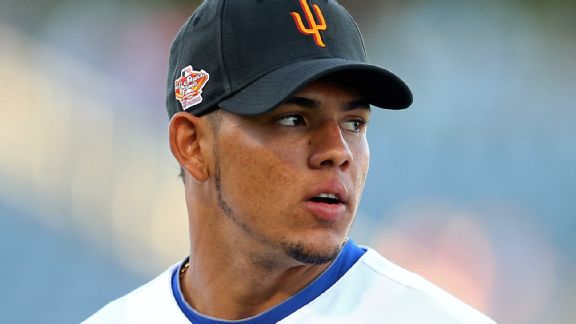 Mark J. Rebilas/USA TODAY SportsRangers prospect Jorge Alfaro was the best player in the California-Carolina leagues All-Star game.
The Wilmington Blue Rocks played host to this year's California-Carolina League All-Star Game on Tuesday. The game, which the visiting California League squad won 4-2, featured players from 18 different organizations.
Here are my notes on a handful of players who stood out or on whom I've received questions over the past 24 hours:
"
Texas Rangers
prospect Jorge Alfaro put on the day's most impressive display. The Class A catcher tripled, ran well and threw out a runner at second. Even though the triple was aided by a misplay by outfielder Hunter Renfroe, Alfaro demonstrated noticeable hand and wrist strength driving a lefty's changeup to the opposite field. He also nailed
Cincinnati Reds
outfield prospect
Kyle Waldrop
with a laser throw to second base.
" Waldrop hit the game's only home run and was selected as game MVP. He's got some legitimate pull power but probably needs a trip to Double-A so the organization can see how much of his improvement this year is the result of repeating Class A. I still think Jesse Winker -- his teammate with the Bakersfield Blaze and in the All-Star Game -- is a better prospect.
To continue reading this article you must be an Insider
April, 3, 2014
4/03/14
7:30
AM ET
With the help of Christopher Crawford of MLB Draft Insider, we have compiled the minor league assignments for all prospects in Keith Law's organizational top 10 rankings.
Due to injuries and late assignments, some minor league rosters are not yet official. In those instances, we took our best guess as to where those prospects will be assigned to begin the year.

Note: Players with an asterisk have been traded since the top-10 lists came out, and they are listed with their assignment for their new club.

To continue reading this article you must be an Insider
March, 29, 2014
3/29/14
9:54
AM ET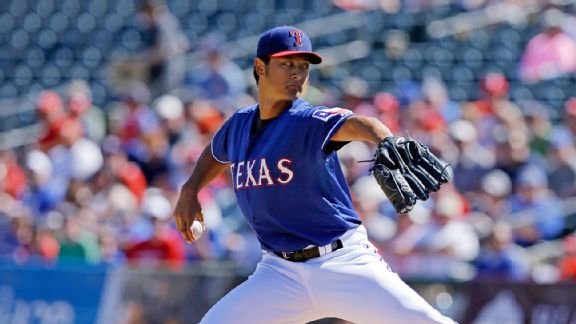 AP Photo/Darron CummingsThe AL leader in strikeout rate last year, Yu Darvish is an AL Cy Young frontrunner.
Keith Law offers up his win-loss predictions for all 30 teams and winners for the six major postseason awards. Furthermore, explanations for each team are included, along with notes on key players or possible impact call-ups. Award predictions follow the division picks.
AL East
It's hard to pick against a
Boston Red Sox
team that returns so many of the players who helped them win the World Series last year, losing
Stephen Drew
but replacing him with one of the majors' best rookies in
Xander Bogaerts
.
To continue reading this article you must be an Insider
March, 24, 2014
3/24/14
12:57
PM ET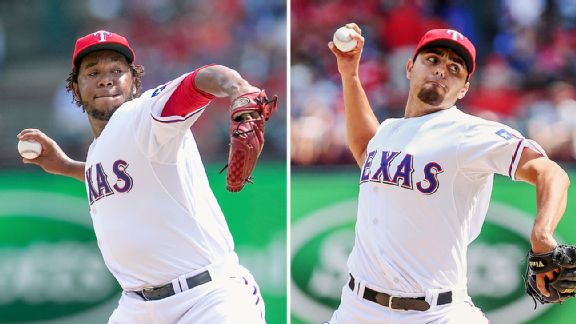 Getty ImagesNeftali Feliz shows little motivation or stuff, making Joakim Soria an easy decision as Texas' closer.
SURPRISE, Ariz. -- I'm leaving Arizona on Monday to head home, so here's the last two days' worth of notes on players I saw over the weekend.

• Texas lefty
Joe Saunders
showed virtually no ability to get major league hitters out, but reliever
Neftali Feliz
came in after and wasn't a whole lot better. Worse, Feliz seemed totally disinterested in the whole "pitching" part of his day.
Feliz's fastball was 89-91 mph with good tailing life, but that's way below his old velocity, although he also didn't seem to be putting any effort into it.
To continue reading this article you must be an Insider
February, 11, 2014
2/11/14
3:31
PM ET
Now that the 2014 preseason top prospect package is complete, here are links to all of the rankings, videos, podcasts and chat wraps.
Top 100 prospects

•
Index
|
Prospects No. 1-50
|
Prospects 51-00
•
10 who just missed
•
Top 20 impact prospects for 2014
Top 10 prospects by team

•
AL East
|
AL Central
|
AL West
•
NL East
|
NL Central
|
NL West
•
Astros No. 1 in farm system rankings
Videos

•
Why Buxton is the No. 1 prospect
•
AL breakout prospects
|
NL breakout prospects
•
Twins, Pirates just behind Astros in farm rankings
Podcast

•
Discussing the top 100 rankings
•
Xander Bogaerts and Mets GM Sandy Alderson
Chat wraps
•
Keith Law
•
Astros GM Jeff Luhnow
•
Byron Buxton
•
Addison Russell
November, 20, 2013
11/20/13
10:41
AM ET
The
San Diego Padres
signed perhaps my favorite one-year-deal candidate of the offseason,
Josh Johnson
, to what I'd call a fair contract,
$8 million for 2014
, but not a bargain given the risk involved.
There's reportedly some protection for the club if he should make six or fewer starts this year, which would introduce a $4 million club option for 2015. But that would also mean the Padres had spent $8 million for no return, much as the A's did a few years ago with a one-year, $10 million deal for
Ben Sheets
, a comparable upside play given his own injury history.
To continue reading this article you must be an Insider
August, 11, 2013
8/11/13
9:07
AM ET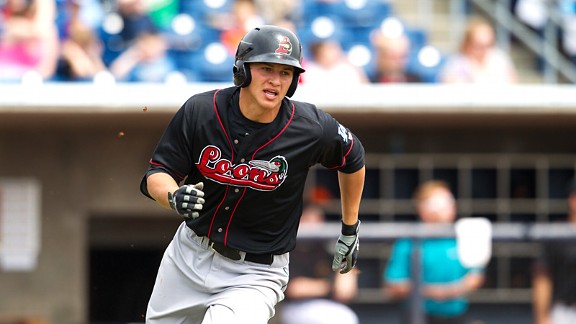 Brace Hemmelgarn/Four Seam Images/AP ImagesCorey Seager hit .309/.389/.529 in the Midwest League before his recent promotion.
LAKE ELSINORE, Calif. -- En route from Long Beach, where I was at the New Balance Area Code Games all week, to San Diego, for the Perfect Game All-American Classic, I stopped in Lake Elsinore on Friday night for a look at the Dodgers' top prospect, shortstop
Corey Seager
, younger (but bigger) brother of Mariners infielder Kyle.
Seager, 19, was recently promoted to high Class A Rancho Cucamonga, and the Quakes were in town to play the Lake Elsinore Storm (Padres).
To continue reading this article you must be an Insider
July, 31, 2013
7/31/13
6:20
PM ET
Details of the trade
San Diego Padres get:
RHP
Ian Kennedy
Arizona Diamondbacks get:
LHP
Joe Thatcher
, RHP Matt Stites, competitive balance draft pick
Ian Kennedy's 2011 season -- in which he finished fourth in the NL Cy Young voting -- was a mirage, in large part the result of being a severe fly-ball pitcher in front of one of the game's best defensive outfields that year. Guys who are that prone to putting the ball in the air will eventually give up more home runs, and Kennedy has, 46 bombs in his 332 innings over the past year and a half.
To continue reading this article you must be an Insider