Keith Law:

Pittsburgh Pirates
March, 5, 2014
Mar 5
9:04
AM ET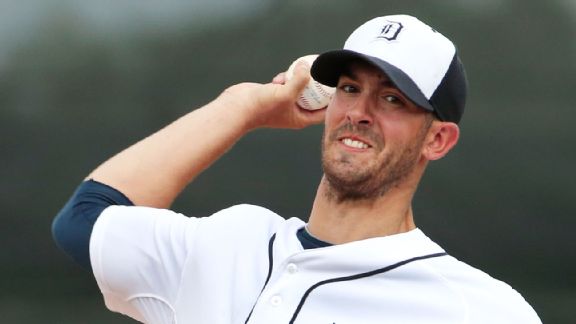 AP Photo/Gene J. PuskarRick Porcello is ready to thrive with a better infield defense behind him.
LAKELAND, Fla. -- I've started a brief run through some Florida spring training games, tied to seeing a couple of potential first-round picks from the high school ranks, before heading to Arizona next week for a longer scouting run. Here are my notes from Tuesday's game in Lakeland between the
Detroit Tigers
and
Pittsburgh Pirates
:
•
Rick Porcello
's superficial numbers the past two years have given a lot of people the impression -- based on my Twitter replies Tuesday, at least -- that he's a disappointment, nothing more than a fifth starter. That's unfair to Porcello, a ground-ball pitcher who played in front of a pretty bad infield defense in 2012 and for most of 2013, at least until
Jose Iglesias
arrived to shore things up a little bit. He'll benefit even more this year from having
Miguel Cabrera
, who looked fully healthy again, at first rather than at third, plus a full year of Iglesias' wizardry behind him.
On Tuesday, Porcello's pure stuff was good -- a sinker at 89-93 mph, an average to slightly above-average curveball at 74-78 with tight rotation and an inconsistent changeup at 83-86 that ranged from below-average to pushing plus.
To continue reading this article you must be an Insider
February, 12, 2014
Feb 12
2:30
PM ET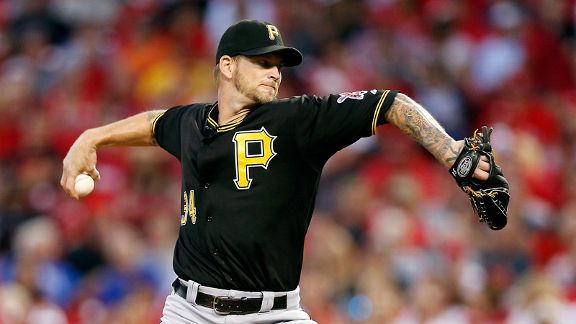 Joe Robbins/Getty ImagesA.J. Burnett's transformation into a ground ball pitcher won't be as useful given the defense in Philly.
Without context,
the signing
of
A.J. Burnett
looks like a coup for the Phillies. They signed one of the top dozen starters in the National League from 2013 to a one-year deal that, at $16 million, doesn't overpay based on his recent standard of production. Burnett is 37 years old and has had injury problems earlier in his career as well as a reputation for an unwillingness to play through pain or discomfort that he has disproved in the past few seasons. He was worth 4 Wins Above Replacement in 2013 (using Fangraphs' version, which normalizes BABIP), 3 the year before, and even at that level would represent good value at $16 million.
Context is everything, of course, and the Phillies aren't the right team to hand a 37-year-old pitcher a one-year deal unless it is with the idea of flipping him for long-term assets at some point during the season.
To continue reading this article you must be an Insider
February, 11, 2014
Feb 11
3:31
PM ET
Now that the 2014 preseason top prospect package is complete, here are links to all of the rankings, videos, podcasts and chat wraps.
Top 100 prospects

•
Index
|
Prospects No. 1-50
|
Prospects 51-00
•
10 who just missed
•
Top 20 impact prospects for 2014
Top 10 prospects by team

•
AL East
|
AL Central
|
AL West
•
NL East
|
NL Central
|
NL West
•
Astros No. 1 in farm system rankings
Videos

•
Why Buxton is the No. 1 prospect
•
AL breakout prospects
|
NL breakout prospects
•
Twins, Pirates just behind Astros in farm rankings
Podcast

•
Discussing the top 100 rankings
•
Xander Bogaerts and Mets GM Sandy Alderson
Chat wraps
•
Keith Law
•
Astros GM Jeff Luhnow
•
Byron Buxton
•
Addison Russell
December, 13, 2013
12/13/13
4:42
PM ET
December, 2, 2013
12/02/13
12:11
PM ET
I liked
Dioner Navarro
as a potential
value signing in free agency this winter
, looking at the catcher for one year and about $2 million (which could easily stretch to $2.5 million to $3 million, with continued acceleration in free-agent salaries this winter) to see if his offensive spike in 2013 had any legs to it.
He does a few things well enough to merit giving him a major league deal and a starting job, including solid walk rates, average pop and above-average throwing, but just hadn't performed anything like this in five years, and the breakout came back in the National League.
The
Toronto Blue Jays
seem a lot more optimistic about Navarro than I was, giving him
two years and $8 million guaranteed
, which isn't every-day player money, but is more than just a backup's cost.
Toronto received nothing but grief from the catcher's spot in 2013, where
J.P. Arencibia
posted a .227 OBP in nearly 500 plate appearances -- the only player with at least 400 PAs to post an OBP under .240 in 2013.
To continue reading this article you must be an Insider
November, 14, 2013
11/14/13
9:30
AM ET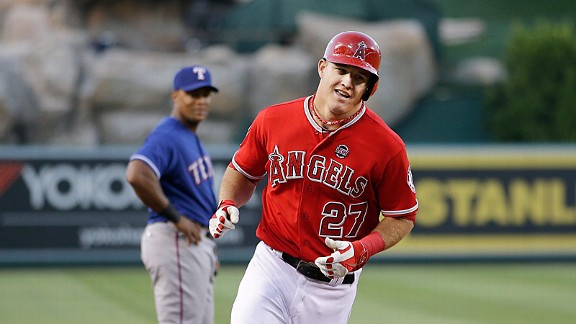 AP Photo/Jae C. HongYes, folks, Mike Trout
should
be on the verge of his second straight MVP.
On Monday, I revealed
my rookie of the year ballots
(I voted in the National League). Today I wanted to reveal what my ballots would look like for the other major player awards. Again, I only voted for NL ROY, so this is for the purpose of discussion.
National League Cy Young
1.
Clayton Kershaw
2.
Adam Wainwright
3.
Cliff Lee
4.
Matt Harvey
5.
Jose Fernandez
This one was a rout, and the first-place vote that Wainwright received is quite a bit surprising. Wainwright was a pretty clear No. 2 for me, with Lee third as he was below Wainwright in WAR (per FanGraphs) and pitched in 19 fewer innings.
To continue reading this article you must be an Insider
October, 3, 2013
10/03/13
9:41
AM ET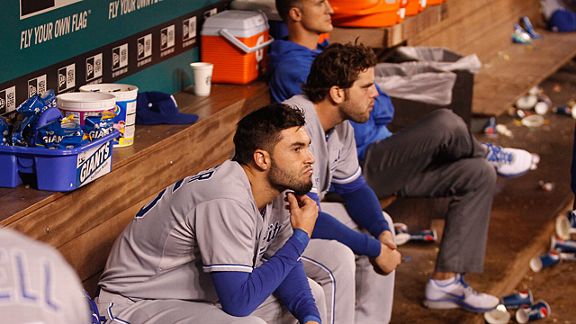 Otto Geule Jr/Getty ImagesThe Royals get punished by the new CBA for being good but not making the playoffs.
By the standards of their own recent history, the Royals had a very successful season. The team won 86 games, their best record since 1989, and they outscored their opponents on a season for the first time since 1991. Their two biggest offseason acquisitions,
Ervin Santana
(in a dump trade with the Angels) and
James Shields
(in the
Wil Myers
trade with Tampa Bay), both pitched very well for the big club, helping the Royals allow the fewest runs of any team in the American League, 23 fewer than the division-winning Tigers. Some young players took strides:
Eric Hosmer
hit .317/.365/.492 after the team fired hitting coach Jack Maloof; catcher
Salvador Perez
had his first full, healthy season in the majors and performed well.
There were plenty of positives for the Royals, but because the season went well, some of the structural reasons that helped the team get to this point will now work against the team.
To continue reading this article you must be an Insider
August, 27, 2013
8/27/13
6:05
PM ET
August, 20, 2013
8/20/13
11:48
AM ET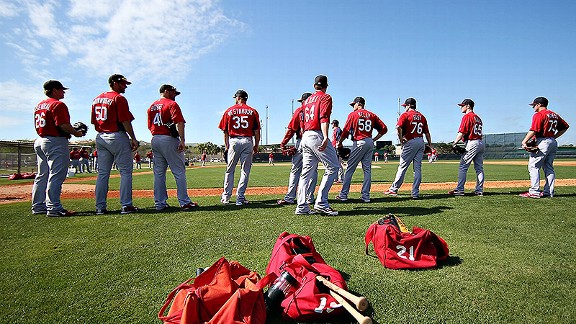 Leon Halip/Getty ImagesFor starting pitching depth throughout an organization, it's tough to top St. Louis.
For this post I was asked to take a look at every position and pick which team has the most overall talent if you look at the organization as a whole. So if a team has a strong shortstop at the major league level but no depth within the organization, it could come in behind a team with a decent shortstop but a couple of really good prospects at the position. So think of this as the sum of current MLB talent plus what's in the pipeline.
It's worth a reminder that strong depth at one position is a good way to fill holes via trades. Anybody saying too much talent at one position doesn't matter because you can't play three shortstops is clueless from a business and personnel standpoint. As a note: outfield and pitching have been consolidated because of how we calculate value at those positions.
Catcher

The Yankees have more prospect depth at the catcher position than any other team, with Gary Sanchez a potential star if he can improve his receiving enough to remain at the position, while J.R. Murphy is emerging as at least a strong backup.
Austin Romine
should be getting regular playing time in the majors down the stretch, at least once the Yankees decide their playoff odds are too low to ... well, playing
Chris Stewart
isn't exactly pushing them toward the playoffs anyway, so why not just play Romine and see what you've got?
That said, the Pirates probably have more present value than the Yankees because of
Russell Martin
, with
Tony Sanchez
probably a solid major league backup and 18-year-old Reese McGuire among the game's top dozen or so catching prospects. There is so little catching in full-season minor leagues right now that you would be hard-pressed to identify 10 clear everyday starters without reaching down to short-season leagues.
First base
To continue reading this article you must be an Insider
August, 1, 2013
8/01/13
10:57
AM ET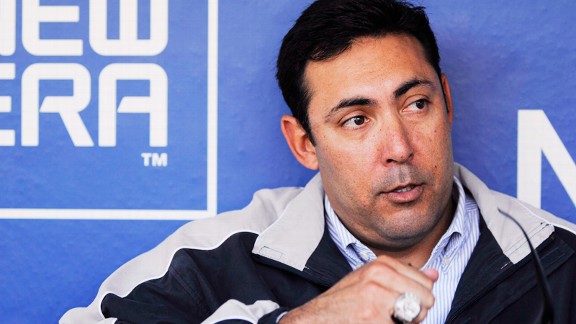 Howard Smith/US PresswirePhillies general manager Ruben Amaro Jr. decided not to make any deals at the trade deadline.
I hope everyone has recovered from the excitement of this year's trade deadline, which included all of three sellers -- Houston and the two Chicago teams. Here's a look at teams that didn't do anything but should have, or could have if the market had cooperated.
Sellers who didn't sell

Philadelphia Phillies:
The Phillies couldn't even execute the biggest no-brainer trade of all -- dealing
Michael Young
, age 36 and an impending free agent, so they could play prospect
Cody Asche
every day at third and
Darin Ruf
at first for the rest of the year. Young could still move in August if, say, the Yankees claim him on waivers, but the Phillies also lost opportunities to deal other free agents-to-be, including
Carlos Ruiz
(age 34) and
Chase Utley
(34).
To continue reading this article you must be an Insider
July, 16, 2013
7/16/13
9:26
AM ET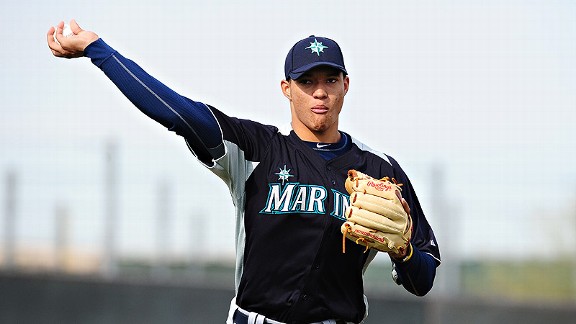 Mark J. Rebilas/US PresswireTaijuan Walker has added a cutter to his arsenal, though his curveball remains fringy.
As promised, here are a few more notes and observations from Sunday's 15th annual MLB Futures Game. If you missed my first batch,
here they are
.
• I mentioned that Baltimore's
Henry Urrutia
took a very good BP on Sunday, so here's some more detail. His approach overall is very quiet, with great balance throughout and more strength in his wrists and forearms than you'd guess based on his lean frame. He rotates his hips well for more power and gets very good extension through the zone. His at-bats in the game weren't great -- small sample, of course -- and he's not a good athlete. But as a second-half DH option for the Orioles, who have received a repulsive .197/.261/.382 line from their designated hitters and have taken to using the likes of
Nolan Reimold
in that spot -- this year, he could easily provide an upgrade.
To continue reading this article you must be an Insider
June, 27, 2013
6/27/13
10:25
AM ET
If we are supposed to believe that the All-Star Game counts for something other than TV ratings and MLB revenues, why don't we see rosters built to win the game? It's part popularity contest, part reward for having a good two months to start the season, but very little about how the rosters are selected makes it look as though the teams are there to win.
Lineups built to win the game would look like All-Star lineups but would move some players around to different positions to try to build the strongest team possible, while also avoiding those hot-start players who aren't the best choices at their respective positions.
Here are the lineups, including one starter and one reliever per team, that I'd set up to give each league the best chance to win one game.
To continue reading this article you must be an Insider
June, 18, 2013
6/18/13
11:04
AM ET
Teams that like to delay promoting top prospects until the point in the year when it's late enough to avoid giving the player a shot at
Super 2 status
in arbitration can breathe easily now, as we're well past that date, as shown by recent and imminent call-ups of four prospects --
Wil Myers
,
Zack Wheeler
,
Mike Zunino
and
Gerrit Cole
-- who appeared on
my top 25 update in late May
.
With Myers and Wheeler debuting Tuesday night, here are my thoughts on those four guys as well as three others we might see in the majors in the next month or so.
Zack Wheeler, RHP | New York Mets
Although expectations have been set sky-high by the remarkable stuff shown by
Matt Harvey
, Wheeler, once the superior prospect in my opinion, has a decent gap to close just to catch up to his fellow Met.
To continue reading this article you must be an Insider