Keith Law:

Philadelphia Phillies
January, 30, 2015
Jan 30
9:06
AM ET
Org Ranking: 25
I've
ranked every farm system
, as well as the
top 100 MLB prospects for 2015
. Below, I've ranked at least the top 10 Phillies prospects, plus an overview of the system and any other names of note beyond the top 10. I also discuss any prospects who might help the big league club in 2015, one or two prospects whose stock has taken a big hit in the last year, and a sleeper prospect who I think can jump into the main top 100 list for 2016
December, 31, 2014
12/31/14
4:29
PM ET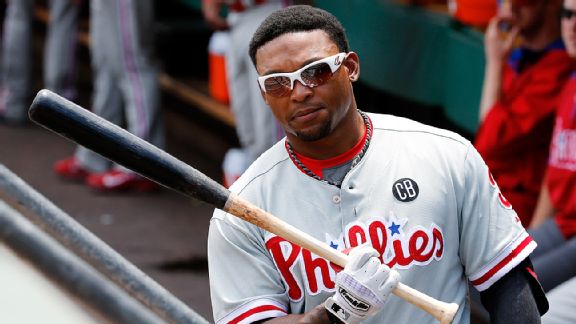 AP Photo/Gene J. PuskarMarlon Byrd is headed to the Cincinnati Reds, his sixth team since the start of the 2012 season.
The Phillies refused to begin a rebuilding process in July when they needed to take advantage of the market for several of their players, but they've committed to it now, having traded
Jimmy Rollins
,
Antonio Bastardo
and now
Marlon Byrd
, clearing payroll and adding some much-needed young talent to the top two levels of their farm system.
The Reds, meanwhile, fill their hole in left field all right, but it's nowhere near enough to change their outlook for 2015, and it might muddle their outfield picture beyond that.
Philadelphia gets right-hander Ben Lively back from the Reds in the exchange, a fair return for a player of Byrd's age and value.
To continue reading this article you must be an Insider
December, 11, 2014
12/11/14
3:15
PM ET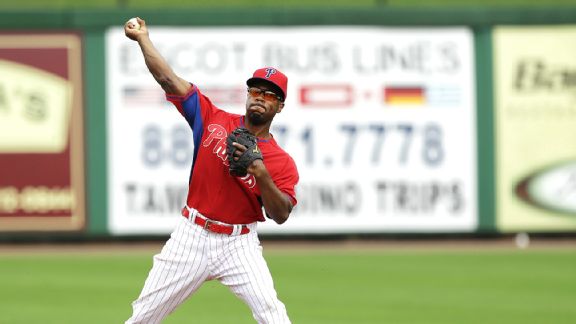 AP Photo/Charlie NeibergallThe Dodgers got exactly what they needed in Jimmy Rollins. And Philly did the right thing.
The
Philadelphia Phillies
threw up the black flag about a year or so too late, but appear to be finally acknowledging that their major league roster was too damaged to repair and that it was time to begin the process of weeding out the old guard. In
trading
Jimmy Rollins
, their icon shortstop and one of the best players in franchise history, they've taken a critical first step in turning the page on the 2008-09 pennant winners so that the next season isn't wasted again on a team that can't go anywhere.
Rollins, 36, is exactly what the Dodgers need
To continue reading this article you must be an Insider
April, 22, 2014
4/22/14
3:11
PM ET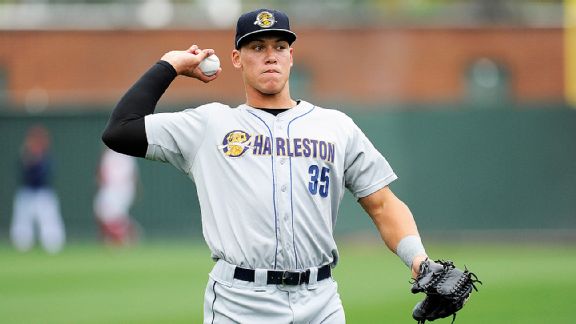 Tom Priddy/Four Seam Images/AP PhotoAt 6-foot-7, Yankees prospect Aaron Judge is one of the biggest players in pro ball.
LAKEWOOD, N.J. -- The
New York Yankees
' low Class A affiliate, the Charleston Riverdogs, are currently making their one visit to play the Lakewood BlueClaws, the
Philadelphia Phillies
' farm club in the South Atlantic League. I was there Monday night, when Charleston threw its best starter, and a pair of 2013 first-round picks were in the starting lineups as well. Here's my report from the game.
• Charleston starter
Luis Severino
showed an impressive three-pitch mix in 5 2/3 innings of work, the longest outing (by outs recorded) of his professional career.
To continue reading this article you must be an Insider
April, 3, 2014
4/03/14
7:30
AM ET
With the help of Christopher Crawford of MLB Draft Insider, we have compiled the minor league assignments for all prospects in Keith Law's organizational top 10 rankings.
Due to injuries and late assignments, some minor league rosters are not yet official. In those instances, we took our best guess as to where those prospects will be assigned to begin the year.

Note: Players with an asterisk have been traded since the top-10 lists came out, and they are listed with their assignment for their new club.

To continue reading this article you must be an Insider
March, 29, 2014
3/29/14
9:54
AM ET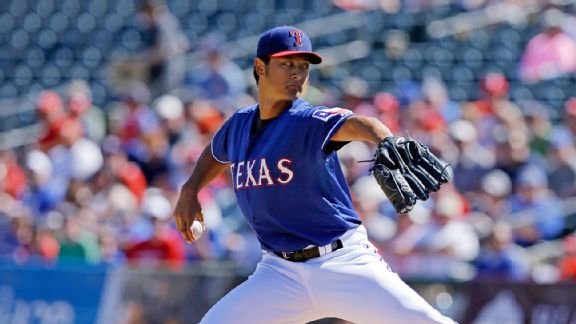 AP Photo/Darron CummingsThe AL leader in strikeout rate last year, Yu Darvish is an AL Cy Young frontrunner.
Keith Law offers up his win-loss predictions for all 30 teams and winners for the six major postseason awards. Furthermore, explanations for each team are included, along with notes on key players or possible impact call-ups. Award predictions follow the division picks.
AL East
It's hard to pick against a
Boston Red Sox
team that returns so many of the players who helped them win the World Series last year, losing
Stephen Drew
but replacing him with one of the majors' best rookies in
Xander Bogaerts
.
To continue reading this article you must be an Insider
March, 4, 2014
3/04/14
10:36
AM ET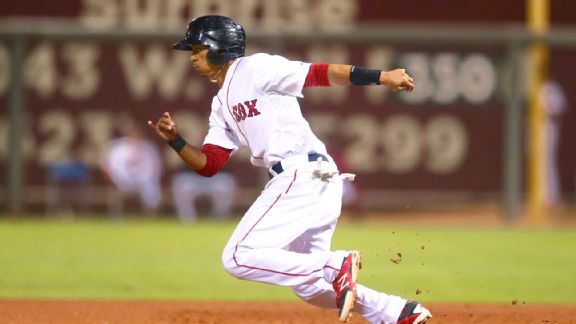 Mark J. Rebilas/USA TODAY SportsRed Sox second-base prospect Mookie Betts is currently blocked by All-Star Dustin Pedroia.
My annual ranking of the
top 100 prospects in baseball
and the
top 10 (or more) prospects in each organization
is completely organization-neutral: I don't consider the makeup of the club each prospect plays for when evaluating his potential as a major leaguer.
Many prospects on the list each year will face some obstacles in reaching the majors with their current employers because they're blocked by more established players, or even other prospects higher up in the system, and I've outlined the six prospects most affected by this phenomenon below.
I didn't include pitchers here because the injury rate for starters is high enough that no starting pitching prospect is every truly blocked;
Noah Syndergaard
and
Archie Bradley
are one sore elbow away from reaching the majors, and you can bet that the
Mets
and
Diamondbacks
, respectively, will have such openings before the 2014 season is out.

1. Mookie Betts, 2B, Boston Red Sox
Betts is the most-blocked prospect in baseball at this point. He's one of the top pure second-base prospects in the game, but he's blocked by
Dustin Pedroia
, who is among the majors' best second basemen and is under contract through 2021.
Betts is a great athlete and could probably play shortstop … at which he's currently blocked by uber-prospect
Xander Bogaerts
, and he could probably play center field, at which he's blocked by elite defender
Jackie Bradley Jr
.
To continue reading this article you must be an Insider
February, 12, 2014
2/12/14
2:30
PM ET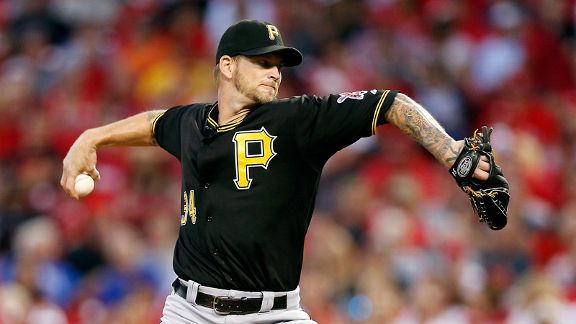 Joe Robbins/Getty ImagesA.J. Burnett's transformation into a ground ball pitcher won't be as useful given the defense in Philly.
Without context,
the signing
of
A.J. Burnett
looks like a coup for the Phillies. They signed one of the top dozen starters in the National League from 2013 to a one-year deal that, at $16 million, doesn't overpay based on his recent standard of production. Burnett is 37 years old and has had injury problems earlier in his career as well as a reputation for an unwillingness to play through pain or discomfort that he has disproved in the past few seasons. He was worth 4 Wins Above Replacement in 2013 (using Fangraphs' version, which normalizes BABIP), 3 the year before, and even at that level would represent good value at $16 million.
Context is everything, of course, and the Phillies aren't the right team to hand a 37-year-old pitcher a one-year deal unless it is with the idea of flipping him for long-term assets at some point during the season.
To continue reading this article you must be an Insider
February, 11, 2014
2/11/14
3:31
PM ET
Now that the 2014 preseason top prospect package is complete, here are links to all of the rankings, videos, podcasts and chat wraps.
Top 100 prospects

•
Index
|
Prospects No. 1-50
|
Prospects 51-00
•
10 who just missed
•
Top 20 impact prospects for 2014
Top 10 prospects by team

•
AL East
|
AL Central
|
AL West
•
NL East
|
NL Central
|
NL West
•
Astros No. 1 in farm system rankings
Videos

•
Why Buxton is the No. 1 prospect
•
AL breakout prospects
|
NL breakout prospects
•
Twins, Pirates just behind Astros in farm rankings
Podcast

•
Discussing the top 100 rankings
•
Xander Bogaerts and Mets GM Sandy Alderson
Chat wraps
•
Keith Law
•
Astros GM Jeff Luhnow
•
Byron Buxton
•
Addison Russell
December, 10, 2013
12/10/13
9:55
AM ET
LAKE BUENA VISTA, Fla. --
Roy Halladay
's retirement brought about the usual postcareer canonization we hear when any very good player hangs them up -- He's a surefire Hall of Famer! He's a lock! If he's not a Hall of Famer, just tear the place down!
There's a five-year waiting period between a player's retirement and his first year on the ballot, a lag I always assumed was there to help escape the emotional response to the end of a great player's career and add the perspective that distance can provide. Halladay may very well get into the Hall of Fame, and I'd certainly be thrilled to see him get in as a fan and as someone who got to see several of his best years up close when I was working for Toronto, but I don't think his case, examined objectively, is quite so clear-cut.
In fact, Hall voters have summarily rejected a number of pitchers comparable to Halladay, which is why I think Halladay could turn out to be a very interesting test case for the modern era.
Halladay's HOF résumé
Halladay's case for the Hall revolved around his high, lengthy peak, as he won two Cy Young Awards, deserving both of them, and having a solid case for a third in 2011, while ranking in the top five in his league in Baseball Reference's WAR eight times, all in a 10-year span.
To continue reading this article you must be an Insider
November, 18, 2013
11/18/13
12:05
PM ET
November, 12, 2013
11/12/13
12:55
PM ET
I said
I wouldn't go beyond $6-7 million
and one year for
Marlon Byrd
, but
Philadelphia Phillies
general manager Ruben Amaro just couldn't help himself and signed the outfielder to
a two-year, $16 million deal
that is a little overpriced but also indicates that Amaro believes, in the face of a lot of contrary evidence, that Byrd's fluke 2013 performance is real.
Byrd will play his two years for the Phillies at ages 36 and 37, well into the decline years for any hitter, and the time when even premium hitters see their chances of going over the cliff into irrelevance increase quickly. While Byrd had a 4-WAR season in 2013, it was built on a huge BABIP spike (.353) that was well out of line with his entire history in the majors (.325 career BABIP), and on him staying healthy for 140 games for just the third time in his career.
To continue reading this article you must be an Insider
August, 1, 2013
8/01/13
10:57
AM ET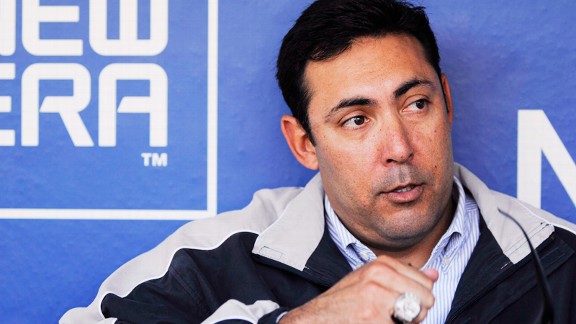 Howard Smith/US PresswirePhillies general manager Ruben Amaro Jr. decided not to make any deals at the trade deadline.
I hope everyone has recovered from the excitement of this year's trade deadline, which included all of three sellers -- Houston and the two Chicago teams. Here's a look at teams that didn't do anything but should have, or could have if the market had cooperated.
Sellers who didn't sell

Philadelphia Phillies:
The Phillies couldn't even execute the biggest no-brainer trade of all -- dealing
Michael Young
, age 36 and an impending free agent, so they could play prospect
Cody Asche
every day at third and
Darin Ruf
at first for the rest of the year. Young could still move in August if, say, the Yankees claim him on waivers, but the Phillies also lost opportunities to deal other free agents-to-be, including
Carlos Ruiz
(age 34) and
Chase Utley
(34).
To continue reading this article you must be an Insider
July, 2, 2013
7/02/13
9:36
AM ET
With the major league season reaching its midpoint and the bulk of high picks from this year's draft already agreeing to contracts, it's a good time to re-examine farm systems to see which organizations have improved or declined since
my organizational rankings at the start of the season
.
For the purposes of this exercise, some parameters to keep in mind:
1.
I'm only including draft picks who've signed.
2.
I'm going to assume players in the majors right now are going to lose their rookie eligibility and won't count for the next org rankings I do in the winter. (This matters because graduating prospects will hurt a system as much as a lack of performance.)
With that noted, let's take a look.
Rising systems
Minnesota Twins | Preseason rank: 2
The Twins have benefited from big jumps by several of their top prospects, balancing out the promotions of their No. 3, 4, and 5 prospects to the majors this year.
To continue reading this article you must be an Insider