July, 31, 2014
Jul 31
12:57
PM ET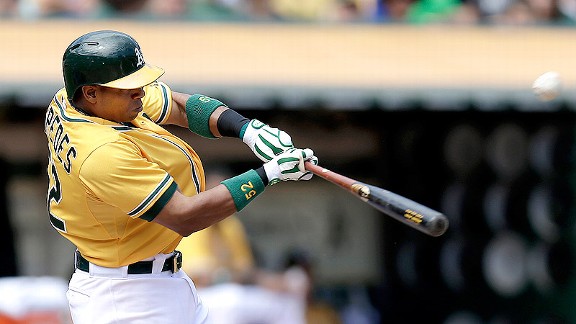 AP Photo/Ben MargotWhile Yoenis Cespedes isn't even among the top three A's in offensive WAR this season, his power isn't in question.
Strange as it seems, the 2014 A's don't lack offense, so they could afford to part with a player as productive as
Yoenis Cespedes
in a
deal that makes
the team better overall.
Even if
Jason Hammel
hadn't had one of the worst four-start stretches of his career,
Jon Lester
still would be a significant upgrade over him. And the A's needed more help in their rotation, which has been around the league median so far this year, than they needed Cespedes in their lineup, which has been among the AL's most productive thanks in large part to smart, cost-effective platoon pairings. Oakland's rotation to date has relied on
Jesse Chavez
, a career reliever who's already 30 innings over his professional single-season high, and
Tom Milone
, who's struggled away from home because he's an extreme fly ball guy with a below-average fastball. (Milone is now a Twin, traded for
Sam Fuld
in a swap of last-roster-spot guys.) Adding Lester and
Jeff Samardzija
to the rotation this month gives the A's high-impact starters for the playoffs and significant bulk innings to ward off September fatigue from pitchers such as Chavez or
Drew Pomeranz
, who haven't handled these workloads before. It makes the A's a win or two better the rest of the way, and it also sets them up far better for October.
They also added
Jonny Gomes
-- whose one major baseball skill is smacking around left-handed pitching -- to an outfield platoon mix that also considers who's on the mound for Oakland (since Fuld is a better defender than Gomes).
July, 4, 2014
Jul 4
11:47
PM ET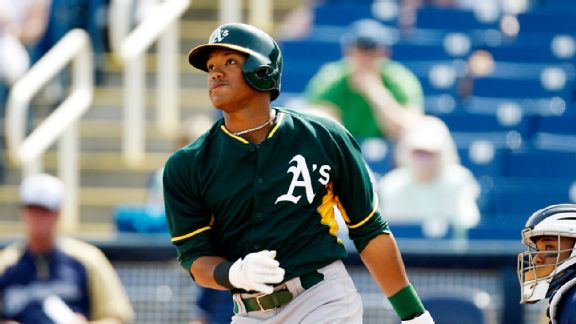 Michael Zagaris/Oakland Athletics/Getty ImagesThe Cubs have added one of the top prospects in baseball in Addison Russell.
The A's have added a huge injection of both quality and depth into their rotation, but it does come at a cost -- their last two first-round picks, both excellent prospects right now, who will boost a Cubs system that was already among the top five in baseball. In a
significant deal, both sides add impact, with different timelines in mind.


Jeff Samardzija
has gone from DFA candidate after 2011 to mid-rotation starter in 2012. Now, he's throwing
To continue reading this article you must be an Insider
March, 29, 2014
Mar 29
9:54
AM ET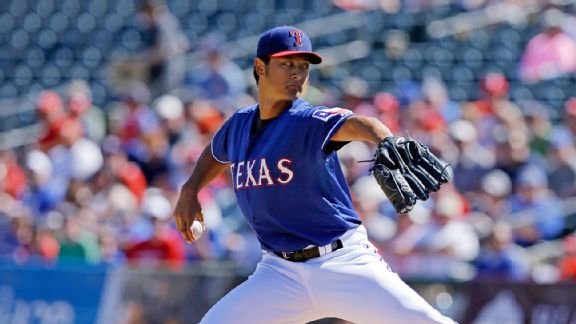 AP Photo/Darron CummingsThe AL leader in strikeout rate last year, Yu Darvish is an AL Cy Young frontrunner.
Keith Law offers up his win-loss predictions for all 30 teams and winners for the six major postseason awards. Furthermore, explanations for each team are included, along with notes on key players or possible impact call-ups. Award predictions follow the division picks.
AL East
It's hard to pick against a
Boston Red Sox
team that returns so many of the players who helped them win the World Series last year, losing
Stephen Drew
but replacing him with one of the majors' best rookies in
Xander Bogaerts
.
To continue reading this article you must be an Insider
February, 11, 2014
Feb 11
3:31
PM ET
Now that the 2014 preseason top prospect package is complete, here are links to all of the rankings, videos, podcasts and chat wraps.
Top 100 prospects

•
Index
|
Prospects No. 1-50
|
Prospects 51-00
•
10 who just missed
•
Top 20 impact prospects for 2014
Top 10 prospects by team

•
AL East
|
AL Central
|
AL West
•
NL East
|
NL Central
|
NL West
•
Astros No. 1 in farm system rankings
Videos

•
Why Buxton is the No. 1 prospect
•
AL breakout prospects
|
NL breakout prospects
•
Twins, Pirates just behind Astros in farm rankings
Podcast

•
Discussing the top 100 rankings
•
Xander Bogaerts and Mets GM Sandy Alderson
Chat wraps
•
Keith Law
•
Astros GM Jeff Luhnow
•
Byron Buxton
•
Addison Russell
December, 10, 2013
12/10/13
6:47
PM ET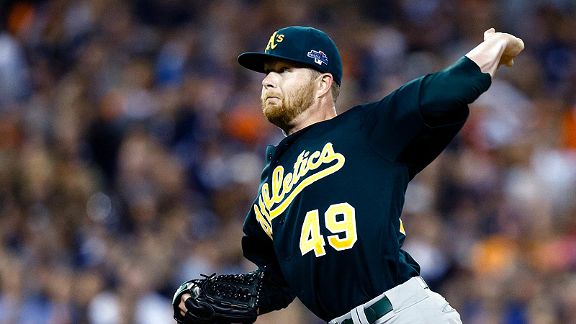 Rick Osentoski/USA TODAY SportsWhen healthy, Brett Anderson has shown flashes of being an elite starter.
LAKE BUENA VISTA, Fla. -- The trade for
Brett Anderson
is exactly
the kind of deal
the
Colorado Rockies
should be making -- rolling the dice on a pitcher with some upside, accepting the risk as the price they have to pay to get someone whose stuff and command could make a real difference pitching at Coors Field.
"Finding Brett Anderson" would actually make sense as a reality show on the Discovery Channel given how frequently he's been injured in his major league career. Banking on him for any kind of regular workload is risky, as he has qualified for the ERA title only once, in his rookie year in 2009, when he looked like an ace in the making.
To continue reading this article you must be an Insider
December, 3, 2013
12/03/13
5:41
PM ET
The
Oakland Athletics
traded some
long-term value for short-term value
in acquiring outfielder
Craig Gentry
and right-hander
Josh Lindblom
from the
Texas Rangers
, but the Rangers walk away with a potential everyday player in outfield prospect
Michael Choice
and a sleeper from low Class A in second baseman Chris Bostick. I see the value here for Oakland but prefer the Rangers' side of the transaction.
Craig Gentry does two things very well: He's an elite defender in center and he has a career .376 OBP against lefties; one of those skills is very useful, the other one is a little like being the world's best horse-and-buggy driver.
To continue reading this article you must be an Insider
December, 3, 2013
12/03/13
2:48
PM ET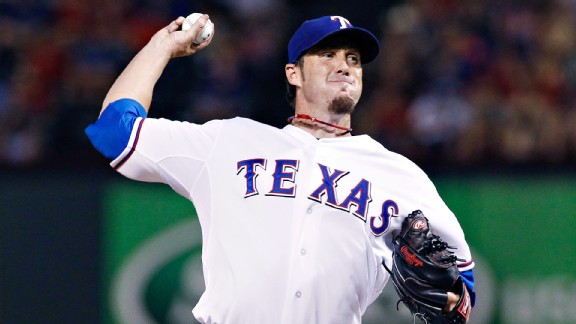 AP Photo/Jim CowsertCloser Joe Nathan signed a two-year deal with the Detroit Tigers on Tuesday.
Viewed in a vacuum, the Tigers just misdiagnosed their bullpen problem as an isolated issue with the ninth inning rather than a lack of depth or quality across the board. Signing
Joe Nathan
to a two-year deal isn't excessive, as he probably has at least that many years of production left in the tank. But Nathan has started to lose velocity and had to shift to heavier usage of his slider as a result, and he's a traditional, one-inning, break-glass-only-in-case-of-save-situation closer, the kind of player usage foisted on us by a stupid stat invented by a writer decades ago.
To continue reading this article you must be an Insider
December, 2, 2013
12/02/13
3:24
PM ET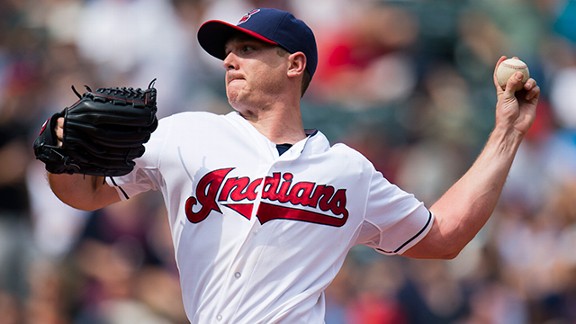 Jason Miller/Getty ImagesScott Kazmir didn't pitch in 2012, but struck out a man per inning in 2013.
The
Oakland Athletics
probably have outgrown their reputation as a team operating on a shoestring that forces them to shop in the bargain bin during free agency and in the trade market, as they've handed out a few larger deals -- such as the four-year, $36 million contract they gave to
Yoenis Cespedes
-- in the past couple of seasons.
That said, they do still look for hidden value or potential upside plays, now a little less out of necessity and more because it's just smart business for any team that doesn't have an infinite payroll.
Giving two years and $22 million
to
Scott Kazmir
entails significant risk -- the guy was out of baseball a year ago -- but has the potential upside to make this the kind of high-ROI deal Oakland needs.
Kazmir replaces
Bartolo Colon
, who was in similar straits when Oakland first signed him after a shocking return to the majors with the Yankees in 2011.
To continue reading this article you must be an Insider
October, 14, 2013
10/14/13
11:54
AM ET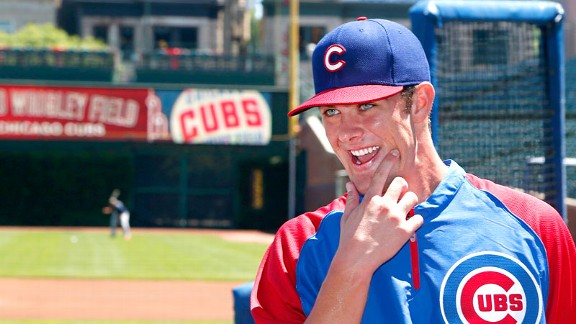 AP Photo/Charles Rex ArbogastKris Bryant, Chicago's first-round draft choice in 2013, has been impressive so far.
I miss living in Arizona for many reasons, but one is the loss of easy access to the Arizona Fall League. This year, I just had a four-day, eight-game trip to scout the many prospects in that circuit. I did get to see every team's BP and two-thirds of the league's pitchers, so while it wasn't as much as I would have liked, it was enough to form some quick impressions and start some fresh evaluations.
Today I give you notes on the players who, in one way or another, stood out to me in a positive light, in most cases raising my opinions of those players. Two stipulations here:
1.
I didn't see everybody, so the omission of any player isn't an indictment of his performance
2.
The Fall League is a great place to scout, but sometimes players are tired or rusty from the layoff since the end of the minor league season, so the looks aren't always ideal.
To continue reading this article you must be an Insider
October, 3, 2013
10/03/13
9:41
AM ET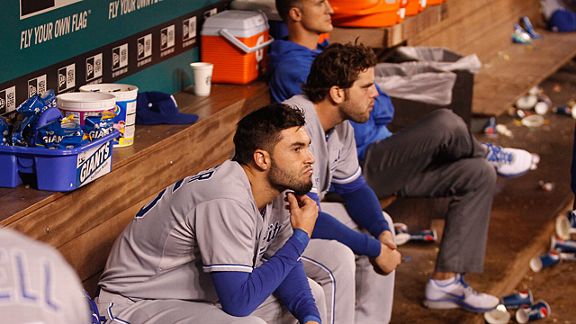 Otto Geule Jr/Getty ImagesThe Royals get punished by the new CBA for being good but not making the playoffs.
By the standards of their own recent history, the Royals had a very successful season. The team won 86 games, their best record since 1989, and they outscored their opponents on a season for the first time since 1991. Their two biggest offseason acquisitions,
Ervin Santana
(in a dump trade with the Angels) and
James Shields
(in the
Wil Myers
trade with Tampa Bay), both pitched very well for the big club, helping the Royals allow the fewest runs of any team in the American League, 23 fewer than the division-winning Tigers. Some young players took strides:
Eric Hosmer
hit .317/.365/.492 after the team fired hitting coach Jack Maloof; catcher
Salvador Perez
had his first full, healthy season in the majors and performed well.
There were plenty of positives for the Royals, but because the season went well, some of the structural reasons that helped the team get to this point will now work against the team.
To continue reading this article you must be an Insider
July, 31, 2013
7/31/13
11:29
AM ET
The trade: Angels send Alberto Callaspo to the A's for Grant Green
Alberto Callaspo provides the A's with some infield depth and flexibility, as he can fill in at multiple positions. He is best at third base but capable of handling second or as an emergency backup at short while providing value as a right-handed bat off the bench. (He's a switch-hitter but better from the right side.)
To continue reading this article you must be an Insider
July, 16, 2013
7/16/13
9:26
AM ET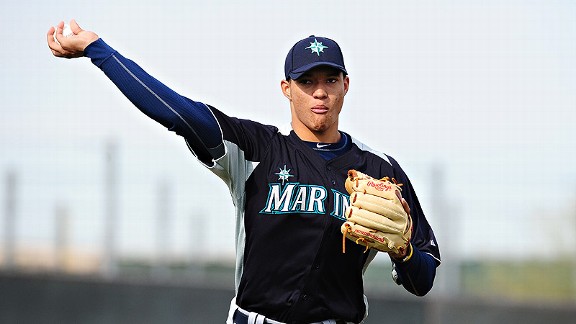 Mark J. Rebilas/US PresswireTaijuan Walker has added a cutter to his arsenal, though his curveball remains fringy.
As promised, here are a few more notes and observations from Sunday's 15th annual MLB Futures Game. If you missed my first batch,
here they are
.
• I mentioned that Baltimore's
Henry Urrutia
took a very good BP on Sunday, so here's some more detail. His approach overall is very quiet, with great balance throughout and more strength in his wrists and forearms than you'd guess based on his lean frame. He rotates his hips well for more power and gets very good extension through the zone. His at-bats in the game weren't great -- small sample, of course -- and he's not a good athlete. But as a second-half DH option for the Orioles, who have received a repulsive .197/.261/.382 line from their designated hitters and have taken to using the likes of
Nolan Reimold
in that spot -- this year, he could easily provide an upgrade.
To continue reading this article you must be an Insider