Keith Law:

Minnesota Twins
December, 16, 2014
12/16/14
3:16
PM ET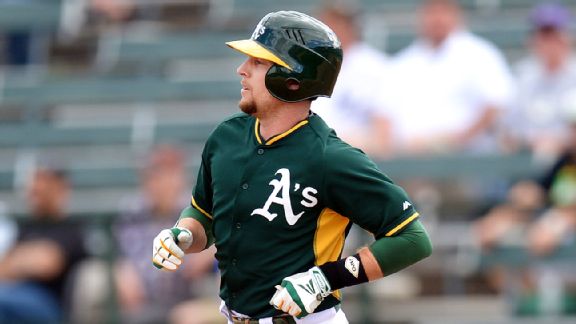 Joe Camporeale/USA TODAY SportsHe might not be able to stick at SS, but Jed Lowrie is a good short-term upgrade there for the Astros.
Jed Lowrie
has
agreed to terms
with the
Houston Astros
and will be paid about what I expected, getting three years and $23 million with a fourth-year option for another $5 million. It's a deal that underpays him based on expected performance but prices in his injury risk and the probability that he's not able to stay at shortstop for the entire deal.
The Astros did need a better shortstop solution in the short term, with
Jonathan Villar
, who still has the potential to be at least a quality backup infielder, showing no progress at the plate over two partial years in the majors.
December, 3, 2014
12/03/14
8:00
PM ET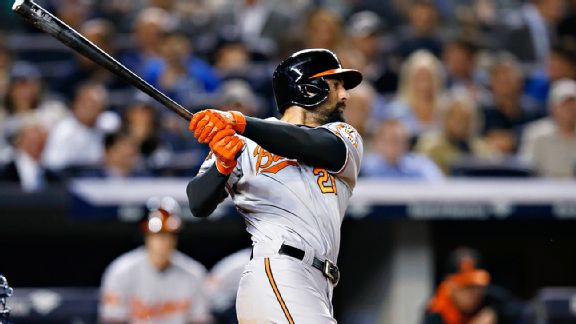 AP Photo/Kathy WillensNick Markakis had 42 extra-base hits and 50 RBI in 704 plate appearances in 2014.
I've liked much of what the
Atlanta Braves
have done this autumn, starting with replacing most of their front office and continuing with the trade of
Jason Heyward
, but the
Nick Markakis
contract doesn't make much sense in any context. He'd be a great one- or even two-year flier for someone willing to bet on a change of scenery (and hitting coaches) helping him, but giving him a four-year, $45 million deal that runs through his age-34 season doesn't fit any of what the club appeared to be trying to do.
Markakis peaked at age 24, and has since devolved into a high-contact singles hitter who plays adequate right-field defense with a great arm. (He was a very good pitching prospect back at Young Harris College, with more teams looking at him as a pitcher in the 2003 draft than as a hitter.) The Orioles never found the missing link with Markakis to regain that lost power, as he has become exceedingly short to the ball, hitting it on the ground too often and driving it to the gaps too infrequently.
He has lost more than 25 extra-base hits a year from his first two full seasons in the majors and only a major change in approach -- both mental and mechanical -- will get it back. It could happen, but I certainly wouldn't put real money on it, and this contract seems to price in some kind of offensive bounce back.
To continue reading this article you must be an Insider
July, 22, 2014
7/22/14
11:22
AM ET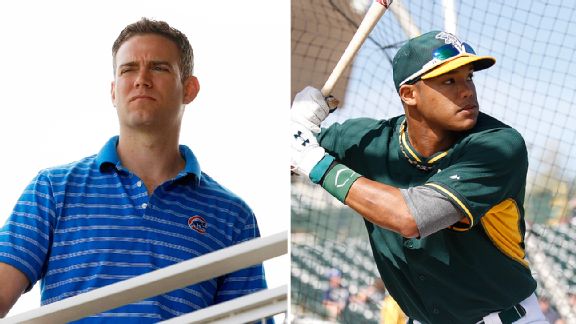 Getty ImagesTheo Epstein has stocked the Cubs' farm system with elite prospects such as Addison Russell.
Ranking all 30 organizations based on their minor league talent is a major undertaking each winter, which is why I always decline to do a re-ranking during the season. There's simply no way I could do it justice given the amount of work it requires.
We've had a couple of major news events that affected two of the teams near the top of last offseason's rankings, however, and a slew of questions from readers about which system is now at the top of the heap. So here's a revised look at the top five, considering only what's in the systems right now and excluding anyone on major league rosters.
1. Chicago Cubs

I know Cubs fans have heard this before, but just wait 'til next year, because this club is going to get good in a hurry, at least on the run-scoring side of the ledger.
To continue reading this article you must be an Insider
April, 3, 2014
4/03/14
7:30
AM ET
With the help of Christopher Crawford of MLB Draft Insider, we have compiled the minor league assignments for all prospects in Keith Law's organizational top 10 rankings.
Due to injuries and late assignments, some minor league rosters are not yet official. In those instances, we took our best guess as to where those prospects will be assigned to begin the year.

Note: Players with an asterisk have been traded since the top-10 lists came out, and they are listed with their assignment for their new club.

To continue reading this article you must be an Insider
March, 29, 2014
3/29/14
9:54
AM ET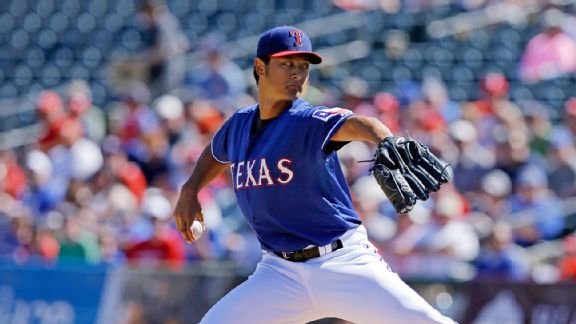 AP Photo/Darron CummingsThe AL leader in strikeout rate last year, Yu Darvish is an AL Cy Young frontrunner.
Keith Law offers up his win-loss predictions for all 30 teams and winners for the six major postseason awards. Furthermore, explanations for each team are included, along with notes on key players or possible impact call-ups. Award predictions follow the division picks.
AL East
It's hard to pick against a
Boston Red Sox
team that returns so many of the players who helped them win the World Series last year, losing
Stephen Drew
but replacing him with one of the majors' best rookies in
Xander Bogaerts
.
To continue reading this article you must be an Insider
March, 9, 2014
3/09/14
12:20
PM ET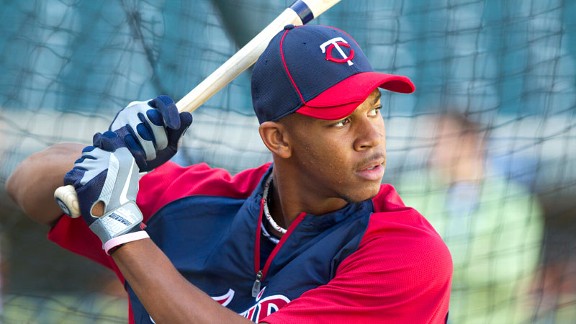 Brace Hemmelgarn/Getty ImagesByron Buxton has shown little to dissuade evaluators about his sky-high projections.
DUNEDIN, Fla. -- Here are some notes from my last game of Florida spring training for the year, a game which pitted the
Minnesota Twins
against the
Toronto Blue Jays
.
•
Byron Buxton
, the best prospect in baseball coming into this year, didn't disappoint, hitting a hanging slider from Toronto starter
Drew Hutchison
deep over the left-center field wall, showing off his speed with a couple of sub-4.1-second run times from home to first, and smoking a ground ball in the ninth inning ... that led to a double play with the infield in, but hey, let's not quibble over details.
Buxton saw a ton of pitches across his five at-bats, taking the first pitch every time, putting himself in good position to get a pitch to hit in every at-bat but one. There's little new to say here; he's a true five-tool guy, showing or projecting as plus in all five of those categories, with an improving approach at the plate. He did let the ball travel well on him on Saturday, taking advantage of his quick wrists to start his bat a little later than most hitters would. His only real miscue was failing to call for a fly ball to shallow center on the shortstop side, so that the shortstop ran out to catch it and had to peel off at the last second, after which no one caught it.
•
Max Kepler
didn't put anything into orbit like Buxton did, but acquitted himself well through three at-bats, including a double to the right-center wall off a
Kyle Drabek
curveball, a four-pitch walk, and a base hit off Hutchison.
To continue reading this article you must be an Insider
February, 11, 2014
2/11/14
3:31
PM ET
Now that the 2014 preseason top prospect package is complete, here are links to all of the rankings, videos, podcasts and chat wraps.
Top 100 prospects

•
Index
|
Prospects No. 1-50
|
Prospects 51-00
•
10 who just missed
•
Top 20 impact prospects for 2014
Top 10 prospects by team

•
AL East
|
AL Central
|
AL West
•
NL East
|
NL Central
|
NL West
•
Astros No. 1 in farm system rankings
Videos

•
Why Buxton is the No. 1 prospect
•
AL breakout prospects
|
NL breakout prospects
•
Twins, Pirates just behind Astros in farm rankings
Podcast

•
Discussing the top 100 rankings
•
Xander Bogaerts and Mets GM Sandy Alderson
Chat wraps
•
Keith Law
•
Astros GM Jeff Luhnow
•
Byron Buxton
•
Addison Russell
December, 18, 2013
12/18/13
4:16
PM ET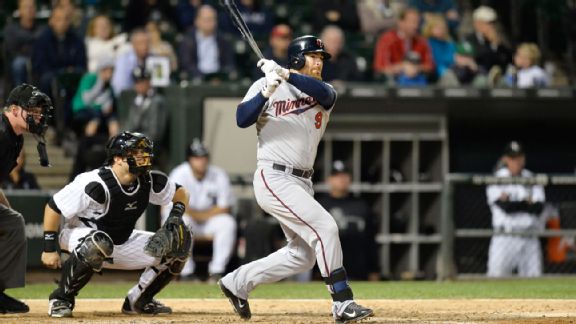 Brian D. Kersey/Getty ImagesThe 32-year-old Doumit hit .303 in 2011, .275 in 2012, and .247 in 2013.
We've had a slew of minor moves over the past 24 hours, and I figured it would be easiest to wrap them all into one post.
Doumit to the Braves for Gilmartin
(trade details)
Ryan Doumit
's best attribute was always his bat, as he's never had a real position and his offense has slipped since he left Pittsburgh -- unsurprising for a player like this entering his early 30s.
To continue reading this article you must be an Insider
December, 1, 2013
12/01/13
12:10
AM ET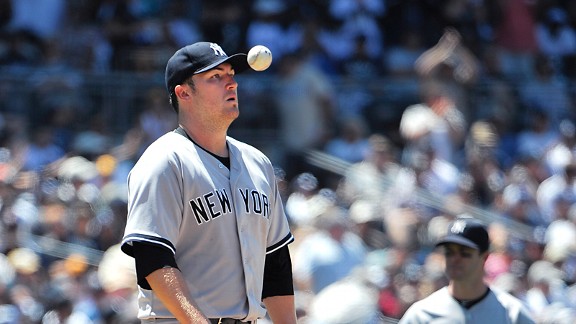 Denis Poroy/Getty ImagesPhil Hughes had a 4.85 ERA over the last three seasons with the Yankees.
The
Minnesota Twins
needed bulk for their rotation, which was a solid justification for the four-year deal they give
Ricky Nolasco
, a mid-rotation starter on a good team, earlier in the week.
That's not sufficient to justify
the three-year, $24 million deal
they just gave
Phil Hughes
, a fifth starter on a middling team who might be best cast in a relief role because hitters make too much good contact against his fastball.
To continue reading this article you must be an Insider
November, 29, 2013
11/29/13
3:07
PM ET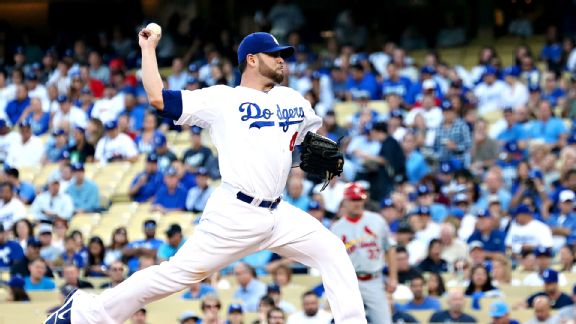 Stephen Dunn/Getty ImagesDespite a rough end to 2013, Ricky Nolasco has proved to be reliable and durable.
Ricky Nolasco
's four-year deal with the Twins almost seems cheap given its average annual value of just over $12 million, with a club option that could vest and become a player option that could make the contract a five-year, $61 million deal in the end. For the Twins, the timing seems odd, as they're not going to contend in 2014 and probably not in 2015 as they wait for their bevy of high-end hitting prospects to reach and adjust to the majors, but given the lack of starting pitching prospects on their full-season affiliates, signing a player such as Nolasco actually may have been necessary.
Nolasco seemed to have turned a corner right after the Marlins dumped his salary on the Dodgers in July for three fringe relief prospects, posting a 2.07 ERA across 74 innings before three awful starts ended his year and scared the Dodgers out of using him in their Division Series rotation. When he was on, he was working heavily off his fastball, adding and subtracting from it similar to the way his teammate
Zack Greinke
did, and finishing hitters off with his slider, leaving the curve and changeup as occasional show-me weapons. When he shies away from establishing the fastball, he's far less effective, and often ends up in that situation because his fastball doesn't have great life and is prone to hard contact. It's an interesting signing for Minnesota, a team that has long preached pitching to contact, because Nolasco throws a lot of strikes but doesn't exactly want to encourage hitters to square up his fastball.
To continue reading this article you must be an Insider
August, 20, 2013
8/20/13
11:48
AM ET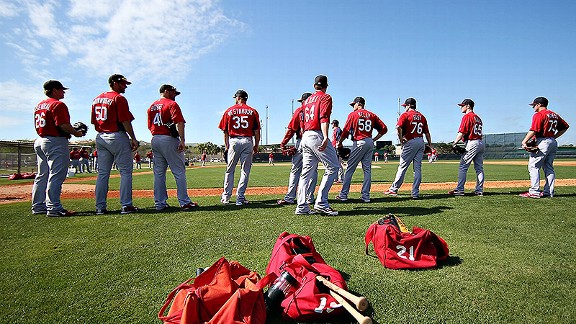 Leon Halip/Getty ImagesFor starting pitching depth throughout an organization, it's tough to top St. Louis.
For this post I was asked to take a look at every position and pick which team has the most overall talent if you look at the organization as a whole. So if a team has a strong shortstop at the major league level but no depth within the organization, it could come in behind a team with a decent shortstop but a couple of really good prospects at the position. So think of this as the sum of current MLB talent plus what's in the pipeline.
It's worth a reminder that strong depth at one position is a good way to fill holes via trades. Anybody saying too much talent at one position doesn't matter because you can't play three shortstops is clueless from a business and personnel standpoint. As a note: outfield and pitching have been consolidated because of how we calculate value at those positions.
Catcher

The Yankees have more prospect depth at the catcher position than any other team, with Gary Sanchez a potential star if he can improve his receiving enough to remain at the position, while J.R. Murphy is emerging as at least a strong backup.
Austin Romine
should be getting regular playing time in the majors down the stretch, at least once the Yankees decide their playoff odds are too low to ... well, playing
Chris Stewart
isn't exactly pushing them toward the playoffs anyway, so why not just play Romine and see what you've got?
That said, the Pirates probably have more present value than the Yankees because of
Russell Martin
, with
Tony Sanchez
probably a solid major league backup and 18-year-old Reese McGuire among the game's top dozen or so catching prospects. There is so little catching in full-season minor leagues right now that you would be hard-pressed to identify 10 clear everyday starters without reaching down to short-season leagues.
First base
To continue reading this article you must be an Insider
July, 2, 2013
7/02/13
9:36
AM ET
With the major league season reaching its midpoint and the bulk of high picks from this year's draft already agreeing to contracts, it's a good time to re-examine farm systems to see which organizations have improved or declined since
my organizational rankings at the start of the season
.
For the purposes of this exercise, some parameters to keep in mind:
1.
I'm only including draft picks who've signed.
2.
I'm going to assume players in the majors right now are going to lose their rookie eligibility and won't count for the next org rankings I do in the winter. (This matters because graduating prospects will hurt a system as much as a lack of performance.)
With that noted, let's take a look.
Rising systems
Minnesota Twins | Preseason rank: 2
The Twins have benefited from big jumps by several of their top prospects, balancing out the promotions of their No. 3, 4, and 5 prospects to the majors this year.
To continue reading this article you must be an Insider
June, 27, 2013
6/27/13
10:25
AM ET
If we are supposed to believe that the All-Star Game counts for something other than TV ratings and MLB revenues, why don't we see rosters built to win the game? It's part popularity contest, part reward for having a good two months to start the season, but very little about how the rosters are selected makes it look as though the teams are there to win.
Lineups built to win the game would look like All-Star lineups but would move some players around to different positions to try to build the strongest team possible, while also avoiding those hot-start players who aren't the best choices at their respective positions.
Here are the lineups, including one starter and one reliever per team, that I'd set up to give each league the best chance to win one game.
To continue reading this article you must be an Insider