December, 19, 2014
12/19/14
6:00
PM ET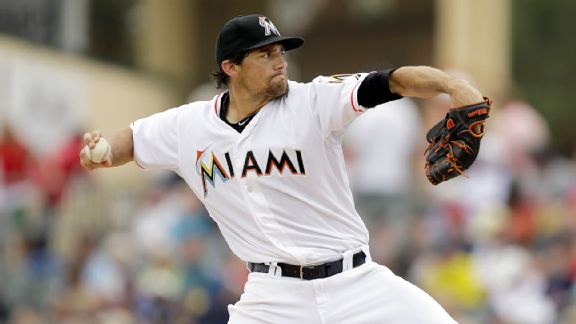 AP Photo/Jeff RobersonIn 2014 with the Marlins, Nate Eovaldi threw nearly 200 innings, finishing 6-14 with a 4.37 ERA.
The
New York Yankees
and
Miami Marlins
executed a surprising swap on Friday morning, with the Yankees sending erstwhile second baseman
Martin Prado
to Miami for right-handed starter
Nate Eovaldi
, as
part of a five-player deal.
Eovaldi is a durable, two-pitch starter who's always had issues with left-handed hitters, especially in terms of power -- not the ideal fit for a team that plays half its games at Yankee Stadium. He's got a huge fastball that can touch 100 mph and sits pretty comfortably in the 95-96 range, although it's relatively straight, and his best secondary pitch is the mid-80s slider, although its break isn't as sharp as you'd expect given its velocity.
December, 10, 2014
12/10/14
9:54
PM ET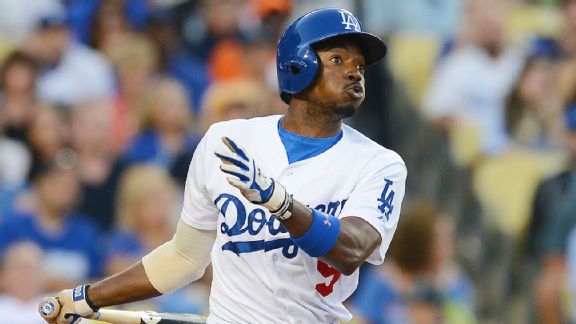 AP Photo/Jayne Kamin-OnceaDee Gordon led the majors in steals, but posted a lower WAR than Scott Van Slyke, among others.
The
Los Angeles Dodgers
need a shortstop, so of course they traded their second baseman. Meanwhile, the
Miami Marlins
needed a second baseman and got one, but I think the price they paid exceeds what they got in return.
In
Dee Gordon
, the Marlins get an everyday second baseman and clear upgrade over what they ran out there in 2014, a 1.5-2 win upgrade depending on Gordon's bat.
To continue reading this article you must be an Insider
April, 3, 2014
4/03/14
7:30
AM ET
With the help of Christopher Crawford of MLB Draft Insider, we have compiled the minor league assignments for all prospects in Keith Law's organizational top 10 rankings.
Due to injuries and late assignments, some minor league rosters are not yet official. In those instances, we took our best guess as to where those prospects will be assigned to begin the year.

Note: Players with an asterisk have been traded since the top-10 lists came out, and they are listed with their assignment for their new club.

To continue reading this article you must be an Insider
March, 29, 2014
3/29/14
9:54
AM ET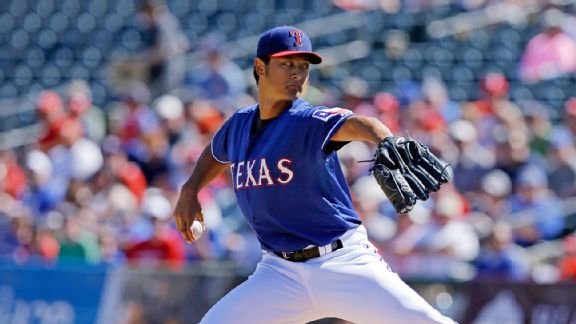 AP Photo/Darron CummingsThe AL leader in strikeout rate last year, Yu Darvish is an AL Cy Young frontrunner.
Keith Law offers up his win-loss predictions for all 30 teams and winners for the six major postseason awards. Furthermore, explanations for each team are included, along with notes on key players or possible impact call-ups. Award predictions follow the division picks.
AL East
It's hard to pick against a
Boston Red Sox
team that returns so many of the players who helped them win the World Series last year, losing
Stephen Drew
but replacing him with one of the majors' best rookies in
Xander Bogaerts
.
To continue reading this article you must be an Insider
February, 11, 2014
2/11/14
3:31
PM ET
Now that the 2014 preseason top prospect package is complete, here are links to all of the rankings, videos, podcasts and chat wraps.
Top 100 prospects

•
Index
|
Prospects No. 1-50
|
Prospects 51-00
•
10 who just missed
•
Top 20 impact prospects for 2014
Top 10 prospects by team

•
AL East
|
AL Central
|
AL West
•
NL East
|
NL Central
|
NL West
•
Astros No. 1 in farm system rankings
Videos

•
Why Buxton is the No. 1 prospect
•
AL breakout prospects
|
NL breakout prospects
•
Twins, Pirates just behind Astros in farm rankings
Podcast

•
Discussing the top 100 rankings
•
Xander Bogaerts and Mets GM Sandy Alderson
Chat wraps
•
Keith Law
•
Astros GM Jeff Luhnow
•
Byron Buxton
•
Addison Russell
February, 11, 2014
2/11/14
9:35
AM ET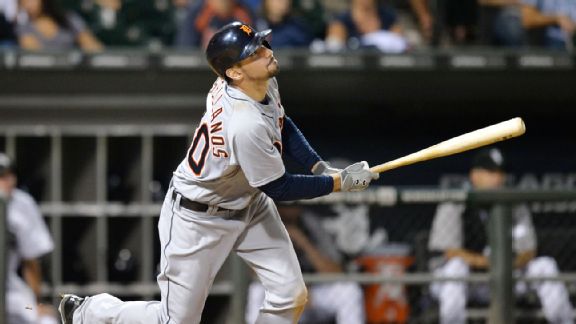 Brian D. Kersey/Getty ImagesThe path is clear for Nick Castellanos to get at-bats and improve Detroit's defense.
My
top 100 prospects ranking
from late January focused on long-term career value, which meant the list included many teenaged prospects who easily could be five years from producing any positive value for a major league team. If we're looking just at this upcoming season, however, the rankings are very different, and I've produced my ranking of the top 20 impact prospects for 2014.
After those 20, I've listed a number of other players who could come up this season and be above replacement-level if they get the chance.
I do not rank players with experience in a foreign major league as prospects, though those players are still officially considered rookies in MLB when they debut here.
If I included them on my rankings,
Masahiro Tanaka
and
Jose Abreu
would be 1-2 on this list;
To continue reading this article you must be an Insider
November, 11, 2013
11/11/13
6:50
PM ET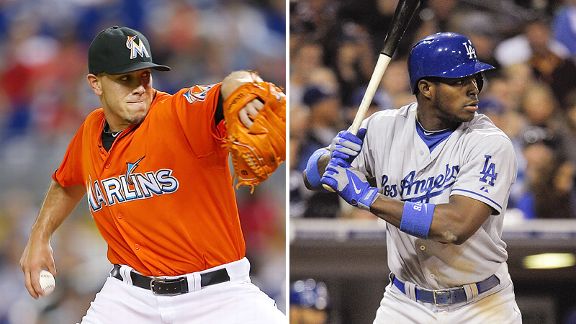 Getty ImagesVoters had a tough choice between Fernandez and Puig for National League ROY.
The National League rookie class was stacked this year, and it would have been easy to find enough names to put on a ballot with 10 slots -- although ranking the players after the first three would have been difficult. The actual NL Rookie of the Year ballot includes only those three slots, however, so it was more painful to omit rookies who had great seasons such as
Shelby Miller
or
Gerrit Cole
than it was to decide how to rank the players who did make the cut.
As I did last year, I filled out my NL Rookie of the Year ballot by first considering each player's performance during this season, and then giving secondary consideration to factors such as the player's age and future projection. I wouldn't consider any of these variables when voting on the MVP or Cy Young Awards, where the purpose of each award is very clear. I believe the Rookie of the Year award intends to highlight an emerging star, not merely the rookie with the best stats, and I vote in that vein.
I think most fans and voters agree that this race came down to two players, Marlins right-hander
Jose Fernandez
and Dodgers outfielder
Yasiel Puig
, both of whom were born in Cuba and both of whom played like superstars at different points during the 2013 season.
To continue reading this article you must be an Insider
July, 6, 2013
7/06/13
9:52
PM ET
June, 27, 2013
6/27/13
10:25
AM ET
If we are supposed to believe that the All-Star Game counts for something other than TV ratings and MLB revenues, why don't we see rosters built to win the game? It's part popularity contest, part reward for having a good two months to start the season, but very little about how the rosters are selected makes it look as though the teams are there to win.
Lineups built to win the game would look like All-Star lineups but would move some players around to different positions to try to build the strongest team possible, while also avoiding those hot-start players who aren't the best choices at their respective positions.
Here are the lineups, including one starter and one reliever per team, that I'd set up to give each league the best chance to win one game.
To continue reading this article you must be an Insider