Keith Law:

Los Angeles Dodgers
October, 3, 2014
Oct 3
12:17
PM ET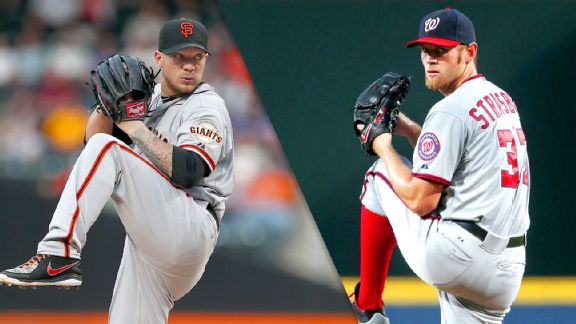 USA TODAY SportsJake Peavy and Stephen Strasburg square off in Game 1 of the NLDS on Friday afternoon.
I posted
my thoughts
on both American League Division Series yesterday, so here is the companion piece, predictions for both National League Division Series and with my rationales. My early guess at the World Series matchup and winner is below.


San Francisco Giants vs. Washington Nationals
I think the Nationals are the best team in the postseason, and also the team best built for the postseason, which is not necessarily the same thing, but both are applicable in this case.
March, 29, 2014
Mar 29
9:54
AM ET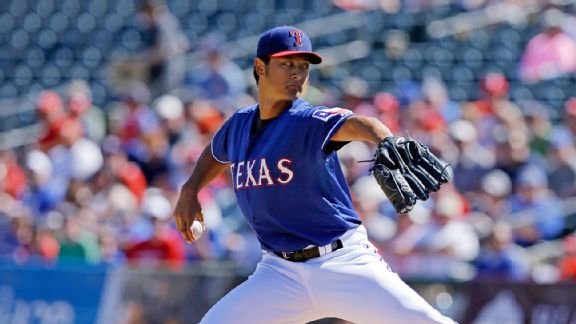 AP Photo/Darron CummingsThe AL leader in strikeout rate last year, Yu Darvish is an AL Cy Young frontrunner.
Keith Law offers up his win-loss predictions for all 30 teams and winners for the six major postseason awards. Furthermore, explanations for each team are included, along with notes on key players or possible impact call-ups. Award predictions follow the division picks.
AL East
It's hard to pick against a
Boston Red Sox
team that returns so many of the players who helped them win the World Series last year, losing
Stephen Drew
but replacing him with one of the majors' best rookies in
Xander Bogaerts
.
To continue reading this article you must be an Insider
March, 20, 2014
Mar 20
12:08
PM ET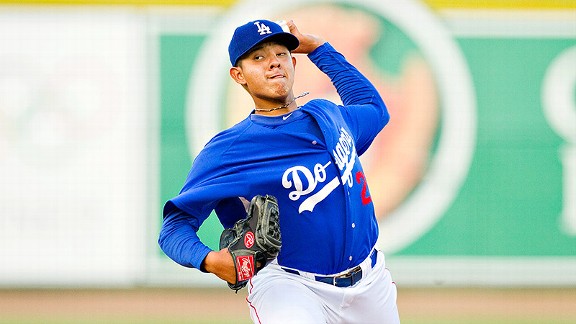 AP Photo/Brian WesterholtJulio Urias, just 17 years old, is showing a repertoire advanced beyond his years.
Though only 17 years old until August, Julio Urias was my
No. 14 prospect
coming into 2014 and he's already showing big league stuff. He performed very well in a brief stint in the low Class A Midwest League last year and threw an inning for the Dodgers on Saturday. He then came back with a crisp three-inning outing on Wednesday in an A-ball game against the Cubs' high Class A roster.
Urias was 91-95 mph with his fastballs, showing good life on a two-seamer and a lot of confidence in the four-seamer, running it in to a right-handed batter for a strikeout when the hitter was probably looking for off-speed. Urias didn't throw his curveball, but threw some very sharp sliders anywhere from 81-86, tending toward the top end of the range for right-handed batters. His changeup was at least solid-average, 81-84 with a little action, relying more on deception and his ability to control the pitch.
Urias' delivery is very clean and simple, with a good stride, plenty of hip rotation, a clean arm swing and a landing that puts him online to the plate.
To continue reading this article you must be an Insider
March, 13, 2014
Mar 13
12:30
PM ET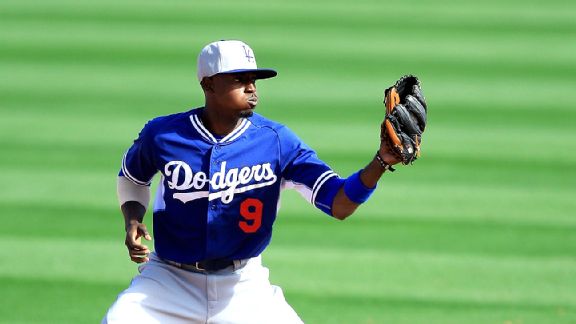 Gregg Forwerck/Getty ImagesDee Gordon can handle second base, but he probably won't hit enough to hold a lineup spot.
GLENDALE, Ariz. -- Buster Olney noted
earlier this week
that
Dee Gordon
may already have won the
Los Angeles Dodgers
' second-base job, which may have something to do with the absence of any real competition here. Gordon did add an unusual amount of muscle this offseason, but he doesn't have the hand or wrist strength to turn on major league fastballs.
He loads his hands very deep, nearly barring his lead arm, and drags the bat through the zone. Between the late start and the lack of wrist strength, he can't accelerate enough to make hard contact.
To continue reading this article you must be an Insider
March, 4, 2014
Mar 4
10:36
AM ET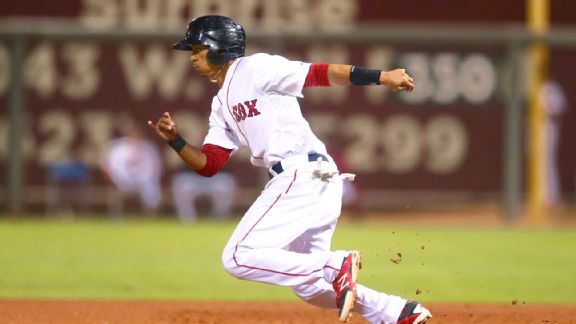 Mark J. Rebilas/USA TODAY SportsRed Sox second-base prospect Mookie Betts is currently blocked by All-Star Dustin Pedroia.
My annual ranking of the
top 100 prospects in baseball
and the
top 10 (or more) prospects in each organization
is completely organization-neutral: I don't consider the makeup of the club each prospect plays for when evaluating his potential as a major leaguer.
Many prospects on the list each year will face some obstacles in reaching the majors with their current employers because they're blocked by more established players, or even other prospects higher up in the system, and I've outlined the six prospects most affected by this phenomenon below.
I didn't include pitchers here because the injury rate for starters is high enough that no starting pitching prospect is every truly blocked;
Noah Syndergaard
and
Archie Bradley
are one sore elbow away from reaching the majors, and you can bet that the
Mets
and
Diamondbacks
, respectively, will have such openings before the 2014 season is out.

1. Mookie Betts, 2B, Boston Red Sox
Betts is the most-blocked prospect in baseball at this point. He's one of the top pure second-base prospects in the game, but he's blocked by
Dustin Pedroia
, who is among the majors' best second basemen and is under contract through 2021.
Betts is a great athlete and could probably play shortstop … at which he's currently blocked by uber-prospect
Xander Bogaerts
, and he could probably play center field, at which he's blocked by elite defender
Jackie Bradley Jr
.
To continue reading this article you must be an Insider
February, 11, 2014
Feb 11
3:31
PM ET
Now that the 2014 preseason top prospect package is complete, here are links to all of the rankings, videos, podcasts and chat wraps.
Top 100 prospects

•
Index
|
Prospects No. 1-50
|
Prospects 51-00
•
10 who just missed
•
Top 20 impact prospects for 2014
Top 10 prospects by team

•
AL East
|
AL Central
|
AL West
•
NL East
|
NL Central
|
NL West
•
Astros No. 1 in farm system rankings
Videos

•
Why Buxton is the No. 1 prospect
•
AL breakout prospects
|
NL breakout prospects
•
Twins, Pirates just behind Astros in farm rankings
Podcast

•
Discussing the top 100 rankings
•
Xander Bogaerts and Mets GM Sandy Alderson
Chat wraps
•
Keith Law
•
Astros GM Jeff Luhnow
•
Byron Buxton
•
Addison Russell
November, 14, 2013
11/14/13
9:30
AM ET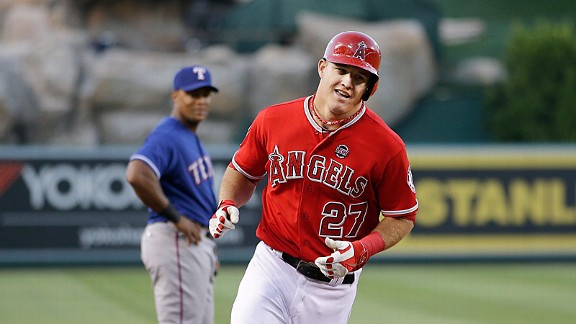 AP Photo/Jae C. HongYes, folks, Mike Trout
should
be on the verge of his second straight MVP.
On Monday, I revealed
my rookie of the year ballots
(I voted in the National League). Today I wanted to reveal what my ballots would look like for the other major player awards. Again, I only voted for NL ROY, so this is for the purpose of discussion.
National League Cy Young
1.
Clayton Kershaw
2.
Adam Wainwright
3.
Cliff Lee
4.
Matt Harvey
5.
Jose Fernandez
This one was a rout, and the first-place vote that Wainwright received is quite a bit surprising. Wainwright was a pretty clear No. 2 for me, with Lee third as he was below Wainwright in WAR (per FanGraphs) and pitched in 19 fewer innings.
To continue reading this article you must be an Insider
November, 11, 2013
11/11/13
6:50
PM ET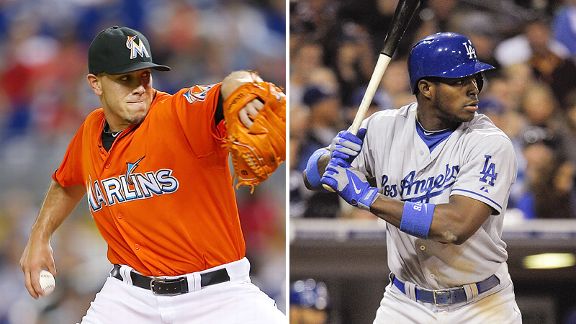 Getty ImagesVoters had a tough choice between Fernandez and Puig for National League ROY.
The National League rookie class was stacked this year, and it would have been easy to find enough names to put on a ballot with 10 slots -- although ranking the players after the first three would have been difficult. The actual NL Rookie of the Year ballot includes only those three slots, however, so it was more painful to omit rookies who had great seasons such as
Shelby Miller
or
Gerrit Cole
than it was to decide how to rank the players who did make the cut.
As I did last year, I filled out my NL Rookie of the Year ballot by first considering each player's performance during this season, and then giving secondary consideration to factors such as the player's age and future projection. I wouldn't consider any of these variables when voting on the MVP or Cy Young Awards, where the purpose of each award is very clear. I believe the Rookie of the Year award intends to highlight an emerging star, not merely the rookie with the best stats, and I vote in that vein.
I think most fans and voters agree that this race came down to two players, Marlins right-hander
Jose Fernandez
and Dodgers outfielder
Yasiel Puig
, both of whom were born in Cuba and both of whom played like superstars at different points during the 2013 season.
To continue reading this article you must be an Insider
October, 3, 2013
10/03/13
9:41
AM ET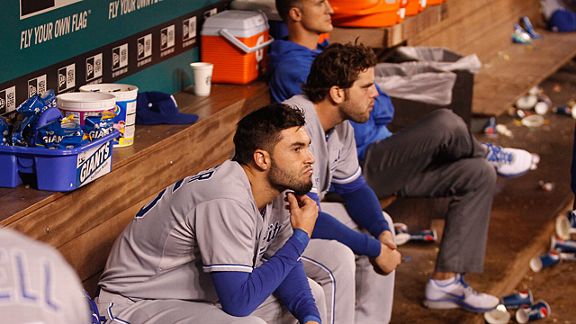 Otto Geule Jr/Getty ImagesThe Royals get punished by the new CBA for being good but not making the playoffs.
By the standards of their own recent history, the Royals had a very successful season. The team won 86 games, their best record since 1989, and they outscored their opponents on a season for the first time since 1991. Their two biggest offseason acquisitions,
Ervin Santana
(in a dump trade with the Angels) and
James Shields
(in the
Wil Myers
trade with Tampa Bay), both pitched very well for the big club, helping the Royals allow the fewest runs of any team in the American League, 23 fewer than the division-winning Tigers. Some young players took strides:
Eric Hosmer
hit .317/.365/.492 after the team fired hitting coach Jack Maloof; catcher
Salvador Perez
had his first full, healthy season in the majors and performed well.
There were plenty of positives for the Royals, but because the season went well, some of the structural reasons that helped the team get to this point will now work against the team.
To continue reading this article you must be an Insider
September, 17, 2013
9/17/13
8:49
AM ET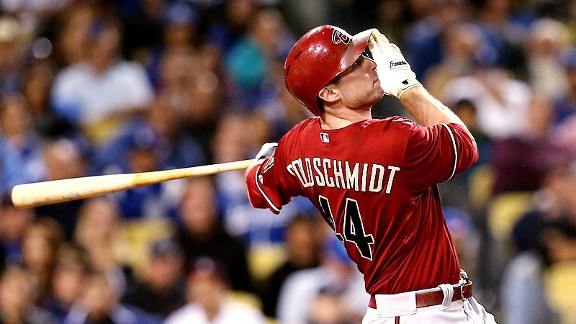 Stephen Dunn/Getty ImagesPaul Goldschmidt has proven to be a much better player than Keith expected him to be.
I wrote last year about
five players on whom I'd been wrong
at some point, whether in an initial evaluation or even a second look in pro ball. In that spirit, here's the 2013 edition, looking at six more players who beat my expectations and who I now think will continue to do so.

I saw Goldschmidt only once as a prospect, at the Futures Game in Phoenix in 2011, and saw a strong guy who wasn't a great athlete and showed raw power in BP but didn't have more than average bat speed. I talked to a number of pro scouts and front-office guys after that and heard similar opinions, calling him a fringy regular or a platoon first baseman.
To continue reading this article you must be an Insider
August, 11, 2013
8/11/13
9:07
AM ET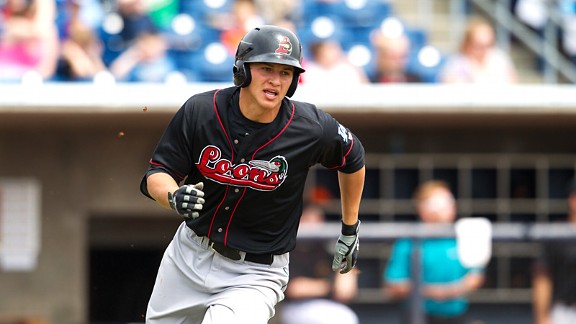 Brace Hemmelgarn/Four Seam Images/AP ImagesCorey Seager hit .309/.389/.529 in the Midwest League before his recent promotion.
LAKE ELSINORE, Calif. -- En route from Long Beach, where I was at the New Balance Area Code Games all week, to San Diego, for the Perfect Game All-American Classic, I stopped in Lake Elsinore on Friday night for a look at the Dodgers' top prospect, shortstop
Corey Seager
, younger (but bigger) brother of Mariners infielder Kyle.
Seager, 19, was recently promoted to high Class A Rancho Cucamonga, and the Quakes were in town to play the Lake Elsinore Storm (Padres).
To continue reading this article you must be an Insider
July, 6, 2013
7/06/13
9:52
PM ET
June, 27, 2013
6/27/13
10:25
AM ET
If we are supposed to believe that the All-Star Game counts for something other than TV ratings and MLB revenues, why don't we see rosters built to win the game? It's part popularity contest, part reward for having a good two months to start the season, but very little about how the rosters are selected makes it look as though the teams are there to win.
Lineups built to win the game would look like All-Star lineups but would move some players around to different positions to try to build the strongest team possible, while also avoiding those hot-start players who aren't the best choices at their respective positions.
Here are the lineups, including one starter and one reliever per team, that I'd set up to give each league the best chance to win one game.
To continue reading this article you must be an Insider