Keith Law:

Los Angeles Angels
October, 2, 2014
Oct 2
9:03
AM ET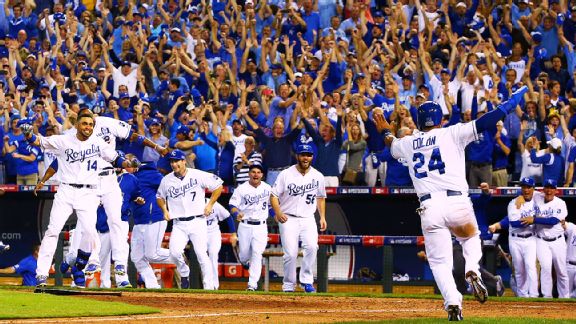 Dilip Vishwanat/Getty ImagesThere was joy in Kansas City on Tuesday, but can they continue to win
despite
their manager?
I'm of the opinion that most playoff series odds are no better than about 55-45, even when one team is clearly superior to the other, because of the randomness inherent in short series and in baseball in general.
The two AL Division Series matchups this year strike me as even closer than that because of key injuries on the rosters of both teams with home-field advantage. Here are my predictions for both series, with some general reasons behind them.
July, 20, 2014
Jul 20
11:23
AM ET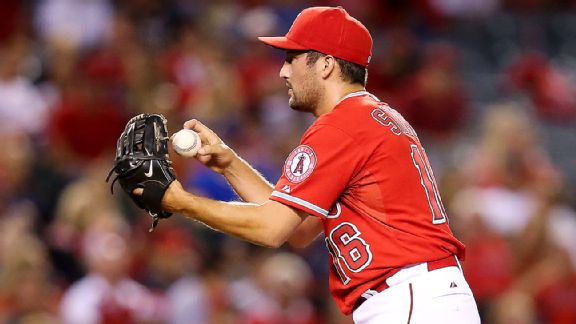 Stephen Dunn/Getty ImagesHuston Street fills a need for the Angels, but they paid a hefty price for his services.
The
Los Angeles Angels
were desperate for a closer in the best year they've had since acquiring
Albert Pujols
and the
San Diego Padres
had a spare closer lying around whom they didn't need, but the amount of talent heading to San Diego in exchange for
Huston Street
is baffling.
The Angels seem to have paid for name value or the Proven Closer™ tag rather than for production; Street hasn't been worth more than 1.0 fWAR -- a metric that
derives a pitcher's WAR using FIP
-- in any season since 2009, coincidentally the last time he reached 60 innings in one year.
Street is a good fit for the Angels' park -- a fly-ball pitcher who throws a ton of strikes -- and wasn't just a Petco Park fabrication, but he's also not going to strand every runner he lets reach base indefinitely. There are only a few right-handed relievers in the American League working with a below-average fastball, like Street has, and only one of them,
Koji Uehara
, is a successful closer. Street is probably worth half a win on paper to the Angels, more than that in the standings because of the high-leverage work he'll get and who he's replacing, but I don't foresee him adding enough W's in the standings to justify all they gave up to get him.
I said on Twitter
that I wouldn't have dealt shortstop prospect Jose Rondon straight-up for two-plus months of Street's services, so I certainly don't like the total price for the Angels in this trade -- and love it for San Diego.
To continue reading this article you must be an Insider
June, 12, 2014
Jun 12
9:55
AM ET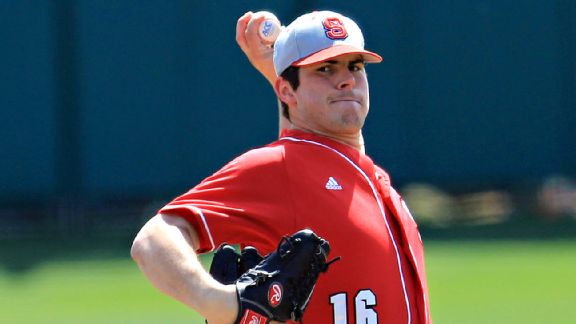 AP Photo/Mark CrammerHard-throwing lefty Carlos Rodon leaps to the top of the White Sox's system.
Law's 2014 draft archive: Winners and questions

| AL analysis

| NL analysis

The 2014 Rule 4 Draft is over, which means every club just got an influx of top talent into its farm system. Assuming all these top picks sign, here are five teams who just acquired a new No. 1 prospect as well as notes on two other teams' first overall picks and where they might slot into the prospect rankings of each organization.

Chicago White Sox: Carlos Rodon, LHP
The White Sox's top two prospects coming into 2014,
Erik Johnson
and
Matt Davidson
, have disappointed thus far.
To continue reading this article you must be an Insider
March, 29, 2014
Mar 29
9:54
AM ET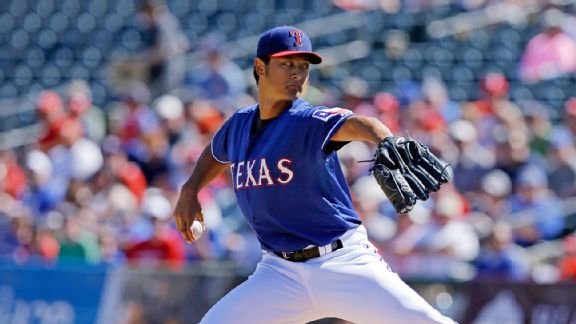 AP Photo/Darron CummingsThe AL leader in strikeout rate last year, Yu Darvish is an AL Cy Young frontrunner.
Keith Law offers up his win-loss predictions for all 30 teams and winners for the six major postseason awards. Furthermore, explanations for each team are included, along with notes on key players or possible impact call-ups. Award predictions follow the division picks.
AL East
It's hard to pick against a
Boston Red Sox
team that returns so many of the players who helped them win the World Series last year, losing
Stephen Drew
but replacing him with one of the majors' best rookies in
Xander Bogaerts
.
To continue reading this article you must be an Insider
March, 29, 2014
Mar 29
12:17
AM ET
The
Miguel Cabrera
deal seemed like it might pose big problems for the
Los Angeles Angels
as they tried to lock up
Mike Trout
, the best player in baseball in each of the past two seasons, to a long-term extension, but the Halos and Trout were apparently close enough that they still managed to come to terms on a deal.
The extension is for six years (2015 through 2020) and
reportedly worth $144.5 million
on top of the $1 million he'll earn this season.
It's a reasonable deal for both sides, paying Trout a rational salary in his free-agent years that could end up a little light if the market keeps going up while also giving him tremendous financial security.
A generational talent
Trout will almost certainly set the record for the highest annual salary with the three free-agent years in this deal, which I imagine will come in at more than $30 million per season.
To continue reading this article you must be an Insider
March, 24, 2014
Mar 24
12:57
PM ET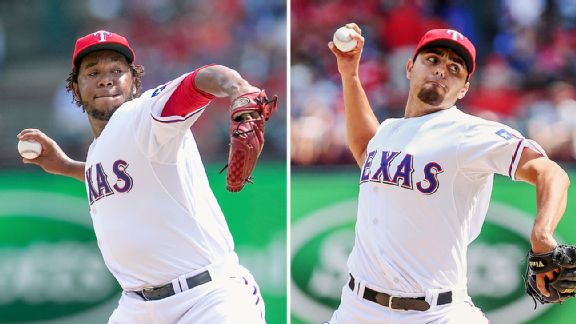 Getty ImagesNeftali Feliz shows little motivation or stuff, making Joakim Soria an easy decision as Texas' closer.
SURPRISE, Ariz. -- I'm leaving Arizona on Monday to head home, so here's the last two days' worth of notes on players I saw over the weekend.

• Texas lefty
Joe Saunders
showed virtually no ability to get major league hitters out, but reliever
Neftali Feliz
came in after and wasn't a whole lot better. Worse, Feliz seemed totally disinterested in the whole "pitching" part of his day.
Feliz's fastball was 89-91 mph with good tailing life, but that's way below his old velocity, although he also didn't seem to be putting any effort into it.
To continue reading this article you must be an Insider
February, 11, 2014
Feb 11
3:31
PM ET
Now that the 2014 preseason top prospect package is complete, here are links to all of the rankings, videos, podcasts and chat wraps.
Top 100 prospects

•
Index
|
Prospects No. 1-50
|
Prospects 51-00
•
10 who just missed
•
Top 20 impact prospects for 2014
Top 10 prospects by team

•
AL East
|
AL Central
|
AL West
•
NL East
|
NL Central
|
NL West
•
Astros No. 1 in farm system rankings
Videos

•
Why Buxton is the No. 1 prospect
•
AL breakout prospects
|
NL breakout prospects
•
Twins, Pirates just behind Astros in farm rankings
Podcast

•
Discussing the top 100 rankings
•
Xander Bogaerts and Mets GM Sandy Alderson
Chat wraps
•
Keith Law
•
Astros GM Jeff Luhnow
•
Byron Buxton
•
Addison Russell
December, 10, 2013
12/10/13
5:51
PM ET
LAKE BUENA VISTA, Fla. --
The three-team deal involving
the
Chicago White Sox
,
Arizona Diamondbacks
and
Los Angeles Angels
feels very lopsided, with one team clearly ahead (on paper), one in the middle and one clearly behind, in large part because two of the teams addressed serious needs while the third acquired a player they didn't need and can't easily deploy.
This deal is an enormous win for the Angels, who needed starting pitching of any sort, but especially needed young pitching with many years of control remaining. For one replaceable asset, they obtained two such starters, one who has already established himself as a major league starter, another who is a major league-ready option in need of some minor delivery tweaks.
Angels' haul
To continue reading this article you must be an Insider
November, 22, 2013
11/22/13
4:18
PM ET
November, 14, 2013
11/14/13
9:30
AM ET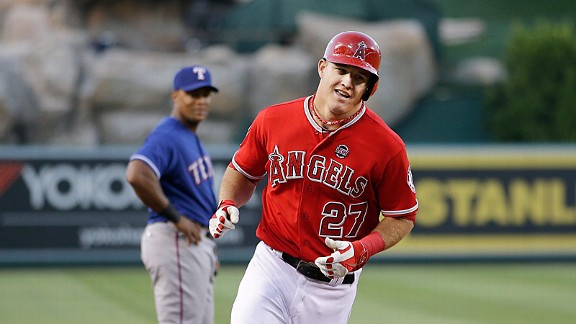 AP Photo/Jae C. HongYes, folks, Mike Trout
should
be on the verge of his second straight MVP.
On Monday, I revealed
my rookie of the year ballots
(I voted in the National League). Today I wanted to reveal what my ballots would look like for the other major player awards. Again, I only voted for NL ROY, so this is for the purpose of discussion.
National League Cy Young
1.
Clayton Kershaw
2.
Adam Wainwright
3.
Cliff Lee
4.
Matt Harvey
5.
Jose Fernandez
This one was a rout, and the first-place vote that Wainwright received is quite a bit surprising. Wainwright was a pretty clear No. 2 for me, with Lee third as he was below Wainwright in WAR (per FanGraphs) and pitched in 19 fewer innings.
To continue reading this article you must be an Insider
August, 20, 2013
8/20/13
11:48
AM ET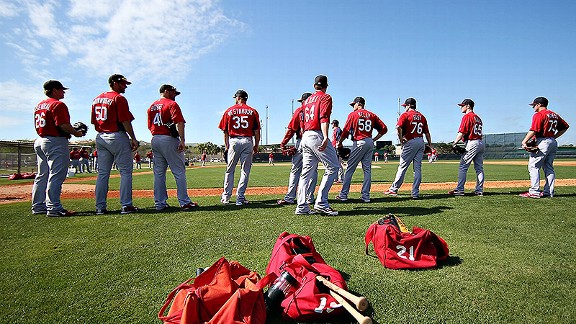 Leon Halip/Getty ImagesFor starting pitching depth throughout an organization, it's tough to top St. Louis.
For this post I was asked to take a look at every position and pick which team has the most overall talent if you look at the organization as a whole. So if a team has a strong shortstop at the major league level but no depth within the organization, it could come in behind a team with a decent shortstop but a couple of really good prospects at the position. So think of this as the sum of current MLB talent plus what's in the pipeline.
It's worth a reminder that strong depth at one position is a good way to fill holes via trades. Anybody saying too much talent at one position doesn't matter because you can't play three shortstops is clueless from a business and personnel standpoint. As a note: outfield and pitching have been consolidated because of how we calculate value at those positions.
Catcher

The Yankees have more prospect depth at the catcher position than any other team, with Gary Sanchez a potential star if he can improve his receiving enough to remain at the position, while J.R. Murphy is emerging as at least a strong backup.
Austin Romine
should be getting regular playing time in the majors down the stretch, at least once the Yankees decide their playoff odds are too low to ... well, playing
Chris Stewart
isn't exactly pushing them toward the playoffs anyway, so why not just play Romine and see what you've got?
That said, the Pirates probably have more present value than the Yankees because of
Russell Martin
, with
Tony Sanchez
probably a solid major league backup and 18-year-old Reese McGuire among the game's top dozen or so catching prospects. There is so little catching in full-season minor leagues right now that you would be hard-pressed to identify 10 clear everyday starters without reaching down to short-season leagues.
First base
To continue reading this article you must be an Insider
August, 6, 2013
8/06/13
10:50
AM ET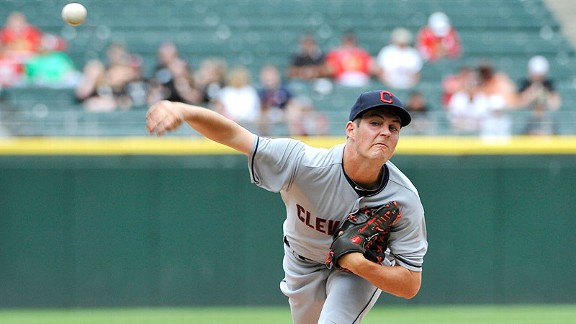 David Banks/Getty ImagesTrevor Bauer is not showing the velocity that made him the No. 3 overall draft pick.
I've been asked recently about a number of prospects having disappointing years, especially players who were on my
preseason top 100
list but missed my
midseason top 50 rankings
due to poor performance coupled with negative scouting reports. I've talked to a number of pro scouts over the past few days about these players to get some updated takes on their futures and whether any of these players' ships have sailed already.
This omits players who will fall from their 2013 rankings due to injury, including
Dylan Bundy
(Tommy John surgery), Taylor Guerrieri (same),
Casey Kelly
(it's like an epidemic), Rymer Liriano (we should just quarantine the Padres), Tyler Austin (wrist), Adam Morgan (shoulder) and Hak-Ju Lee (ankle). I'm also giving a pass to Courtney Hawkins, who was promoted too aggressively, starting the year in high Class A at age 19 when he probably belonged in extended spring training, yet who still has a very high ceiling if he can recover from a year when he'll be lucky to strike out in only 40 percent of his plate appearances.

Trevor Bauer, RHP | Cleveland Indians
While
Didi Gregorius
hasn't exactly lit up the National League, so far he's provided a better return to Arizona than Bauer has to Cleveland, which is more a function of how bad Bauer's been since the trade.
To continue reading this article you must be an Insider
July, 31, 2013
7/31/13
11:29
AM ET
The trade: Angels send Alberto Callaspo to the A's for Grant Green
Alberto Callaspo provides the A's with some infield depth and flexibility, as he can fill in at multiple positions. He is best at third base but capable of handling second or as an emergency backup at short while providing value as a right-handed bat off the bench. (He's a switch-hitter but better from the right side.)
To continue reading this article you must be an Insider
July, 29, 2013
7/29/13
1:30
PM ET