Keith Law:

Kansas City Royals
July, 29, 2014
Jul 29
12:35
AM ET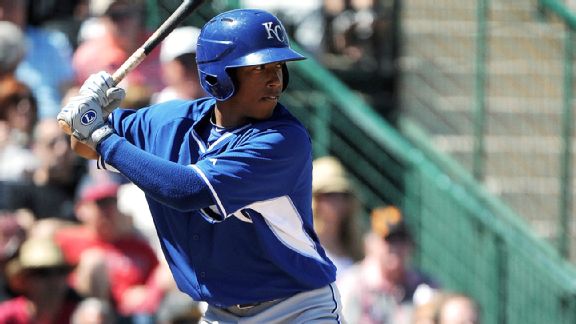 Lisa Blumenfeld/Getty ImagesYoung shortstop prospect Raul Mondesi Jr. could use a little different approach at the plate.
Some notes from a pair of Class A games I attended in the past week, beginning with a matchup between the Royals' and White Sox's high-A affiliates:
• The Wilmington Blue Rocks' lineup is down two bats of note following last month's promotion of Hunter Dozier. Shortstop
Raul Mondesi Jr.
, who turned just 19 on Sunday, is struggling at the plate, which is not surprising given how young he is for the level. But he's making it worse with his incessant attempts to bunt for hits. He's doing it early in counts, so he's not able to work on pitch recognition or timing or just swinging the bat like you want a prospect to do. He's a plus runner, so bunting for hits would add value, but it shouldn't come at the expense of him learning to hit. I'd put a moratorium on him trying to bunt for any reason the rest of the year, forcing him to work on improving his approach and gaining consistency with his left-handed swing.
• Wilmington lefty
Sean Manaea
looked better than he did when I saw him in April, showing a more fluid delivery, better use of his legs and a little more velocity.
April, 10, 2014
Apr 10
9:15
AM ET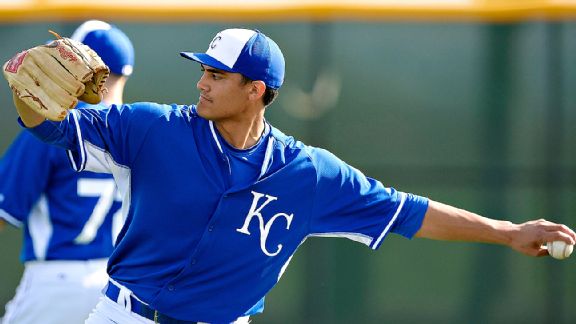 John Sleezer/Getty ImagesIf Sean Manaea regains his mid-90s velocity he could become an elite starter.
I tabbed Wilmington (Royals) and Myrtle Beach (Rangers) as two of
the most loaded minor league rosters
to start the season, and lo and behold, the two faced each other this week in the first home series for the Blue Rocks. I went to the first two games of the three-game series, and have the following to report about these two clubs in the high Class A Carolina League.
Wilmington (Kansas City Royals affiliate)
• Lefty
Sean Manaea
made his pro debut Tuesday night, throwing 60 pitches before he was lifted once he hit his limit. Manaea was the Royals' second pick in the 2013 draft, 34th overall, a potential top-10 pick before he suffered an injury to the labrum in his hip in a start last March at the late, unlamented Metrodome. The Royals signed him for $3.55 million, comparable to a top-five selection, after working out a below-slot deal with their first pick, infielder
Hunter Dozier
.

Manaea hit 88 to 92 mph Tuesday night, touching 94, and dipping to 88-90 in his last inning, but the tremendous deception in his delivery had hitters swinging through his fastball for much of the outing.
To continue reading this article you must be an Insider
April, 3, 2014
Apr 3
9:45
AM ET
Thursday is Opening Day for the minor leagues, and final rosters have been appearing online over the last 24 hours. Christopher Crawford has compiled lists showing where the
top 10 prospects in each organization have been assigned
, and here I'll highlight six rosters in particular that are loaded with top prospects or other guys I'd gladly travel to go watch.
Wilmington Blue Rocks (Kansas City Royals, high Class A)
Top 100 prospects:
SS Raul Mondesi Jr., RHP Miguel Almonte
Former top 100 guys:
OF Bubba Starling
First-round picks:
IF Hunter Dozier (2013), LHP Sean Manaea (2013), Starling (2011)
Other prospects of note:
RHP Aroni Nina, C Zane Evans, C Cam Gallagher, RHP Christian Binford

I may be biased, but the team in my own backyard might just be the most loaded roster in all of minor league baseball.
To continue reading this article you must be an Insider
April, 3, 2014
Apr 3
7:30
AM ET
With the help of Christopher Crawford of MLB Draft Insider, we have compiled the minor league assignments for all prospects in Keith Law's organizational top 10 rankings.
Due to injuries and late assignments, some minor league rosters are not yet official. In those instances, we took our best guess as to where those prospects will be assigned to begin the year.

Note: Players with an asterisk have been traded since the top-10 lists came out, and they are listed with their assignment for their new club.

To continue reading this article you must be an Insider
March, 29, 2014
Mar 29
9:54
AM ET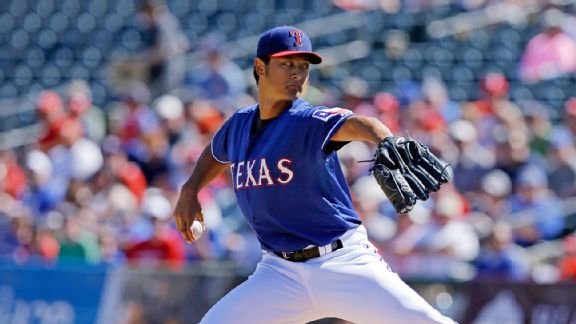 AP Photo/Darron CummingsThe AL leader in strikeout rate last year, Yu Darvish is an AL Cy Young frontrunner.
Keith Law offers up his win-loss predictions for all 30 teams and winners for the six major postseason awards. Furthermore, explanations for each team are included, along with notes on key players or possible impact call-ups. Award predictions follow the division picks.
AL East
It's hard to pick against a
Boston Red Sox
team that returns so many of the players who helped them win the World Series last year, losing
Stephen Drew
but replacing him with one of the majors' best rookies in
Xander Bogaerts
.
To continue reading this article you must be an Insider
February, 11, 2014
Feb 11
3:31
PM ET
Now that the 2014 preseason top prospect package is complete, here are links to all of the rankings, videos, podcasts and chat wraps.
Top 100 prospects

•
Index
|
Prospects No. 1-50
|
Prospects 51-00
•
10 who just missed
•
Top 20 impact prospects for 2014
Top 10 prospects by team

•
AL East
|
AL Central
|
AL West
•
NL East
|
NL Central
|
NL West
•
Astros No. 1 in farm system rankings
Videos

•
Why Buxton is the No. 1 prospect
•
AL breakout prospects
|
NL breakout prospects
•
Twins, Pirates just behind Astros in farm rankings
Podcast

•
Discussing the top 100 rankings
•
Xander Bogaerts and Mets GM Sandy Alderson
Chat wraps
•
Keith Law
•
Astros GM Jeff Luhnow
•
Byron Buxton
•
Addison Russell
November, 21, 2013
11/21/13
5:17
PM ET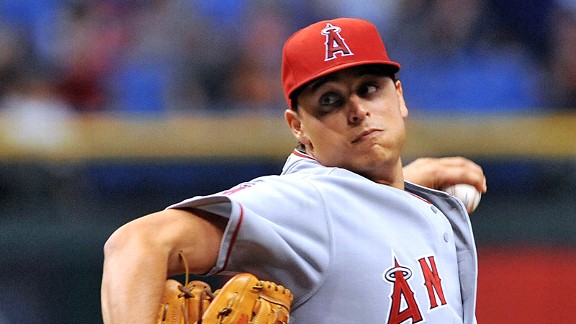 Al Messerschmidt/Getty ImagesMost of Vargas' success has come pitching in spacious home ballparks.
The
Kansas City Royals
were right to target an affordable starting pitcher this winter, but giving
Jason Vargas
, a fifth starter who might be a No. 4 in the right situation,
a four-year deal shows way
too much faith in his ability to adapt and survive as a finesse guy -- even though the annual salary ($8 million) isn't that high.
Vargas has spent the bulk of his career pitching in two great environments for fly ball pitchers or for guys with below-average fastballs -- Safeco Field and Angel Stadium. In those two parks, he's thrown 498 2/3 innings with a 3.23 ERA, allowing 50 homers with solid strikeout and walk rates. Everywhere else over the last five years, he's posted a 5.26 ERA in 354 innings, allowing 58 homers with a strikeout rate about a third lower than it was in his two home parks.
To continue reading this article you must be an Insider
August, 6, 2013
8/06/13
10:50
AM ET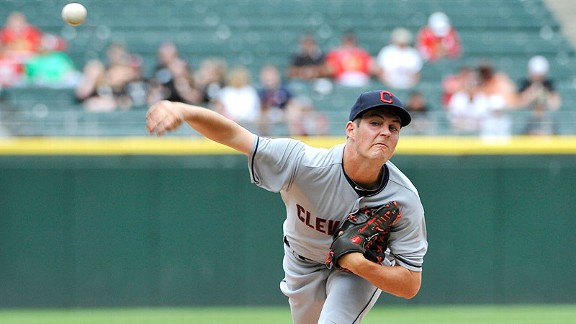 David Banks/Getty ImagesTrevor Bauer is not showing the velocity that made him the No. 3 overall draft pick.
I've been asked recently about a number of prospects having disappointing years, especially players who were on my
preseason top 100
list but missed my
midseason top 50 rankings
due to poor performance coupled with negative scouting reports. I've talked to a number of pro scouts over the past few days about these players to get some updated takes on their futures and whether any of these players' ships have sailed already.
This omits players who will fall from their 2013 rankings due to injury, including
Dylan Bundy
(Tommy John surgery), Taylor Guerrieri (same),
Casey Kelly
(it's like an epidemic), Rymer Liriano (we should just quarantine the Padres), Tyler Austin (wrist), Adam Morgan (shoulder) and Hak-Ju Lee (ankle). I'm also giving a pass to Courtney Hawkins, who was promoted too aggressively, starting the year in high Class A at age 19 when he probably belonged in extended spring training, yet who still has a very high ceiling if he can recover from a year when he'll be lucky to strike out in only 40 percent of his plate appearances.

Trevor Bauer, RHP | Cleveland Indians
While
Didi Gregorius
hasn't exactly lit up the National League, so far he's provided a better return to Arizona than Bauer has to Cleveland, which is more a function of how bad Bauer's been since the trade.
To continue reading this article you must be an Insider
August, 1, 2013
8/01/13
10:57
AM ET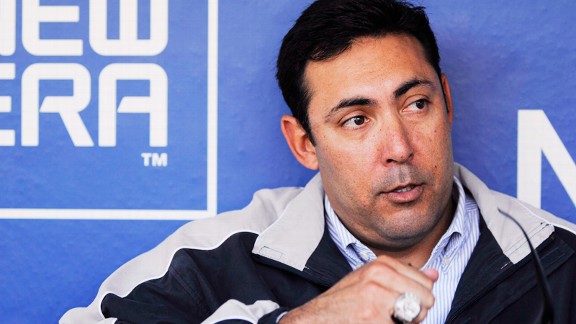 Howard Smith/US PresswirePhillies general manager Ruben Amaro Jr. decided not to make any deals at the trade deadline.
I hope everyone has recovered from the excitement of this year's trade deadline, which included all of three sellers -- Houston and the two Chicago teams. Here's a look at teams that didn't do anything but should have, or could have if the market had cooperated.
Sellers who didn't sell

Philadelphia Phillies:
The Phillies couldn't even execute the biggest no-brainer trade of all -- dealing
Michael Young
, age 36 and an impending free agent, so they could play prospect
Cody Asche
every day at third and
Darin Ruf
at first for the rest of the year. Young could still move in August if, say, the Yankees claim him on waivers, but the Phillies also lost opportunities to deal other free agents-to-be, including
Carlos Ruiz
(age 34) and
Chase Utley
(34).
To continue reading this article you must be an Insider
July, 16, 2013
7/16/13
9:26
AM ET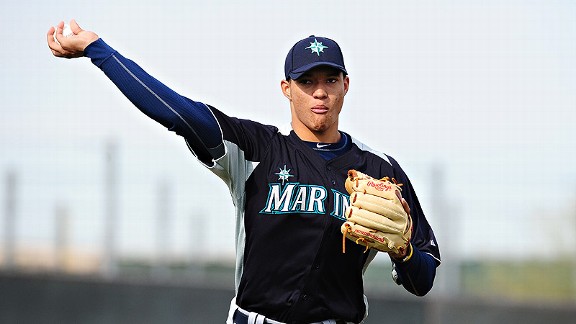 Mark J. Rebilas/US PresswireTaijuan Walker has added a cutter to his arsenal, though his curveball remains fringy.
As promised, here are a few more notes and observations from Sunday's 15th annual MLB Futures Game. If you missed my first batch,
here they are
.
• I mentioned that Baltimore's
Henry Urrutia
took a very good BP on Sunday, so here's some more detail. His approach overall is very quiet, with great balance throughout and more strength in his wrists and forearms than you'd guess based on his lean frame. He rotates his hips well for more power and gets very good extension through the zone. His at-bats in the game weren't great -- small sample, of course -- and he's not a good athlete. But as a second-half DH option for the Orioles, who have received a repulsive .197/.261/.382 line from their designated hitters and have taken to using the likes of
Nolan Reimold
in that spot -- this year, he could easily provide an upgrade.
To continue reading this article you must be an Insider
June, 30, 2013
6/30/13
3:19
PM ET
I made my first trip to Frawley Stadium in Wilmington, Del., on Saturday night, receiving a wonderful welcome from the Blue Rocks' staff and catching a few famous pitching prospects in the process, thanks to a doubleheader against the Potomac Nationals.
Wilmington Game 1 starter,
Kyle Zimmer
, was the Royals' first overall pick in the 2012 rule 4 draft, a converted position player who showed a big fastball and curveball and had a very easy, athletic delivery that pointed to a top-of-the-rotation ceiling. All of that was on display on Saturday night, as he threw a seven-inning shutout. It was a game in which he gave up just two hits and one hard-hit ball while punching out six batters.
Zimmer showed three plus pitches on Saturday, led by a 93-97 mph fastball that he moved around the zone well and was willing to elevate to get swings and misses. He held that velocity into the final innings, still hitting 95-96 regularly as the game wound down. His curveball is still a thing of beauty, 78-83 with depth and angle to it, and he's comfortable throwing it to both sides of the plate.<!—offer-->
To continue reading this article you must be an Insider
June, 27, 2013
6/27/13
10:25
AM ET
If we are supposed to believe that the All-Star Game counts for something other than TV ratings and MLB revenues, why don't we see rosters built to win the game? It's part popularity contest, part reward for having a good two months to start the season, but very little about how the rosters are selected makes it look as though the teams are there to win.
Lineups built to win the game would look like All-Star lineups but would move some players around to different positions to try to build the strongest team possible, while also avoiding those hot-start players who aren't the best choices at their respective positions.
Here are the lineups, including one starter and one reliever per team, that I'd set up to give each league the best chance to win one game.
To continue reading this article you must be an Insider
June, 18, 2013
6/18/13
11:04
AM ET
Teams that like to delay promoting top prospects until the point in the year when it's late enough to avoid giving the player a shot at
Super 2 status
in arbitration can breathe easily now, as we're well past that date, as shown by recent and imminent call-ups of four prospects --
Wil Myers
,
Zack Wheeler
,
Mike Zunino
and
Gerrit Cole
-- who appeared on
my top 25 update in late May
.
With Myers and Wheeler debuting Tuesday night, here are my thoughts on those four guys as well as three others we might see in the majors in the next month or so.
Zack Wheeler, RHP | New York Mets
Although expectations have been set sky-high by the remarkable stuff shown by
Matt Harvey
, Wheeler, once the superior prospect in my opinion, has a decent gap to close just to catch up to his fellow Met.
To continue reading this article you must be an Insider
May, 22, 2013
5/22/13
11:38
AM ET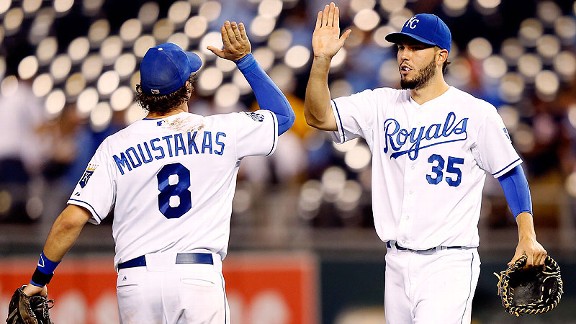 Jamie Squire/Getty ImagesThe Royals are off to a solid start despite the struggles of Moustakas and Hosmer.
HOUSTON --
Eric Hosmer
looked like a future MVP as recently as spring training of 2012, but since then his failure to develop as a hitter has been one of the more surprising developments on the prospect front, and it's a major reason why the
Kansas City Royals
haven't played up to expectations. I scouted his game on Wednesday to try and get a sense of what has gone wrong.
Hosmer, the third overall pick in the strong 2008 draft -- two picks ahead of someone named Buster, and I don't mean Bluth -- was below-replacement level last year and is on pace to be worth less than a win above it this year. The most likely reason I can see is in his hands.
To continue reading this article you must be an Insider