Keith Law:

Baltimore Orioles
April, 17, 2014
Apr 17
4:35
PM ET
DELMARVA, Md. -- Tuesday rain meant Wednesday's marquee minor league pitching matchup in Delmarva, Md., was a 5 p.m., seven-inning game to start a doubleheader, which meant hitters unlucky enough to have to face
Baltimore Orioles
prospect
Hunter Harvey
(son of former Angel and Marlin closer Bryan) or
Washington Nationals
prospect
Lucas Giolito
had to do so with the late-evening shadows interfering as well. Both pitchers lived up to expectations, combining for 11 shutout innings, allowing eight baserunners and striking out 13.
• Harvey was throwing 91-94 mph with plus sink on his fastball and was very aggressive with the pitch, coming inside to right- and left-handed batters without fear.
To continue reading this article you must be an Insider
April, 3, 2014
Apr 3
7:30
AM ET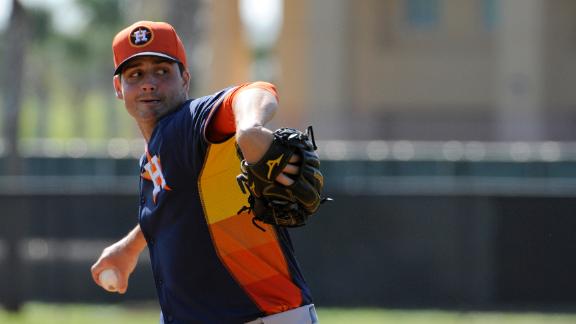 With the help of Christopher Crawford of MLB Draft Insider, we have compiled the minor league assignments for all prospects in Keith Law's organizational top 10 rankings.
Due to injuries and late assignments, some minor league rosters are not yet official. In those instances, we took our best guess as to where those prospects will be assigned to begin the year.

Note: Players with an asterisk have been traded since the top-10 lists came out, and they are listed with their assignment for their new club.

To continue reading this article you must be an Insider
March, 29, 2014
Mar 29
9:54
AM ET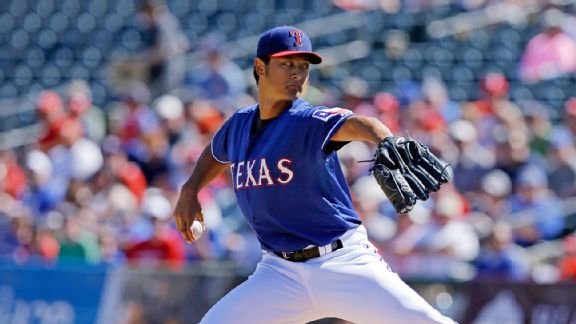 AP Photo/Darron CummingsThe AL leader in strikeout rate last year, Yu Darvish is an AL Cy Young frontrunner.
Keith Law offers up his win-loss predictions for all 30 teams and winners for the six major postseason awards. Furthermore, explanations for each team are included, along with notes on key players or possible impact call-ups. Award predictions follow the division picks.
AL East
It's hard to pick against a
Boston Red Sox
team that returns so many of the players who helped them win the World Series last year, losing
Stephen Drew
but replacing him with one of the majors' best rookies in
Xander Bogaerts
.
To continue reading this article you must be an Insider
February, 22, 2014
Feb 22
12:16
PM ET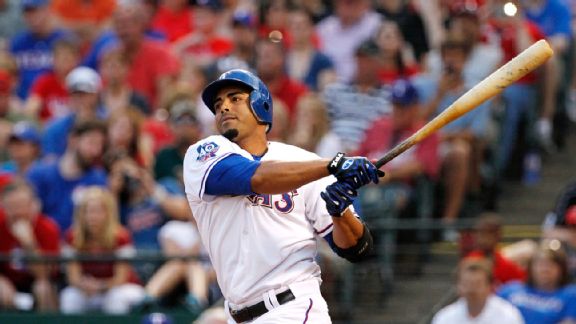 AP Photo/Tony GutierrezOutfielder Nelson Cruz signed a 1-year, $8 million deal with the Baltimore Orioles.
Once the Orioles signed
Ubaldo Jimenez
-- forfeiting their first-round pick -- signing another free agent requiring compensation made a lot more sense, as the value of the next pick they'd have to give up is much lower.
Nelson Cruz
's one-year, $8 million deal reflects that cost but also the questions about his PED usage and his negative defensive value.
He's a solid fit for Baltimore, however, as the team had no real DH option on the roster, just several part-time players from whom they could have cobbled together a decent platoon. Cruz is better than any of those individual options, a destroyer of southpaws who hits right-handed pitching for enough power to keep him in the lineup every day, although spelling him against the best righties wouldn't be a bad strategy.
To continue reading this article you must be an Insider
February, 17, 2014
Feb 17
9:14
PM ET
The
Baltimore Orioles
get a mild bargain in
Ubaldo Jimenez
--
four years for close to $50 million
-- by waiting out the market, although the loss of the 17th overall pick in the 2014 draft stings, and Ubaldo himself is still a volatile asset. That said, I think it's a positive move for them even with the associated risk.
Jimenez spent two-and-a-half years with Cleveland, and the first two years were awful, with a 5.10 ERA in 340 2/3 innings. Early in 2013, however, Cleveland pitching coach
Mickey Callaway
worked on speeding up Ubaldo's delivery and keeping him more online toward the plate when he strides. There were flashes of the new Ubaldo in the first half of 2013, and in the second half, he was dominant, punching out 100 against 27 walks in 84 innings.
To continue reading this article you must be an Insider
February, 11, 2014
Feb 11
3:31
PM ET
Now that the 2014 preseason top prospect package is complete, here are links to all of the rankings, videos, podcasts and chat wraps.
Top 100 prospects

•
Index
|
Prospects No. 1-50
|
Prospects 51-00
•
10 who just missed
•
Top 20 impact prospects for 2014
Top 10 prospects by team

•
AL East
|
AL Central
|
AL West
•
NL East
|
NL Central
|
NL West
•
Astros No. 1 in farm system rankings
Videos

•
Why Buxton is the No. 1 prospect
•
AL breakout prospects
|
NL breakout prospects
•
Twins, Pirates just behind Astros in farm rankings
Podcast

•
Discussing the top 100 rankings
•
Xander Bogaerts and Mets GM Sandy Alderson
Chat wraps
•
Keith Law
•
Astros GM Jeff Luhnow
•
Byron Buxton
•
Addison Russell
February, 11, 2014
Feb 11
9:35
AM ET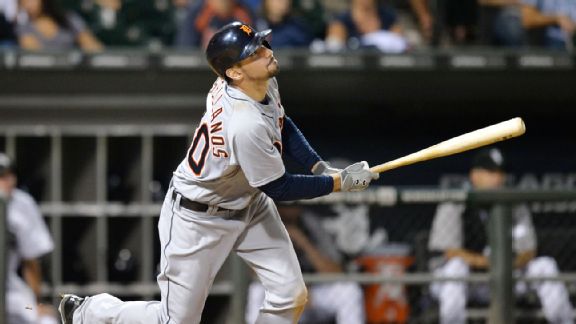 Brian D. Kersey/Getty ImagesThe path is clear for Nick Castellanos to get at-bats and improve Detroit's defense.
My
top 100 prospects ranking
from late January focused on long-term career value, which meant the list included many teenaged prospects who easily could be five years from producing any positive value for a major league team. If we're looking just at this upcoming season, however, the rankings are very different, and I've produced my ranking of the top 20 impact prospects for 2014.
After those 20, I've listed a number of other players who could come up this season and be above replacement-level if they get the chance.
I do not rank players with experience in a foreign major league as prospects, though those players are still officially considered rookies in MLB when they debut here.
If I included them on my rankings,
Masahiro Tanaka
and
Jose Abreu
would be 1-2 on this list;
To continue reading this article you must be an Insider
August, 20, 2013
8/20/13
11:48
AM ET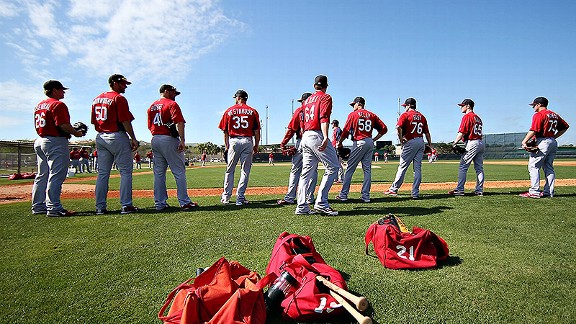 Leon Halip/Getty ImagesFor starting pitching depth throughout an organization, it's tough to top St. Louis.
For this post I was asked to take a look at every position and pick which team has the most overall talent if you look at the organization as a whole. So if a team has a strong shortstop at the major league level but no depth within the organization, it could come in behind a team with a decent shortstop but a couple of really good prospects at the position. So think of this as the sum of current MLB talent plus what's in the pipeline.
It's worth a reminder that strong depth at one position is a good way to fill holes via trades. Anybody saying too much talent at one position doesn't matter because you can't play three shortstops is clueless from a business and personnel standpoint. As a note: outfield and pitching have been consolidated because of how we calculate value at those positions.
Catcher

The Yankees have more prospect depth at the catcher position than any other team, with Gary Sanchez a potential star if he can improve his receiving enough to remain at the position, while J.R. Murphy is emerging as at least a strong backup.
Austin Romine
should be getting regular playing time in the majors down the stretch, at least once the Yankees decide their playoff odds are too low to ... well, playing
Chris Stewart
isn't exactly pushing them toward the playoffs anyway, so why not just play Romine and see what you've got?
That said, the Pirates probably have more present value than the Yankees because of
Russell Martin
, with
Tony Sanchez
probably a solid major league backup and 18-year-old Reese McGuire among the game's top dozen or so catching prospects. There is so little catching in full-season minor leagues right now that you would be hard-pressed to identify 10 clear everyday starters without reaching down to short-season leagues.
First base
To continue reading this article you must be an Insider
July, 31, 2013
7/31/13
5:46
PM ET
Details of the trade
Baltimore Orioles get:
RHP
Bud Norris
Houston Astros get:
OF
L.J. Hoes
, LHP Josh Hader, competitive balance draft pick
The Orioles' acquisition of Bud Norris gives them needed starting pitching depth, especially with
Jason Hammel
going on the DL on Wednesday, but also could help bolster their right-handed relief corps, if everyone comes back healthy and available. The Astros get a 4A position player, who gets on base, and a lottery-ticket lefty with arm strength but a long ways to go.
To continue reading this article you must be an Insider
July, 23, 2013
7/23/13
10:19
PM ET
July, 16, 2013
7/16/13
9:26
AM ET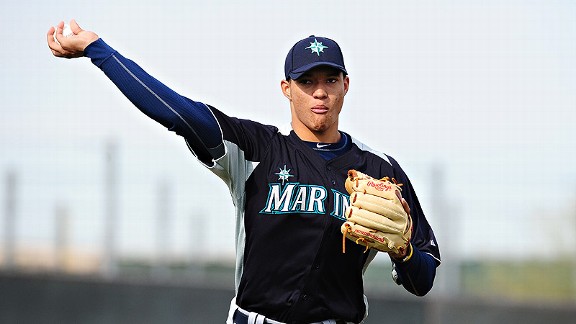 Mark J. Rebilas/US PresswireTaijuan Walker has added a cutter to his arsenal, though his curveball remains fringy.
As promised, here are a few more notes and observations from Sunday's 15th annual MLB Futures Game. If you missed my first batch,
here they are
.
• I mentioned that Baltimore's
Henry Urrutia
took a very good BP on Sunday, so here's some more detail. His approach overall is very quiet, with great balance throughout and more strength in his wrists and forearms than you'd guess based on his lean frame. He rotates his hips well for more power and gets very good extension through the zone. His at-bats in the game weren't great -- small sample, of course -- and he's not a good athlete. But as a second-half DH option for the Orioles, who have received a repulsive .197/.261/.382 line from their designated hitters and have taken to using the likes of
Nolan Reimold
in that spot -- this year, he could easily provide an upgrade.
To continue reading this article you must be an Insider
July, 2, 2013
7/02/13
3:20
PM ET
The
Baltimore Orioles
and
Chicago Cubs
kicked off the
July trading season Tuesday
with the Cubs sending right-hander
Scott Feldman
and catcher
Steve Clevenger
to the Orioles for righties
Jake Arrieta
and
Pedro Strop
, as well as some money from their international spending pool.
The Orioles add a much-needed starting pitcher in Feldman, who has remade himself this year into a ground ball pitcher who rarely walks anyone, alleviating the problem of his modest strikeout rate. Playing in front of a strong defense in Baltimore, especially on the left side of the infield, should help him; his BABIP in Chicago of .255 was unsustainably low, but the regression shouldn't be so severe with
J.J. Hardy
and
Manny Machado
behind him.
To continue reading this article you must be an Insider
June, 27, 2013
6/27/13
10:25
AM ET
If we are supposed to believe that the All-Star Game counts for something other than TV ratings and MLB revenues, why don't we see rosters built to win the game? It's part popularity contest, part reward for having a good two months to start the season, but very little about how the rosters are selected makes it look as though the teams are there to win.
Lineups built to win the game would look like All-Star lineups but would move some players around to different positions to try to build the strongest team possible, while also avoiding those hot-start players who aren't the best choices at their respective positions.
Here are the lineups, including one starter and one reliever per team, that I'd set up to give each league the best chance to win one game.
To continue reading this article you must be an Insider