Keith Law:

Atlanta Braves
December, 19, 2014
Dec 19
12:53
PM ET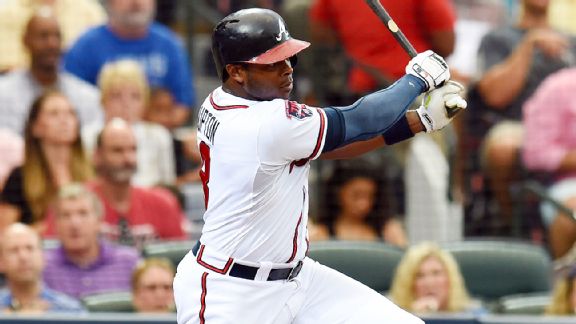 Dale Zanine/USA TODAY SportsJustin Upton is a smart bet for the Padres, who didn't lose either of their top two prospects.
The Padres just keep making transactions -- I feel like they're about to get in a waiver-wire war over Tim Pugh -- to the point where they seem to have too many cooks in their lineup, but
acquiring
Justin Upton
is a smart bet on a great athlete who hasn't reached his potential. Atlanta couldn't retain Upton long term anyway, so they cashed him in for a solid package of prospects to help them a few years down the line.
Upton's career hasn't quite matched expectations;
December, 3, 2014
Dec 3
8:00
PM ET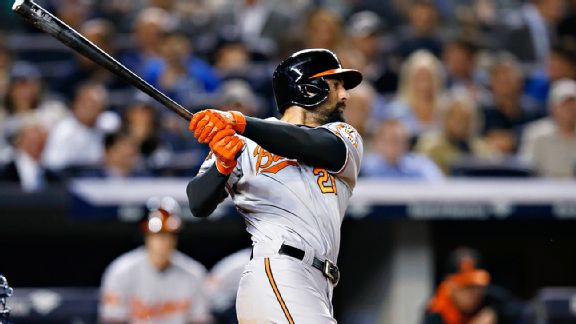 AP Photo/Kathy WillensNick Markakis had 42 extra-base hits and 50 RBI in 704 plate appearances in 2014.
I've liked much of what the
Atlanta Braves
have done this autumn, starting with replacing most of their front office and continuing with the trade of
Jason Heyward
, but the
Nick Markakis
contract doesn't make much sense in any context. He'd be a great one- or even two-year flier for someone willing to bet on a change of scenery (and hitting coaches) helping him, but giving him a four-year, $45 million deal that runs through his age-34 season doesn't fit any of what the club appeared to be trying to do.
Markakis peaked at age 24, and has since devolved into a high-contact singles hitter who plays adequate right-field defense with a great arm. (He was a very good pitching prospect back at Young Harris College, with more teams looking at him as a pitcher in the 2003 draft than as a hitter.) The Orioles never found the missing link with Markakis to regain that lost power, as he has become exceedingly short to the ball, hitting it on the ground too often and driving it to the gaps too infrequently.
He has lost more than 25 extra-base hits a year from his first two full seasons in the majors and only a major change in approach -- both mental and mechanical -- will get it back. It could happen, but I certainly wouldn't put real money on it, and this contract seems to price in some kind of offensive bounce back.
To continue reading this article you must be an Insider
November, 17, 2014
Nov 17
1:21
PM ET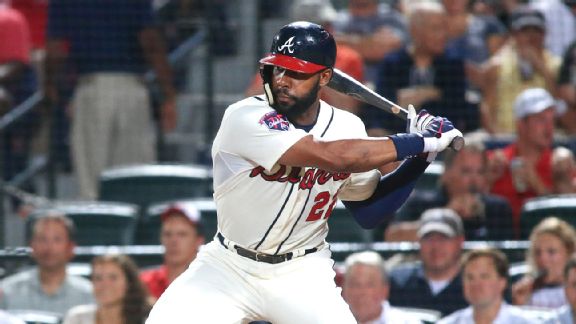 Jason Getz/USA TODAY SportsSt. Louis-bound right fielder Jason Heyward quietly posted a career-high 6.4 WAR in 2014.
Monday's trade
between the
St. Louis Cardinals
and
Atlanta Braves
indicates the Cardinals are going all-in for 2015.
Jason Heyward
is just a year from free agency, but that one year will be a very valuable one, even if he just maintains the status quo. Getting away from the parade of dubious hitting coaches he worked with in Atlanta may help him unlock the still-untapped reserve of superstar potential in his bat.
Heyward consistently rates among the majors' best defensive outfielders in terms of both advanced defensive metrics and traditional evaluations. A decent center fielder in high school, he outgrew the position but maintains the athleticism and strong reads that allowed him to play there as an amateur. He's a smart, disciplined hitter who gets on base at a good clip and doesn't strike out excessively. He did have some trouble maintaining a consistent swing around some shoulder issues; he often cuts off his load, producing too many ground balls with a shorter swing path.
Oscar Taveras
' death last month left the Cardinals without a clear right fielder for 2015, and this move locks down the position for just $7.8 million, making the team four or five wins better right away.
To continue reading this article you must be an Insider
September, 10, 2014
Sep 10
1:10
PM ET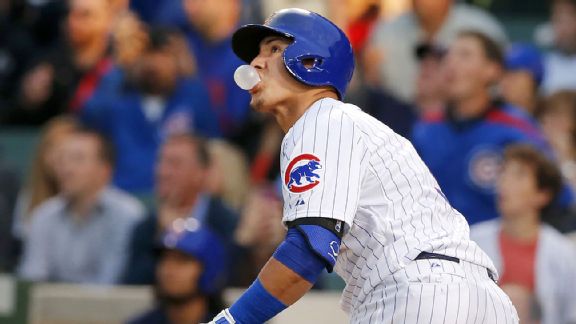 AP Photo/Charles Rex ArbogastNot to worry, Cubs fans, despite his initial struggles this season, Javier Baez will be fine.
A lot of highly touted prospects and other young major leaguers had what might appear to be disheartening seasons in 2014. Here are five examples of players whose stat lines this year shouldn't dampen your enthusiasm about their futures.
Javier Baez

It's not the debut Cubs fans were expecting, at least not given his showings in spring training and the Futures Game, but a rough first time around the carousel is pretty much in line with Baez's career to date. Baez has 153 plate appearances in the majors so far, with 63 strikeouts and a .175/.229/.364 line. In his first 153 plate appearances in Triple-A, coming earlier this year, he hit .201/.268/.388 with 53 strikeouts.
He started slowly in Double-A as well, failing to get his OBP over .300 until his 120th plate appearance, but he came around sooner and was at least up to .273/.329/.580 by the time he passed 153 plate appearances. The primary skill that made him such a highly rated prospect -- he was No. 7 coming into the year -- is still intact: He has some of the best bat speed and strongest hands I've ever seen on a hitting prospect. He needs to overhaul his approach to at-bats, as he still seems to be deciding whether to swing before he could possibly have identified the pitch type, but he's so talented that he can make mistakes and still turn it into hard contact.
Xander Bogaerts
To continue reading this article you must be an Insider
April, 3, 2014
Apr 3
7:30
AM ET
With the help of Christopher Crawford of MLB Draft Insider, we have compiled the minor league assignments for all prospects in Keith Law's organizational top 10 rankings.
Due to injuries and late assignments, some minor league rosters are not yet official. In those instances, we took our best guess as to where those prospects will be assigned to begin the year.

Note: Players with an asterisk have been traded since the top-10 lists came out, and they are listed with their assignment for their new club.

To continue reading this article you must be an Insider
March, 29, 2014
Mar 29
9:54
AM ET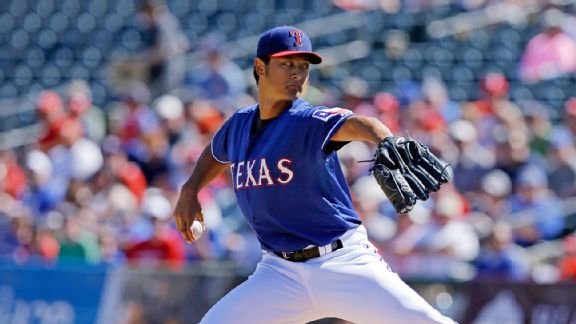 AP Photo/Darron CummingsThe AL leader in strikeout rate last year, Yu Darvish is an AL Cy Young frontrunner.
Keith Law offers up his win-loss predictions for all 30 teams and winners for the six major postseason awards. Furthermore, explanations for each team are included, along with notes on key players or possible impact call-ups. Award predictions follow the division picks.
AL East
It's hard to pick against a
Boston Red Sox
team that returns so many of the players who helped them win the World Series last year, losing
Stephen Drew
but replacing him with one of the majors' best rookies in
Xander Bogaerts
.
To continue reading this article you must be an Insider
March, 8, 2014
Mar 8
9:49
AM ET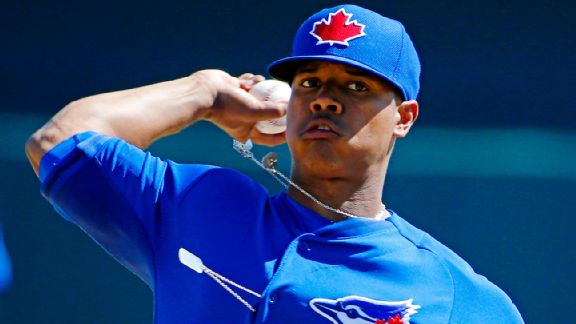 AP Photo/Gene J. PuskarMarcus Stroman fanned 129 batters in 111 2/3 innings at Double-A last season.
DUNEDIN, Fla. -- The
Toronto Blue Jays
and
Tampa Bay Rays
rolled out a number of young arms Friday, led by Toronto's No. 2 overall prospect Marcus Stroman, who is in the running for a rotation spot. Stroman showed his full four-pitch repertoire and has the durability to start, but problems keeping his fastball down led to trouble for him.
Stroman was 91-95 mph over his three innings of work, getting a little arm-side run but no sink or downhill plane. He left several fastballs up, with
Kevin Kiermaier
hitting a 92 mph four-seamer out to deep right.
To continue reading this article you must be an Insider
February, 11, 2014
Feb 11
3:31
PM ET
Now that the 2014 preseason top prospect package is complete, here are links to all of the rankings, videos, podcasts and chat wraps.
Top 100 prospects

•
Index
|
Prospects No. 1-50
|
Prospects 51-00
•
10 who just missed
•
Top 20 impact prospects for 2014
Top 10 prospects by team

•
AL East
|
AL Central
|
AL West
•
NL East
|
NL Central
|
NL West
•
Astros No. 1 in farm system rankings
Videos

•
Why Buxton is the No. 1 prospect
•
AL breakout prospects
|
NL breakout prospects
•
Twins, Pirates just behind Astros in farm rankings
Podcast

•
Discussing the top 100 rankings
•
Xander Bogaerts and Mets GM Sandy Alderson
Chat wraps
•
Keith Law
•
Astros GM Jeff Luhnow
•
Byron Buxton
•
Addison Russell
December, 18, 2013
12/18/13
4:16
PM ET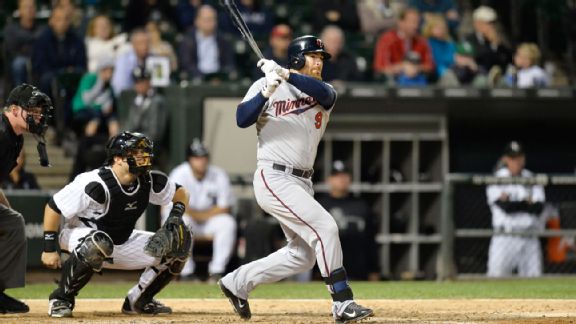 Brian D. Kersey/Getty ImagesThe 32-year-old Doumit hit .303 in 2011, .275 in 2012, and .247 in 2013.
We've had a slew of minor moves over the past 24 hours, and I figured it would be easiest to wrap them all into one post.
Doumit to the Braves for Gilmartin
(trade details)
Ryan Doumit
's best attribute was always his bat, as he's never had a real position and his offense has slipped since he left Pittsburgh -- unsurprising for a player like this entering his early 30s.
To continue reading this article you must be an Insider
November, 23, 2013
11/23/13
7:43
PM ET
The
New York Yankees
' move to sign
Brian McCann
to a
five-year, $85 million contract
might be the easiest, best upgrade any contender could make this offseason.
They played a variety of offensive ciphers at the position in 2013, getting just 0.9 WAR (per FanGraphs) in total from the four players who took at-bats for them as catchers, although
Chris Stewart
, their primary receiver, added significant value as one of the best pitch-framing catchers in baseball.
McCann is an above-average framer as well, so what the Yanks lost on defense will be more than covered by the boost in McCann's offense, especially if the left-handed pull hitter takes advantage of Yankee Stadium's hilariously short right-field porch.
To continue reading this article you must be an Insider
October, 3, 2013
10/03/13
9:41
AM ET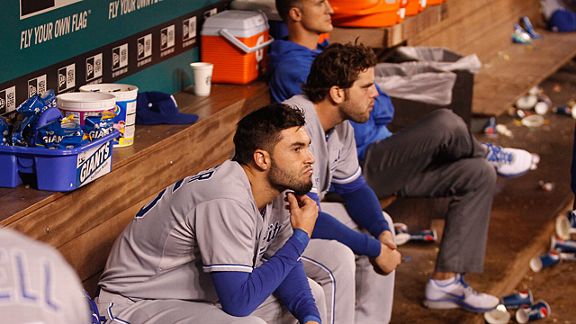 Otto Geule Jr/Getty ImagesThe Royals get punished by the new CBA for being good but not making the playoffs.
By the standards of their own recent history, the Royals had a very successful season. The team won 86 games, their best record since 1989, and they outscored their opponents on a season for the first time since 1991. Their two biggest offseason acquisitions,
Ervin Santana
(in a dump trade with the Angels) and
James Shields
(in the
Wil Myers
trade with Tampa Bay), both pitched very well for the big club, helping the Royals allow the fewest runs of any team in the American League, 23 fewer than the division-winning Tigers. Some young players took strides:
Eric Hosmer
hit .317/.365/.492 after the team fired hitting coach Jack Maloof; catcher
Salvador Perez
had his first full, healthy season in the majors and performed well.
There were plenty of positives for the Royals, but because the season went well, some of the structural reasons that helped the team get to this point will now work against the team.
To continue reading this article you must be an Insider
September, 10, 2013
9/10/13
9:31
AM ET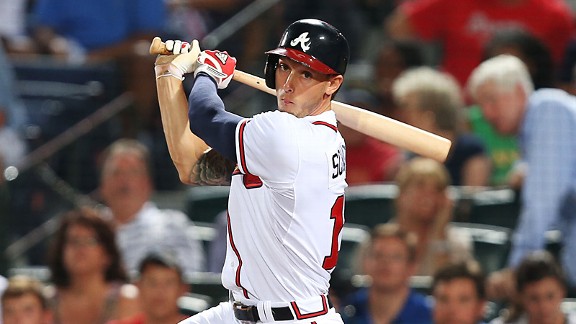 Mike Zarrilli/Getty ImagesAfter doing little in his first stint in Atlanta, Jordan Schafer is thriving the second time around.
For a consistent contender playing in a large market, Atlanta has had to operate on tight payrolls during its most recent run of success, at least relative to clubs in comparable situations.
Much of this has been because of its frequent acquisition and usage of "free talent" -- players claimed off waivers or signed as minor league free agents who receive opportunities in the big leagues and produce. Although it's not a new practice, Atlanta already has received boosts from three such players this year, in line with what the club's pro scouting department has managed to achieve the past few years by finding players underappreciated by their former organizations.
Jordan Schafer, OF
To continue reading this article you must be an Insider
July, 29, 2013
7/29/13
1:30
PM ET
July, 2, 2013
7/02/13
9:36
AM ET
With the major league season reaching its midpoint and the bulk of high picks from this year's draft already agreeing to contracts, it's a good time to re-examine farm systems to see which organizations have improved or declined since
my organizational rankings at the start of the season
.
For the purposes of this exercise, some parameters to keep in mind:
1.
I'm only including draft picks who've signed.
2.
I'm going to assume players in the majors right now are going to lose their rookie eligibility and won't count for the next org rankings I do in the winter. (This matters because graduating prospects will hurt a system as much as a lack of performance.)
With that noted, let's take a look.
Rising systems
Minnesota Twins | Preseason rank: 2
The Twins have benefited from big jumps by several of their top prospects, balancing out the promotions of their No. 3, 4, and 5 prospects to the majors this year.
To continue reading this article you must be an Insider