Keith Law:

Arizona Diamondbacks
November, 26, 2014
Nov 26
8:09
PM ET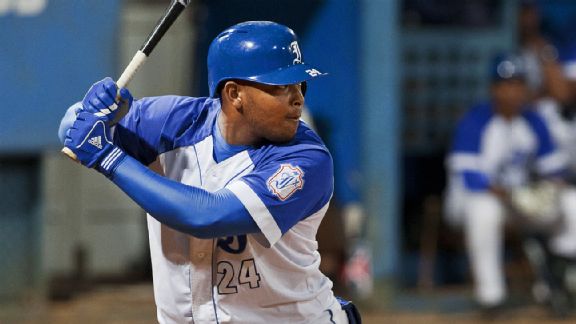 AP Photo/Franklin ReyesYasmany Tomas slugged .500-plus over the past five seasons in Cuba.
The
Arizona Diamondbacks
' signing of Yasmany Tomas
to a reported six-year, $68 million deal
was a surprise only in terms of dollar amount, as earlier reports had him asking for $80-plus million -- who could blame him? -- which seemed like it might push clubs that aren't in the top tier in revenue out of the picture. They get a guy who's probably an every-day player for reasonable money and someone who addresses one of the biggest weaknesses that sank their 2014 club.
The Diamondbacks' outfield, on paper, was looking like one of the worst units in the game, with a no-defense/no-OBP right fielder in
Mark Trumbo
, a similar player with less power in left field in
David Peralta
and a great defender but mediocre bat in center in
A.J. Pollock
(he was tremendous in half a season in 2014, but it was based off a fluky batting average on balls in play). That's not a contending trio unless you're running a few All-Stars out there on the dirt, so assuming Tomas is at least an average regular, this is a clear upgrade in one of the corner outfield sports for Arizona, and it frees them up to do some things with their crop of extra outfielder/bench types. At just more than $11 million per year, Tomas is being paid a little below everyday-player money, which I'd consider a reflection of the risk associated with any player coming from a non-major foreign league to MLB rather than any real doubt about his ability to play every day.
When I saw Tomas in the summer of 2013, he was overweight and looked like a designated hitter, but when in playing shape, he's capable of handling either outfield corner (more likely left field than right, but Arizona doesn't have an entrenched option at either position anyway).
July, 6, 2014
Jul 6
2:21
PM ET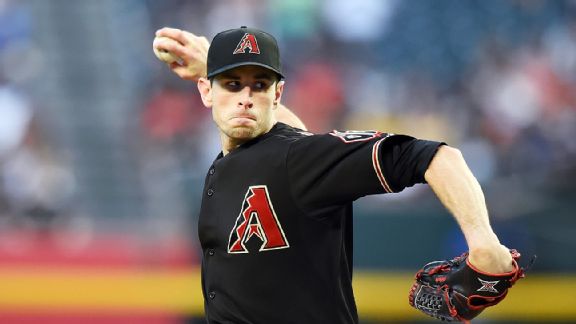 Norm Hall/Getty ImagesThe Yankees upgraded their rotation with the acquisition of Brandon McCarthy.
The
New York Yankees
' acquisition of
Brandon McCarthy
upgrades a beleaguered rotation that's not getting any help from the farm system, while the
Arizona Diamondbacks
don't capitalize on one of their most valuable trade assets and get nothing in return but some financial savings.
McCarthy turned out to be a poor fit for Arizona's hitter-friendly ballpark and almost as hitter-friendly defense, but he fared well in the three things a pitcher can do to help himself most: miss bats, avoid walks and keep the ball on the ground. While some things out of McCarthy's control have gone against him, he's also had trouble keeping his sinker -- his best pitch -- from drifting up in the zone. He has given up 15 homers -- that's one out of every five fly balls he's allowed -- and all but two came on sinkers or cutters, pitches designed to generate ground balls or at least weaker contact. All 13 homers off sinkers or cutters were pitches left at or above the midpoint of the strike zone.
Although Yankee Stadium isn't a pitcher's paradise, McCarthy has never been this homer-prone before, and there almost has to be some element of misfortune in there, even if there has been a true drop in his ability to avoid home runs. That's a long way of saying I think McCarthy will be better for the Yanks than he was in Arizona and will likely post an ERA around 4, rather than 5.
To continue reading this article you must be an Insider
April, 3, 2014
Apr 3
7:30
AM ET
With the help of Christopher Crawford of MLB Draft Insider, we have compiled the minor league assignments for all prospects in Keith Law's organizational top 10 rankings.
Due to injuries and late assignments, some minor league rosters are not yet official. In those instances, we took our best guess as to where those prospects will be assigned to begin the year.

Note: Players with an asterisk have been traded since the top-10 lists came out, and they are listed with their assignment for their new club.

To continue reading this article you must be an Insider
March, 29, 2014
Mar 29
9:54
AM ET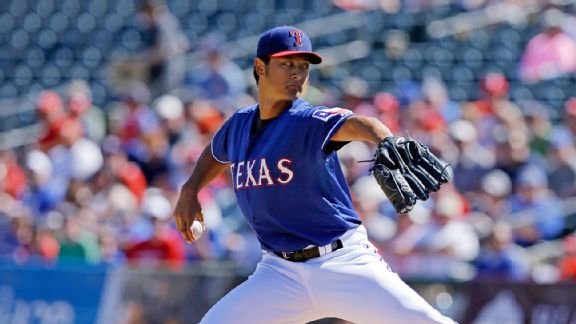 AP Photo/Darron CummingsThe AL leader in strikeout rate last year, Yu Darvish is an AL Cy Young frontrunner.
Keith Law offers up his win-loss predictions for all 30 teams and winners for the six major postseason awards. Furthermore, explanations for each team are included, along with notes on key players or possible impact call-ups. Award predictions follow the division picks.
AL East
It's hard to pick against a
Boston Red Sox
team that returns so many of the players who helped them win the World Series last year, losing
Stephen Drew
but replacing him with one of the majors' best rookies in
Xander Bogaerts
.
To continue reading this article you must be an Insider
March, 15, 2014
Mar 15
9:59
AM ET
SCOTTSDALE, Ariz. -- Some thoughts from the matchups on Friday between the A-ball affiliates of the
Colorado Rockies
and the
Arizona Diamondbacks
.
• The Rockies' first-round pick in 2012, outfielder
David Dahl
missed nearly all of 2013 between an early-season suspension for insubordination and a torn hamstring that ended his year in mid-May. He's worked hard to get his body into premium shape for 2014, however, looking stronger and fitter than ever -- yes, he's in the Best Shape of His Life™ -- and given the ability we already knew he had, he should have a breakout season.

Dahl's added strength shows up in his swing, as he has better bat control thanks to stronger hands and forearms, as well as greater torque from his hip rotation.
To continue reading this article you must be an Insider
March, 14, 2014
Mar 14
10:26
AM ET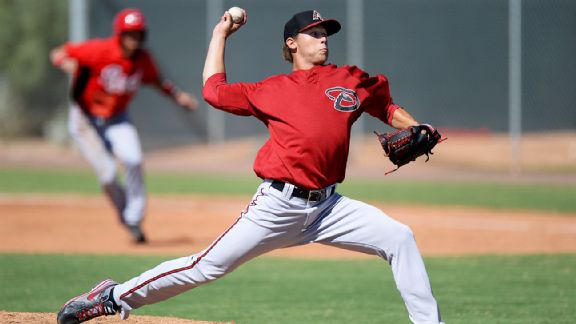 Mike Janes/Four Seam Images/AP ImagesBraden Shipley is flashing a plus curve to go with his filthy changeup.
Right-hander
Braden Shipley
, the
Arizona Diamondbacks
' first-round pick last June, threw four innings in a low Class A game on Thursday, looking good in almost every respect, especially with his curveball -- the main question scouts had on him as an amateur at Nevada.
Shipley's fastball was 90-94 mph, mostly 90-92, getting some downhill plane but nowhere near consistent enough in that respect; nearly all the damage he gave up came when he left fastballs up, including the three-run double hit by Jonah Arenado (Nolan's brother) on a 92 mph first-pitch fastball that got way too much plate.
However, Shipley's secondary stuff was superb.
To continue reading this article you must be an Insider
February, 11, 2014
Feb 11
3:31
PM ET
Now that the 2014 preseason top prospect package is complete, here are links to all of the rankings, videos, podcasts and chat wraps.
Top 100 prospects

•
Index
|
Prospects No. 1-50
|
Prospects 51-00
•
10 who just missed
•
Top 20 impact prospects for 2014
Top 10 prospects by team

•
AL East
|
AL Central
|
AL West
•
NL East
|
NL Central
|
NL West
•
Astros No. 1 in farm system rankings
Videos

•
Why Buxton is the No. 1 prospect
•
AL breakout prospects
|
NL breakout prospects
•
Twins, Pirates just behind Astros in farm rankings
Podcast

•
Discussing the top 100 rankings
•
Xander Bogaerts and Mets GM Sandy Alderson
Chat wraps
•
Keith Law
•
Astros GM Jeff Luhnow
•
Byron Buxton
•
Addison Russell
February, 11, 2014
Feb 11
9:35
AM ET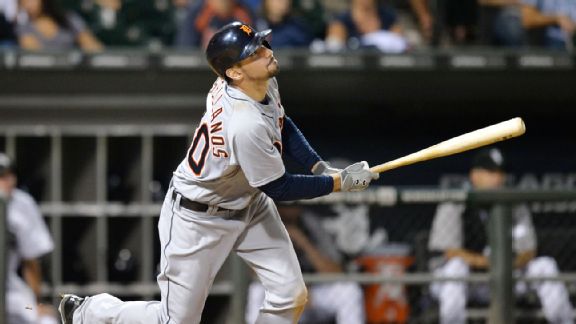 Brian D. Kersey/Getty ImagesThe path is clear for Nick Castellanos to get at-bats and improve Detroit's defense.
My
top 100 prospects ranking
from late January focused on long-term career value, which meant the list included many teenaged prospects who easily could be five years from producing any positive value for a major league team. If we're looking just at this upcoming season, however, the rankings are very different, and I've produced my ranking of the top 20 impact prospects for 2014.
After those 20, I've listed a number of other players who could come up this season and be above replacement-level if they get the chance.
I do not rank players with experience in a foreign major league as prospects, though those players are still officially considered rookies in MLB when they debut here.
If I included them on my rankings,
Masahiro Tanaka
and
Jose Abreu
would be 1-2 on this list;
To continue reading this article you must be an Insider
February, 8, 2014
Feb 8
2:18
PM ET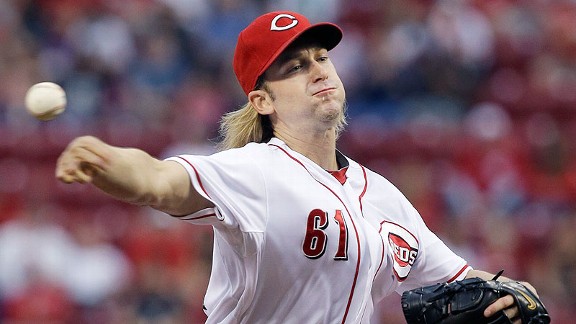 AP Photo/Al BehrmanBronson Arroyo signed a two-year, $23.5 million contract with the Diamondbacks this week.
Bronson Arroyo
barely made my
Top 50 free agents
, which meant I saw him as a candidate for a low-dollar, one-year deal, not the substantial
two-year deal Arizona just gave him
in spite of all of the red flags in his recent history.
Arroyo does two things well: Stay healthy and throw strikes. Those are valuable skills, although one's ability to stay healthy declines with age, and Arroyo just signed for his age-37 and 38 seasons. They're also increasingly overshadowed by the things Arroyo doesn't do well: throw hard, keep the ball in the park or get left-handed hitters out.
Arroyo's fastball averaged just barely higher than 87 mph over the last three seasons,
according to Fangraphs
, more than 2 mph below his peak years. While some of that is a function of him attempting to throw a sinker, the pitch doesn't have great sinker movement, and he's not a ground ball pitcher. What often happens is Arroyo throws a below-average pitch without much life somewhere in the zone, which a good major-league hitter would politely refer to as a "BP fastball."
To continue reading this article you must be an Insider
December, 16, 2013
12/16/13
3:01
PM ET
The
Chicago White Sox
get to accomplish several things at once with the trade of reliever
Addison Reed
to the
Arizona Diamondbacks
for third baseman
Matt Davidson
-- they fill a chronic hole at third, which also happens to be a position of scarcity across the minors right now, with a player who gives them six years of control, and in turn they convert their closer into something valuable before he himself becomes expensive through the arbitration process.
Davidson has ranked in my top 100 prospects in each of the past three years, all between 86th (2011) and 75th (2013), and will likely appear there one more time before graduating from the list in 2014.
To continue reading this article you must be an Insider
December, 10, 2013
12/10/13
5:51
PM ET
LAKE BUENA VISTA, Fla. --
The three-team deal involving
the
Chicago White Sox
,
Arizona Diamondbacks
and
Los Angeles Angels
feels very lopsided, with one team clearly ahead (on paper), one in the middle and one clearly behind, in large part because two of the teams addressed serious needs while the third acquired a player they didn't need and can't easily deploy.
This deal is an enormous win for the Angels, who needed starting pitching of any sort, but especially needed young pitching with many years of control remaining. For one replaceable asset, they obtained two such starters, one who has already established himself as a major league starter, another who is a major league-ready option in need of some minor delivery tweaks.
Angels' haul
To continue reading this article you must be an Insider
September, 17, 2013
9/17/13
8:49
AM ET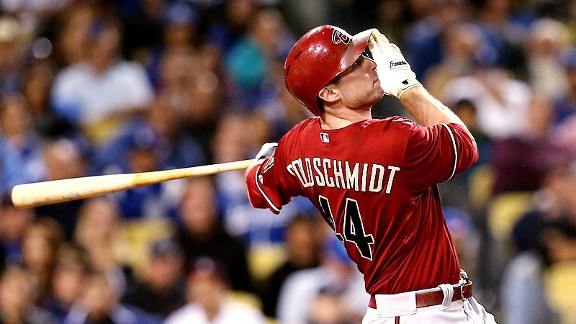 Stephen Dunn/Getty ImagesPaul Goldschmidt has proven to be a much better player than Keith expected him to be.
I wrote last year about
five players on whom I'd been wrong
at some point, whether in an initial evaluation or even a second look in pro ball. In that spirit, here's the 2013 edition, looking at six more players who beat my expectations and who I now think will continue to do so.

I saw Goldschmidt only once as a prospect, at the Futures Game in Phoenix in 2011, and saw a strong guy who wasn't a great athlete and showed raw power in BP but didn't have more than average bat speed. I talked to a number of pro scouts and front-office guys after that and heard similar opinions, calling him a fringy regular or a platoon first baseman.
To continue reading this article you must be an Insider
July, 31, 2013
7/31/13
6:20
PM ET
Details of the trade
San Diego Padres get:
RHP
Ian Kennedy
Arizona Diamondbacks get:
LHP
Joe Thatcher
, RHP Matt Stites, competitive balance draft pick
Ian Kennedy's 2011 season -- in which he finished fourth in the NL Cy Young voting -- was a mirage, in large part the result of being a severe fly-ball pitcher in front of one of the game's best defensive outfields that year. Guys who are that prone to putting the ball in the air will eventually give up more home runs, and Kennedy has, 46 bombs in his 332 innings over the past year and a half.
To continue reading this article you must be an Insider