November, 24, 2014
Nov 24
8:10
PM ET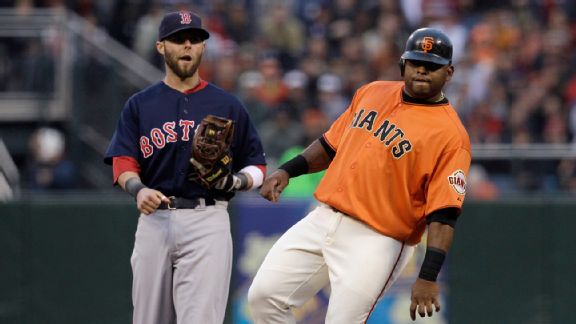 AP Photo/Jeff ChiuPablo Sandoval will be joining Dustin Pedroia this coming season in Boston.
The
Boston Red Sox
produced all these position-player prospects, and the moment most of them were ready for the majors they have now gone and signed two of the best free-agent position players on the market,
Hanley Ramirez
and now
Pablo Sandoval
. I'm not even sure it's a bad move, but it is awfully strange.
Too much
coverage of Sandoval
focuses on his weight, when his skill set, while uncommon today, makes him a valuable player most of the time. He has great bat speed and plate coverage, rarely striking out and using the whole field well, just not hitting for the power we expect from most third basemen. He's an average to slightly above-average third baseman, with fringy range but good hands and a plus arm.
The difference between him and a star-caliber player