October, 16, 2014
Oct 16
11:37
AM ET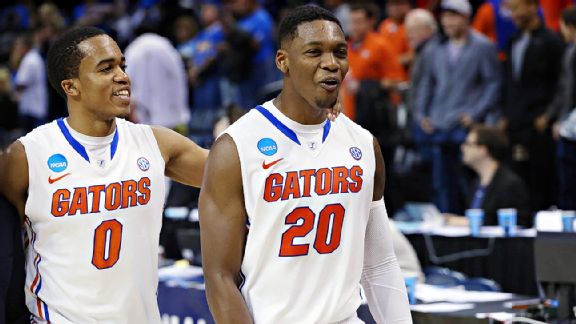 Nelson Chenault/USA TODAY SportsKasey Hill, Michael Frazier II and Florida will take on VCU in a secret scrimmage.
Secret scrimmages.
I still can't figure out why the NCAA forces teams to be so secretive about these preseason controlled matchups in which statistics aren't supposed to be revealed and media aren't allowed to be present.
You aren't supposed to know about these, so please don't get me in trouble and say where you found out.
But they begin soon, and we've come up with the most comprehensive list you'll find anywhere.
Many of the elite teams don't (or can't) have secret scrimmages because the administration doesn't want to give up the money for a home exhibition with fans in attendance. But there are some -- such as Arizona -- that find a way to schedule a secret scrimmage.
The headliner scrimmage this year is VCU at Florida in a battle of Top 25 teams (and a battle of Billy Donovan and his former assistant Shaka Smart). Nov. 1 is loaded with matchups as two of the best in the West square off when Stanford travels to San Diego State. New Marquette coach Steve Wojciechowski will get his feet wet with a trip to Charlottesville, Virginia, and a battle with a top-20 Virginia team.
Then there's the annual Gonzaga-Texas tilt. It happens every year, and this time it's in Phoenix on Nov. 8.
Thursday, Oct. 23
North Dakota State at MSU-Moorhead
Friday, Oct. 24
Davidson at Texas
Clayton State at Kennesaw State
Saturday, Oct. 25
Ohio State at West Virginia
Stephen F. Austin at Houston
Arizona State at San Francisco
Grand Canyon at Santa Clara
Charleston Southern at East Carolina
Florida Atlantic at North Florida
USC Upstate vs. Chattanooga at North Georgia
Citadel at Stetson
Bethune-Cookman at Coastal Carolina in Savannah
Pacific at UC Davis
UT Pan American at Texas A&M-Corpus Christi
Texas A&M-Kingsville at UT San Antonio
Western Illinois at Chicago State
Sunday, Oct. 26
Nebraska at Kansas State in Omaha
Iowa at Creighton
Southern Mississippi vs. Louisiana-Lafayette in New Orleans
James Madison vs. Navy
Presbyterian at Western Carolina
Monday, Oct. 27
Winston Salem State at NC Central
Wednesday, Oct. 29
Saint Joseph's at Seton Hall
Thursday, Oct. 30
UT Arlington at Texas A&M
New Haven at Central Connecticut
Friday, Oct. 31
LIU at Rider
UNC Greensboro at Coastal Carolina
Sioux Falls at North Dakota
Saturday, Nov. 1
VCU at Florida
Stanford at San Diego State
Providence at Harvard
DePaul at Wisconsin
Marquette at Virginia
Cleveland State at Xavier
TCU at Wichita State
Louisiana Tech vs. Oklahoma State in Dallas
Clemson at Charlotte
Georgia Tech vs. Alabama in Birmingham
Michigan at Bowling Green
NC State vs. Georgia in Charlotte
Wake Forest at Charleston
Baylor vs. SMU at TBD
Miami at South Florida
Denver at Colorado
Penn State at Temple
Wyoming at Utah
Portland at Washington
Illinois State at Northwestern
LSU at Northwestern State
Georgetown at George Mason
Washington State at Nevada
Drexel at George Washington
Duquesne at Towson
St. Francis (N.Y.) at Fordham
Kent State at St. Bonaventure
Hofstra at Saint. Joseph's
Miami (Ohio) at Murray State
Eastern Kentucky at Marshall
Rice at Sam Houston State
Stephen F. Austin at Louisiana-Monroe
Radford at Ohio
UC Irvine at USC
Iona at Albany
Hartford at Brown
Quinnipiac at New Hampshire
Yale at Stony Brook
Florida Gulf Coast at Florida Southern
Indiana State vs. Central Michigan in Indianapolis
Jacksonville at Charleston Southern
Lipscomb vs. Troy in Birmingham
North Florida at Citadel
Presbyterian at USC Upstate
Tennessee Tech at Western Kentucky
Eastern Washington at Colorado State
Ball State at IPFW
Northern Colorado vs. Utah Valley at Western Wyoming JC
Portland State vs. Seattle in Portland
Chicago State at Loyola (Ill.)
Elon at Campbell
Bradley at Milwaukee
Drake at South Dakota
Valparaiso vs. Buffalo at Oberlin College in Ohio
Toledo at Wright State
Long Beach State at Arizona State
UC Riverside at San Diego
Fresno at UC Santa Barbara
Air Force at Cal State Northridge
UNC Asheville at Furman
Missouri State vs. Nebraska-Omaha in Kansas City
UNC Wilmington at Winthrop
Fairfield at Boston University
Tennessee-Martin at Arkansas Little Rock
Bucknell at Youngstown State
Pepperdine at Cal Poly
Marist at Cornell
Lehigh at Princeton
South Alabama at New Orleans
Texas State vs. Texas A&M-Corpus Christi in San Antonio
Tennessee State at Samford
Lafayette at Columbia
Grambling at McNeese State
Prairie View at Lamar
Army at Siena
Holy Cross at UMass-Lowell
Dartmouth at Wagner
UMKC at SIU-Edwardsville
St. Peter's at NJIT
Liberty at VMI
Delaware at UMBC
NC A&T at High Point
Bethune-Cookman at Florida International
Mount St. Mary's at Randolph-Macon
Lincoln Memorial at Morehead State
Carleton at Colgate
Sunday, Nov. 2
Saint Mary's at Arizona
Minnesota at Iowa State
South Carolina at Virginia Tech
Dayton vs. Illinois in Indianapolis
Boston College at Rutgers
Mississippi State at UAB
Ole Miss at Middle Tennessee State
Rhode Island at Manhattan
Auburn at Tulane
New Mexico State at Tulsa
Wofford at Belmont
Northern Illinois at UIC
Loyola (Md.) at Penn
Cal State Fullerton vs. Northern Arizona in Phoenix
Gardner-Webb at Appalachian State
William & Mary vs. Navy
Mercer at Georgia Southern
LIU Post at Monmouth
Eastern Illinois at Missouri-St. Louis
Young Harris at Western Carolina
Monday, Nov. 3
Nicholls State at Southern
Thursday, Nov. 6
Indiana (Pa.) at Florida Gulf Coast
Friday, Nov. 7
La Salle at Princeton
Akron at Youngstown State
Northern Kentucky at Ball State
Georgia Southwestern at Kennesaw State
Cal Baptist at Montana State
Saturday, Nov. 8
Gonzaga vs. Texas in Phoenix
Colorado at SMU
UNLV at UCLA
Memphis at Saint Louis
Virginia at Georgetown
Baylor vs. Louisiana Tech in Tyler, Texas
Rhode Island at Harvard
UMass vs. American in Philadelphia
Drexel at Temple
Virginia Tech at East Tennessee State
Belmont vs. Mercer
N.C. Central at Radford
Wofford at Liberty
Hofstra at Penn State
Iona at St. Francis (N.Y.)
Penn at Bucknell
Old Dominion vs. Norfolk State
Maryland-Eastern Shore at Richmond
Loyola-Chicago vs. Green Bay in Milwaukee
Columbia at LIU
Cornell at NJIT
Northeastern at Bryant
Brown vs. Colgate in Albany
FDU at Fordham
Tennessee State at Chattanooga
Robert Morris at Kent State
Albany at Marist
Hartford vs. Lafayette at Army
Central Connecticut at Stony Brook
UNC Greensboro at Winthrop
Cal State Bakersfield at Pepperdine
Niagara vs. Dartmouth
Florida International at Jacksonville
Boston University at Yale
Long Beach State at San Diego
Wagner at Lehigh
Northwestern State at UT Arlington
VMI at St. Francis (Pa.)
San Francisco at UC Davis
Louisiana-Monroe vs. Lamar in Alexandria
Sacred Heart at St. Peter's
Minnesota-Moorhead at North Dakota
Metro State at Wyoming
Arkansas Little Rock vs. Abilene Christian in Rockwall, Texas
Merrimack at New Hampshire
Stephenson College at Howard
Sunday, Nov. 9
Morgan State at Delaware
Hampton at William & Mary
New Orleans at Southern
Tuesday, Nov. 11
Salisbury at Maryland-Eastern Shore
October, 15, 2014
Oct 15
2:41
PM ET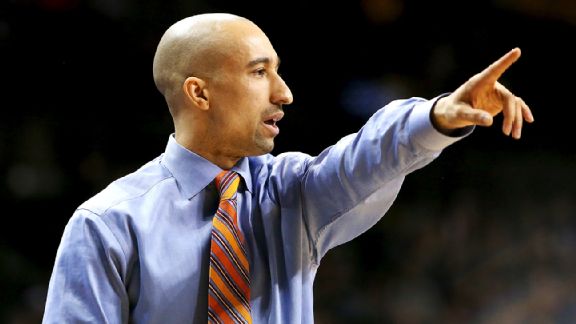 Mike Lawrie/Getty ImagesShaka Smart has likely his deepest team since taking over as VCU head coach in 2009.
RICHMOND, Va. -- Shaka Smart has inherited talent (i.e., Larry Sanders) and also brought plenty to VCU since taking over in 2009. However, there's a key difference between the guys he brought in thus far and the players he is able to recruit nowadays.
Treveon Graham
was a two-star kid who chose VCU over Cleveland State,
Briante Weber
had primarily mid-major schools involved in his recruitment, and former guard Rob Brandenberg picked the Rams over Wright State and Valparaiso.
Now Smart is able to fight -- and sometimes even beat -- heavyweights.
Sure, Smart has gotten a few top 100 players in the past.
Melvin Johnson
was a highly touted kid in the Class of 2012 who initially signed with Miami (Fla.).
Jordan Burgess
was also a fringe ranked kid in the same class.
But Smart has reeled in more top 100 kids in the current freshman class than he had his entire time at VCU, and these guys are the real deal.
Terry Larrier
looks the part. Sure, he still has a ways to go, but he's long, athletic and skilled. Every recruiting analyst I can think of ranked Larrier among the top 50 players in the country. VCU had to fight UConn and Florida for him.
Michael Gilmore
has the length and skill. He is 6-foot-9 and can step out and shoot from the perimeter. Again, it might take time for the 205-pound Gilmore to physically develop, but he could become a first-team all-league performer in the A-10. Gilmore was pursued by the likes of Kansas State and Georgia Tech.
The same can be said for the third frontcourt member of VCU's heralded recruiting class:
Justin Tillman
. He may look a bit undersized at 6-6 and change, but he is long and bouncy and plays with a motor. Xavier was on Tillman, who somehow was passed over by many of the big boys.
These guys are hardly a fluke. Smart is still well-aware that he can't beat the upper-tier schools in the recruiting wars, but he admits the program has probably moved up a few rungs within the tier system that defines college hoops recruiting.
"We probably went from a six to a four," he said.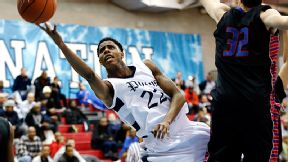 AP Photo/Gregory PayanVCU's Terry Larrier, ESPN's No. 43 overall recruit in the Class of 2014, should contribute immediately.
Recruiting rankings are an inexact science, and so too is evaluating freshmen in October practices. However, one thing is clear when comparing these young guys (also including jet-quick freshman point guard
Jonathan Williams
) to the vets.
"They are really good," Graham said of the freshmen. "We lost Juvonte [Reddic] and Rob Brandenberg, and we have more talent."
"This seems like a ton of talent," said one ex-ACC assistant coach in attendance at practice. "This is like, 'wow.'"
One of the key reasons why VCU has attracted a higher-level recruit is because of the Final Four run in 2011. Another is the presence of Smart.
Both Johnson and Kenny Williams, a top-100 player in the Class of 2015 who chose the Rams over North Carolina, also singled out the young coaching staff as a key component.
"I really connected with Coach Morrell," Williams said of 31-year-old assistant Mike Morrell. "The staff is young, and I can relate to them."
Smart is just 37. Fellow assistant Jeremy Ballard is 33. David Cason is the elder statesman of the staff, and he's in his early 40s.
It's also the up-tempo, pressing style of play that has caught the eye of recruits. Some teams say they play fast; VCU actually does it.
"You have a lot of leeway on the offensive end," Graham said. "Everyone wants to play in the 70s and get a lot of shots."
"Everyone in recruiting says they play the way we play," Smart added. "We take pride in the fact that this is what we're going to do. Havoc. It's our word for it. We have not wavered."
October, 14, 2014
Oct 14
12:21
PM ET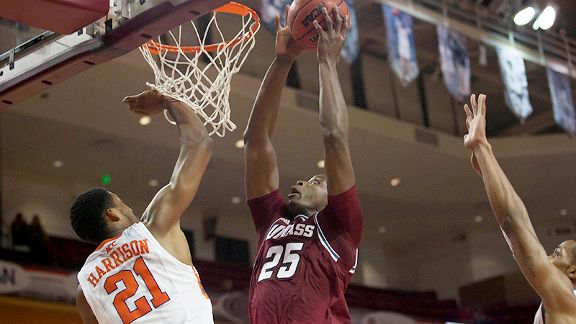 Jeremy Brevard/USA TODAY SportsCan senior Cady Lalanne step into a leadership position for the Minutemen this season?
AMHERST, Mass. -- Derek Kellogg finally got UMass back.
It had been 16 years since the program that John Calipari built had been to the NCAA tournament. The Calipari expectations were largely responsible for the brief tenures of three coaches -- Bruiser Flint, Steve Lappas and Travis Ford (who somehow got a better job).
Then came in the area's favorite son, Kellogg, to try to get this once-proud program back on the national map. He did it with a team that ranked in the top 25 for much of the season, and also one that finally went dancing.
Now the question becomes whether he can sustain it.
I took in practice last week in Amherst and came away with the following observations about this year's
UMass Minutemen
:
1
. Derek Kellogg will miss Chaz Williams' toughness and ability to make a play at virtually any point in the game, but Williams wasn't much of a leader.
To continue reading this article you must be an Insider
October, 1, 2014
Oct 1
8:00
AM ET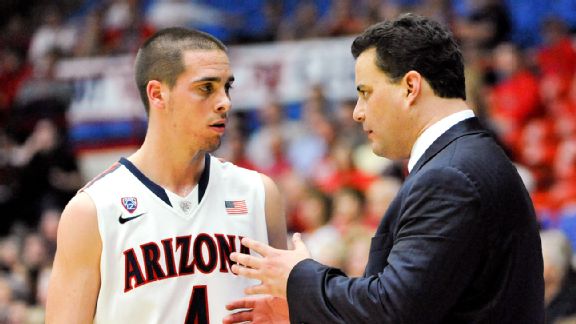 Casey Sapio/USA TODAY SportsSean Miller, right, will count on nightly production from sure-handed point guard T.J. McConnell.
There's no debate when it comes to determining the deepest team in the country this season. Not when Kentucky sophomore
Marcus Lee
, a potential first-round pick, is likely the team's sixth frontcourt player on the depth chart.
However, it gets difficult when trying to determine the best starting unit in the country for the 2014-15 campaign.
The problem is coming up with starting lineups for some of the teams. For instance, Kentucky could go with freshman
Tyler Ulis
at the point and play both Harrison twins --
Andrew
and
Aaron
-- on the wing. John Calipari might also choose to go with two separate platoon units and try and balance them.
Likewise, Duke could go with senior
Quinn Cook
starting alongside freshman
Tyus Jones
in the backcourt, or Mike Krzyzewski could bring Cook off the bench and use a more traditional lineup that would include three freshmen: Jones,
Justise Winslow
and
Jahlil Okafor
, along with
Rasheed Sulaimon
and
Amile Jefferson
. Don't be shocked to see another frosh,
Grayson Allen
, crack the starting lineup.
So I consulted several of my colleagues and some college coaches, here are the projected lineups for what we've deemed to be the nation's top five starting units entering the 2014-15 season. One thing was clear: This was not an easy task.
1. Arizona Wildcats

We went with the Wildcats in the top spot due to the edge in experience and also in defense.
To continue reading this article you must be an Insider
September, 22, 2014
Sep 22
11:43
AM ET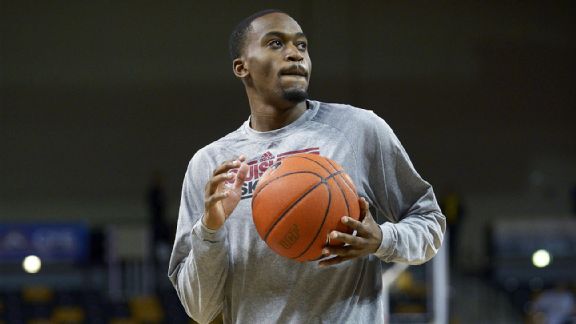 AP Photo/Phelan M. EbenhackRecovered from his injury, Kevin Ware, now with Georgia State, had a good trip in Costa Rica.
On Friday, I discussed the importance of the foreign trips that some teams take during the offseason. These trips really benefit the players both as people and students. We examined the major programs that took trips and how they did on the court. Today, let's take a look at how mid-major programs did on their offseason foreign trips.
Boston University

To continue reading this article you must be an Insider
September, 19, 2014
Sep 19
12:54
PM ET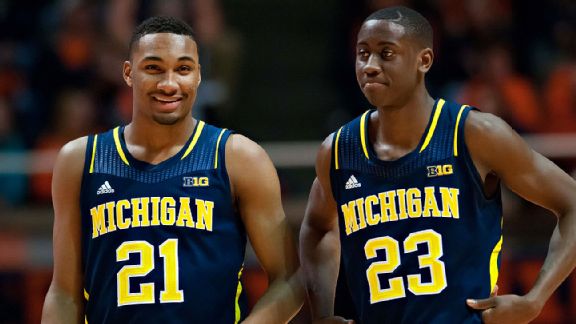 Bradley Leeb/USA TODAY SportsMichigan guards Zak Irvin and Caris LeVert both impressed during games in Italy.
Georgia State coach Ron Hunter flat-out "gets it." His proposal is that college programs, when they take a preseason trip to another country, are required to give back to that community.
Mandated by the NCAA.
"We need to make a rule that to go on a foreign trip, you have to do some type of community work for the kids," Hunter said. "It's a great stage to be able to do it. There's so much you can do to help.
"You can't say a foreign tour is a success unless the kids learn something," he added. "The kids learn to give something to someone less fortunate. It's nice to do it for the right reasons."
Hunter is spot-on, and he hasn't just talked the talk, either. He's been leading the charge to distribute shoes for the past few years to people in countries in need. He did it again this year while taking his team to Costa Rica -- and it had a profound effect on his players.
Kevin Ware
, who transferred from Louisville to Georgia State this past offseason and knows a thing or two about adversity, said the experience changed his entire outlook.
"Even though what happened to me was very dramatic, what these kids and even adults go through on a daily basis does not compare," Ware said. "I can't complain.
"I think every team should give back. It gives us perspective, and it's also doing something for others."
Nearly 40 programs took a preseason trip (teams are allowed to do it once every four years). We contacted every major program to get their thoughts on what stood out -- primarily on the court. Here's the list in alphabetical order.

Cincinnati Bearcats
Mick Cronin focused more on the practices and the Bearcats only played one game in the Bahamas. Not that he didn't realize it already, but it sank in that this will be a balanced team now that Sean Kilpatrick is gone. "We'll be a totally different team and need to alter our strategy," he said. "Offensively, we're going to have to spread the wealth. We're going to have to move the ball to the open man."
Cronin made it clear that talent won't be an issue. It's clear that
Octavius Ellis
will be the anchor down low. He's 6-foot-10, 225 pounds and had 15 points, 15 boards and seven blocks in the one game. "He's got length and is quick off his feet," Cronin said. Cronin also praised the play of sophomore guard
Kevin Johnson
. "He reminds me of SK at a young age. He has great toughness, confidence and work ethic."
To continue reading this article you must be an Insider
September, 16, 2014
Sep 16
11:03
AM ET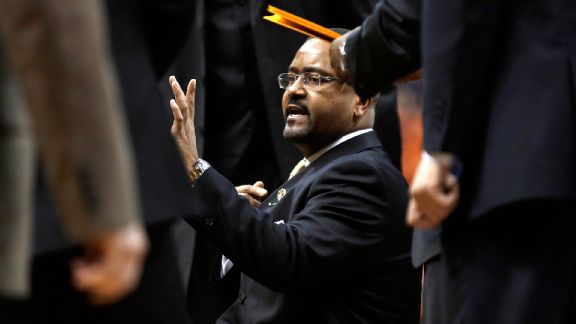 AP Photo/Jeff RobersonNew Tulsa coach Frank Haith inherits a team that won 21 games last season.
There were four coaches a year ago -- Steve Alford (UCLA), Craig Neal (New Mexico), Brad Underwood (Stephen F. Austin) and Mike Brennan (American) -- who took programs to the NCAA tournament in their first go-around with their new schools.
This year there might not be any.
Buzz Williams and Bruce Pearl, two of the consensus top hires of the offseason, both have serious work to do before Virginia Tech and Auburn, respectively, will be dancing come March. The same likely goes for Steve Wojciechowski, who replaced Williams at Marquette, and Danny Manning, who took over at Wake Forest.
Jim Christian and Boston College will struggle -- again. Tennessee could well finish in the bottom of the SEC under new coach Donnie Tyndall and Missouri likely won't be much of a factor with rookie head man Kim Anderson. Wayne Tinkle (Oregon State) and Ernie Kent (Washington State) should battle one another for cellar dweller in the Pac-12. Doc Sadler will struggle to rebuild Southern Miss, Kelvin Sampson lost two of his top players to transfer at Houston and new South Florida head man Orlando Antigua is almost certain to finish in the bottom half of the American Athletic Conference.
That accounts for a good portion of the
47 new coaches
who will take over in 2014-15.
So who are the most likely candidates to do anything of note this season in their first as head coach at a new school?
To continue reading this article you must be an Insider
September, 12, 2014
Sep 12
11:50
AM ET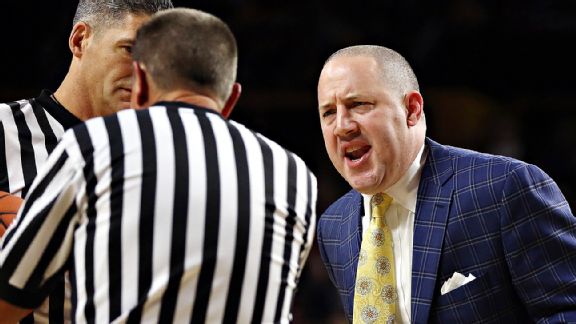 Chris Coduto/Icon SMIBuzz Williams left an established program in Marquette to build Virginia Tech into a contender.
When the rumblings began that Buzz Williams was leaving Marquette -- a program with a storied history that includes three Final Four appearances and a national championship -- for Virginia Tech, just about everyone associated with college hoops wondered whether Buzz hadn't lost more than just the hair on his noggin.
What in the heck was he thinking?
There's one school of thought that says Williams was concerned about the direction of the program at Marquette. If he stayed, you're dealing with the transition from the old Big East to the new Big East where the exposure is a mere shell of what it once was. Williams was worried about lofty expectations, in which his own success was as much to blame as anything, and saw the writing on the wall when he looked at the projected roster for this season. Marquette's talent level was mediocre.
Then there's the administration. Williams and the previous athletic director, Larry Williams, hadn't seen eye-to-eye -- and even though Larry Williams had resigned (many will claim Buzz had something to do with that), Buzz was worried about who would be his next boss.
The options just weren't there for Buzz -- the self-described hick from Texas who also happened to boast one of the most coveted rollover contracts in all of college basketball at Marquette. Rick Barnes is back on solid footing after a tremendous season in Austin. Billy Kennedy wasn't reassigned, as some anticipated would be the case. Cuonzo Martin got Tennessee to the NCAA tourney, and didn't appear to be in any danger of being fired (he later left for California).
So, Williams left for Blacksburg on March 21 -- and proceeded to floor the college basketball community.
To continue reading this article you must be an Insider
September, 4, 2014
Sep 4
3:21
PM ET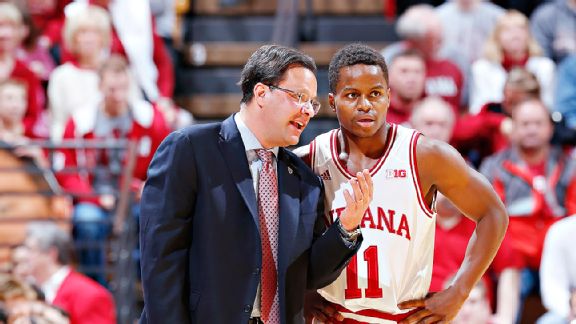 Joe Robbins/Getty ImagesIndiana head coach Tom Crean will need Yogi Ferrell to step up big time this season.
Tom Crean spent much of the 2014 offseason studying. Watching tape is far from the norm for Indiana's coach, but the subject matter was atypical.
He studied Villanova's small-ball style from the mid-2000s that Jay Wright made famous back when 6-foot-3
Randy Foye
was essentially manning the power forward spot.
He watched tape of UConn's national title run last season, featuring a perimeter-oriented team led by
Shabazz Napier
,
Ryan Boatright
and DeAndre Daniels.
And he examined overseas clubs that move and reverse the ball.
I'm not completely sold that Indiana will make the NCAA tournament this season (they went to the Sweet 16 the last time I said this), but I can guarantee this group will be more exciting to watch than the one that couldn't make shots -- and didn't even make the NIT -- last season.
To continue reading this article you must be an Insider
August, 28, 2014
Aug 28
10:20
AM ET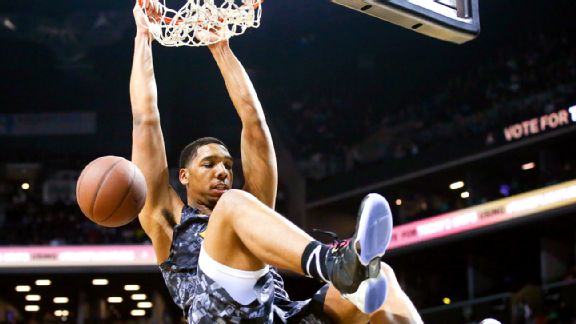 Rich Graessle/Icon SMIDuke has a potentially great big man on the roster in Jahlil Okafor.
Kentucky has a brand-new group of freshmen, Duke has the
No. 1 recruiting class
in the land coming in and North Carolina also brings in a trio of talented newcomers. Louisville, Kansas, Arizona and Ohio State have also reloaded on the recruiting trail.
But newcomers also include transfers -- and as we know, the transfer wire is at
an all-time high these days
. Guys like DeAndre Kane,
Rodney Hood
,
Juwan Staten
, Xavier Thames and Jordan Clarkson were all transfers and made a major impact.
So I wanted to take a look at
both
groups when considering impact. Here are our top 25 impact newcomers for the 2014-15 college hoops campaign, with six of our top 15 coming off the transfer wire.
Important
: These rankings are based not necessarily on talent alone, but also on the impact that the players will have
To continue reading this article you must be an Insider
August, 20, 2014
Aug 20
10:18
AM ET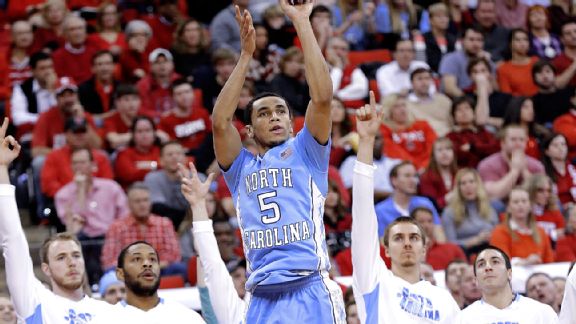 AP Photo/Gerry BroomeIf Team USA only used amateur players, Marcus Paige would certainly be under consideration.
Just imagine if USA Basketball were to revert back to using amateurs for the Olympics and other international competitions. For those of us who've been around a little while, it doesn't seem so long ago that the original Dream Team debuted in the 1992 Barcelona Olympics after the relative disappointment of the 1988 team made up of college players. And while it doesn't appear to be a likelihood, despite the recent
Paul George
injury, it's a debate that hasn't completely gone away. My colleague Jay Bilas
recently noted
that we shouldn't go back to the old ways, in part because our college kids could no longer beat (or even compete with) many of the international teams. I tend to agree.
But what would Team USA look like under the old rules? I decided to come up with an American-born roster full of collegians, plus one high schooler.
Two players who would have made the team but don't hail from the United States are Oklahoma's underrated and versatile junior guard
Buddy Hield
(Bahamas) and Kentucky's talented freshman forward
Karl Towns Jr.
, who is from the Dominican Republic.
Here's the team:
To continue reading this article you must be an Insider
August, 13, 2014
Aug 13
12:19
PM ET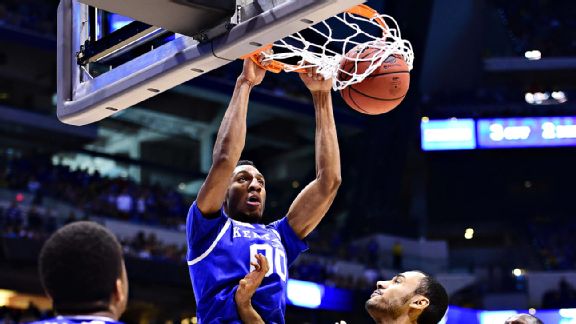 Bob Donnan/USA TODAY SportsKentucky sophomore forward Marcus Lee is just one part of arguably the nation's top frontcourt.
My summer began with the
LeBron James
Skills Academy and didn't truly end until I landed in Charleston (for a planned vacation with my wife) to the news that Cougars coach Doug Wojcik had been fired.
Along the way, there were countless AAU contests in several locations, and there were drills and games involving some of the top college players in the country. A few days also were spent at the NBA Summer League and, on TV, seeing a glimpse of a new, loaded
Kentucky Wildcats
team playing down in the Bahamas.
Here are my 10 college basketball takeaways from the summer, starting with that scary Kentucky team.
1.
I've watched a decent portion of Kentucky's games down in the Bahamas -- which were aired on ESPNU -- and this Wildcats team is the deepest I've seen in the past decade. It's not just ordinary depth, either -- it's quality, insane depth.
Marcus Lee
, who showed glimpses of what he could do in the NCAA tourney last year, may not find his way into the rotation.
Derek Willis
, who could start for at least 250 teams around the nation, is the seventh big man on the depth chart. Seventh! These guys are currently without two of their top frontline guys due to injury -- junior
Willie Cauley-Stein
and skilled freshman forward
Trey Lyles
-- and they still look deep and overwhelming.
I know the competition in two of the three games has been fairly lackluster, but the fact remains that this team doesn't lack for much (other than a true small forward) and the difference-maker with this group is diminutive freshman point guard
Tyler Ulis
.
Andrew Harrison
was erratic with his floor game and did not set up his teammates for easy baskets nearly as often as Ulis, who also will be a pest on the defensive end due to his speed, quickness and toughness.
To continue reading this article you must be an Insider
July, 30, 2014
Jul 30
12:19
PM ET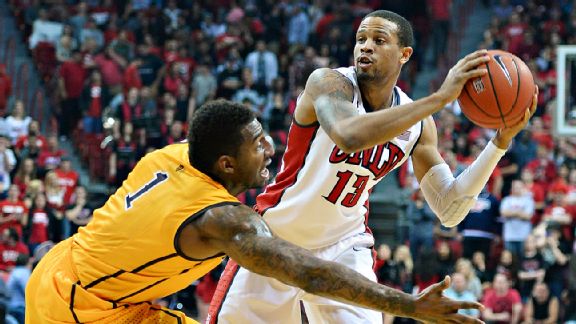 Ethan Miller/Getty ImagesBryce Dejean-Jones, UNLV's leading scorer last season, will play for Iowa State in 2014-15.
The last tally for the transfers is now
in excess of 625
(and still climbing) since the 2013-14 season began, which is nearly triple the number from when I first began compiling the list seven years ago and nearly 100 more than last year's total.
There were plenty of
winners and losers
in the process, but no one has taken a harder hit than the NCAA.
Transferring has become an issue, yet it's hardly an epidemic. Non-student-athletes transfer at a significant rate as well, but we tend to overanalyze when it comes to college football and basketball.
Some feel as though student-athletes should be able to go wherever they want, whenever they want. Memphis coach Josh Pastner believes that the current system is not flawed and a player should be able to play immediately elsewhere, as long as the previous staff signs off on it. However, the majority of college coaches -- from Rick Pitino, Bill Self, Sean Miller and Chris Mack to many more -- believe that there should be no waivers and that everyone should have to sit regardless of the circumstance.
I'm in agreement.
To continue reading this article you must be an Insider
July, 29, 2014
Jul 29
12:25
PM ET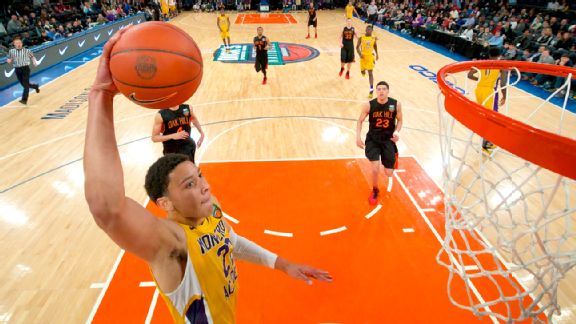 Courtesy Steven RyanLSU commit Ben Simmons was arguably the most impressive high school player this summer.
I just got home from attending most of the big events in the July recruiting period -- a time where the top high school players have a chance to be seen for a dozen days in the month by all the college coaches.
NBA guys were also allowed to get a look at some of the top high school players at the LeBron James Skills Academy in Las Vegas early in the month.
We talked to some NBA guys in attendance, college coaches and also used what I saw throughout the month to come up with 12 players who have high NBA potential in the Class of 2015 (eligible for the 2016 NBA draft).
1. Ben Simmons, 6-8, 220, PF, Montverde Academy (Florida)
College:
LSU Tigers
He's a long and skilled Australia native who has already committed to LSU, where his godfather, David, is an assistant coach. Simmons does everything well at this juncture -- except for make shots from beyond the arc. He's a terrific passer, scores from the mid-range extremely well and defends at a high level. His versatility draws comparisons to a young Lamar Odom.
2. Jaylen Brown, 6-7, 220, SF, Wheeler High (Florida)
College:
Undecided
Brown is a well-built power wing who plays with a high motor and also possesses a versatile game. Brown's biggest strength right now is his ability to drive to the basket and finish around the rim, but his perimeter shot has improved significantly. He's considering UCLA, Kentucky, Georgia, Georgia Tech, Ohio State, Florida and Texas.
To continue reading this article you must be an Insider
July, 22, 2014
Jul 22
11:47
AM ET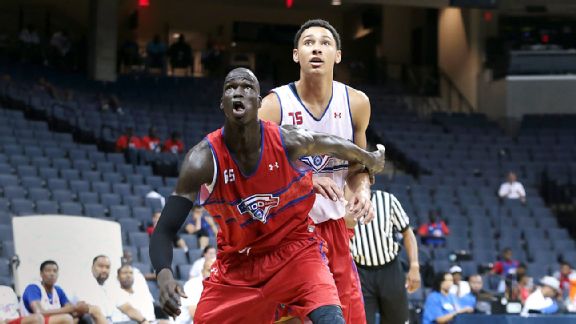 Kelly Kline/Under ArmourThon Maker & Ben Simmons could light up the college game soon -- and the NBA not long after.
The all-important July recruiting period concludes this weekend. For the last two weeks, college coaches have been flying all over the country to evaluate -- and meet -- recruits.
During this time two summers ago,
Jabari Parker
was out due to a foot injury, and so
Andrew Wiggins
solidified his spot as the No. 1 player in the country. Last year, skilled big man
Jahlil Okafor
cemented his hold on the top spot.
This year, the top spot was wide open heading into July. But that has changed. We reached out to more than 40 high-major head coaches and assistants and asked them this question:
"Who would you want if you could have one recruit, regardless of class and age?"
These are their answers
To continue reading this article you must be an Insider