Why Miller will succeed at Butler
July, 8, 2013
7/08/13
11:46
AM ET
By
Jeff Goodman
| ESPN Insider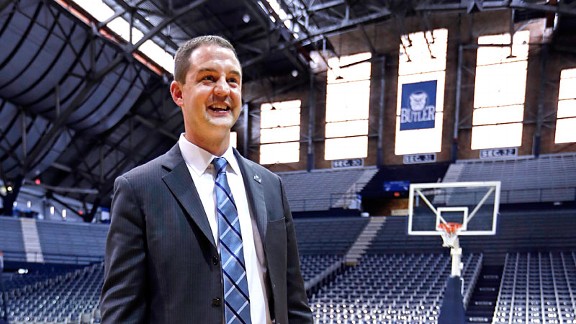 AP Photo/Michael ConroyBrandon Miller faces the daunting task of taking over for Brad Stevens at Butler.
Brandon Miller was a rising star when he left the business in June of 2011. Now he's the head coach at Butler University, taking the program into the Big East with the unenviable task of having to follow Brad Stevens' footsteps at Hinkle Fieldhouse.
At least he has a sense of humor.
"We wear the same size shoe," Miller told me over the weekend. "And he even left a pair behind."
Miller was on the fast track a few seasons ago when he made the surprising decision to resign from Ohio State after six seasons with Thad Matta. It came shortly after another highly regarded assistant, Pat Kelsey, left Xavier for a job outside of college basketball. Kelsey returned a season ago when he was hired as the head coach at Winthrop, and Miller got back in last season as special assistant to Illinois head coach John Groce and was brought back to Butler a few months ago by Stevens as an assistant.
Miller says he enjoyed his job at Forest Pharmaceuticals, where he was a salesman calling on doctors and nurses throughout southern Indiana. But after nine months, he had the "itch" to return and has now completely bought in again. He no longer wonders whether it was the right profession for him due to the countless hours on the job during which which he rarely saw his young boys (Mason is now 5 years old and Michael is 4).
Miller will carry on the Butler Way. He played at the school, shares many of the same values and character traits that made previous coaches Barry Collier, Matta, Todd Lickliter and Stevens successful with the Bulldogs. While he didn't give it much thought, there were plenty of others close to the program who felt his yearlong absence from the sport would hinder his chances to lead the program in 2013.<!—offer-->
"I never went there and thought about that," Miller said. "This is part of who I am and the path I took. It's me. I was at peace with who I am, where I've been and what I've done."
Miller has a daunting task. He replaces a 36-year-old legend that went from the Horizon League to the NBA in a span of about 16 months. Stevens is responsible for one of the most impressive feats in college basketball history, leading a mid-major program to successive national championship contests. But Miller will have to do it in the Big East, which -- while not exactly the old Big East -- is certainly a couple of notches up from the Horizon and at least a half-step above the A-10. Butler was the elite job in the Horizon; it's arguably not even in the top five in its new conference.
Will Miller be able to keep his calm the way Stevens did after a
Roosevelt Jones
buzzer-beating game-winner over Gonzaga?
"No chance," he said. "But show me any coach other than Brad who could react the way Brad has reacted in those situations. Brad was terrific being himself. What you saw is what you got. It was genuine."
Miller will be himself. He'll maintain the same core values within the program that have made Butler successful throughout its last four coaching regimes. He's bright, articulate and knows the game.
He's fortunate in a sense: The rule the NCAA implemented a year ago that allows coaches to work with players for two hours per week in the summer has helped Miller familiarize himself with the players. It has also given the holdovers and freshmen an opportunity to get to know him. Butler, which lost leading scorers
Rotnei Clarke
and
Andrew Smith
to graduation, will also have 10 practices in July in preparation for an August trip to Australia.
Miller will still have full-time starters Jones and
Khyle Marshall
back in the fold and will also return one of the nation's most promising shooters in
Kellen Dunham
. Stevens raved to me about his freshman class shortly after his news conference in Boston last week, but the key for the Bulldogs this season will almost certainly come at the point guard position, where there is no clear front-runner for the starting spot.
Aussie
Jackson Aldridge
has been underwhelming in his two seasons with the program and
Devontae Morgan
hardly played last season as a freshman. Walk-on
Alex Barlow
is a candidate, as is freshman
Rene Castro
. Miller could also decide to go with the 6-foot-4, 230-pound Jones, who isn't exactly a traditional floor leader.
"We're continuing to evaluate our team on a day-by-day basis," Miller said. "Based on workouts, you learn things about your team."
If I didn't know better, I'd have said that those identical words came from Stevens' mouth.
---
Smart take on the U-19 Roster
The USA U-19 squad ran off nine consecutive wins in Prague to claim the FIBA World Championship for just the third time in the last eight U-19 titles since 1987. The team was loaded with talent -- players who spent last season in college like
Marcus Smart
,
Rasheed Sulaimon
and
Montrezl Harrell
; incoming freshmen
Aaron Gordon
and
Nigel Williams-Goss
; and high school standouts
Jahlil Okafor
and
Justise Winslow
.
We caught up with VCU's Shaka Smart, an assistant coach for the team, after the 82-68 win over Serbia in the gold-medal game Sunday night. He gave us his take on each of the 13 players on the squad:
Aaron Gordon
(Arizona freshman): "He has phenomenal energy and a terrific motor, as good as I've seen for someone that size. I'm envious watching him the last two weeks because he's the best presser for a guy that size I've ever seen. He's unbelievable in the press. For a system like ours (at VCU), we'd love to have a guy who can do that. He's got a very, very live body and is stronger than he looks. He'll get most of his points in transition and around the basket. He doesn't have the same power as Blake Griffin, but has that kind of bounce and energy. He's got a great motor and his feet are always moving."
Jahlil Okafor
(Whitney Young High in Chicago): "His skills with the ball around the basket are just ridiculous -- what he can do all the way from his feet to his hands. He has feet like a ballerina, and his hands and touch are unbelievable. He makes these moves, and in the middle of them, he palms the ball like Connie Hawkins or Dr. J. [Julius Erving] and scores it off the glass. He's a better low-post player than anyone in college right now. He's still got a lot of areas he needs to improve -- his motor and running the floor."
Montrezl Harrell
(Louisville sophomore): "Aaron Gordon was the Most Outstanding Player, but Montrezl was as valuable as anyone and he gave us an unbelievable lift with his energy, athleticism, power and attitude every time he took the floor. The Louisville staff deserves credit because he's gotten much better in the past year since he had him in the Under-18s. He was a great athlete, but he didn't score much except on the offensive glass. Now he can score around the basket, he hit quite a few midrange shots and is great in the press. He's a guy who can play the 4 or the 5 in college. He's long and strong enough to play the 5, and is quick and athletic and shoots it well enough to play the 4."
Marcus Smart
(Oklahoma State sophomore): "He was probably a victim of his own aggressiveness and was constantly in foul trouble -- especially in the games that mattered. His game is suited to officials that will let you play. Still, he really helped us. He's a winner. There were times our team was stalling and couldn't get going offensively and he gave us an infusion of energy and made key plays. He didn't have great numbers, but that's because his minutes were up and down due to the foul trouble. But he was clearly our leader. He's an elite winner."
Rasheed Sulaimon
(Duke sophomore): "He played his best two games in our two biggest games against Serbia. He has confidence and aggressiveness to go make plays in big games and big spots. To be honest, he struggled in a few other games but came up big when we needed it most."
Justise Winslow
(St. John's High in Houston): "He's a neat kid and was a huge addition to the team. He truly earned his way onto the team because there weren't a lot of people talking about him in the trials. He's young enough to be able to play in the same competition in two years. He's very athletic -- between him, Gordon, Harrell and Smart, there were plenty of highlights and those guys put together a bunch of lob dunks. Justise is wise beyond his years. He's a very, very good passer who puts the ball on the floor and makes plays. We were able to play him at the 3 and the 4, but he's a 3 in college. He's a good ball handler, a good passer and he has a good midrange shot."
Nigel Williams-Goss
(Washington freshman): "I really like him. He made some major, major strides on the trip and is going to be a very good player -- probably a four-year player. He helped us win a lot of games. He's a point guard with good size at 6-foot-3 and has a crafty quickness. He's not super-quick, but he can make you pay with angles. He had a phenomenal assist-to-turnover ratio of 4-to-1 and won a lot of people over. After the first day and a half, I wasn't sure he was going to make the team -- but he kept getting better and better."
Jarnell Stokes
(Tennessee junior): "He was good. He's so strong with his back to the basket and around the basket. He was a little bothered by size and length here at times, but he does a good job carving out space down there."
Michael Frazier
(Florida sophomore): "Billy [Donovan] was hard on him, but he hit some timely shots. He didn't shoot a terrific percentage, but just having him out there as a threat was important for us. He also did a great job rebounding."
Elfrid Payton
(Louisiana-Lafayette junior): "He's really talented. Really talented. He's still learning, but he's played for a great coach in Bob Marlin. He's really young for his class and has terrific size for a point guard at 6-foot-4. He's got good length, explosive quickness and long arms. He earned a spot on the team and was really good all-around. He's a very good defender and we started him with Smart and Sulaimon most games. He doesn't need a lot of shots and can play both on and off the ball."
Mike Tobey
(Virginia sophomore): "He's a really good player who didn't play that much because he was caught behind Okafor and Stokes. When he did get in the game, he was active. He's got a really nice touch around the basket and nice range. He's oozing with potential. The key for him is continuing to realize how good he can be."
James Robinson
(Pittsburgh sophomore): "He's solid -- another guy who really made strides from last year. He does whatever you need him to do. He was initially cut because he ran into a numbers game because we felt like we needed another big guy, but then we brought him back when
Jerami Grant
came down with mono."