December, 18, 2014
Dec 18
10:25
AM ET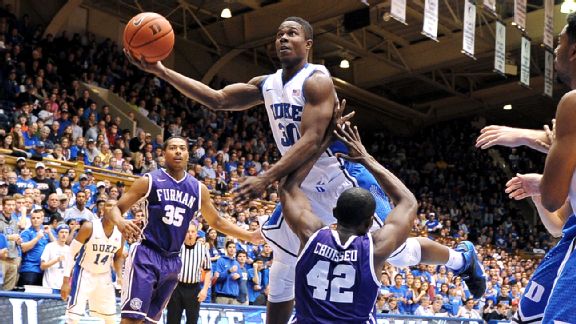 Lance King/Getty ImagesFormer Duke forward Semi Ojeleye is being looked at by schools including Wisconsin and Kansas.
There were nearly 700 total transfers in college basketball last season, with about 60 or so coming on the midseason transfer list. In 2014-15, we're already at 60-plus midseason transfers, and it's not even Christmas.
I'm not quite sure any of the guys listed below will put up 19 points and grab nine boards in their debut with their new school, as was the case with former Indiana big man
Luke Fischer
, a member of the midseason transfer list last season. Fischer nearly put up a double-double Wednesday night in his first game with Marquette.
However, the following are a handful of guys who can certainly make an impact wherever they opt to go. I've also put the full list of transfers below.

1. Semi Ojeleye, 6-8, F, Soph., Duke Blue Devils
He couldn't crack the rotation at Duke, but that's no easy task right now with a bevy of wing forwards. Ojeleye is from the Midwest and a good athlete who can shoot it and rebound. He's got no shortage of suitors and, as long as he makes the right choice, should have a significant impact at his next stop. Some of the schools in the mix so far are Wisconsin, Kansas, Kansas State, SMU, Oregon, Iowa, Illinois, Creighton, Wichita State, California and Washington.

2. Deonte Burton, 6-4, G, Soph., Marquette Golden Eagles
Burton was supposed to be a key player for the Golden Eagles this season, but he became just a role player for new coach Steve Wojciechowski and wanted more. The issue for Burton is that he's almost an undersized power forward, so he may want to drop down a level -- although that appears unlikely. Iowa State (aka Transfer U) is in the mix, along with Rhode Island and UCLA.

3. Conner Frankamp, 6-0, G, Soph., Kansas Jayhawks
Frankamp saw the writing on the wall this season, as he was going to be a role player for the Jayhawks and not much more than that. Frank Mason and
Devonte Graham
were the point guards, and there were multiple wings in front of him. However, the Wichita native should be deadly playing with
Fred VanVleet
and
Ron Baker
(if he returns to school) next season. Frankamp is a shooter, and Gregg Marshall could use one of those.

4. Jordan Hare, 6-10, C, Soph., Rhode Island Rams
He's completely unreliable as he's now left Danny Hurley and the Rams on two separate occasions. However, Hare's a talented big man who can really run the court. The key is who would take a chance on him -- and for him, it's finding the right spot. He's a Michigan native who has a young child, and being closer to home could be as a positive.

5. Jordan Reed, 6-4, G, Jr., Binghamton Bearcats
He was Tommy Dempsey's top player the last two seasons and averaged 15.4 points and 8.9 boards a year ago as a 6-foot-4 guard. Reed could probably go up a level to a solid mid-major and be a key contributor, but he has to be careful how big of a jump he makes.