September, 19, 2014
Sep 19
12:54
PM ET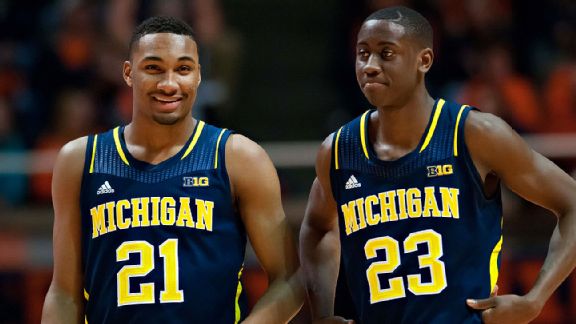 Bradley Leeb/USA TODAY SportsMichigan guards Zak Irvin and Caris LeVert both impressed during games in Italy.
Georgia State coach Ron Hunter flat-out "gets it." His proposal is that college programs, when they take a preseason trip to another country, are required to give back to that community.
Mandated by the NCAA.
"We need to make a rule that to go on a foreign trip, you have to do some type of community work for the kids," Hunter said. "It's a great stage to be able to do it. There's so much you can do to help.
"You can't say a foreign tour is a success unless the kids learn something," he added. "The kids learn to give something to someone less fortunate. It's nice to do it for the right reasons."
Hunter is spot-on, and he hasn't just talked the talk, either. He's been leading the charge to distribute shoes for the past few years to people in countries in need. He did it again this year while taking his team to Costa Rica -- and it had a profound effect on his players.
Kevin Ware
, who transferred from Louisville to Georgia State this past offseason and knows a thing or two about adversity, said the experience changed his entire outlook.
"Even though what happened to me was very dramatic, what these kids and even adults go through on a daily basis does not compare," Ware said. "I can't complain.
"I think every team should give back. It gives us perspective, and it's also doing something for others."
Nearly 40 programs took a preseason trip (teams are allowed to do it once every four years). We contacted every major program to get their thoughts on what stood out -- primarily on the court. Here's the list in alphabetical order.

Cincinnati Bearcats
Mick Cronin focused more on the practices and the Bearcats only played one game in the Bahamas. Not that he didn't realize it already, but it sank in that this will be a balanced team now that Sean Kilpatrick is gone. "We'll be a totally different team and need to alter our strategy," he said. "Offensively, we're going to have to spread the wealth. We're going to have to move the ball to the open man."
Cronin made it clear that talent won't be an issue. It's clear that
Octavius Ellis
will be the anchor down low. He's 6-foot-10, 225 pounds and had 15 points, 15 boards and seven blocks in the one game. "He's got length and is quick off his feet," Cronin said. Cronin also praised the play of sophomore guard
Kevin Johnson
. "He reminds me of SK at a young age. He has great toughness, confidence and work ethic."
To continue reading this article you must be an Insider