November, 18, 2014
Nov 18
5:30
PM ET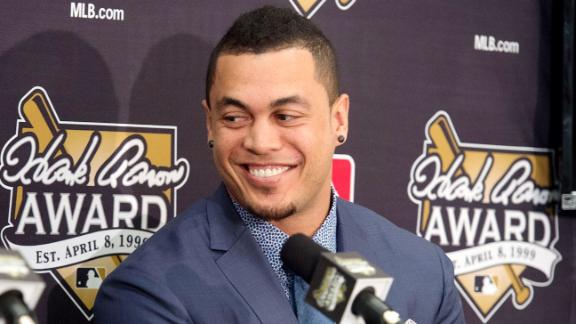 OK, now that you've all had time to vent about how crazy this
Giancarlo Stanton
contract is, here's my question:
What the heck is so crazy about it?
The more I look at the contract, the terms, the franchise, the player and the history of players like the great Giancarlo, the more sense it starts making. Seriously.
Let's begin with this: What choice did the Marlins have? They had to do this. Didn't they? Had to. Whatever it took. Outside of maybe giving the man his own salsa club on South Beach or something.
Imagine the soundtrack if they hadn't. Imagine the bludgeoning Jeffrey Loria would have taken for being too cheap to keep his latest "franchise player," just the way he waved adios to
Miguel Cabrera
and
Josh Beckett
and
Hanley Ramirez
. And if that's how this had turned out, the owner would have deserved every haymaker to the kisser that he took.
So if you're one of the people who's calling him insane now, that's fine. I get it. But it seems as if we all need to pick a side. We can't say he's wrong to pay this guy and keep this guy, and also say he'd have been just as wrong not to pay him and not to keep him.
And why is that? Because if the Marlins were going to keep Giancarlo Stanton, this was the deal.
He wasn't signing an extension for five years or seven years or nine years. He was signing only if he got this deal -- a lifetime deal, a historic deal, a build-it-around-me-or-I'm-gone deal.
There had to be a full no-trade clause. There had to be an opt-out at age 30. And there had to be commitment on both sides. So that all added up to this -- 13 years, 325 million Loria family dollars. Kaboom.
Is it too many years? Sure. No kidding. Is any baseball player really worth 325 million bucks? Of course not. Not in real-world dollars. But who said this has anything to do with the real world? It's the cost of doing business in a $9 billion industry.
[+] Enlarge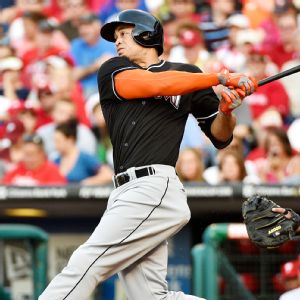 Derik Hamilton/Icon SMIGiancarlo Stanton led the National League in home runs (37) and was second in RBIs (105) in 2014.
But it's also obvious, just from the structure of this contract, that winning was Giancarlo Stanton's primary motivation. It had to have been. Why else would he say yes to a deal that pays him "only" $30 million over the first three years and "only" $117 million before his opt-out rights kick in after Year 6?
He clearly was told that at some point in the next three to six years, the Marlins will have a sweet new TV deal and a lot more revenue to pay for talent in the back end of the contract -- but they needed to free up dollars if they were going to spend on the front end. And he still responded by asking: "Where do I sign?"
So now he's put up on his end. It's time for the Marlins to put up on their end.
He invested in them. Now they'd better invest in him, and the team around him. Or they don't deserve to have a franchise. Period.
Never in Marlins history have they been better positioned to operate like a real baseball franchise than they are right now. They have the ballpark. They have the young talent base. They have two really bright, personable baseball men running the operation, in Michael Hill and Dan Jennings. They have a legit, charismatic 22-year-old ace to front the rotation, in
Jose Fernandez
, once he returns from Tommy John rehab in midseason.
And now they have Giancarlo Stanton -- wrapped up, signed up and fully engaged in doing what he can to make them great.
So they have no excuses this time. They'll tell us at the news conference Wednesday that we can stop yapping about how they unloaded Miggy, and broke up the World Series champs, and gashed the payroll by $60 million after 2012, because this is different.
Well, it is, actually. It
is
different. So it's time for them to do this right. Or else.
Look, we have no idea what the next 13 years will hold for Giancarlo Stanton. There isn't an Excel spreadsheet or a Ouija board on earth that can tell us, either.
But if you look at what baseball history tells us about players who have an age 20-to-24 career arc like this man, it's shocking, actually, how well they tend to age. Take a look:
• According to Lee Sinins' Complete Baseball Encyclopedia, Stanton is the fifth player in history to hit 100 more home runs than the average player in his league before his age-25 season. The other four -- Eddie Mathews, Jimmie Foxx, Mickey Mantle and Mel Ott -- all went on to join the 500-Homer Club and end up in the Hall of Fame.
• Stanton's career slugging percentage (.540) is 138 points above the league average. Of the 19 other players in history who outslugged their peers by that amount (or more) through age 24, the only ones who are eligible and never wound up in Cooperstown are Dick Allen and Hal Trosky. And by December, the Veterans Committee might lop Allen off that list.
• As ESPN Stats and Info's Justin Havens reports, Stanton is one of only three players in the live-ball era who have led the National League in slugging twice before their age-25 seasons. It's safe to say the others had careers that turned out OK. Willie Mays is one. Stan Musial is the other.
• And according to baseball-reference.com, Stanton has been worth 13.90 batting wins through his age-24 season. That ranks as 20th best among players in the live-ball era. There are 14 Hall-eligible players ahead of him. All but Allen wound up having a Hall of Fame career. And again, it's possible that in a few weeks, we can say Allen had one, too.
Now let's consider something else: Giancarlo Stanton is irreplaceable. In a sport where power has disappeared, this man is a human "Going, Going, Gone" highlight reel.
He's a special player and person, with a unique skill set for his era. And he just turned 25 years old. So for any franchise to lose a player like that would be worse than sad. It would be embarrassing.
Elsewhere on this site, Dan Szymborski used the fabled
ZIPS projection system
to look at the likely path of Stanton's next 13 seasons. His findings sure didn't make this deal look insane in any way.
ZIPS projected Stanton to be a guy who will still be worth three-plus wins a year through the first nine seasons of this deal and still be a threat to hit 20 homers a year through Year 11 -- meaning he's likely to give the Marlins $316 million worth of production over the next 13 seasons.
And that doesn't even factor in what his presence could mean to the franchise as it negotiates its next TV deal, or how just this signing could enhance its credibility with a long-skeptical fan base.
So tell me again then, please, why this contract is "crazy." To me, it's the thought of pushing a player like this out the door that seems way more insane than doing what it took to keep him.