Picking the 'Conference of Champions'
October, 29, 2012
10/29/12
12:49
PM ET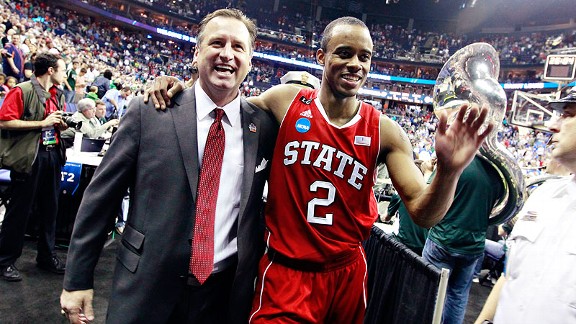 Ethan Hyman/Getty ImagesThe Wolfpack will push aside the Tar Heels and Blue Devils, according to Jay Bilas.
As we begin the 2012-13 campaign it's clear to me that the gigantic, super-cranial neuroplasticity of The Bilastrator's mind could be of great assistance in gauging how the season's conference title races will play out. Rather than simply providing a road map for the selection committee regarding the nation's true 68 top teams, as the Bilas Index will do later this fall, we're starting with the teams I believe will claim the regular-season championship. Consider it an amuse-bouche prior to the intellectual feast provided for you in the season ahead.
I realize this exercise in clairvoyance could rob some of the joy from the season, making games anticlimactic given that these teams are now preordained for glory. However, it is The Bilastrator's solemn duty.