The early-season All-Toughness team
December, 20, 2012
12/20/12
9:32
AM ET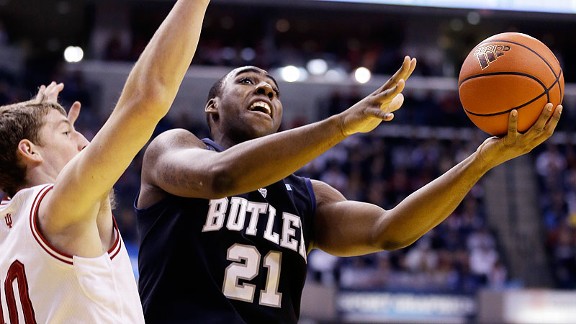 AP Photo/Michael ConroyButler's Roosevelt Jones turned in a gutty performance against Indiana, scoring 16 points.
Toughness is one quality, above all, that a coach values in a player. I hear it all the time. Coaches admire and respect tough players, whether it is one of their players or an opposing player. Toughness is talked about and emphasized, and toughness wins. I have written about the definition of true toughness in the past, and its importance in the game.
Yet, despite the constant emphasis on toughness, there is no measure of it, and no award to recognize it in players. We have awards for valuable players, improved players, point guards, rookies, newcomers and players who happen only to begin games on the bench. We have awards based upon the calendar and league affiliation, and we even have mythical awards for players who remind us of an adhesive used for sticking materials together. No coach goes on the recruiting trail to find a good epoxy, paste or other sticky, gelatinous substance. Coaches want tough players, guys who can endure great strain without breaking, and are strong and resilient.