If it were up to me, Pearl would be gone
December, 17, 2010
12/17/10
1:16
PM ET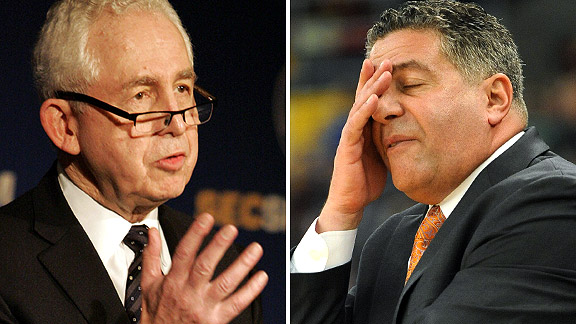 AP Photo/Getty ImagesMike Slive doled out a suspension that will keep Bruce Pearl out of his team's first eight SEC games.
The NCAA's due process rules are important rules. I know SEC commissioner Mike Slive had every right to hit Tennessee coach Bruce Pearl with an eight-game suspension because of his violations and the coordinated lying to the NCAA over them. The SEC presidents gave Slive that power to stem some of the league's cheating issues.
But just because Slive had the right to suspend Pearl does not make it the right thing to do. Pearl violated NCAA rules, lied about it and has since admitted it. But by those same rules, Pearl is entitled to a Notice of Allegations, 90 days to respond, and a hearing. Instead, the SEC hit him with a suspension before a Notice of Allegations was even handed down, short-circuiting and encroaching upon the NCAA process and diminishing the authority of the NCAA.