Toughest players of the past 20 years
March, 6, 2013
3/06/13
9:48
AM ET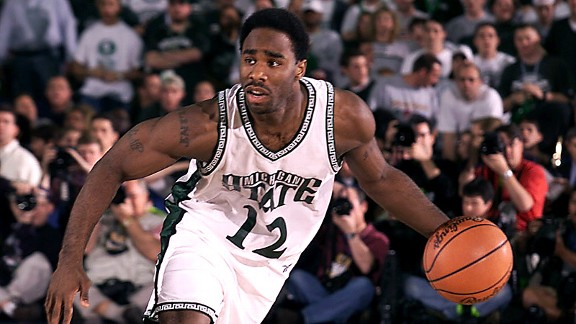 Jed Jacobsohn/ALLSPORTMateen Cleaves, a three-time Michigan State captain, led the Spartans to the 2000 NCAA title.
When I think of the toughest players in basketball, I think of the players who are relentless, compete with high-level consistency on every play in games and in practice and are difficult to play against and easy to play with. They aren't always the biggest or the strongest, nor are they the loudest. They let their games do the talking, and win or lose -- it's usually win -- you walk off the floor with nothing but respect for those players because of their toughness.
I knew the toughest players when I was playing, and there's no substitute for playing against someone to truly understand how tough they really are. But I can't remember back that far, so I am going to give you a list of 10 of the toughest players I have seen in college basketball in the 20 years I have been broadcasting. This is by no means an exhaustive list. Of course, I may leave out players who have shown great toughness on the floor and off, who were great teammates and amazing competitors. These are just a few who have stood out to me in my years behind the microphone.