10 burning questions to start season
November, 8, 2011
11/08/11
12:15
PM ET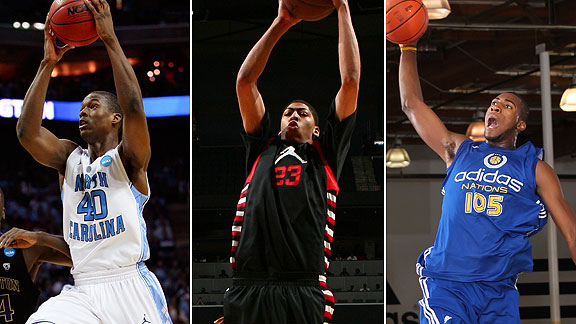 Getty ImagesHarrison Barnes, Anthony Davis and Andre Drummond are among the top stories in college hoops this year.
With the 2011-12 NCAA men's basketball season under way, ESPN Insider Jay Bilas weighs in on 10 pressing questions hanging over the college hoops landscape, starting with a look at the nation's elite teams.
1. They say this season will mark the return of the blue bloods and the truly elite teams. How many teams do you see on that top tier? Who are they and why?
I think the first tier of teams includes North Carolina, Kentucky, Ohio State, Syracuse, Connecticut and Duke. After that, there may be some separation, but those teams are capable of developing into challengers. Teams like Florida, Louisville, Vanderbilt, Memphis, Pittsburgh, Baylor and Xavier. Those teams may not have quite as much power or as many difference makers, but will be very good.
The difference is high-level talent and depth. Each of the top-tier teams (for the most part) has talent, experience and a lot of bodies. The depth provides the ability to compete in practice every day. Too many teams and coaches are shorthanded this year, and that means practices without five-on-five and without great competition. It is one thing to bust it against a walk-on, and quite another to be pushed to the limit by a comparable talent. That is how players and teams get better through a season.
2. Last season Kemba Walker emerged from being merely a good player to a national phenom. Can anyone from off the radar last season make a similar jump to stardom this coming season?
Perhaps, but I certainly wouldn't expect it. Players like
Terrence Jones
of Kentucky and
Jeremy Lamb
of UConn come to mind as players who can have great years and make big jumps. Kemba Walker had a great summer before last year, but few could have predicted the success he would have, and the high level of consistency and toughness he would show over the course of an entire season. Doing what Walker did was more than talent; it was heart and determination. Walker had an extraordinary year, but I would not expect anyone else to duplicate it. That is how great his year was.
3. Which team in the Top 25 poll is the most overrated?
Probably Vanderbilt, although I believe the Commodores are poised to have a great season. The truth is, Vandy has not been tough enough to reach its full potential in recent years. Vandy has been very good and has won a lot of games, but has not finished. The Dores have not been consistently tough and won the really hard games. They are winners, but not champions. With so many experienced players who have been there and fallen short, perhaps Vandy has the chops to finish stronger. This year, Vandy is good enough to be champions. They just need to do it.