Wait a minute -- that congressman said what?
June, 16, 2009
6/16/09
12:18
PM ET
The basketball games on the court are over, but the draft is right around the corner and the college basketball offseason never seems to be "off." There's always plenty to talk about ...
Congressional foolishness:
I have no idea what a congressman has to do on a daily basis and how much study it takes to familiarize oneself with the important issues of the day. But I hope Rep. Steve Cohen, D-Tenn., shows some competence on important issues, because he doesn't know squat about basketball or labor law. It was Cohen that
compared the NBA's age limit to vestiges of slavery
, using hyperbole usually reserved for cable news gasbags. The so-called "one-and-done" rule is not an NCAA rule and has nothing to do with college basketball. The rule was collectively bargained between the NBA and the NBA players' association in accordance with federal antitrust laws. The rule was not intended to force young players to go to college; it was put in place for business reasons.
[+] Enlarge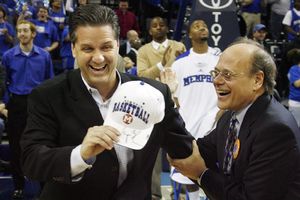 AP Photo/Lance MurpheyRep. Steve Cohen (D-Tenn.), seen here with John Calipari, attended law school at what is now called the University of Memphis, which has seen its share of "one-and-done" players in recent years.
The NBA wants more time to evaluate talent and for the talent to be more mature and tested when it arrives on the NBA's doorstep. There is no mandate that players go to college. In fact, there have never been more avenues for players to take. A young player can play professional basketball in Europe, Asia, or South America, or play in the NBA Development League, or take money from a shoe company or an agent and spend a year and train at a place like IMG Academy. This is not a social program or a way to bolster college basketball. In truth, the NBA could care less about college basketball. The NBA cares about one thing and one thing only ... the NBA.