Giant Killers: Likeliest first-round upsets
March, 13, 2011
3/13/11
10:46
PM ET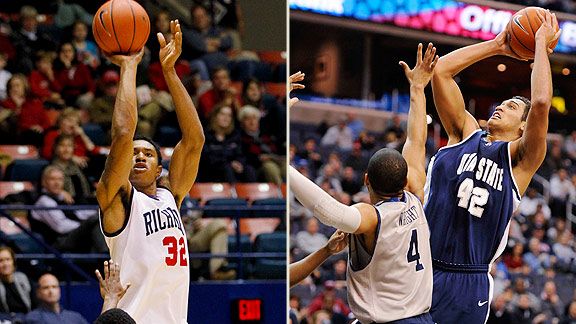 US PresswireJustin Harper and Tai Wesley are names you'll want to get familiar with.
Selection Sunday resurrected a couple of Giant Killers and set up a series of early NCAA matchups with exciting potential for deep underdogs. Here's how it went down and a first look at the top five (or six) bets for early upsets in the NCAA tournament, according to our deadly accurate projections.
In the 72 hours since we reintroduced you
to Giant Killers
, two trends have had us worried here at GK Central:
For one, upsets had roiled mid-major and small-conference championship tournaments, with mostly unhappy results. For another, many of the teams our statistical model says have the best shot at being Giant Killers seemed headed for deadly No. 8 or No. 9 seeds -- thus becoming a part of games in the round of 64 that wouldn't count as Giant Killings and second-round games against one of the top four teams in the country.
Turns out we shouldn't have been quite so worried. The NCAA gave at-large bids to UAB, the regular-season champion of Conference USA, and Virginia Commonwealth, another team whose conference run ended shy of a tournament championship. Each will have to win a first-round game to help whittle the field from 68 teams to 64, but both have good Giant Killing potential, and hey, at least they weren't left behind. Also, with so many new teams flowing into the field this past weekend, a few low-seeded Killers got bumped up, notably Morehead State, which picked up a No. 13 seed.
As for top potential Killers among the mid-majors, they ended up scattered all over the place. Saint Mary's didn't get an invitation at all. UNLV is an 8-seed in the Southwest and George Mason an 8-seed in the East, as we feared. But Old Dominion was seeded into the Southeast at No. 9, setting up the possibility of an intriguing second-round matchup against Pittsburgh. And Utah State dropped to a 12-seed -- not so much fun for the Aggies, but fun for us as we get to watch them as potential Giant Killers from the start of the tournament.