Eric Karabell:

Trade Deadline 2014
July, 31, 2014
7/31/14
4:55
PM ET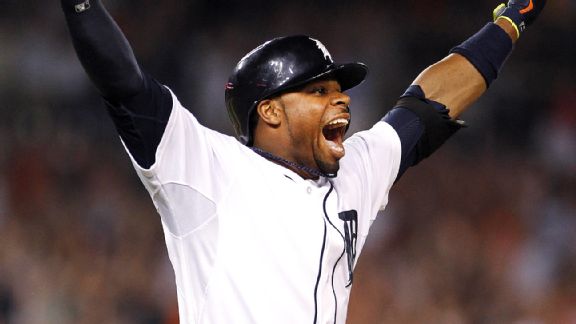 AP Photo/Duane BurlesonAfter the David Price deal, Tigers outfielder Rajai Davis enjoys a nice bump in fantasy value.
The
Tampa Bay Rays
are apparently not going to try to make the postseason in 2014, as Thursday's trade deadline saw them move lefty
David Price
. Price was part of a three-team deal that landed him with the
Detroit Tigers
, and that really shouldn't alter his fantasy value much. Price is an established hurler with a Cy Young award to his credit, and he enters Thursday as the No. 24 option on the
ESPN Fantasy Player Rater
, sixth among starting pitchers. He can pitch anywhere, and his value remains sky-high.
What's interesting is who else moved in the trade.
July, 31, 2014
7/31/14
3:20
PM ET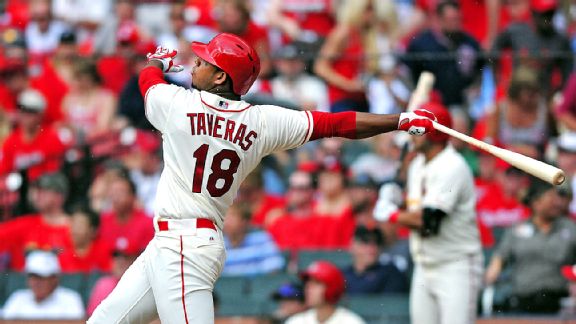 Jeff Curry/USA TODAY SportsOscar Taveras now has a clear path to a starting job. Time to invest? Not so fast.
The trade of
John Lackey
for
Allen Craig
and
Joe Kelly
is, on the surface, really good news for
St. Louis Cardinals
rookie outfielder
Oscar Taveras
, because it opens up right field for him on a full-time basis. But what if Taveras just isn't ready to be any good at this level yet? I mean, he's 22 years old, and while it's way too early to judge him on a long-term basis after 100 or so big league at-bats, what are fantasy owners really expecting here? Taveras has been compared to former fantasy star
Vladimir Guerrero
because of his high-leverage swing and propensity to swing at anything and everything, a noted bad-ball hitter. And he has generally succeeded in the minors.
But Guerrero never struggled like Taveras has this season.
To continue reading this article you must be an Insider
July, 31, 2014
7/31/14
10:44
AM ET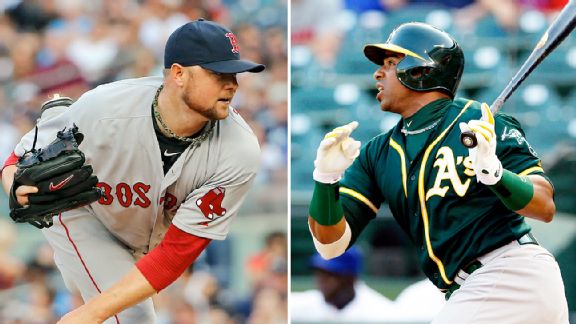 USA TODAY Sports, AP ImagesJon Lester and Yoenis Cespedes both retain their fantasy value in new digs.
Thursday's trade deadline got started with the proverbial bang when the
Oakland Athletics
acquired lefty
Jon Lester
from the
Boston Red Sox
, but parted with slugger
Yoenis Cespedes
. What? Say that again? It's true, and quite shocking. From a fantasy perspective, Lester owners had been bracing themselves for change, but it's not as if his value was going to be altered too much, regardless of destination. The only risk for Lester owners was in AL-only formats if he ended up in the NL. He did not. Oakland is surely a nice place to pitch, but Lester, already the No. 13 starting pitcher on the
ESPN Fantasy Player Rater
, probably can't get much better than this. He's already terrific.
The shocking part is that the team with the best record in baseball moved on from starting left fielder Cespedes, a two-time Home Run Derby champion who had spent the majority of his at-bats this season hitting in the Nos. 3 and 5 lineup spots.
To continue reading this article you must be an Insider
July, 31, 2014
7/31/14
10:06
AM ET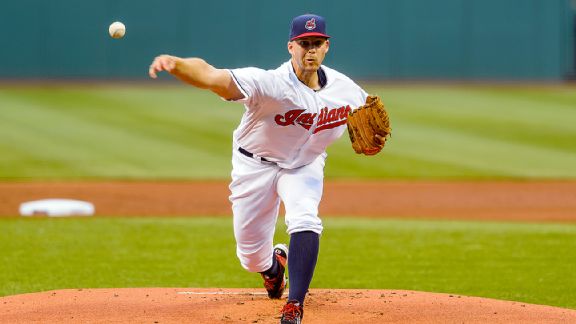 Jason Miller/Getty ImagesJustin Masterson was tops in MLB in ground-ball rate in 2013 and is second thus far in 2014.
The
St. Louis Cardinals
acquired right-hander
Justin Masterson
from the
Cleveland Indians
for minor league outfielder James Ramsey Wednesday, a day before Thursday's trading deadline. Although I've never been a big Masterson fan, he really could improve in the National League. Masterson now gets to face opposing pitchers a few times per outing instead of designated hitters like
David Ortiz
and
Victor Martinez
. The composite NL ERA is 3.67, as opposed to 3.91 in the AL. In addition, Masterson is one of the most extreme ground-ball pitchers in the game and is striking out plenty of hitters. Plus, if you compare ERA to fielding independent pitching (FIP) -- which I do on occasion because it often tells a more accurate story of performance, of things pitchers can control -- you'd see that Masterson's nightmare season certainly appears to be due in large part to bad luck
To continue reading this article you must be an Insider
July, 30, 2014
7/30/14
9:48
AM ET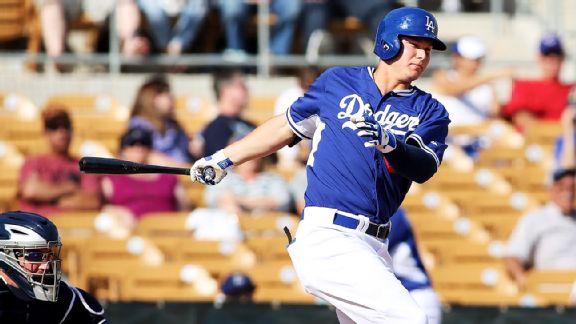 Gregg Forwerck/Getty ImagesJoc Pederson could be in the majors soon, either with the Dodgers or some other team.
Baseball's non-waiver trade deadline is Thursday afternoon -- I mean, nobody's been talking about this for the past month, right? -- and while we can't possibly know for sure which players will actually be sent to new teams, I have a few hunches the fantasy world will certainly be affected. I read and follow the same ESPN experts you do and right now it's nothing but rumors, but here are several young players I would add
today
in advance of a deadline that could send their value soaring and creating a modest free-for-all in your league. Always plan ahead!
Ken Giles, RP, Philadelphia Phillies: I sure hope Jonathan Papelbon gets moved somewhere, because the last thing a last-place team needs is a really expensive, miserable closer. Giles certainly seems ready to close, and I think he'd get the nod over lefty Jake Diekman, who still gets thumped at times by right-handed hitters. Giles looks dominant. Other relief pitchers who could go from setting up today to closing tomorrow -- not necessarily young, by the way -- include Dale Thayer of the San Diego Padres, Rex Brothers of the Colorado Rockies and Bryan Morris of the Miami Marlins. As for other Phillies ready to step up into a key role should Marlon Byrd, Cliff Lee, Cole Hamels, Bake McBride or pretty much anyone else get moved, it's tough to find anyone. The organization's outfield is totally bereft of depth, thus the Grady Sizemore signing. Perhaps corner infielder Maikel Franco gets a promotion if Ryan Howard is moved. Dare to dream.
To continue reading this article you must be an Insider