Wednesday, July 10, 2013
What's wrong with Justin Verlander?

---
By Eric Karabell



Chicago White Sox outfielder Alex Rios did something noteworthy Tuesday night, tallying six hits in as many at-bats, while adding a pair of stolen bases and an RBI. The oft-overlooked Rios is rightly owned in all leagues, and good for him; he's proving that the every-other-season theory is just ridiculous. Rios is again thriving in 2013, overcoming an annoying but hardly predictive trend of high performance only in even-numbered years. Rios is the No. 33 player on the ESPN Player Rater (23rd among hitters) and while his power is a bit down, he's on pace for a career high in stolen bases and his batting average is fine. In fact, Rios generally doesn't warrant much discussion because he's just a solid player, and of course this blog entry really isn't about him at all. Instead, it's about the underachieving starting pitcher he touched up for four of those hits.

[+] Enlarge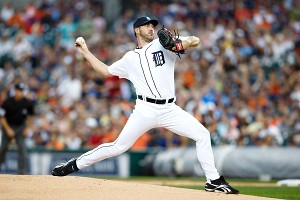 Rick Osentoski/USA TODAY Sports Justin Verlander has been decent this year but hasn't been at an elite level.
Yes, Detroit Tigers right-hander Justin Verlander had never permitted four hits to any one player in the same game before Tuesday, and while he had seemed to turn his disappointing season around lately, it's yet another warning flag that we're not likely to get a top-10 starting pitcher either for the season or from this point forward in 2013. What's wrong with Verlander? Well, it's not as if Hernan Perez was the guy pounding him Tuesday, but still, Verlander was the first pitcher off the draft board in most leagues, late first-round or early in the second, and entering play on July 10 he's the No. 42 starting pitcher on the Player Rater, worse than San Diego Padres lefty Eric Stults, who won again Tuesday, incidentally, and Pittsburgh Pirates lefty Francisco Liriano, who has made only 11 starts. This is the fourth time in 2013 that Verlander has allowed five or more earned runs in a start, one shy of his total from 2011 and '12 combined. He struck out a mere three White Sox and his fastball velocity was 91.3 mph. In his previous start that average velocity was 93.9 mph.
It's might not be fun for Verlander owners to read this, but good luck trying to trade him for another first-round talent. It's hard to fathom you'd receive proper value. The guy has a 3.71 ERA and 1.39 WHIP, the latter figure far more distressing and pertinent to a fantasy team, and while he generally breezed through the average White Sox lineup for seven innings Tuesday, the eighth went poorly, and overall he permitted 12 hits and five runs, all earned. It's hard to remember now, but before becoming the best pitcher on the planet, this is what Verlander was, and it's not that bad. Entering 2011, his career ERA was 3.81, his WHIP 1.25. He still won games and struck out many hitters, but he wasn't quite elite. The current Verlander is still really good, and I'm still buying low, to a degree. After all, a 3.71 ERA isn't killing your team, despite the whining we see on Twitter and in Conversation. It's just not what you or I expected. Verlander's xFIP is 3.55, so it's not like his numbers are way out of line. He's not throwing as hard but he's not Barry Zito, either; Verlander is 10th in the majors in strikeouts. Perhaps the many innings over the years is the problem; plus, let's remember most pitchers got last October off. Verlander tossed 28 1/3 high-stress postseason innings, and we've seen other hurlers (Cole Hamels, CC Sabathia) take marginal steps backward in the following season in this scenario. Doesn't mean those guys turned into Mike Pelfrey.
I'm not prepared to assume Verlander is already in his decline phase, not yet, and I do think he'll end 2013 as a top-20 starting pitcher, so that's something to look forward to. He was traded in a 16-team league of mine recently, and the return was reasonable, treating him as the talent he remains. He's just not a Clayton Kershaw-type ace this season. Yes, the Tigers are postseason bound yet again (sorry, Cleveland Indians fans) and Verlander will be asked to lead by example in October, but if you asked me right now for my early top-5 starting pitchers for the 2014 season, Verlander is still in there. Kershaw, Felix Hernandez and Yu Darvish would be ahead of him as of now, and I have to consider Adam Wainwright, Matt Harvey, Cliff Lee and Stephen Strasburg as well, but the point is it's not time to give up on Verlander for 2013 or the future. I just wouldn't trade Kershaw to get him. I would still trade Wainwright, Harvey, Lee or Strasburg to do so. As for Alex Rios, well, keep up the fine work!
---